How To Smoke A Whole Chicken
A how-to to create a fabulous smoked chicken that is juicy, tender, and smoky that will blow everybody away.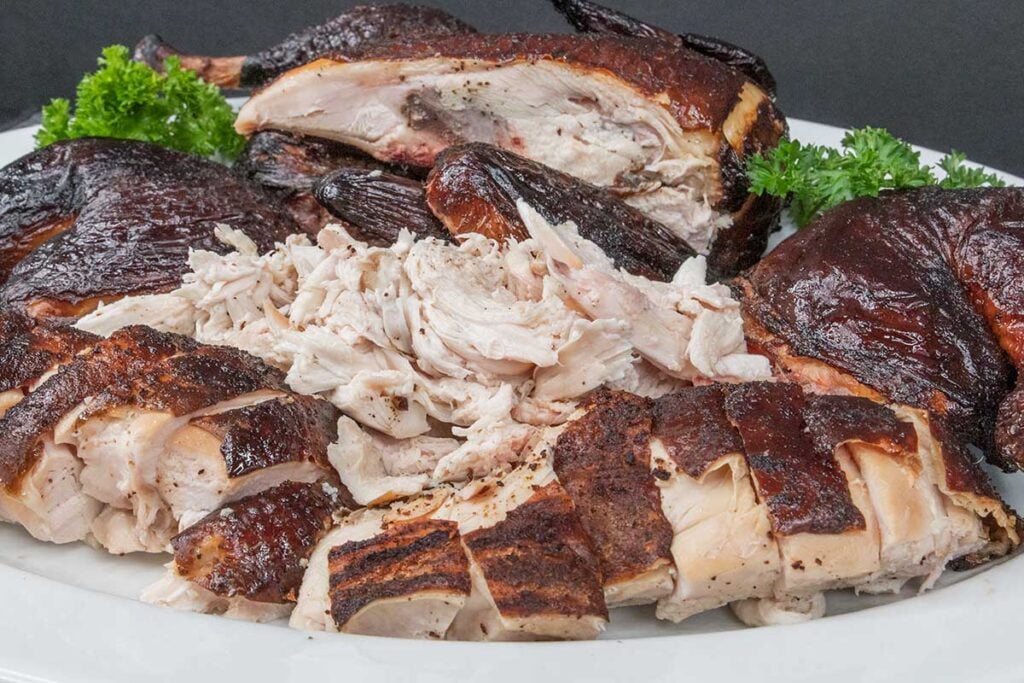 Spatchcock Versus Whole Chicken
When I set out to do this post I had questions and hopefully, this article will answer some of yours as well.
My first question was should I smoke the chickens whole or spatchcock them. The benefits of spatchcock is that you can get the chicken cooked in a quicker time than leaving it whole. Honestly, in about half the time.
I was curious if I was going to get enough smoke on the bird. I prefer aggressive smoke on my chicken. I want to taste it, not just be there in the background.
Another question I had was with the dry brine. Should I use just a standard dry brine of mostly just salt with some onion and garlic or should I use a standard BBQ rub?
As I set out I figured I would spatchcock two and do another two whole. Four chickens.
But I was looking for empirical evidence and who am I to stand in the way of forming my hypothesis. It's all for science. At least that's what I told Leigh 🙂
Want to quickly see what we learned? Just jump to it here.
What Is Spatchcock Chicken
Spatchcock chicken is removing the backbone of the chicken so it can lay flat and cook faster. It is basically the same as the term "butterfly".
The first two, as I earlier stated, would be spatchcocked, one with salt and aromatic dry brine, the other using a standard BBQ rub.
Take the chicken and turn it over so the backbone is on top. Find the 'parson's nose', that piece of fat that looks like a triangle at the rear of the bird and face it towards you.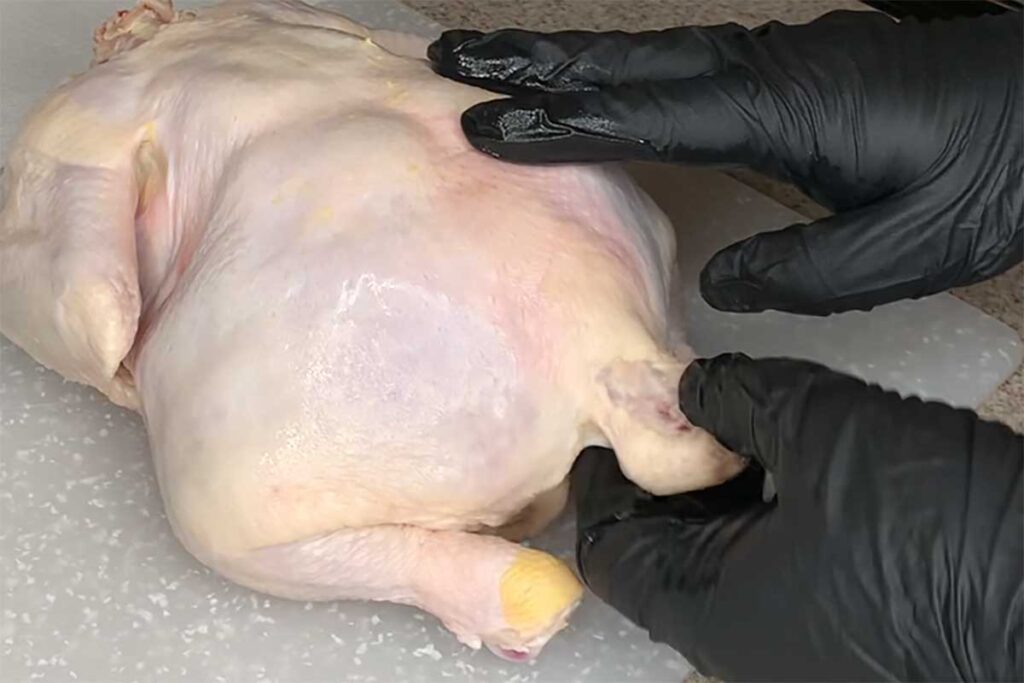 Using a good pair of kitchen scissors, cut along the backbone through the ribs until you reach the end.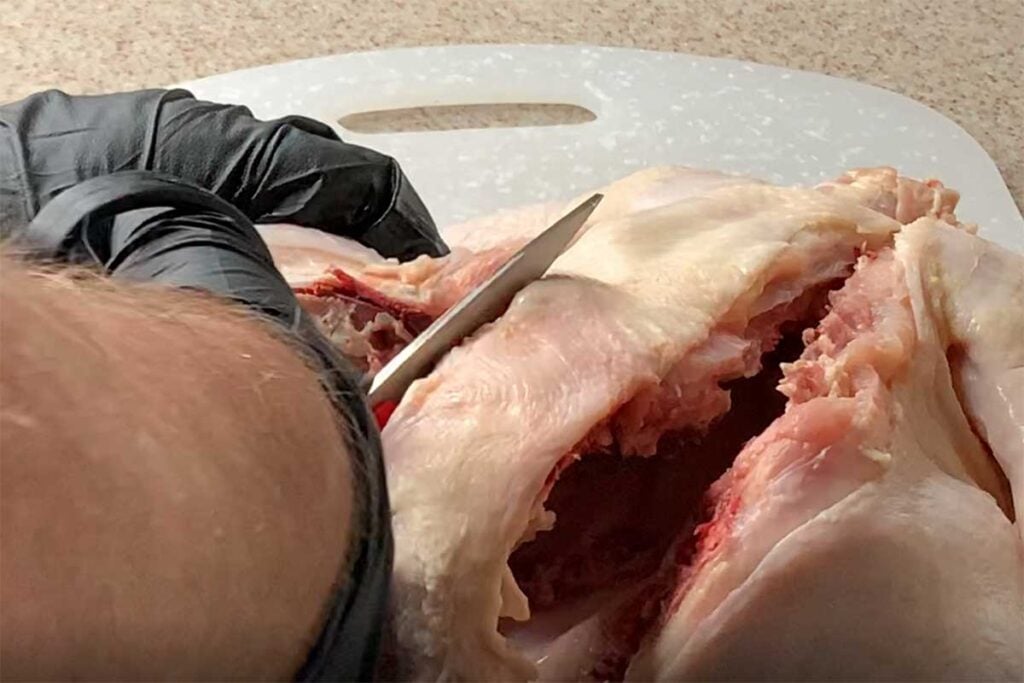 Repeat on the other side until the backbone is removed.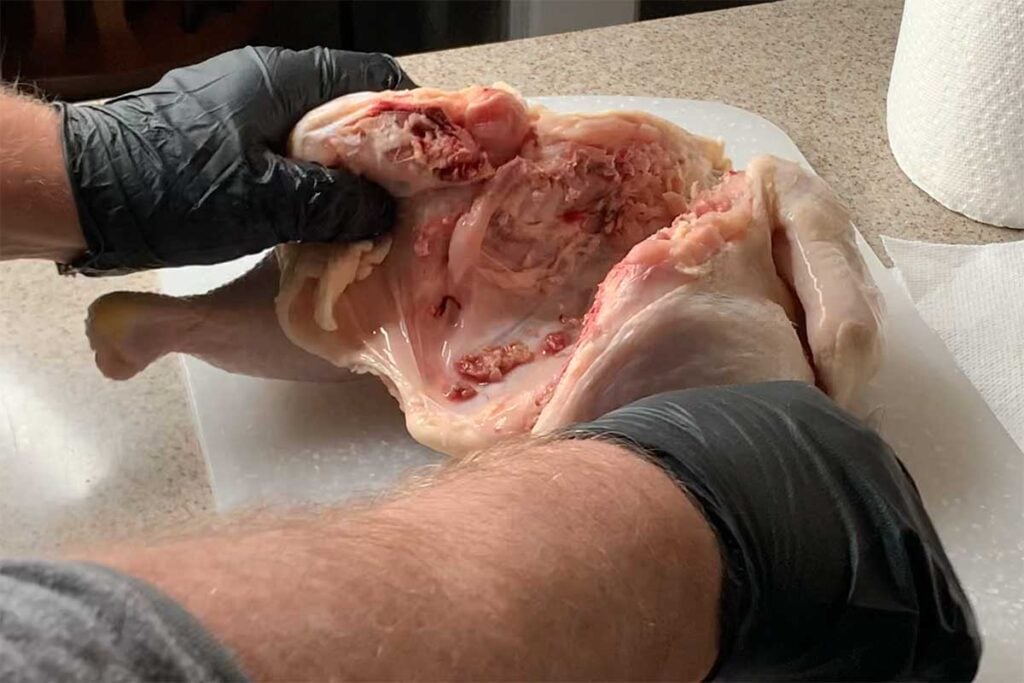 Take some paper towels and dab up any residual moisture. Using the scissors remove any large flaps of skin or fat that may be hanging out. That stuff doesn't smoke.
Turn the bird back over and turn it around so the breastbone is facing you. Spread the chicken out and press down real hard, breaking the breast bone so that it will lay flat.
If you find that it's too difficult to break by pressing down, just crack the breastbone with the back of a kitchen knife at the top to get it started for you, and then press down.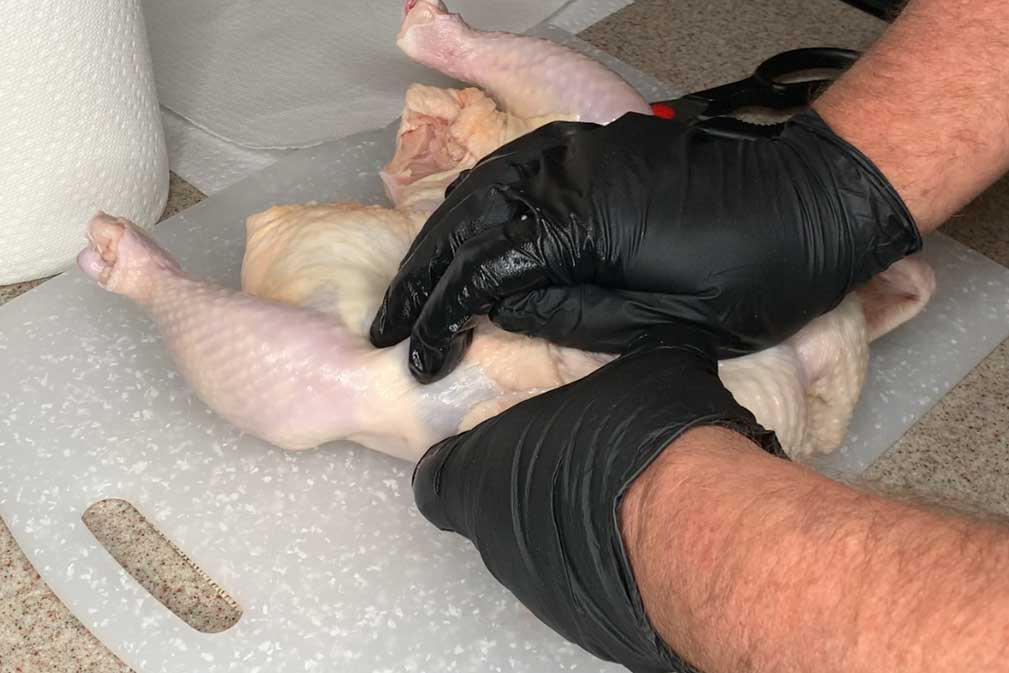 With the breastbone cracked, the chicken will now lay flat on your smoker. The benefits of cooking your whole chicken this way will allow for a much faster cook, approximately 2 1/2 hours at 250 to 275 for a 5-pound bird. More on this later.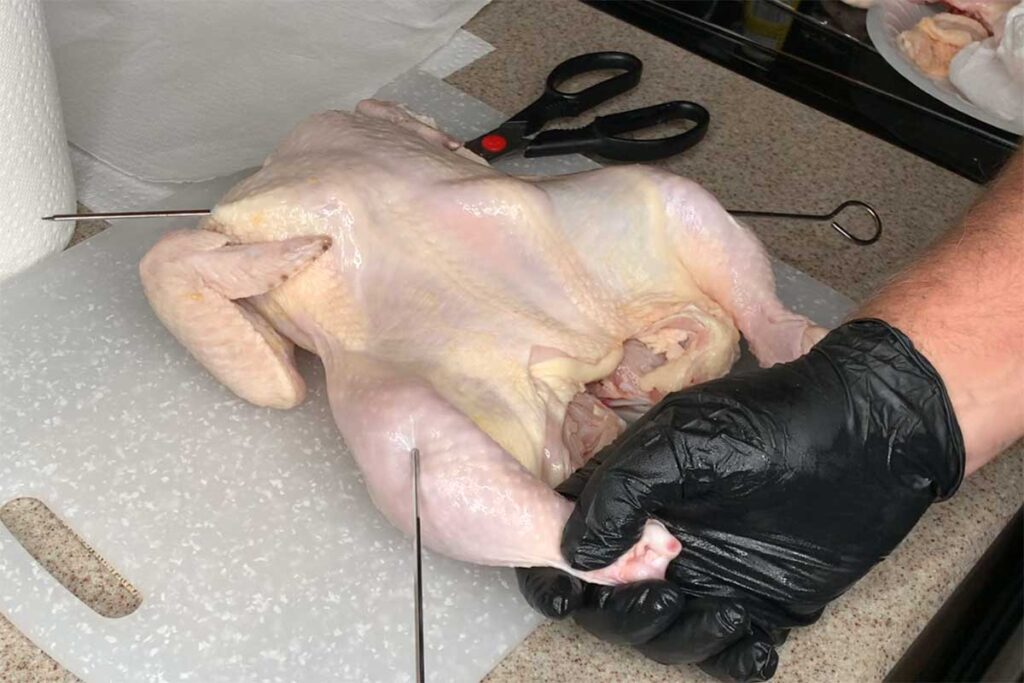 A note on keeping it flat. Some people will skewer the chicken through the leg, across the body, and through the breast on the other side. I tried this to see if it made any discernable difference in the cook. It didn't.
But you are more than welcome to use this method, especially if you're going to smoke at a higher temperature ( 275 degrees Fahrenheit or more).
Seasoning The Chicken
Next, apply the dry brine of your choice. As I previously mentioned I wanted to try a brine consisting of just salt, pepper, onion powder, and garlic powder.
On the other chicken, I did a dry brine using Bad Byron's Butt Rub. Why that one, you ask? It didn't contain any sugars and had good salt content.
The simple dry brine we used is adding the following to a bowl and combining:
1 tbsp Salt
1/2 tsp Garlic powder
1/2 tsp Onion powder
1/2 tsp Freshly ground pepper
Dry brining overnight allows the salt to get into the meat and season it, breaking down the muscles to create juicy, succulent meat. When we discovered dry brining years past, we haven't gone back to a standard wet brine. With wet brining, most times it's impossible to get that skin to crisp up.
I wanted to compare the taste of just a salt brine to a standard rub to see if it made any kind of difference with smoked chicken. What I found was that it really didn't matter.
I could feel just a hint of heat from Bad Byron's rub that was not there in the salt brine. But that was really it. With that, I decided to do the other two whole chickens (non-spatchcocked) with Bad Byron's.
Whichever you decide, apply your rub on both sides of the chicken, concentrating on the breasts and thighs.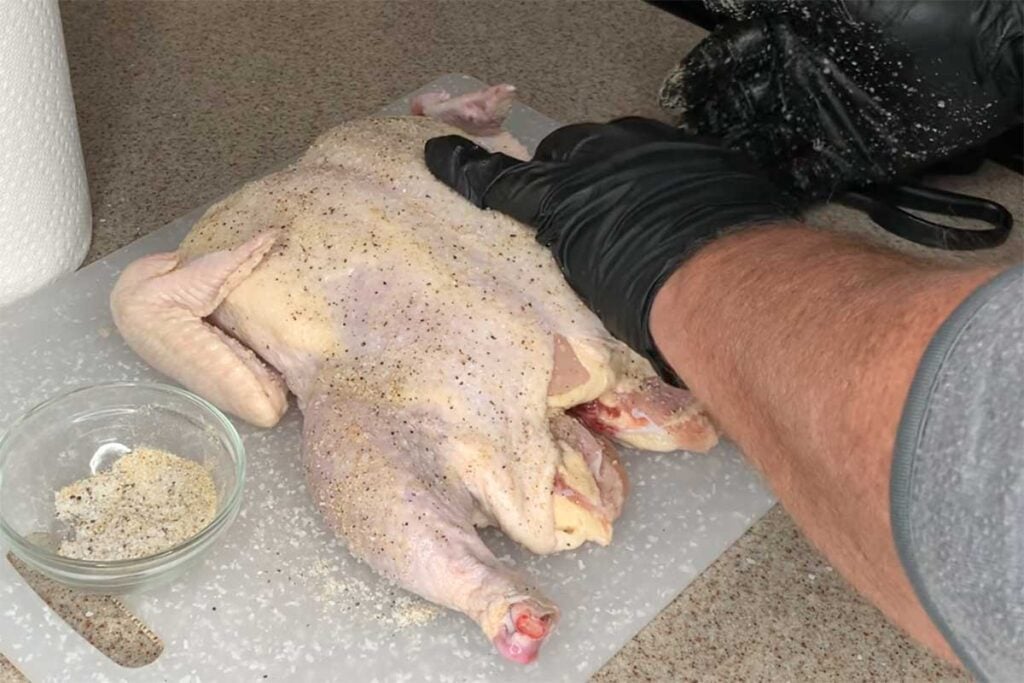 Once you have the chicken sufficiently covered, place it on a baking sheet, cover, and refrigerate for at least 8 hours. We do ours overnight. The longer the brine, the more opportunity the brine will have to tenderize and season the meat of the chicken.
Dressing The Chicken
It is important to note that dressing the chicken helps the chicken cook more evenly. To dress your chicken just tie the legs together so they're touching.
Fold the wings underneath the bird when placing it on the smoker. This will prevent the tips from totally drying out.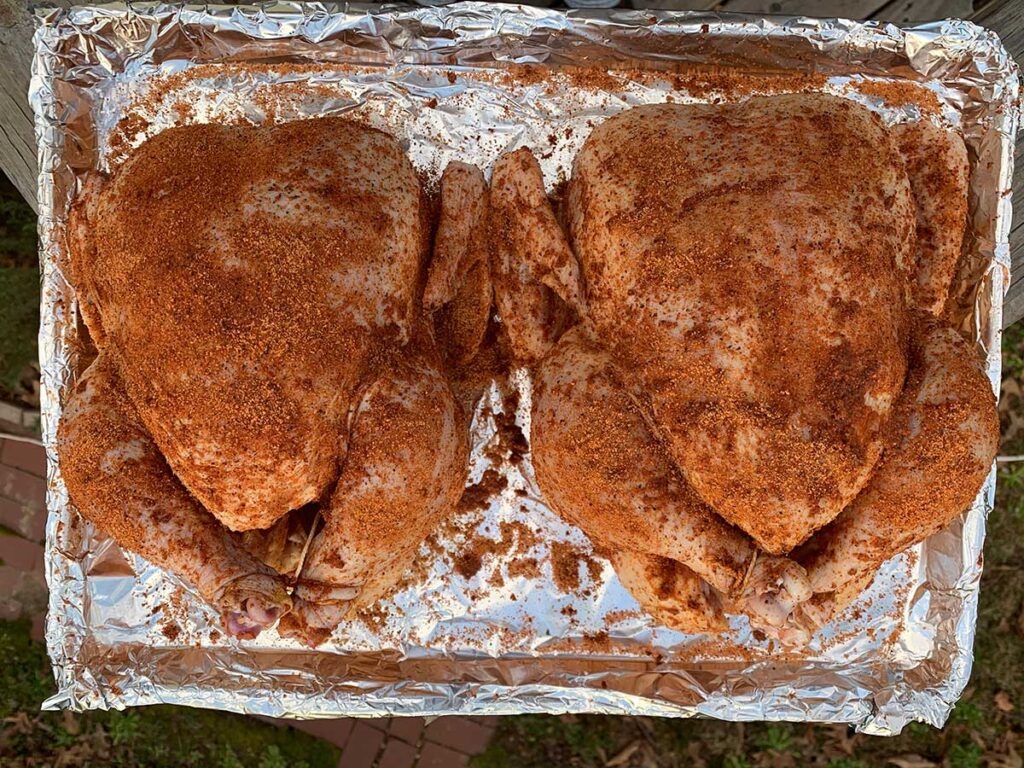 This really only applies to the whole chicken, not the spatchcock chicken.
Smoking The Whole Chicken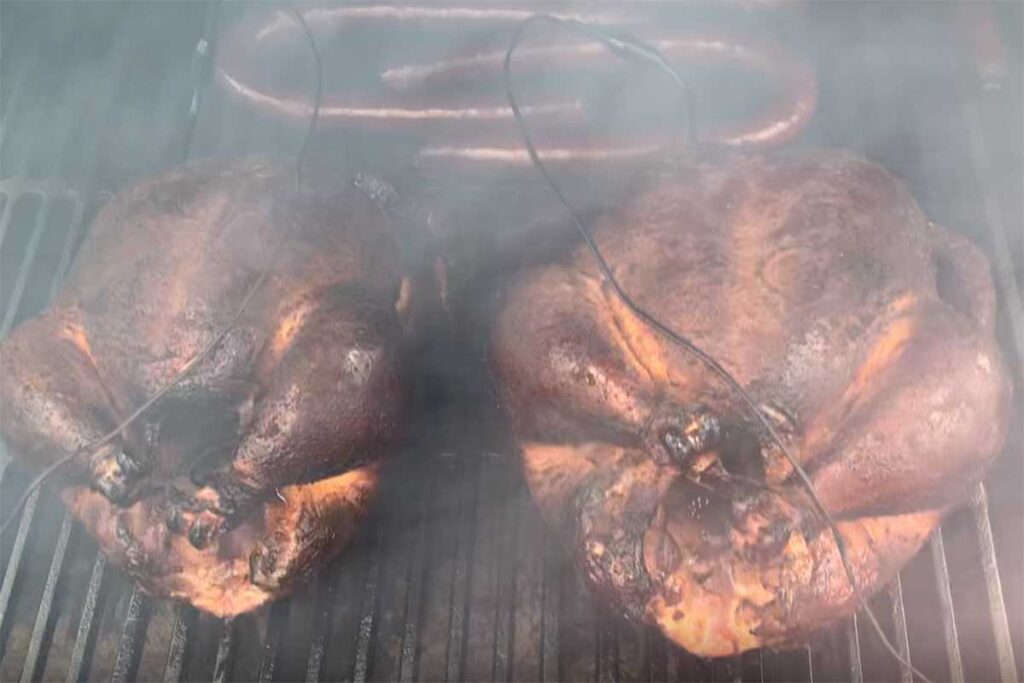 Get your smoker to a temp of 225-250 degrees Fahrenheit and add your preferred wood chunks. We smoked these chickens with a combination of oak and hickory.
Oak is a good middle of the road wood and hickory has a bit more aggressive smoke than say pecan or any of the fruitwoods.
When the smoker reaches a steady temperature place the chicken on and smoke until the internal temp of the breast and thigh are at 165 degrees Fahrenheit.
Remove from the smoker and allow to rest for approximately 20 minutes before cutting.
Differences In Cook Time
With the spatchcock method, the smoke time will significantly lower. Expect a cook time of about 2 1/2 to 3 hours for a 5 lb. chicken at 225 to 250 degrees F.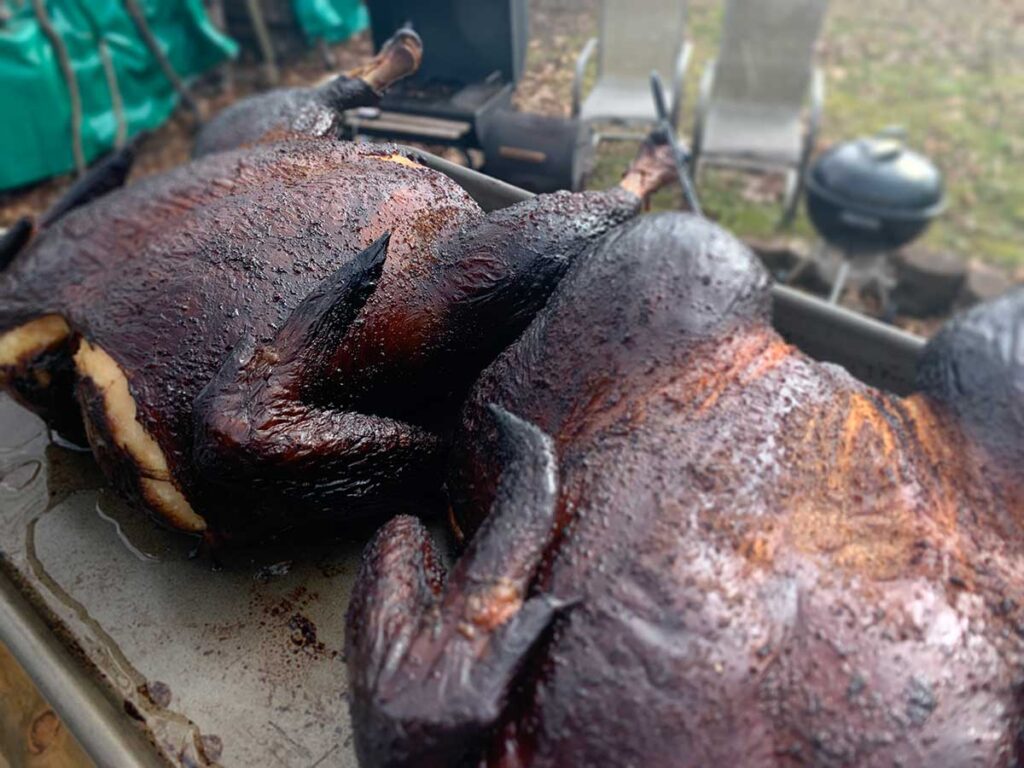 With the whole chicken, the smoke time will be around 5 hours for a 5 lb. chicken at 225 to 250 degrees F.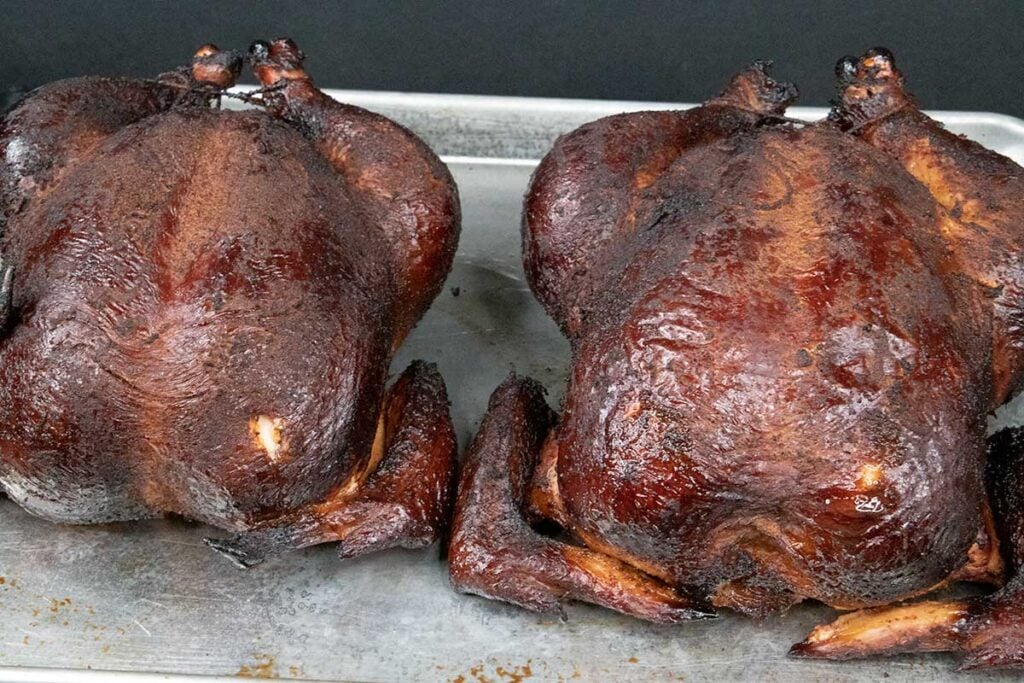 What We Learned
The first smoke was the two spatchcocked chickens, one with a standard salt dry brine and one with Byron's Butt Rub, which was skewered.
The second smoke was with two whole chickens, both seasoned with Byron's because I liked the hints of heat that the rub offered.
We found that spatchcocking the chicken, while faster to the table, did not deliver enough of the smoke we were looking for. The chicken was delicious and moist throughout but just not enough smoky flavor.
We also noted that the rub did not bring any more to the flavor except for a bit more heat. Using skewers did not show any benefit either.
Furthermore, at 275 degrees we found that the skin was still chewy. That was expected but I had held out hope. Anybody that tells you the skin is good with a smoke at 275 is not being truthful, unless you like chewy skin.
While I am on this, let me say that BBQ chicken and Smoked Chicken are two different things. Even at 275 degrees, the skin on the chicken after the smoke is not going to be crispy. At a lower temp, it's going to be even chewier. Plan on discarding it.
If you want crispy skin, you want BBQ chicken. Both are excellent but different. Please keep this in mind. You can crank up the heat for that crispier skin, but you will sacrifice smoke time.
The solution for a truly delicious, juicy smoked chicken is to dry brine it overnight, smoke at 225 to 250 degrees Fahrenheit until the breast and thigh read 165 degrees Fahrenheit, allow to rest 20 to 30 minutes, and then start cutting.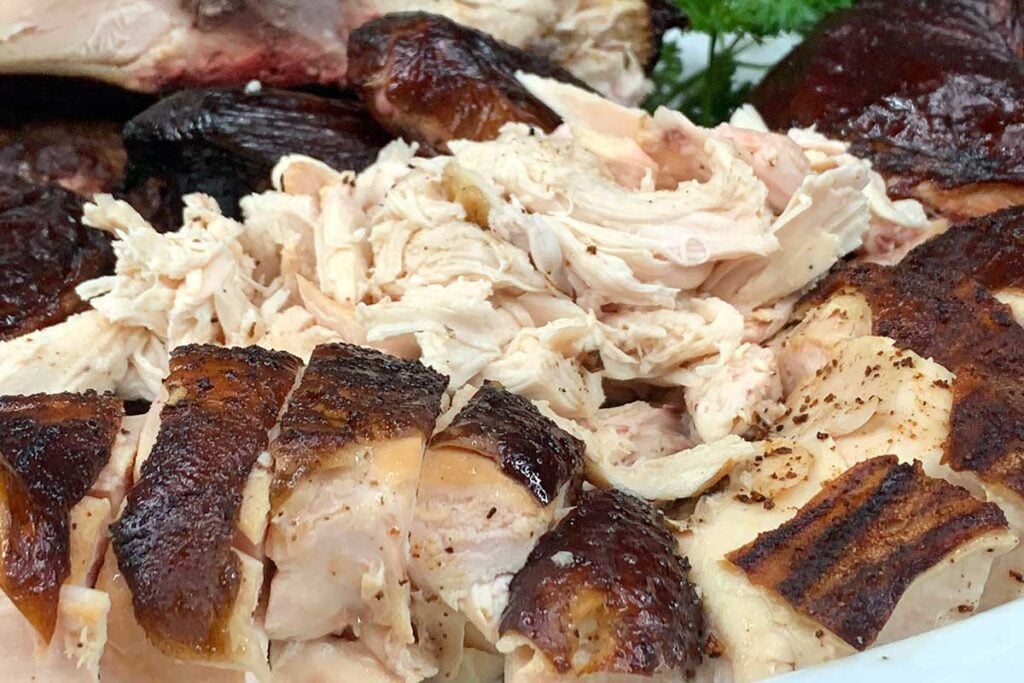 Serve however you see fit with some Alabama White BBQ sauce on the side. It's a match made in heaven. The scrumptious smoky chicken with the vinegary peppery bite of the white sauce goes so well together! We serve our smoked chicken wings with the same sauce.
While you're at it, throw on more than one chicken. We made some banging smoked chicken salad that was amazing on some Brioche bread. We also made a killer smoked chicken panini sandwich on some freshly made sourdough. Man, that was a good sandwich.
To be honest, when we were doing up all these birds up I knew ahead of time we were going to make that smoked chicken salad. The panini came to me in a dream! 🙂
More Grilling Recipes!
Smoked Whole Chicken Recipe
A how-to to create fabulous smoked chicken that is juicy, tender, and smoky that will blow everybody away.
Print
Pin
Rate
Equipment
Hickory or Oak or Pecan wood, or a mix.
Ingredients
Dry Brine
1

tbsp

Kosher Salt

1/2

tsp

Onion Powder

1/2

tsp

Garlic Powder

1/2

tsp

Pepper

freshly ground
Instructions
Prep
Combine all dry brine spices in bowl.

Add rub to entire surface of chicken, paying attention to the breasts and thighs.

Place chicken on plate or baking dish and cover with plastic wrap.

Refrigerate for at least 8 hours. You can refrigerate up to 24 hours.
The Cook
Preheat the smoker to a stable 225 to 250 degrees Fehrenheit.

Place chicken into the smoker. Make sure to tuck the wings under to prevent overcooking.

Smoke at 225 to 250 degrees Fahrenheit for approximately 5 hours or until the breasts and thighs have reached an internal temperature of 165 degrees Fahrenheit.

Remove from the smoker and allow to rest for 20 to 30 minutes.
Nutrition
Calories:
412
kcal
|
Carbohydrates:
1
g
|
Protein:
36
g
|
Fat:
29
g
|
Saturated Fat:
8
g
|
Cholesterol:
143
mg
|
Sodium:
1878
mg
|
Potassium:
360
mg
|
Fiber:
1
g
|
Sugar:
1
g
|
Vitamin A:
267
IU
|
Vitamin C:
3
mg
|
Calcium:
21
mg
|
Iron:
2
mg