Fall Off The Bone St Louis Style Ribs
Fall off the Bone St Louis style spare ribs can be daunting if you've never done it before, but if you follow the steps, you will deliver, every time, the most tender, mouth-watering ribs that you and your family and friends have ever tasted.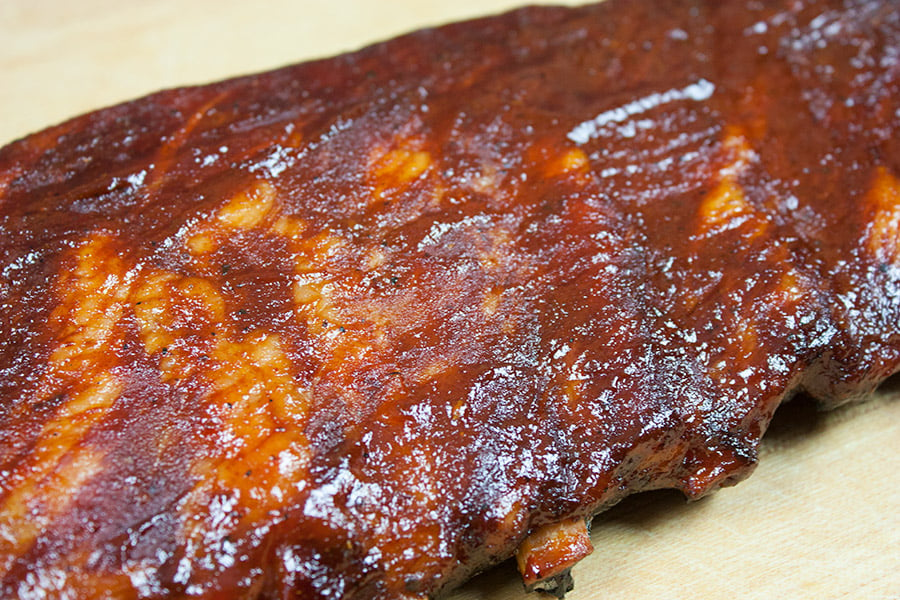 Why You'll Love These Ribs
The ribs are so tender. You can shake the rib, and the meat will come off the bone. The rub is slightly sweet with a bit of heat at the end.
There is the slightest 'pull' when you bite into it. This is how we like our ribs.
Now, I will preface this with this disclaimer: there are several ways of making delicious ribs.
You can smoke them, do them in the oven, cook 'em low and slow, and use various rubs that will all deliver various flavors and levels of tenderness. This is our favorite.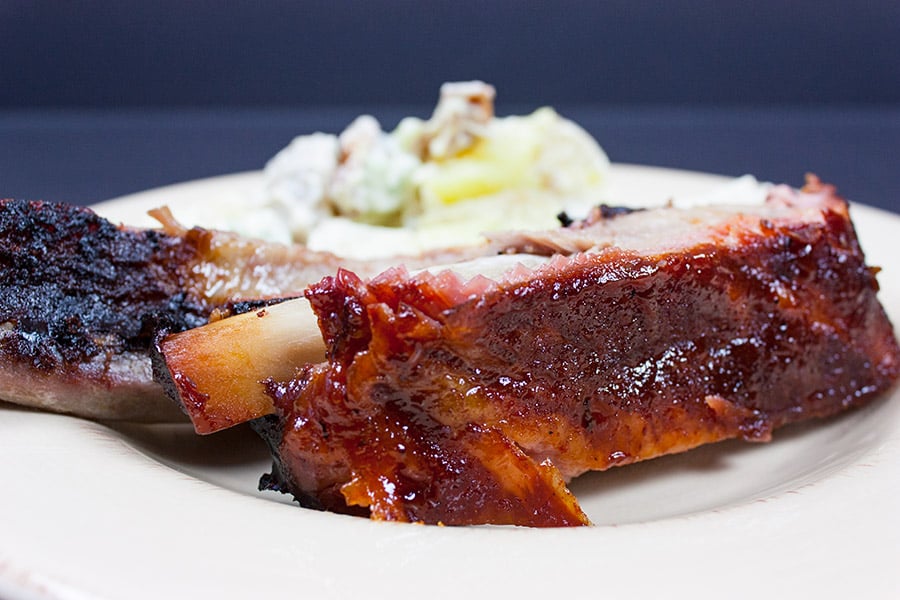 So, if you enjoy a different flavor profile, feel free to use this as a 'primer' to come up with your own perfect rack of ribs.
Furthermore, if you are looking for a rib that isn't QUITE falling off the bone, check out our other St Louis-style ribs.
These do not require wrapping. They're still super tender but offer a clean bite with just a tad of tug. You can see that St. Louis style ribs recipe here.
If you're wondering what to serve with these tender and delicious ribs you can try some of our favorites such as grilled corn on the cob, macaroni salad, and bbq baked beans.
What Others Have Said About These Ribs
Don't take our word for it. Here's just a sampling of what others have said about these crazy tender and delicious ribs:
"The wife said they were better than Chilis, better than hers and this was the first time i ever made st louis ribs. Thank you for being you, and sharing!"
"These are hands down the best ribs we've ever eaten. The instructions are bang on! Thanks so much for sharing we are eating them all the way up in Saskatchewan, Canada!"
"I am 60 years old and NEVER in my entire life have I had better, more juicy, fall off the bone ribs in ANY restaurant or bar-b-que!!!!!!!"
"Thanks for this. I was raised barbecuing, weekly, open pit. I've always struggled with pork ribs and this process delivered. Delicious."
How To Make Fall Off The Bone St. Louis Style Ribs
Removing The Membrane
The first thing you want to do is remove the membrane (called the peritoneum) from the back of the ribs.
Unlike connective tissue that will render out during cooking, this membrane will remain chewy and tough and makes for an unenjoyable pork rib experience.
Typically, with pork spare ribs (which St. Louis Style are, just trimmed down), the membrane will still be on the ribs. I have found that pork baby back ribs, the membrane will have already been removed.
This is really a strong personal preference, but I have found that it's better to remove it. I highly recommend it.
Just get a corner and rip it right off. This will allow your rub to penetrate the rib and get some more smoke.
If you have trouble, grab a spoon to get under it initially, then use a paper towel to hold on to it.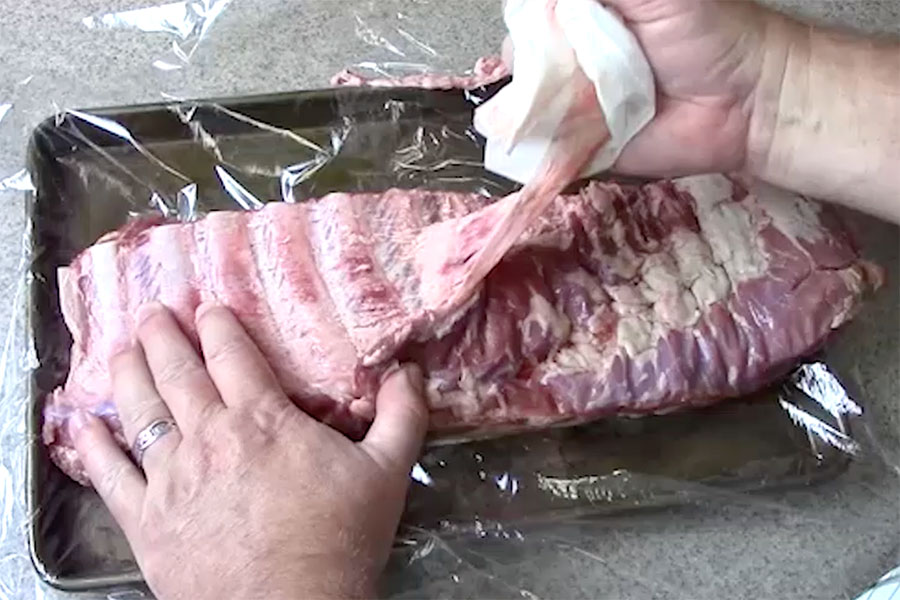 Once you have the membrane off, you want to apply your rub.
Applying The Rub To The Ribs
Holy smokes, there are tons of rubs out there. You can make your own, buy a rub … any number of options are available to you.
I have provided my 'secret' rub here. Feel free to use it; you won't be sorry. This rub works well for St Louis Style ribs, baby back ribs, pork shoulders … pretty much anything. Keep it handy.
The Rub Ingredients
White Sugar – Adds a touch of sweetness to the ribs
Dark Brown Sugar – Additional sweetness plus aids in caramelization
Smoked Paprika – A base ingredient for a good Memphis-style rub
Garlic Powder
Kosher Salt
Oregano – Adds an earthiness to the rub
Cayenne Pepper – A touch of heat. If you want them spicer, add a touch more. Milder, omit.
Cumin – Adds some good smokiness.
Black Pepper
Dry Mustard – A traditional barbecue rub ingredient. Aids in tenderizing.
Just mix the rub ingredients together in a small bowl, and it's ready to go.
Apply the rub liberally to both sides of the ribs.
Allow the ribs to rest with the rub for 2 hours to 24 hours. Refrigerate if needed, and cover them with plastic wrap if you do.
Most rubs contain a good amount of salt. This dry rub will begin to work on the meat, drawing out the moisture, then reabsorbing it into the meat, taking that delicious rub into it.
The salt in the rub (or dry brine) passes into the meat, forcing the protein to bind with the meat's moisture more tightly. This means that during the cooking process, the meat is prevented from shrinking and squeezing out water. This equates to a much juicier rib.
The longer you can let your ribs rest, the more flavor you can get into your meat. I usually do mine overnight.
Planning The Cook
When you're ready to start this party, it's time to prepare your grill/smoker. I cook my ribs for approximately 5 hours, from 225 to 250 degrees.
Two to two and one-half hours to smoke, one and a half to two hours wrapped, then about 30 minutes over some heat to crisp them up.
Pulling them on and off, doing this and that takes about 5 hours. So plan accordingly.
I use charcoal for my heat and hickory or pecan for my smoke. Pull the ribs out of the fridge about an hour before you plan on putting them on (if you refrigerate them).
I have used several methods regarding my smoke chips. I have soaked the chips and then applied them to the charcoal directly. I have also added dry chips to a bowl made of heavy-duty aluminum foil and placed them on the coals.
Both work great, but the dry method will burn pretty quickly, and you will need to watch your grill to ensure that smoke is always coming out.
There will be moisture from the dry rub doing its thing with the ribs, depending on how long you rested them. If you have some gloves, you might want to wear them. No worries, though … it washes off.
Apply another generous amount of rub on both sides. Then place the ribs in your smoker/grill.
Smoking The Ribs
Maintaining a temperature of 225-250 degrees, smoke your St Louis Style ribs for about 2 hours using indirect heat (not over the heat source).
Using a 50/50 mix of water and apple cider vinegar (or apple juice), spritz the ribs about every 30-45 minutes to keep them moist.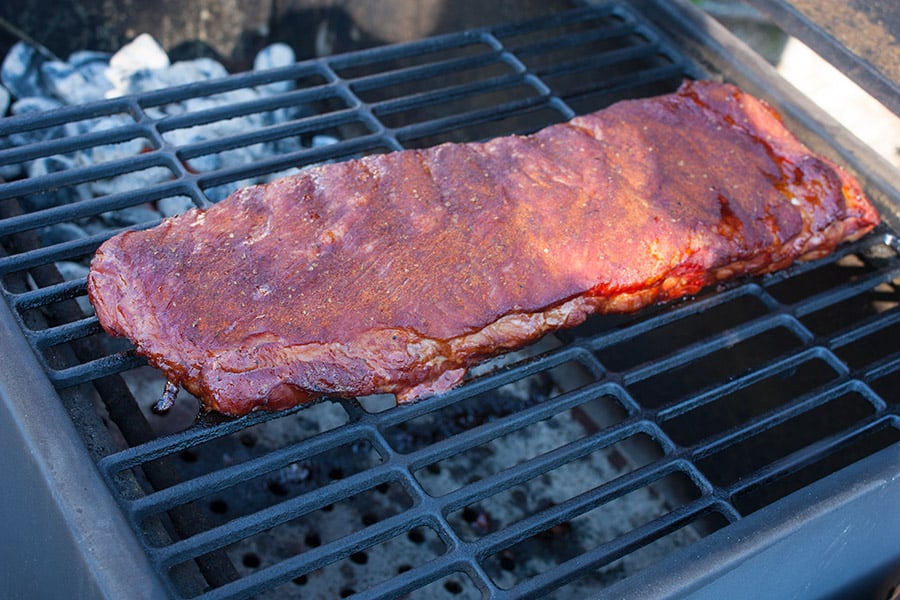 Looks good, doesn't it? Well, this is just stage one.
Pull your ribs off the grill/smoker. Tear off two large sheets of heavy-duty aluminum foil and place them on the counter. Put your ribs onto the tin foil.
Apply honey and three to four tabs of butter to one side of the rib, flip the ribs, and apply some more honey and butter. Seal up the ribs nice and tight as they're going back on the grill.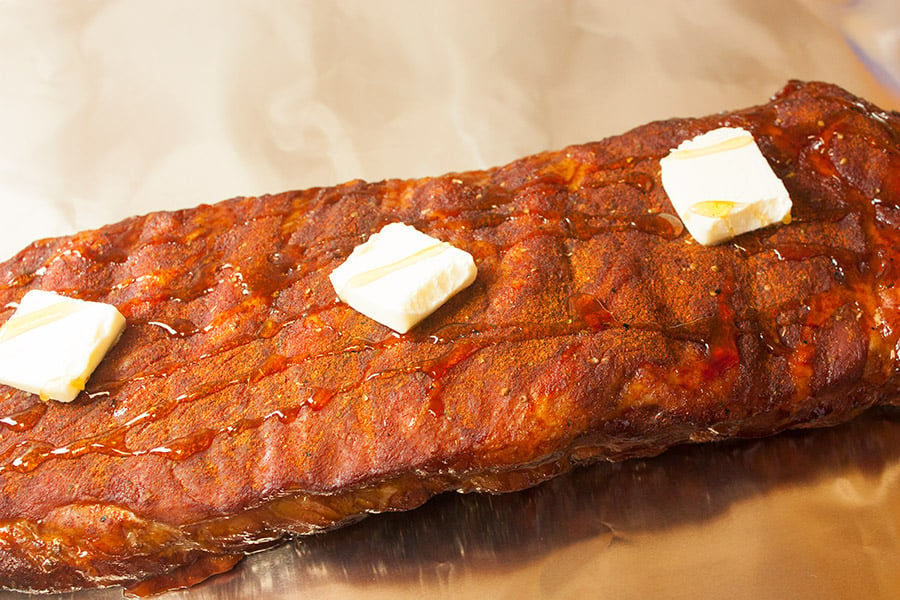 However you wrap these ribs up, you want the meat side down when you return them to the grill, so make sure when you wrap them up, your seal is on top, the meat side down on the grill.
Put the ribs back on the grill for about another hour and a half. Maintain your temperature at 225-250 degrees. This will tenderize your ribs big time as well as stop the smoking process.
Take them off the grill and remove the foil. There will be a fair amount of juice, so be ready for that.
You should notice that the rib meat has pulled away from the ends of the bones and the internal temperature should be around 195 degrees or so.
Anything around 195 degrees F and up will give you a nice and tender rib. You run the ribs up to 200-205 degrees F, and you will definitely get that fall-off-the-bone experience.
Return to the grill and place over heat. We want to get some char on these ribs. It might be necessary for you to apply another amount of charcoal.
At this step, I usually add some more charcoal as I love some char to my ribs. Depending on the heat, I usually give them about 5 minutes on each side.
I then apply a generous amount of BBQ sauce to each side of the ribs and cook them for about 10 minutes further on each side, letting the heat caramelize the sauce onto the ribs.
Use your favorite barbecue sauce, or give our bourbon chipotle barbecue sauce recipe a try.
You should get some nice sticky ribs with the sauce and that honey.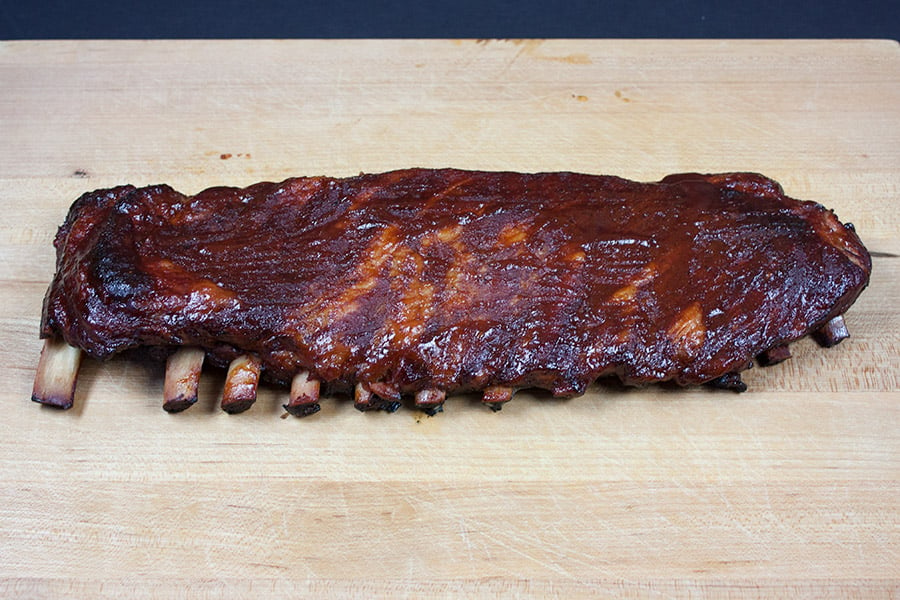 Pull them off and let them rest for 5 to 10 minutes before cutting.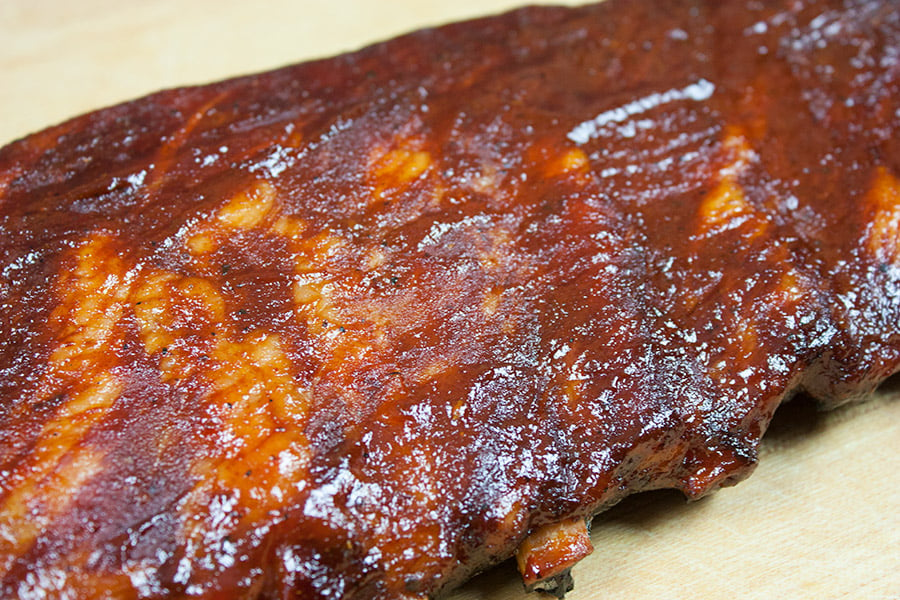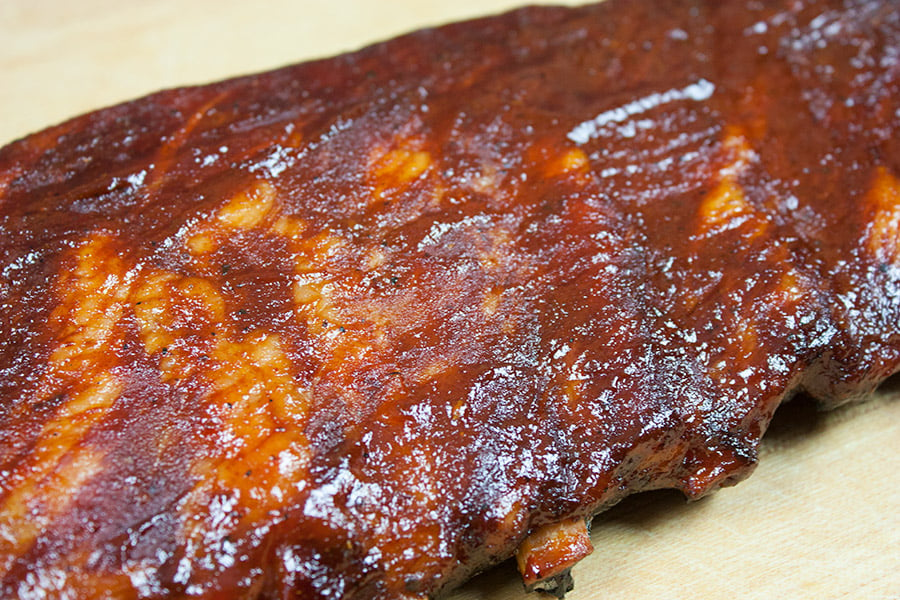 Cut the ribs into individual portions and serve with your favorite sides. You WILL BE the hero of the day, I swear it!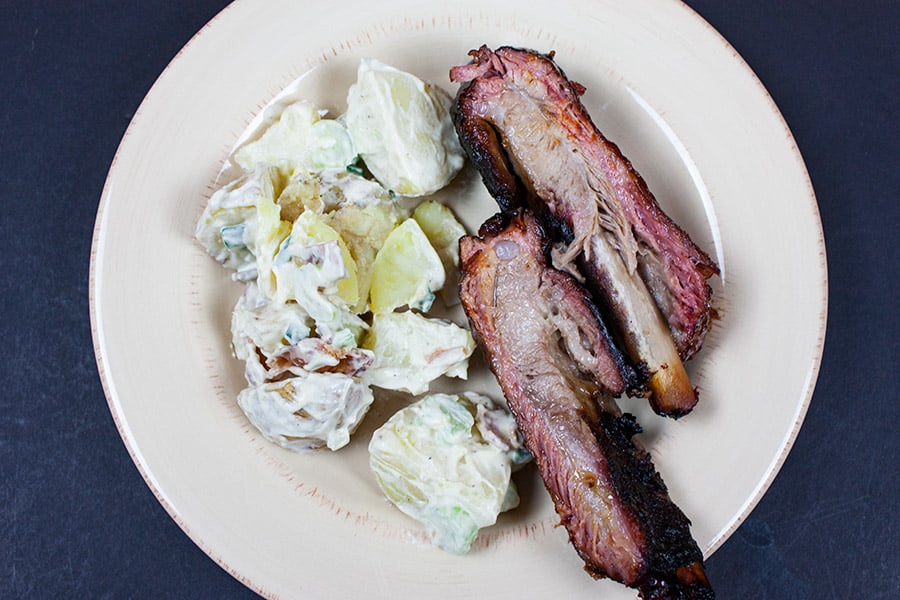 We always seem to go with a potato salad and deviled eggs with our ribs.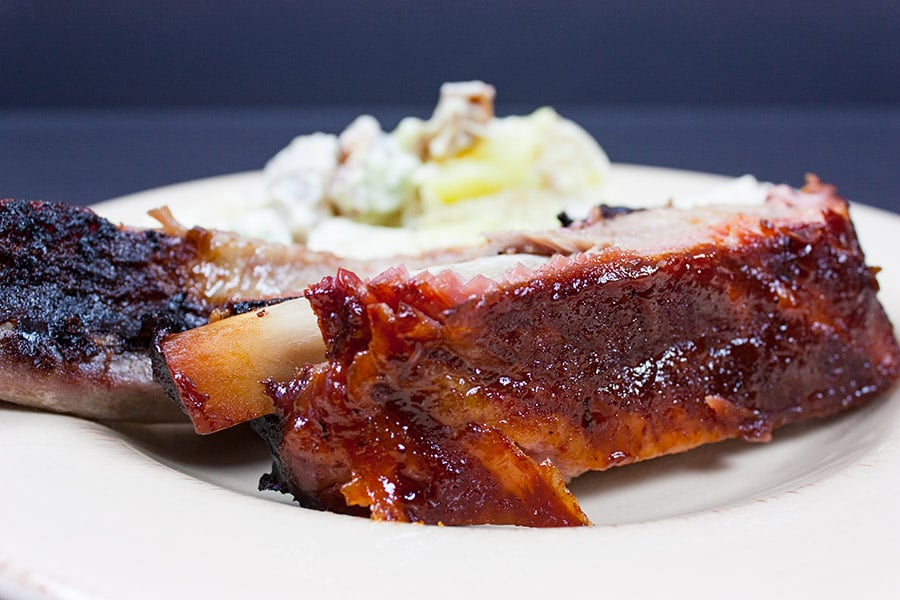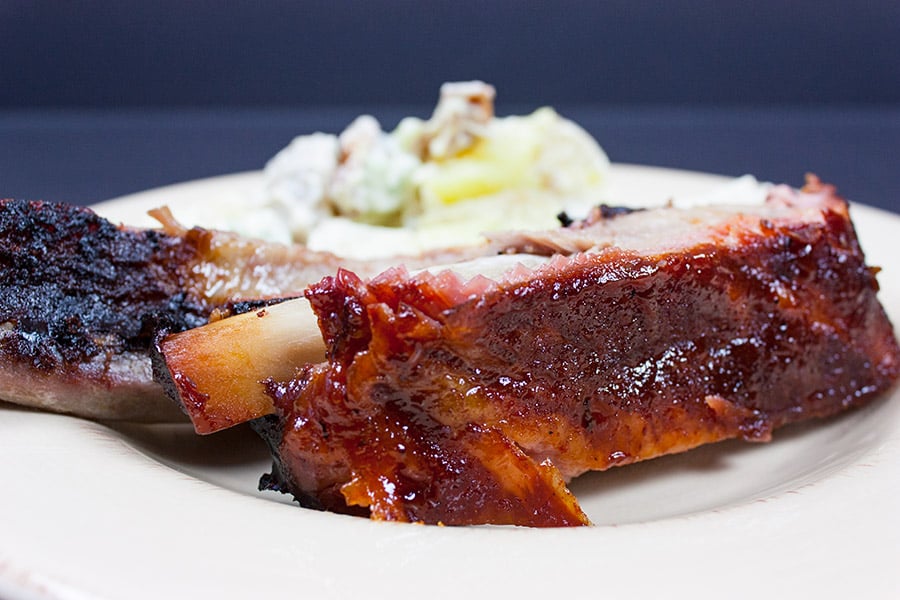 You can watch the video for the full process. The best part is the cutting, where you can plainly see how tender these ribs are.
Even with a sharp knife, the meat wants to come off the bone at the slightest pressure of the blade. My wife even said that they "might be too tender." What???
So, give it a whirl. If you do it, let us know how it went, we would love to hear about it. After this, St Louis Style ribs will be your go-to hero off the grill!
This video is one of my first, so please don't judge too harshly. I will get better.
A Note On The 3-2-1 Method
If you've done some reading on preparing ribs, you probably came across the 3-2-1 method of preparing ribs.
If you haven't, let me explain quickly. The 3-2-1 method is smoking (or cooking) the ribs low and slow (225-250 degrees F) for three hours, wrapping them and cooking them for 2 hours, then unwrapping them and cooking them for one additional hour.
After countless racks of smoking ribs, I don't subscribe to this method. Neither do others with a more-than-middling affinity for the backyard barbecue.
The meat becomes too tender, and it loses the rib meat consistency. It becomes braised pork. This recipe follows a 5-hour cook at the maximum and still produces that fall-off-the-bone experience.
My wife likes more tug on her ribs (which means I am pulling them at 190 degrees F), while I prefer this method (pulling them around 198-200).
And there is a difference in tenderness with even these small fluctuations in temperature.
With that said, the best rib is the one you like the most. This is just additional information so you can knock your winning ribs out of the park.
Tips And Variations
Cook to temperature, not time. This is a great guide, but humidity, temperature, and other factors can affect the cook. Check the internal temperature when unwrapping. When they are at 195 degrees F, they're ready to be put on for that final 30 minutes to an hour for fall-off-the-bone ribs.
Use your favorite rubs and barbecue sauce. If you use our rub, I suggest a Memphis-style barbecue sauce. Better yet, try our bourbon chipotle barbecue sauce!
This method works great with pork baby back ribs and pork spare ribs, too.
FAQ
What makes rib meat fall off the bone?
A low-and-slow cook that allows all the connective tissue to break down and become super tender. The internal temperature should be at 195 degrees Fahrenheit to start producing that super tender rib.
At what temperature can I pull the ribs?
Ribs are safe to eat at 145 degrees Fahrenheit but will be tough and chewy. 180 degrees will start to produce a more tender rib as the collagen, fat, and connective tissue breaks down. At 195-205 degrees, you will have a juicy, tender fall off the bone rib.
How long does it take for ribs to fall off the bone?
It's not really the time but the internal temperature of the ribs and your method of cooking. An internal temperature of 195 degrees Fahrenheit will give you fall off the bone ribs. This can be accomplished as quickly as 2 1/2 hours to 6 hours, depending on the temperature of your cooking method.
More Delicious Barbecue Recipes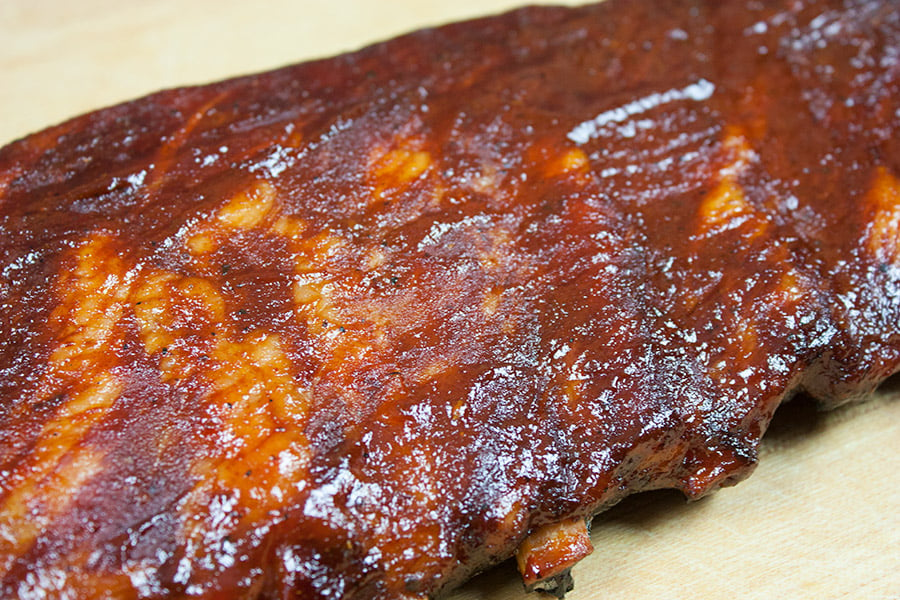 Fall Off The Bone St Louis Style Ribs Recipe
St Louis Style Ribs – Perfect every time. You will not fail with this technique. Become the grill master at your home!
Print
Pin
Rate
Ingredients
1

Rack St Louis Style ribs

6-8

Tablespoons

butter

4

Tablespoons

Honey

8

Oz

BBQ Sauce
Rub Ingredients
⅔

C

White Sugar

⅓

C

Dark Brown Sugar

½

C

Smoked Paprika

¼

C

Garlic Powder

⅓

C

Kosher Salt

1

tsp

Oregano

1

tsp

Cayenne Pepper

1

tsp

Cumin

1

tsp

Black Pepper

1

tsp

Dry Mustard
Instructions
Remove membrane from back of ribs.

1 Rack St Louis Style ribs

Apply a liberal amount of rub to ribs.

Wrap in plastic wrap, let rest for 2 to 24 hours.

After rest, remove plastic wrap and add more rub liberally.

Get grill/smoker to stable temperature (225 to 250 degrees).

Add smoking wood chips.

Put ribs on, meat side up.

Cook for 2 to 2 and one-half hours, spritzing every 30-45 minutes with a 50/50 mix of water and apple cider vinager( or apple juice).

Lay ribs onto heavy-duty tin foil, add honey and butter equally to each side.

6-8 Tablespoons butter,

4 Tablespoons Honey

Seal ribs in tin foil, place back on the grill for 1 to 1 and one-half hour.

Remove ribs from grill, remove ribs from tin foil.

Add more heat to grill, if needed.

Place ribs back on the grill over heat for app 5 minutes each side.

Cook each side for app 10 minutes, allowing the sauce to caramelize.

Remove from grill, set aside for 5 to 10 minutes

Cut into individual portions.
Notes
Smoke to temperature, not time. All racks of ribs and temperatures of pits vary.
Nutrition
Calories:
684
kcal
|
Carbohydrates:
111
g
|
Protein:
10
g
|
Fat:
26
g
|
Saturated Fat:
13
g
|
Polyunsaturated Fat:
3
g
|
Monounsaturated Fat:
7
g
|
Trans Fat:
1
g
|
Cholesterol:
68
mg
|
Sodium:
10199
mg
|
Potassium:
763
mg
|
Fiber:
7
g
|
Sugar:
89
g
|
Vitamin A:
7527
IU
|
Vitamin C:
1
mg
|
Calcium:
110
mg
|
Iron:
5
mg