Deviled eggs are always present at our cookouts, holidays and family gatherings. This recipe is a must have in your repertoire.
Deviled eggs are a hit at any party or gathering. We grew up with them at every family gathering no matter what time of the year.
Only 3 ingredients. Well, five if you count the salt and pepper, which I don't.
Try our Shrimp Salad!
Amazing Deviled Eggs with Relish
They are so simple and scrumptious. It's hard not to just pop one in your mouth while you are making them. Ok, I admit after countless years of making these I now boil an extra egg for the sole purpose of eating while prepping.
Most classic deviled egg recipes use yellow mustard, Dijon mustard, or white vinegar. We don't use any of those and we love them this way.
Boil the eggs by placing them in a medium-sized pot, cover them with water. Bring the water to a boil and cook for 10 minutes.
Remove from the heat, drain, and place in a cold water ice bath. They are much easier to peel if you gently crack each egg and allow to cool completely in the ice bath.
Peel the eggs. Slice the eggs in half lengthwise and pop out the yolk into a bowl. Removing the yolk is easy just using the tip of your knife.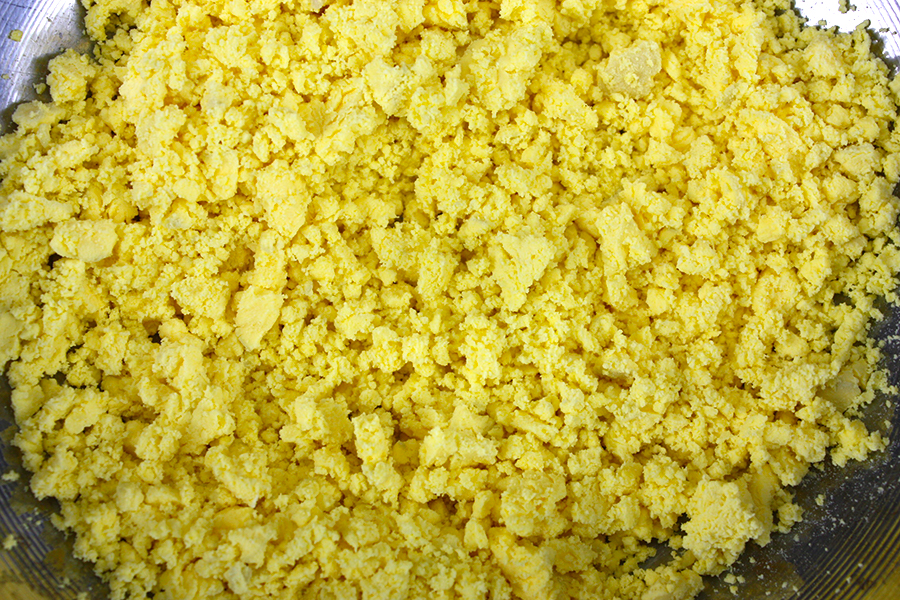 Use a fork to smash the egg yolks.
Check out our Strawberry Shortcake!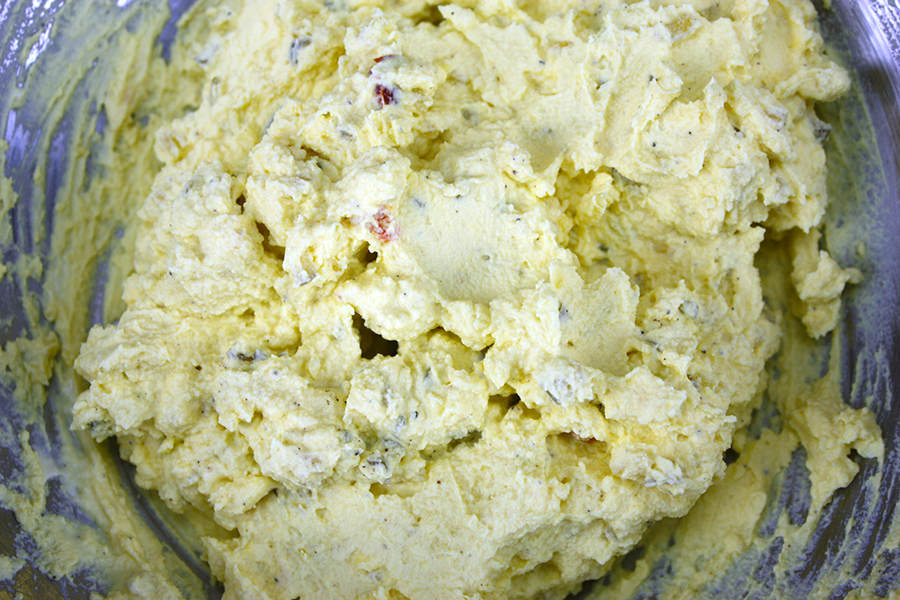 Mix in the mayo, dill relish, salt, and pepper.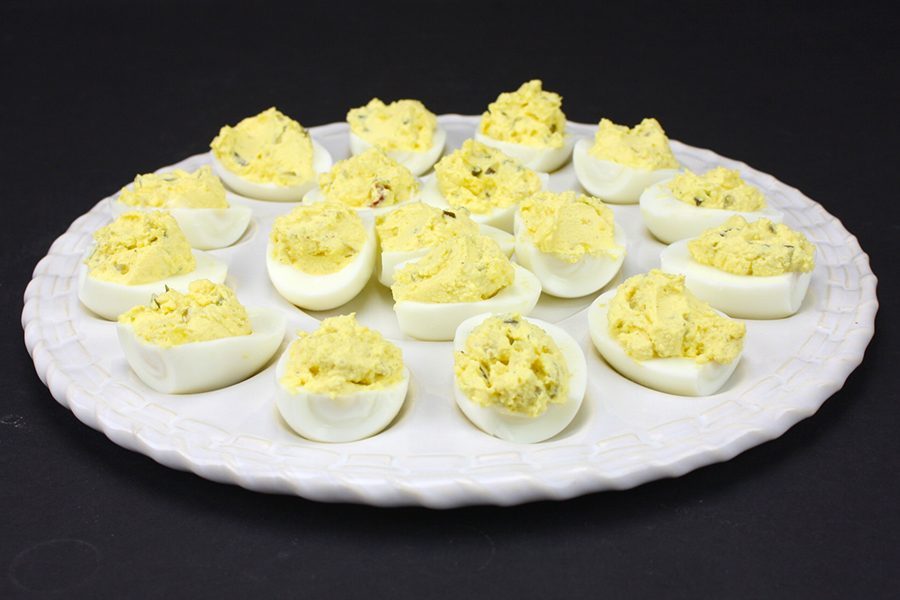 I use a spoon to fill the egg whites with the yolk mixture.
If you want to be fancy place the yolk mixture in a piping bag or zip-top bag, snip off a corner and pipe into the whites.
Garnish with a sprinkle of paprika if that's your thing!
Try our Sausage Balls!
Southern Deviled Egg Recipe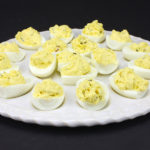 Print Recipe
Deviled Eggs Recipe
Deviled Eggs – 3 Ingredient deviled eggs. This is our favorite deviled egg recipe, it's always requested!

Ingredients
10

large

eggs

3

tablespoons

dill relish

1/4

cup

mayonnaise

salt and fresh ground pepper to taste
Instructions
Cook the eggs by placing them in a medium-sized pot, cover them with water, add one tsp baking soda to the water and bring to a boil

Once water is boiling cook eggs for 10 minutes.

Remove from heat, drain and fill with cold water and ice cubes.

Let eggs cool completely before cutting in half and making the yolk filling.

When eggs are completely cool, remove shells, rinse any residual shell residue off and pat dry.

Using a sharp knife, cut eggs in half carefully and softly remove the yolks and place them in a small mixing bowl. Repeat until all eggs are halved and all yolks are in the mixing bowl.

With a fork, mash the yolks until crumbly.

Add the dill relish, mayonnaise, salt and pepper to taste.

Using a small spoon, or piping bag if you prefer, fill the egg whites with the yolk mixture.

Cover and refrigerate until ready to serve.
Nutrition
Calories:
105
kcal
|
Carbohydrates:
1
g
|
Protein:
6
g
|
Fat:
8
g
|
Saturated Fat:
2
g
|
Cholesterol:
166
mg
|
Sodium:
147
mg
|
Potassium:
61
mg
|
Fiber:
1
g
|
Sugar:
1
g
|
Vitamin A:
245
IU
|
Calcium:
25
mg
|
Iron:
0.8
mg