Smoked Pork Shoulder Fork Tender Every Time
One of the easiest and most delicious meals you can prepare is a good smoked pork shoulder. I have smoked countless pork butts but every time I pull one off the grill/smoker it's like Christmas and I am 8 years old.
If you want to impress your friends, have them over for some of the best-smoked BBQ they have ever had.
What's The Trick?
There isn't really one but perhaps you have never done this before and it's a game changer.
The trick is to keep the meat moist while it slowly cooks all day. The best way to do that is to either inject the butt or to brine it.
We usually brine, and you can find an explanation as well as an easy brine recipe here.
In a few words, the meat remains moist while cooking and once done you get the awesome bark and meat that falls apart in your fingers! So, let's get to it.
Let's Do This!
So, let's say I am wanting to fall face first into a plate of pulled pork at 4 pm on Saturday, this is what I am going to do:
Thursday night I will put my pork in the brine.
Friday, after about 18-24 hours I am going to pull out the meat from the brine and let it rest for a couple of hours.
The meat will drain some excess brine. I will pat it relatively dry, apply a liberal amount of mustard all over,  and apply a rub and wrap it up overnight.
The mustard allows the rub to adhere better, and the vinegar helps in the cooking process.
UPDATE
I will also place my wood into some water overnight. We smoke with Hickory. You can buy all sorts of wood for smoking from Lowes, Home Depot, or Amazon
if you don't want to get out. Since I put my wood directly on charcoal, I soak it overnight.
After much trial, I have found that using chunks of the unsoaked wood works much better. You want that smoke to start smoking, not waiting until the water evaporates.
Each chunk usually takes about 45 minutes before needing to add more. You just need to keep an eye out and when the smoke stops, toss another chunk in. Pecan or hickory wood is the best to use for this.
Try our street tacos recipe or our stuffed bell pepper recipe!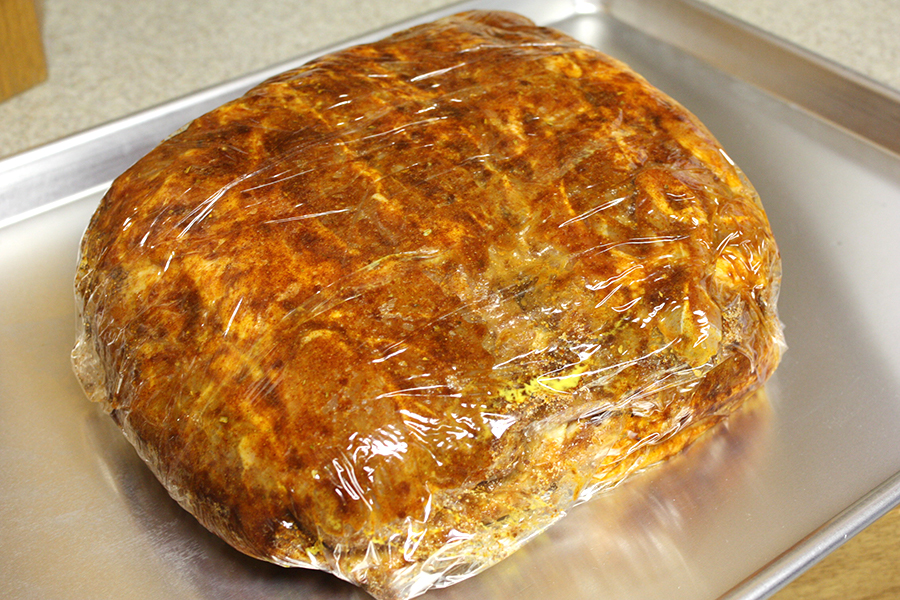 The typical 8 lb. pork shoulder needs to go for about 12 hours. So I am up at 3:30 am and starting my charcoal.
I want my smoker/grill to be between 225-250 when I put my meat on. It usually takes me about that long to get the temperature regulated.
For those that have just a smoker, this might take you less time. Those with a Weber type grill, you can do the same as well, just put your meat on to the side, smoking it indirectly.
Before placing it on, you may want to add additional rub. Place the meat on the grill, fat side up.
I will smoke the meat for 6 hours. During this time you want to watch your temps, you may need to add more wood or fuel for your fire but do your best to maintain 225-250.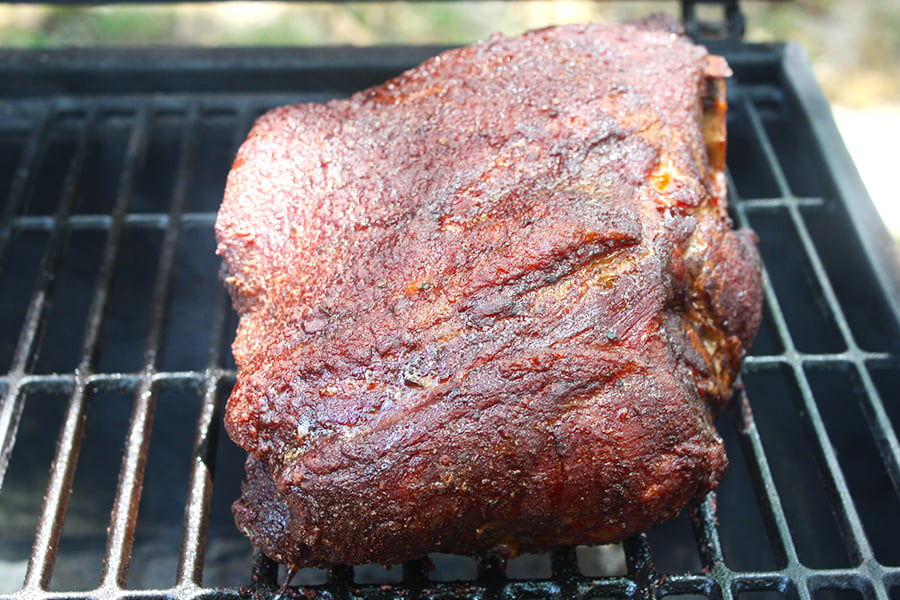 After 6 hours, I pull the meat and wrap it in craft paper (a tip from my brother-in-law).
Some people want to use foil but the paper allows for some moisture to escape so it won't end up stewing in its own juices.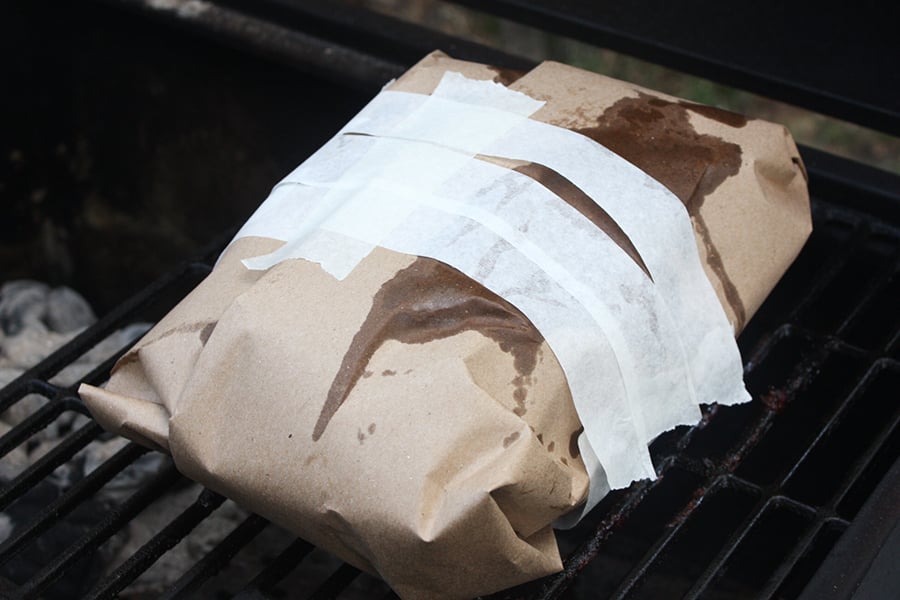 In the 11th hour, I usually insert my meat thermometer. You can put yours in whenever. What you're looking for are 192-195 degrees. In the 11th hour for me, I am usually right at 190.
When the meat is done, pull it off and let it rest for a bit. You will be tempted to tear it apart right there, but it's really hot, I wouldn't recommend it.
You may also need to defend the meat from your wife who can strike like a cobra at the smoked ends of the meat. Watch out for that as well.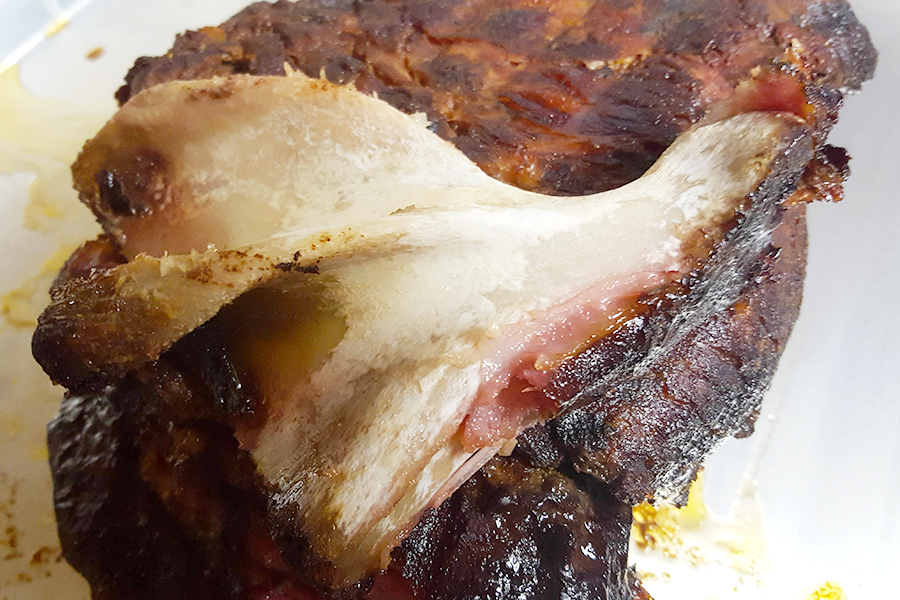 After about 15 minutes place the meat it some sort of rectangular pan because the juice will run.
Grab hold of that shoulder bone and watch it slide out. It will still be hot but it will come apart with some meat claws
or forks. When it's cooled down, your fingers work just as well.
Smoked Pork Shoulder HEAVEN!
Smoked Pork Shoulder Video
Enjoy, and happy BBQing!
Smoked Pork Shoulder Recipe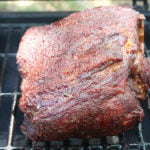 Print Recipe
Smoked Pork Shoulder (Butt)
Smoked Pork Shoulder - This recipe and method produces a juicy, tender, perfectly smoked pork butt/shoulder EVERY TIME!
Ingredients
8

Lb

Pork Shoulder (Butt)
Memphis Dry Rub (makes .5 cup):
1/4

cup

paprika

1

tablespoon

packed dark brown sugar

1

tablespoon

white sugar

2

teaspoons

salt

1

teaspoon

celery salt

1

teaspoon

ground black pepper

1

teaspoon

cayenne pepper

or to taste

1

teaspoon

dry mustard

1

teaspoon

garlic powder

1

teaspoon

onion powder
Instructions
Brine pork shoulder for 18-24 hours

Pull pork from brine, allow to rest for app. 1-2 hours

Apply a liberal amount of mustard, coating the entire surface of the meat

Apply a liberal amount of rub, rubbing or patting it into the meat

Smoke at 225-250 for 6 hours

Pull pork from grill, wrap in paper or tin foil. If tinfoil, allow some moisture to escape by not completely sealing it

Return to grill, continue to cook for 6 hours at 225-250

Using a meat thermometer, remove cooked meat at 193-195 degrees and allow to rest for 10-15 minutes before shredding
Notes
Prep time is indicated at approximately one hour. This does not include the time to brine the pork if you decide to do that. Please read the entire recipe.
More Delicious Recipes