Smoked Turkey Breast Easy And Perfect
Smoked turkey breast is the answer to several issues: you're cooking for just a few people and you don't need to do a whole turkey, you're keeping to white meat versus dark meat, and you don't want to run your oven for hours, or perhaps you're like us and just want some good smoked turkey for a perfect turkey sandwich.
Whatever your reason, smoking a turkey breast gives you a fair amount of very flavorful meat to use for whatever purpose you're needing. I won't even get into the benefits of smoking, this goes without saying. Anytime you can fire up the grill is a good day!
How To Smoke A Turkey Breast
Smoked bone-in turkey breast is a rather easy endeavor. The basics are very simple. Put the turkey breast in a smoker or grill and smoke for 3-4 hours at 225-250 degrees F. until the internal temperature reaches 160 degrees F. That's it. Pretty easy. But boy oh boy,  there are other things you can do to make this turkey breast so much better. Let's explore this just a bit more.
Smoked Turkey Brine Rub (Dry Brine)
The best thing you can do to get this turkey ready for the smoker is to brine it first. Yes, you can wet brine but we have a better solution, dry brining.
When you dry brine a piece of meat the salt from the brine draws the moisture out of the turkey then is pulled back in along with the other spices. The salts begin to break down the muscle of the breast which makes the meat much more tender and juicy. This method also flavors the meat throughout, not just on the outside. We have long since abandoned a wet brine over dry brining and it has never been the wrong choice.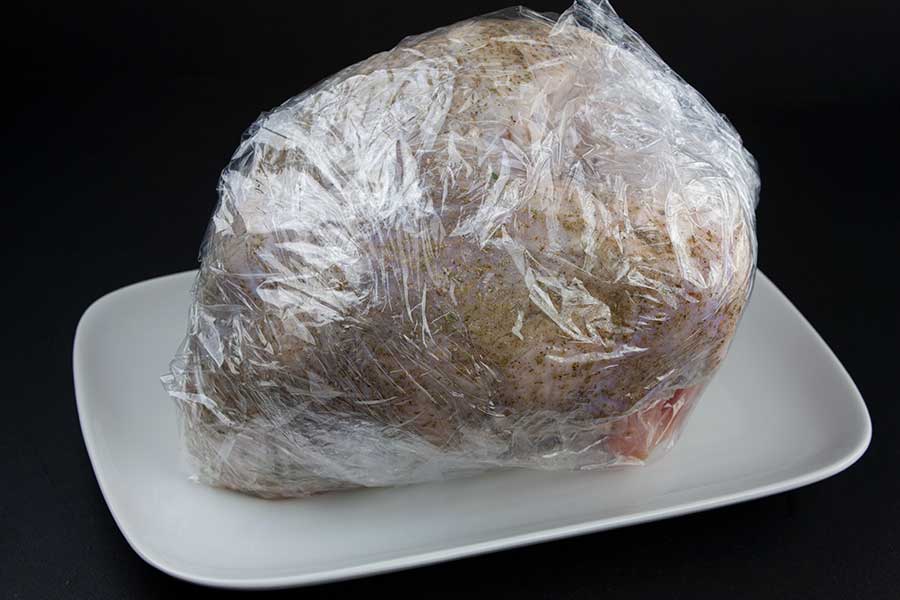 Three days before you plan on smoking your turkey breast apply the brine, covering the entire turkey breast, focusing on the thicker parts of the bird. Seal it in plastic wrap and refrigerate for two days on a platter, as there will be released juices.
Next, remove the wrap, draining any juices and place on a plate with a paper towel underneath. Place back into the refrigerator uncovered for another day. This last day will allow the skin to crisp up as it smokes on the grill.
One of the last steps you MAY want to do is run a couple of skewers through the bird near the base to keep it upright as it smokes. This is not necessary but we think it presents better.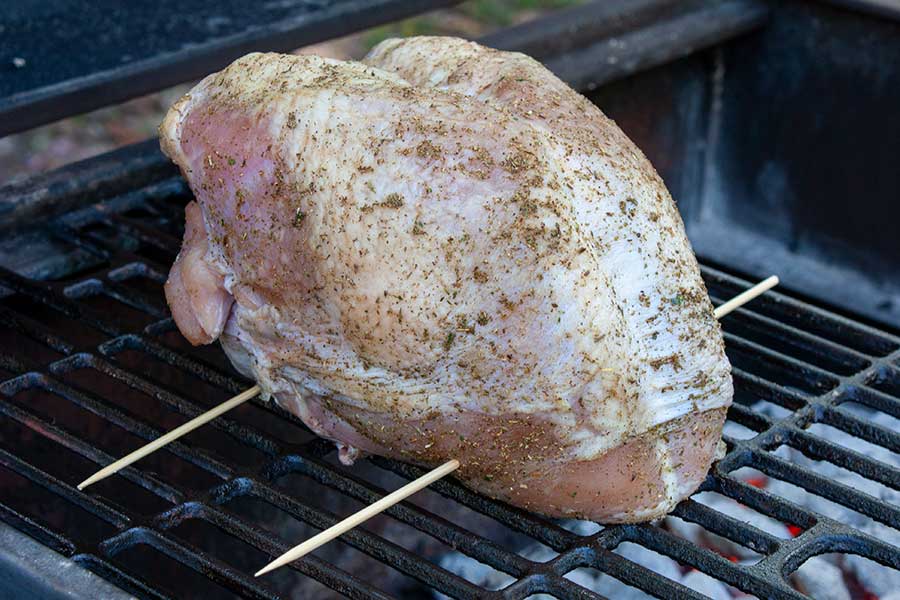 Smoking The Turkey Breast
The first thing you need to know is what kind of wood you should use with turkey. I would say "whatever you like" but there are a few things to note. Woods like hickory, oak, and mesquite are typically used for beef, pork, and ribs whereas fruit woods such as cherry, apple, and plum are good for poultry due to the sweetness and mild smoke. You really don't want to overpower the flavor of the meat.
In my opinion, pecan wood is perfect for smoking turkey. It is slightly less bold than hickory yet brings a fruity sweet flavor that makes it ideal.
Get the grill or smoker going and get it up to temp, between 225-250 degrees. Once there, add the wood chips or wood chunks and place the turkey breast in, making sure it's not over direct heat if using a grill.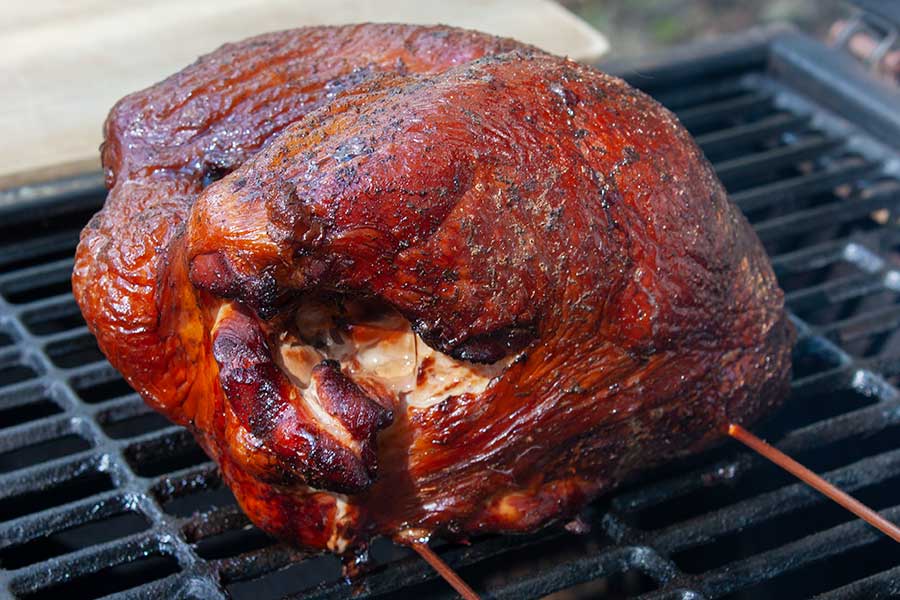 Smoke for approximately 3 hours until the internal temperature reaches 160 degrees Fahrenheit. Depending on the weight of the turkey breast, you may need to adjust your cooking time.
How To Check The Temperature Of The Smoked Turkey Breast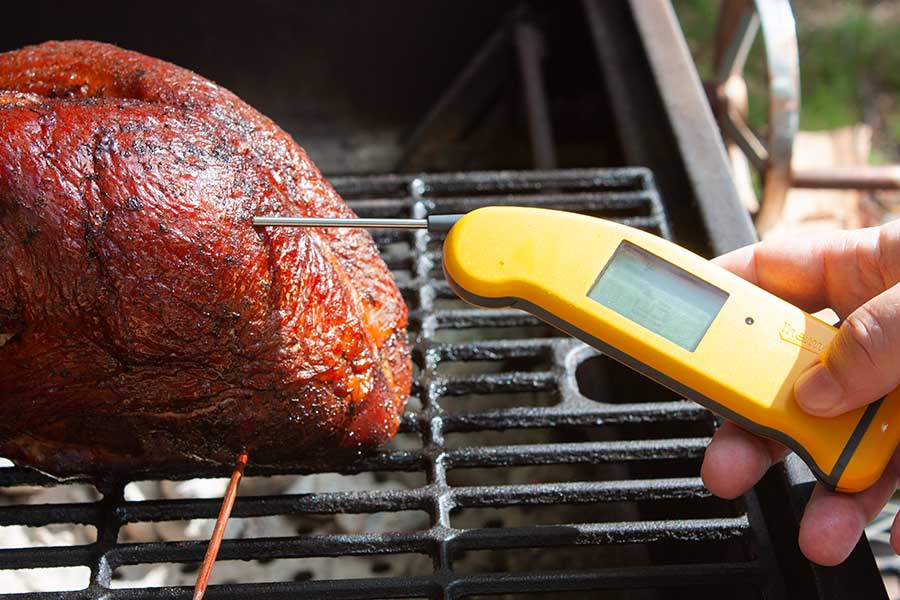 Insert an instant-read thermometer into the thickest part of the turkey breast, approximately 2 1/2 inches in. You want to be in the flesh of the breast, not on the bone. For us, the best way to insert the thermometer is from the front, straight into the breast parallel, not down as you can get too close to the bone, giving you a false reading.
How to Serve Smoked Turkey Breast
At 160 degrees Fahrenheit, remove the turkey breast. Tent it in foil (just throw some foil over it) and allow it rest for about 15-20 minutes before slicing. This will let the juices redistribute and bring the turkey to a temperature of approximately 165 degrees Fahrenheit.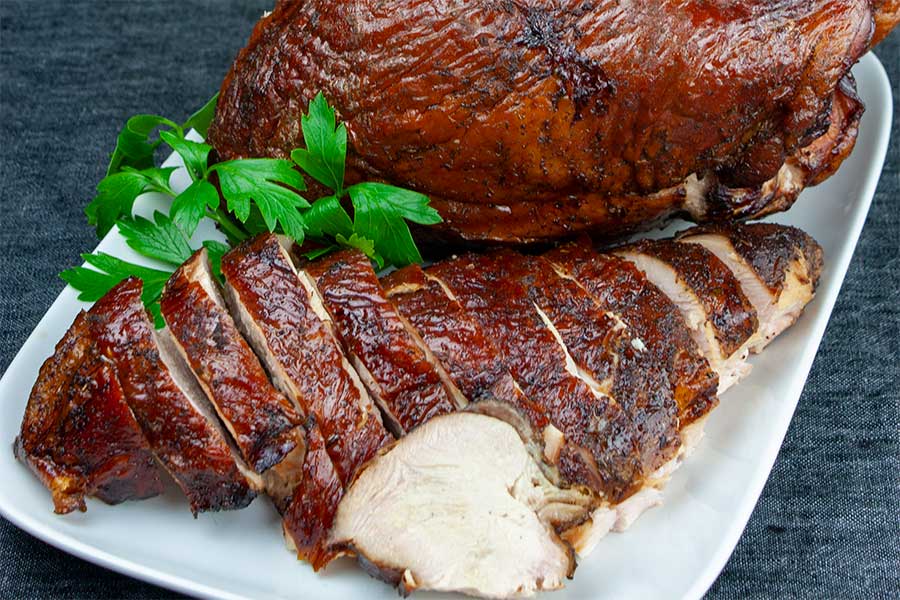 After 20 minutes remove the breasts by cutting along the breastbone, following the bone with your knife. Once removed, you can cut this as you see fit. Big thick hearty chunks, thinly sliced for lunch meat .. anyway you like it.
You will be amazed at how juicy the turkey is from the dry brine with flavor bursting out in every bite. Plus you get that smoky, crispy skin … man, this is just a win! If you were looking for a good smoked turkey breast recipe, you won't be let down by this one.
As previously said, you can make this for Thanksgiving dinner or Christmas dinner. You can make this for kickass sandwiches, you can make this as a low calorie, low carb protein. There kinda really isn't any reason NOT to make this. It is flavorful, it is super moist, and most importantly, it is delicious. This is something you could make for all your friends and family and basically blow their socks off.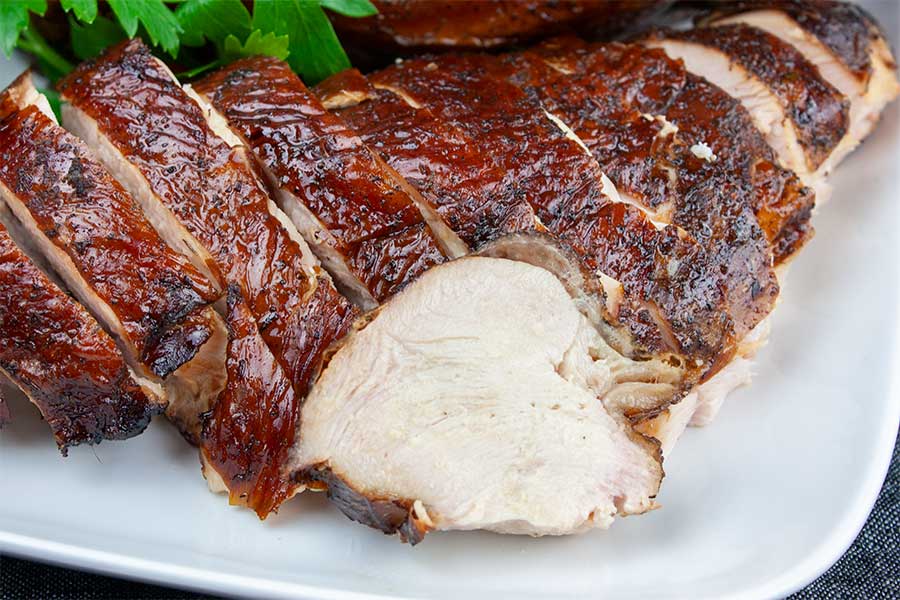 If you want to explore the 'deli meat' method a bit more, check out our other recipe where we did a Cajun-style turkey for this very reason. You can see that recipe here.
More Grilling and Smoking Recipes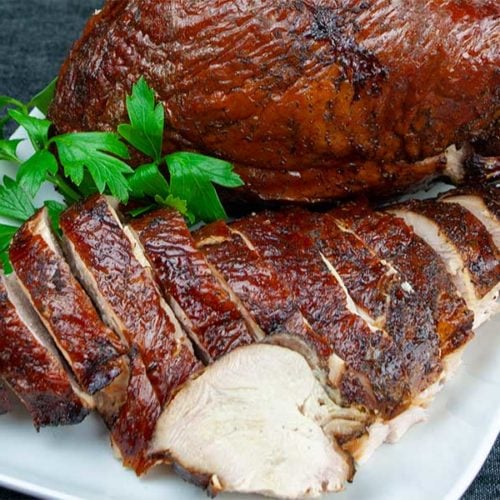 Smoked Turkey Breast
Smoked Turkey Breast – Blow your friends and family away with this very easy, moist and tender, flavorful turkey breast.

Print
Pin
Rate
Ingredients
1

Tablespoon

kosher salt

(1 tablespoon per 5 pounds)

1

small

bay leaf

1/2

teaspoon

rubbed sage

1/2

teaspoon

dried thyme

1/2

teaspoon

dried rosemary

5-7

lb

turkey breast, bone-in
Instructions
Dry Brine/Rub
Grind together the kosher salt, bay leaf, rubbed sage, dried thyme, and dried rosemary in a spice grinder or small food processor.




Remove the turkey from the packaging, pat dry with paper towels.

Sprinkle the inside of the turkey breast lightly with salt. Place the turkey breast on its back and salt the skin of the breast, concentrating the salt where the meat is thickest. Be sure to spread it evenly on the sides too.

Wrap the breast in a few layers of plastic wrap. Place the turkey breast-side up on a plate or platter in the refrigerator. Chill for 2 days*. Rub the salt around once a day. (Liquid will collect on the plate—this is normal)

For the crispiest skin, on the third day, remove the turkey from the plastic wrap. There should be no salt visible on the surface and the skin should be moist but not wet. Place the turkey breast-side up on a plate and refrigerate uncovered for at least 12-24 hours.
Smoking
Get the smoker or grill to a steady temperature between 225-250 degrees Fahrenheit. 

Add chips or chunks of your selected wood (we recommend pecan).

Place turkey breast in smoker or grill avoiding direct heat.

Smoke for approximately 3 hours at 225-250 degrees until the internal temperature of the breast reaches 160 degrees Fahrenheit. Add more pecan wood as needed.

Remove smoked turkey breast and tent with tin foil. Allow turkey breast to rest for 20 minutes to allow redistribution of juices.

Remove breasts by cutting along the breastbone. Slice as desired.
Nutrition
Calories:
258
kcal
|
Carbohydrates:
1
g
|
Protein:
55
g
|
Fat:
4
g
|
Saturated Fat:
1
g
|
Cholesterol:
138
mg
|
Sodium:
1398
mg
|
Potassium:
617
mg
|
Sugar:
1
g
|
Vitamin A:
51
IU
|
Calcium:
36
mg
|
Iron:
1
mg