The Secrets To Amazing Smoked Chicken Wings Every Time
Smoked chicken wings … really? Yes. Heartedly YES! Emphatically YES!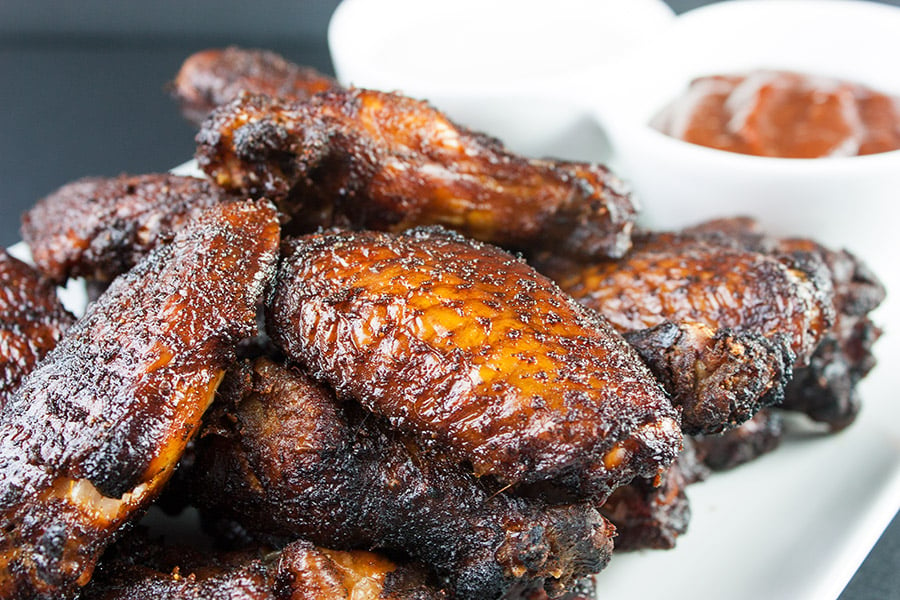 One of the first and most basic secrets about delicious chicken wings is that you can, indeed, smoke them.
Most people will either fry or bake their chicken wings and they, more often than not, are good.
There is nothing wrong with a plate full of fried up wings.
But if you're interested in an entirely new flavor profile to your wings, if you want to blow away your guests at the next get-together at your house, please read on.
I guarantee that if you follow these very basic steps, you will amaze them and they will clamor for more. It's so easy, it's like magic.
The steps are easy to make your smoked chicken wings:
So let's get to it.
Try our sausage balls recipe!
Apply Rub
Try our street tacos recipe or our stuffed bell pepper recipe!
The first thing you want to do is prepare your wings and rub.
We usually buy our wings whole so we separate the wing, drumette, and tip by cutting them between the joints.
We toss the tips and pat down the drumettes and wings, removing the moisture and put the wings in a large mixing bowl or zip lock bag.
Mix the dry ingredients together in a bowl then pour the oil over the wings. Mix it around to coat all the wings.
Next, pour some of your rub over the wings and mix it around.
Keep adding and moving the wings around so they are equally coated with the rub.
Once complete, set them aside in the fridge for a few hours, one hour at the least.
Smoke
This particular recipe calls for pecan wood for the smoke, but I know that hickory will do well too.
You can decide to use any kind of wood that you like but know your flavor profiles.
If this is your first time, I would recommend running up to Lowe's or Home Depot and picking up some pecan wood. It is a milder smoke than hickory.
If you do you use hickory, I would only smoke the wings for about an hour then just finish them up without smoke as it's profile is much stronger.
You can use a charcoal or gas grill with indirect heat, or a smoker to make these wings.
You will need to get your cooker, whichever you're going to use, to a temperature of 225-250 F.
If using a charcoal grill, push all your coals to one side, or along the edges as you want your wings to cook on indirect heat, not directly over the coals.
Once you get your cooker to temperature, place your wings on the grill, toss in your wood chips and close it up.
How Long To Smoke Chicken Wings
Keep an eye on your grill temperature, keeping it between 225 and 250 degrees F.
You also want to make sure that smoke is pouring out at your desired level. I smoke the wings for a full two hours.
Doesn't that look amazing? Smoked chicken wings just like that!
After 2 1/2 hours, the wings are ready. If you want to make sure, use a meat thermometer and cook your wings to an internal temperature of 165 degrees Fahrenheit.
The wings will be cooked, but we like ours with some char and really crispy so we put them over high heat for about 5 minutes each side to get them really crispy.
EAT!
Once done, pull them from the grill and let them rest for a few minutes on any baking pan or cutting board. At this point, you can apply a sauce if desired. Just toss them in a small bowl and add your favorite sauce and give them a toss to apply evenly.
I urge you to eat a smoked wing BEFORE adding the sauce. You may find that you just want to eat them plain.
This is because they're amazingly good with just the smoke.
If you want to put the proverbial cherry on the top with these smoked chicken wings, you need to make up a batch of Alabama White BBQ Sauce.
Of course, they will be the bomb with a favorite wing hot sauce or barbecue sauce of your choice.
The sauce does pair so well with these wings. I recommend trying it at least once!
Something about a slightly vinegary peppery sauce with the smoke of the wings that makes it all come together to form a perfect 'whole'.
Making the sauce is a breeze, check it out here.
We love wings at our house. We love them this way and that way. Baked, fried, smoked … it doesn't matter.
I will say, without reservation, that this is the most surprisingly delicious.
I will make this recipe 2-3 times more than the standard baking or frying method.
We hope that you give this recipe a go, and we would love to hear from you to see what you think. Thanks, and happy smoking!
Try our street tacos recipe or our stuffed bell pepper recipe!

Smoked Chicken Wings Recipe