Cajun Smoked Chicken Wings That Will Blow You Away
These Cajun Smoked Chicken Wings has a spicy Cajun rub meeting up with some sweet Pecan wood smoke, then finished off with an aromatic hot sauce.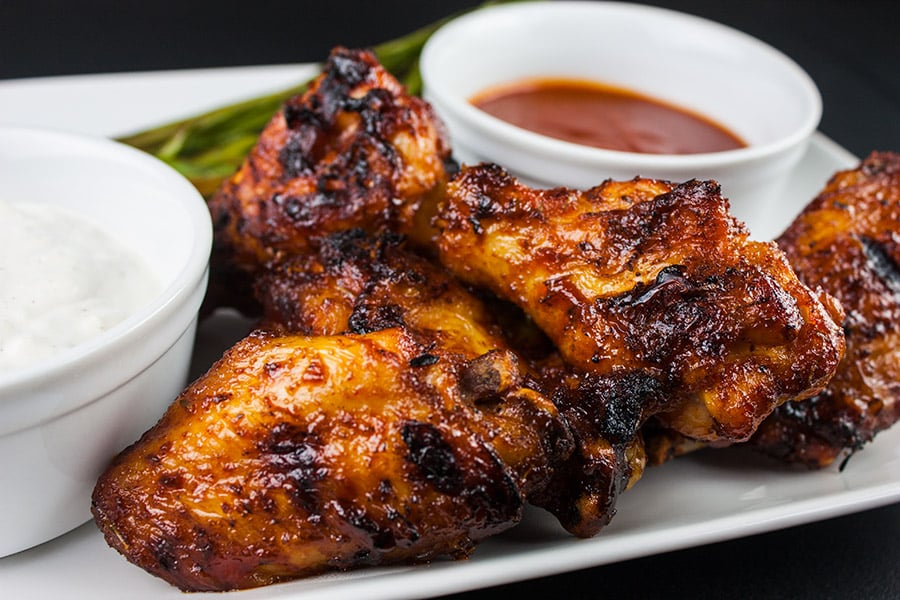 These will change your expectations of what you will expect from a wing. Just look at the pictures!
I almost want to apologize in advance for ruining your dining out wing experiences going forward after you make these. Yes, they are that good.
And if you have never prepared smoked chicken wings, you will be surprised at how easy it is.
How long to smoke chicken wings, you ask? With prep time and grilling, you can knock this smoked chicken wings recipe out in less than an hour.
A couple of months ago, we made what I thought were the best tasting wings I ever had (see Amazing Smoked Chicken Wings). Well, I was wrong. Well, perhaps not wrong, as they both have their unique flavor profiles.
But this barbequed wing will please you to no end. You should make these as quickly as possible, and invite your friends.
So let's get to it.
Prep Your Cajun Smoked Wings
If you soak your wood chips, now would be the time.
We used Pecan wood on our Cajun smoked wings. Pecan wood is a sweeter smoke than most, and I thought it would pair well with the spiciness of the rub and sauce of the wings. Hickory wood is a good substitution.
Next, prepare your rub. You can prepare it in a large bowl, add your chicken, and turn to coat.
Or you can mix the rub ingredients in a small bowl, place the wings in a large ziplock bag, add your rub and shake. Either way, you're looking for a nice even coating over your wings.
Allow the dry-rubbed wings to stand at room temperature for about 30 minutes before adding them to the grill.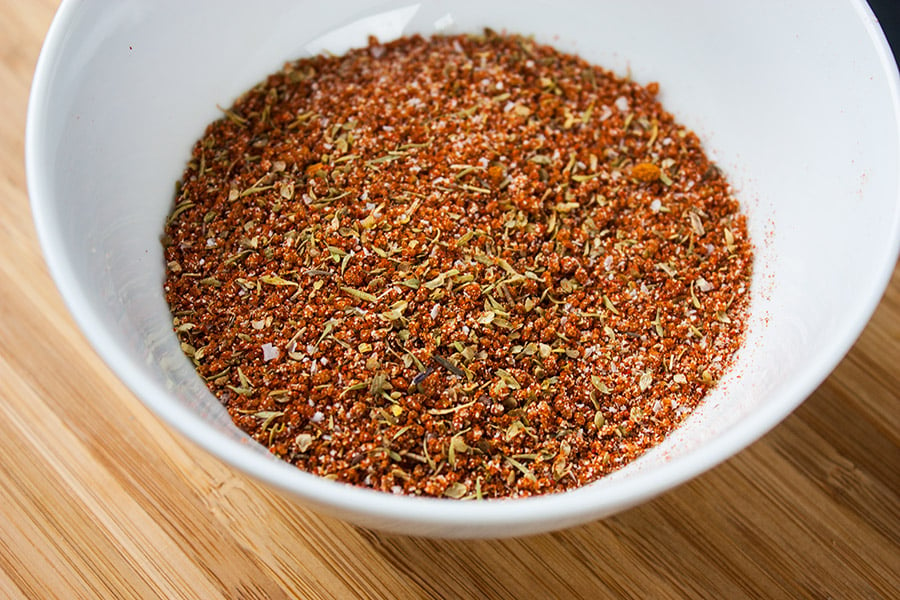 Now you want to go ahead and prepare your grill. You will be grilling the wings first on direct heat and then indirect heat over medium heat, 350° to 450°.
Direct heat means to cook the food directly over the heat source (whether charcoal, gas, or wood), while indirect cooking refers to cooking adjacent, or to the side of, the heat source.
Leaving out the butter, combine your sauce ingredients in a medium pan and simmer over medium heat.
Cook until slightly thickened, about 4 or 5 minutes. Give it a stir or two.
Remove from the heat and add the butter. Whisk until combined and butter is melted.
Set aside in a bowl that you will use to baste the wings.
Grilling the Cajun Smoked Wings
If needed, drain your wood chips and add to your fire as prescribed by your grill manufacturer's instructions. I just toss a chunk of wood directly onto my coals.
When smoke starts to appear, add your wings over direct high heat and grill for 5 minutes, turning once with the lid closed.
After the 5 minutes, move the Cajun smoked wings over to indirect heat and grill with the lid closed for 10 minutes. Add more wood chips if needed.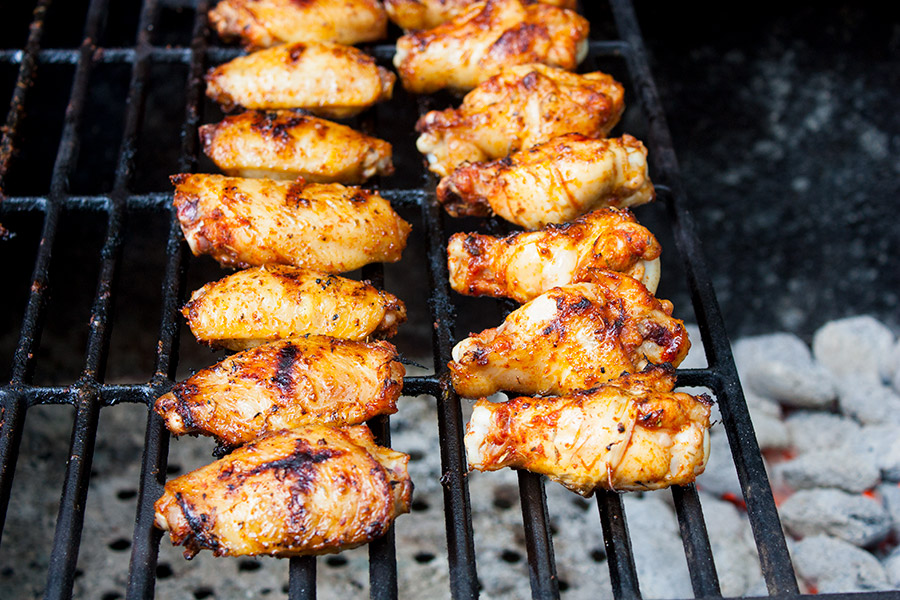 Brush the wings with the Cajun barbecue sauce and turn. Sauce the other side and grill until extra crispy, deeply browned in areas, and tender. This takes about another 15 minutes.
Brush wings again with sauce and turn. Brush the other side. Give it 90 more seconds on the grill and remove.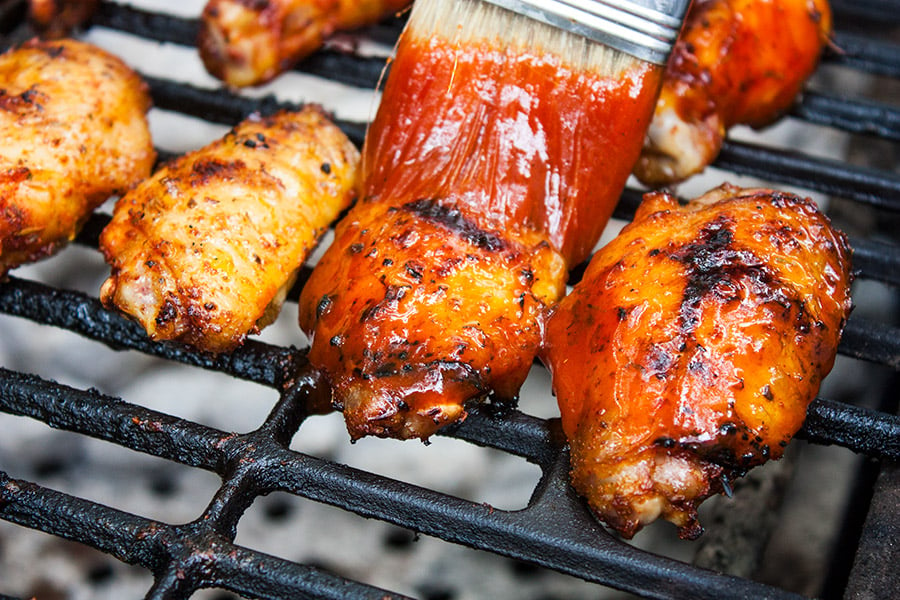 Serving your Cajun Smoked Wings
Serve warm with Ranch, Blue Cheese, and/or bbq sauce (or nothing, the way I like em) and enjoy the exultations of joy from your friends and family.
I mean, look at those wings … they are smoky, they are spicy, they are sticky sweet. It all comes so perfectly together.
These will truly surprise you when you take that first bite.
We all love the convenience of dining out, but when you can make these at a fraction of the cost of going out, you may find that staying home and doing it right is the best way to go.
If you're presently just here looking for a good smoked chicken wings recipe, please take a look at our Amazing Smoked Chicken Wings recipe. That one is so good too!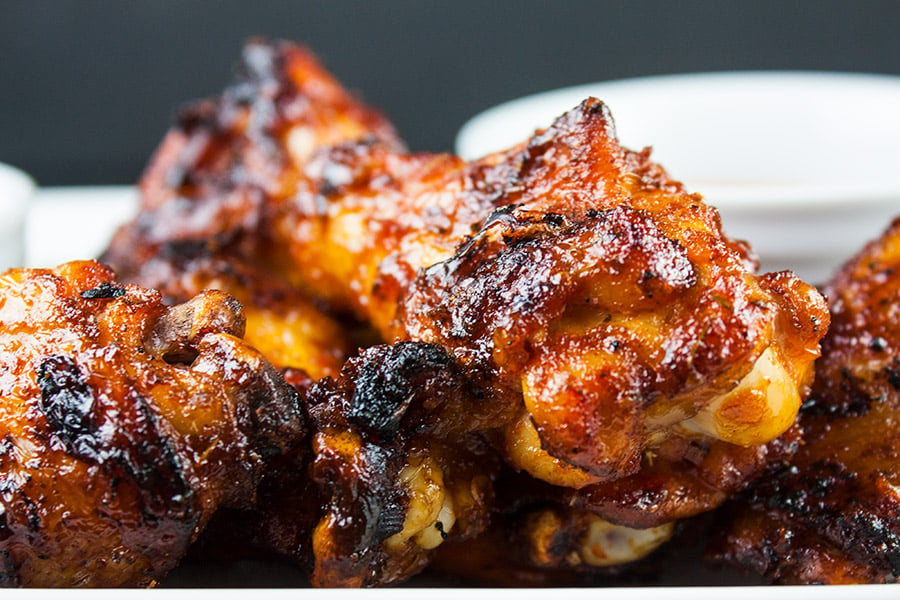 Try our Street Tacos!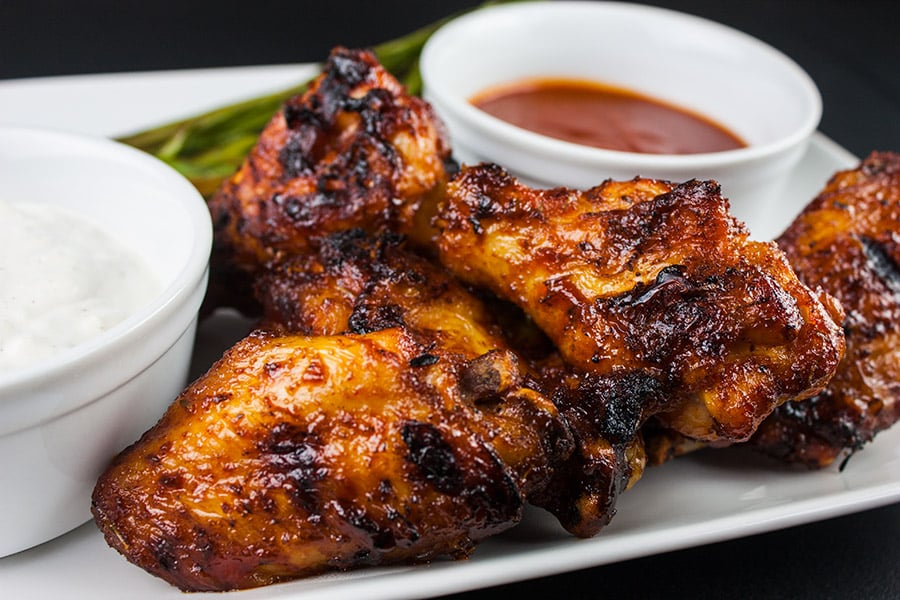 Cajun Smoked Chicken Wings That Will Blow You Away
These barbecued cajun smoked chicken wings have a spicy Cajun rub meeting up with some sweet Pecan wood smoke, then finished off with an aromatic hot sauce. They are deliciously smokey and spicy with a slightly sticky sweet sauce that brings it all together in the most incredible wing you will ever have.
Print
Pin
Rate
Ingredients
Rub
1

Tbs

Brown Sugar

2

tsp

Smoked Paprika

1 1/2

tsp

Kosher Salt

1

tsp

Onion Powder

1

tsp

Dried Oregano

1

tsp

Garlic Powder

1/2

tsp

Dried Thyme

1/2

tsp

Fresh Ground Pepper

1/2

tsp

Cayenne pepper
Sauce
1/4

C

Ketchup

1/4

C

Louisana Hot Sauce

2

Tbs

Brown Sugar

2

tsp

Cider Vinegar

1

tsp

Tobasco

1/2

tsp

Cajun Spices

3

Tbs

Butter

3

lbs

Chicken Wings

tips removed, sectioned into two pieces, the wing, and the drumette.
Instructions
Rub
Combine all rub ingredients

Coat chicken wings with rub

Set aside, but put out at room temperature 30 minutes before grilling
Sauce
Combine all ingredients but butter in medium saucepan. Simmer for approximately 5 minutes, until slightly thickened.

Remove from heat, add butter. Whisk until combined.

Set aside
Chicken Wings
Add wings to direct heat, grill for 5 minutes with lid closed, turning once.

Move to indirect heat, grill for 10 minutes

Coat wings with sauce and turn. Coat the other side.

Grill for 15 more minutes, until crispy, dark in areas, and skin is golden.

Coat wings and turn. Coat the other side. Grill for approximately 90 more seconds

Remove from the grill.
Nutrition
Calories:
546
kcal
|
Carbohydrates:
15
g
|
Protein:
34
g
|
Fat:
38
g
|
Saturated Fat:
14
g
|
Cholesterol:
164
mg
|
Sodium:
1714
mg
|
Potassium:
366
mg
|
Fiber:
1
g
|
Sugar:
12
g
|
Vitamin A:
1200
IU
|
Vitamin C:
2.8
mg
|
Calcium:
34
mg
|
Iron:
2.3
mg