Double Bone-In Smoked Pork Chops
Double Bone-in Smoked Pork Chops, perfectly juicy, will totally impress your friends and family at your next BBQ. Add a seriously delicious protein to your smoking arsenal.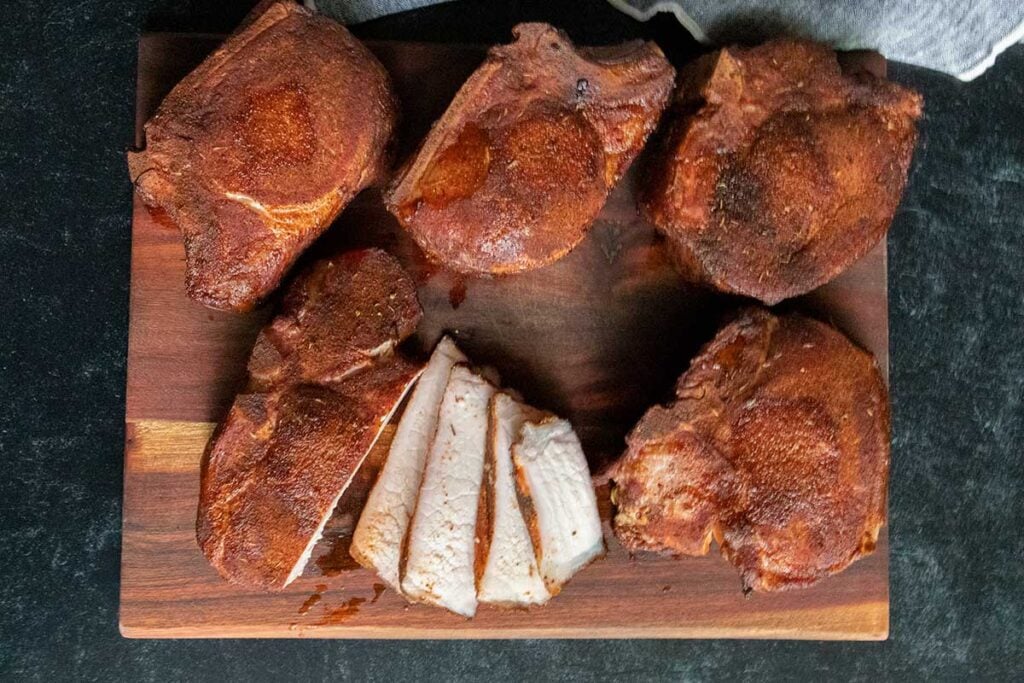 Whether you're just starting out on your smoking journey, or a pro at briskets and butts, this cut of meat cannot be overlooked.
Sometimes the issue is the fear of drying out the very lean pork chop, which makes this cut not at the top of the list.
But I guarantee you; you can produce a lusciously moist smoked pork chop that looks freaking amazing and tastes even better! No more dry pork chop failures again!
This simple recipe will give you the best pork chops you've ever had, promise.
If you're looking for some delicious sides to go with this perfect main course of bone-in chops we got you covered.
Summer Succotash, Grilled Corn On The Cob, bbq baked beans, deviled eggs, or our Grilled Mexican Street Corn Salad would be awesome!
Why You Will Love Double Bone-In Smoked Pork Chops
I'll tell you … it looks amazing! When you pull these monsters off the smoker, you will convey the shock and awe to your friends and family that every backyard pitmaster dreams about.
Another reason? How about these things are ready to go in about an hour and a half vs. twelve hours waiting for a smoked butt.
This is a perfect cut of meat that delivers the smoky pork flavor without burning an entire day.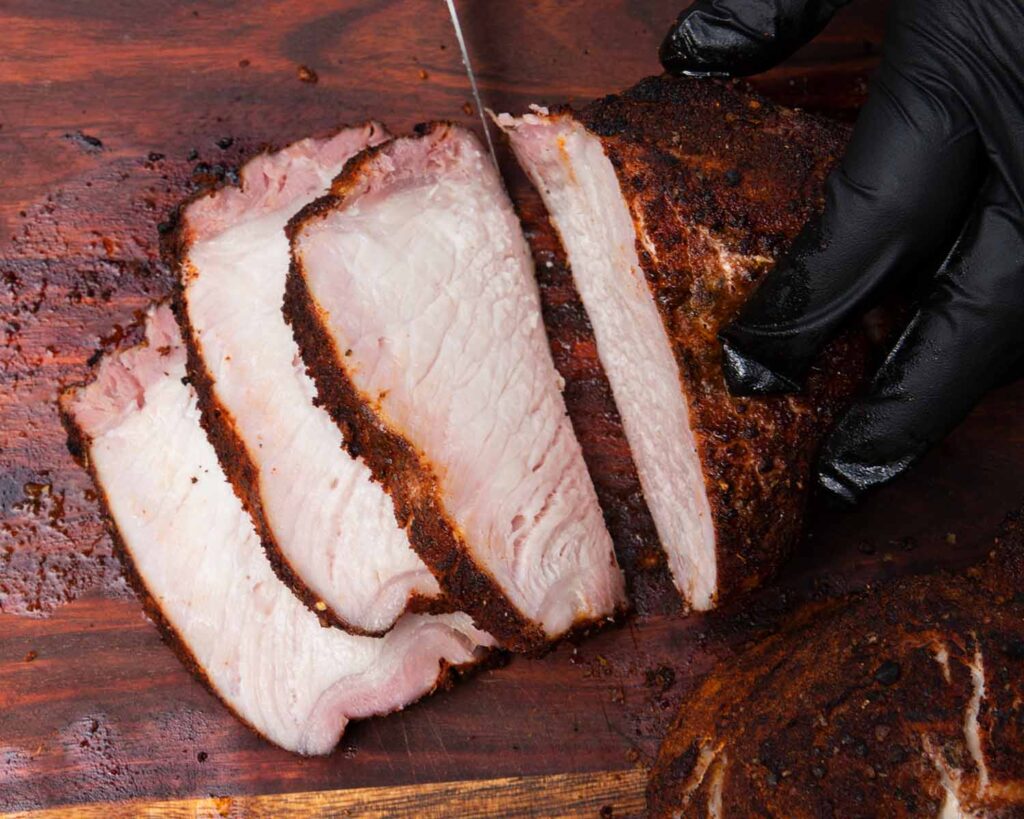 I love pork chops, but for many years they came out so dry that it was like … "meh, I'll make something else." A handful of years ago, we said, "enough's enough. Let's figure this out!". Well, we did.
Now whether or not we're grilling, pan-frying, or smoking we don't fear that Sahara effect that has probably plagued most people when preparing pork chops.
And the thickness doesn't matter either! We totally love our thick cut bone-in pork chop on the stovetop. Check that out sometime. It's delicious!
This recipe works for all sorts of grills and smokers. Pellet grill, electric smoker, Traeger pellet smoker, or a Weber, it all works. You could also use pork loin or pork tenderloin. The cooking process is the same.
Read on!
How To Prepare Double Bone-In Smoked Pork Chops
Let me preface with the following note. These steps work for single bone-in pork chops as well. The only difference would be the amount of rub and brine you will be using.
The real secret of this is brining, cooking it to the correct temperature, and allowing it to rest. You follow these few steps, and it will be smoked pork Nirvana!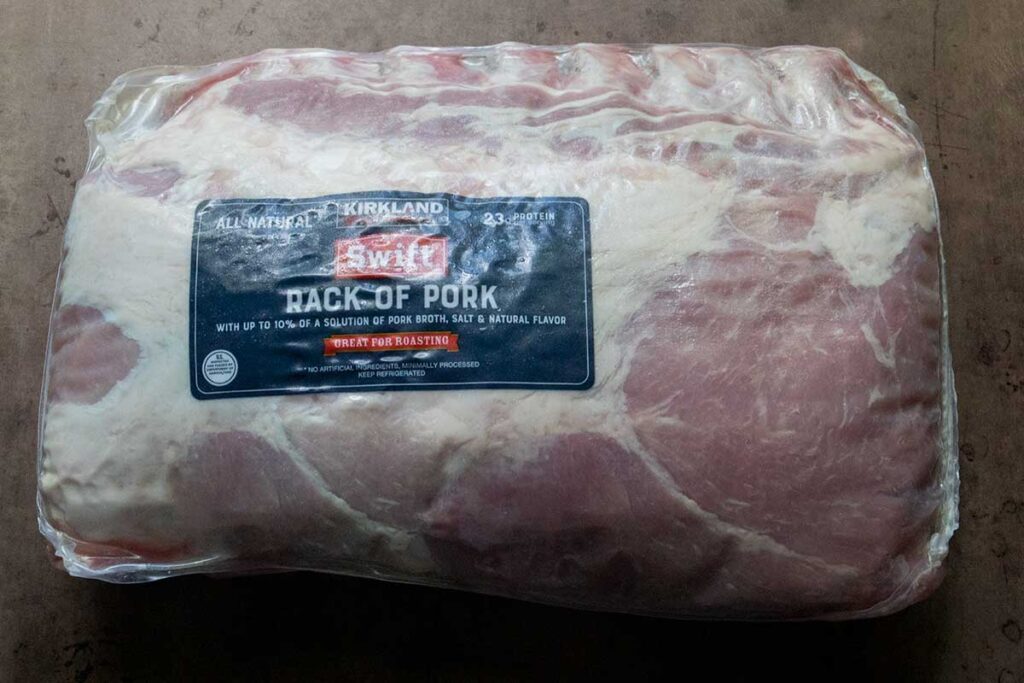 The first step is to get your hands on a rack of pork. We usually get ours at either Sam's or Costco. It's a big hunk of meat but very affordable considering how much you get.
To make sure that the meat remains moist and is seasoned throughout, it is crucial to brine this overnight.
If you are planning on smoking this on a particular day, plan on an overnight brine.
Ingredients For Pork Brine
This brine is perfect for pork. We use it every time!
10 C Water
3/4 C Kosher Salt
1/2 C Sugar
4 Rosemary Sprigs
2 tbsp Peppercorns
2 Bay leafs
1/2 Onion
Six cloves Garlic, cracked
You can even toss in some aromatics if you like. Some rough cut celery and carrot would do nicely too! It's up to you.
You don't have to bring this to a boil first, just combine all the ingredients of the brine and stir until the salt has dissolved.
The salt brine will pull the moisture out of the pork chops and then pull it back in, bringing all that flavor into the meat.
Don't Sweat The Recipe is supported by its readers. We may earn a commission if you purchase through a link on our site. Learn more.
This will ensure that the pork is flavored throughout, not just on the surface from the rub. It will also break down the muscle fibers of the pork, making it even more tender.
Once the brine is prepared, cut the pork rack in such a way that there are two bones per chop. Depending on the size of the rack, this will yield 4 to 5 chops.
My wife and I share one chop, if that gives you an idea of the size of these things! 🙂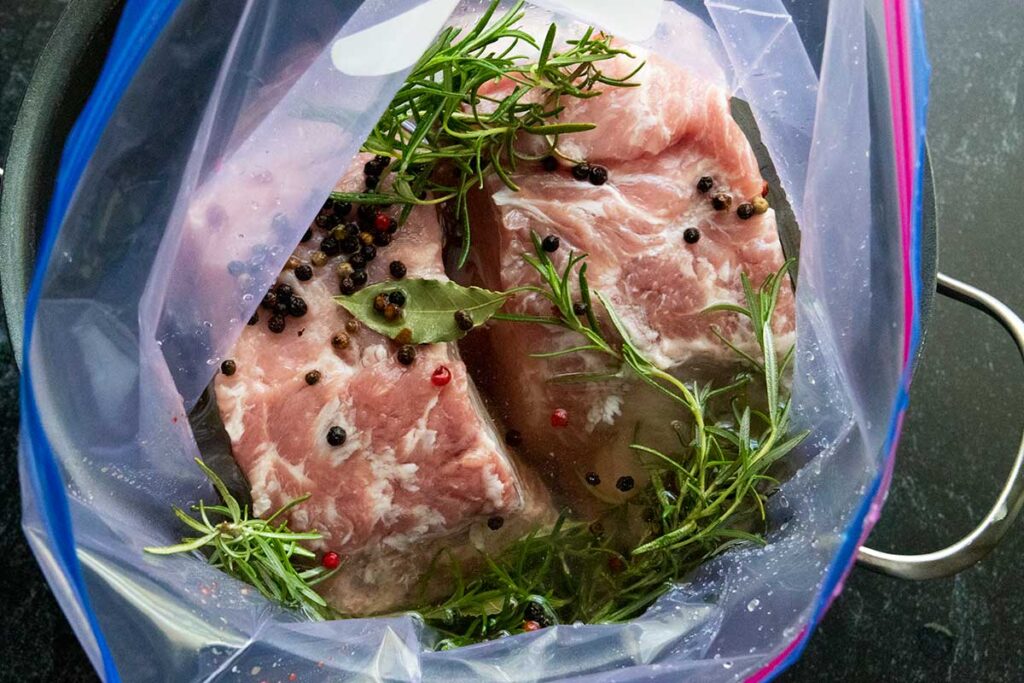 Place the pork chops in a receptacle that can hold it all. We use a two-gallon Ziploc bag.
Pour the prepared brine over the pork and place it in the refrigerator. We do put the Ziploc into a large enough pot for ease of use. Allow the pork to brine overnight, about 12 hours.
The next step is the rub. You can make this ahead of time or wait until the pork chops are ready the next day.
Ingredients For The Dry Rub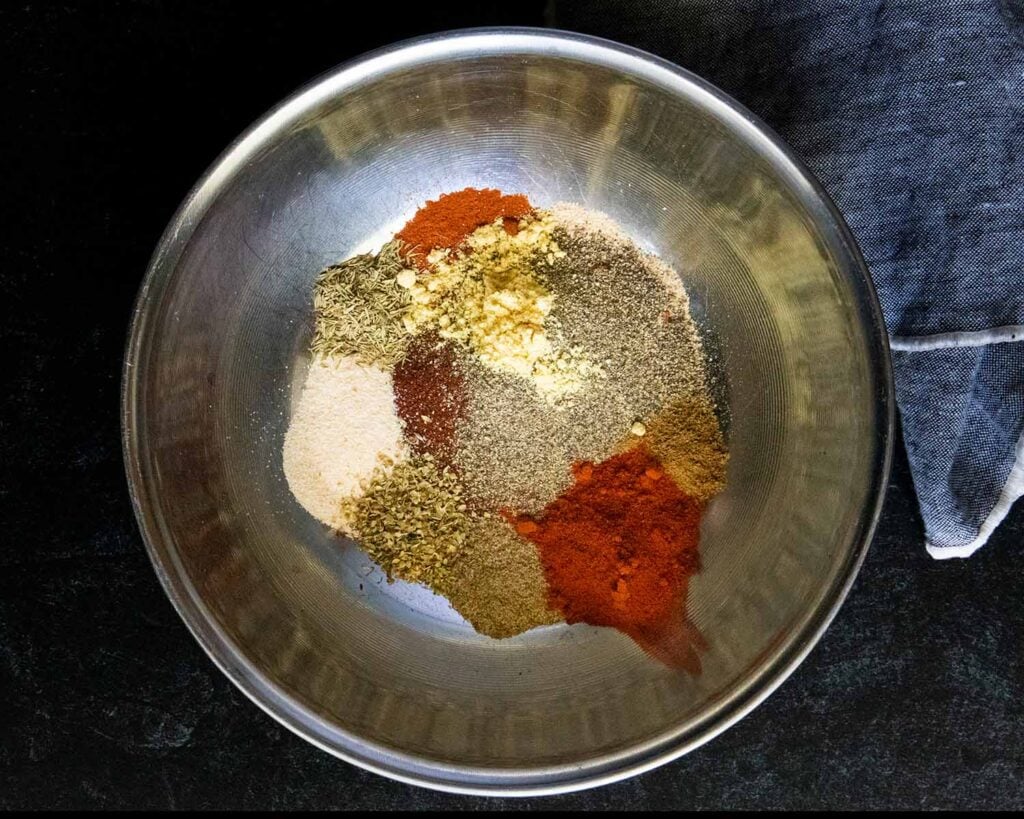 Smoked paprika
Garlic powder
Chili powder
Kosher salt
Black pepper
Onion powder
Celery seeds
Dark brown sugar
Dried oregano
Dried thyme
Cumin
Dry mustard
Combine the ingredients for the rub, mixing well and making sure the brown sugar is not clumped up (just grind it up in your fingers if it is).
The amount of rub is enough for 8-9 lbs of meat.
Set aside until an hour or two before you plan on starting the cook.
When ready, remove the pork chops from the brine, removing any peppercorns or other items from the chops. Discard the brine. Pat dry the pork chops with paper towels and set them aside.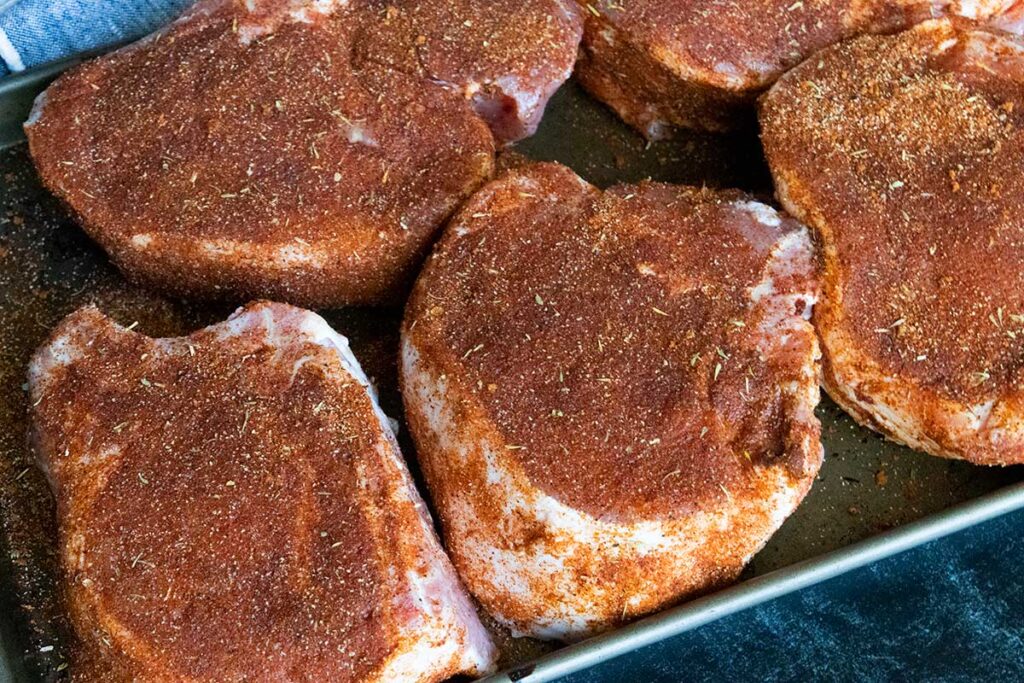 Liberally season pork chops with the rub on all sides and set them aside. Depending on the amount you apply, you may have excess rub.
Just store it in an airtight container and use it on anything else. It's a great rub!
If you feel so inclined, you can truss the pork chops with butcher's twine. Sometimes I do if the thick-cut pork chops are really misshapen to allow for an even cook.
More often than not, this is not at all necessary.
Set up your smoker for 225 degrees F to 275 degrees F. When a constant temp has been reached, place the pork chops into the smoker and add the wood of your choice.
Set the pork chops out at room temperature for about an hour before placing them into the smoker. This will speed up the cooking time a bit.
A nice steady 250 degrees F is perfect.
If you only have a grill, you can still do this. Just put your heat (gas, charcoal, etc) to one side and place the chops on the other, allowing for an indirect cook.
For pork, we enjoy oak or pecan wood with some hickory wood chips for a bit more aggressive smoky flavor. This is our personal preference. By all means, pick the smoke flavor you enjoy the most.
If you're not sure, oak or pecan is a great middle-of-the-road smoke. Some people also enjoy apple wood with their pork. Cherry wood adds great color. It's all up to you and the flavor you like.
Smoke the pork chops, adding wood as needed, until the internal temperature reaches 145 degrees F. If you have a temperature probe with your smoker, insert it close to the bone, but not touching.
With these, I placed our instant-read meat thermometer close to the bone, but not touching, to get an accurate reading.
As I previously mentioned, this should take about an hour and a half or so, all depending on the temperature of your fire.
Cook to temperature, not time. All cuts of meat are different. Smoke these until they hit 140 degrees close to the bone, but not touching the bone. Pull them and let them rest.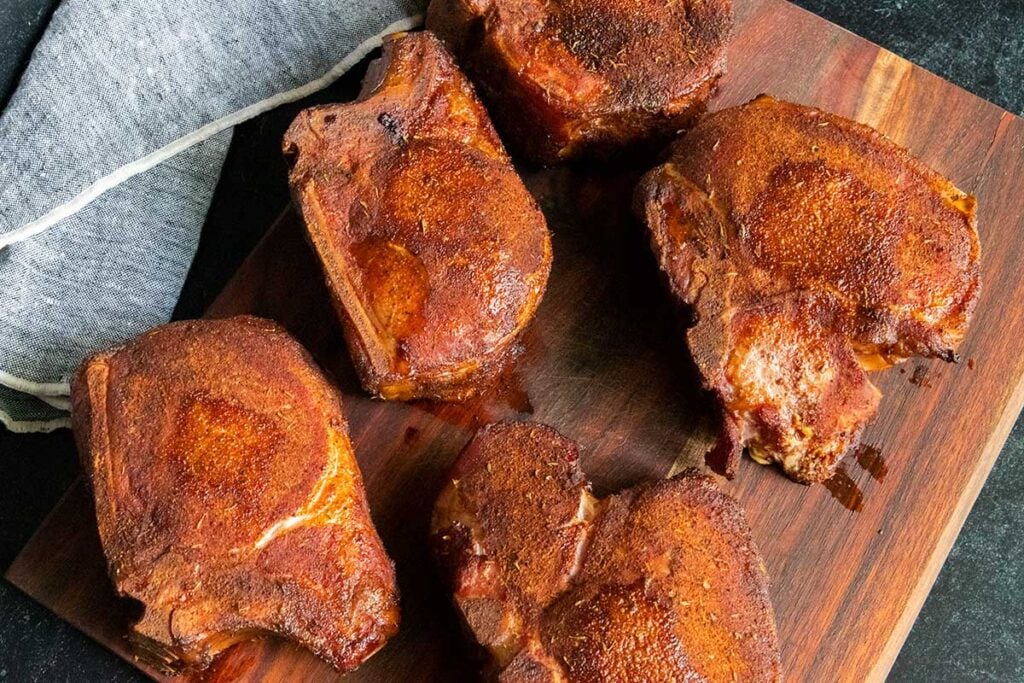 Remove the pork chops from the smoker and allow them to rest for at least 15 to 30 minutes, allowing all the juices to relax and redistribute throughout the meat.
They will still be hot, don't worry.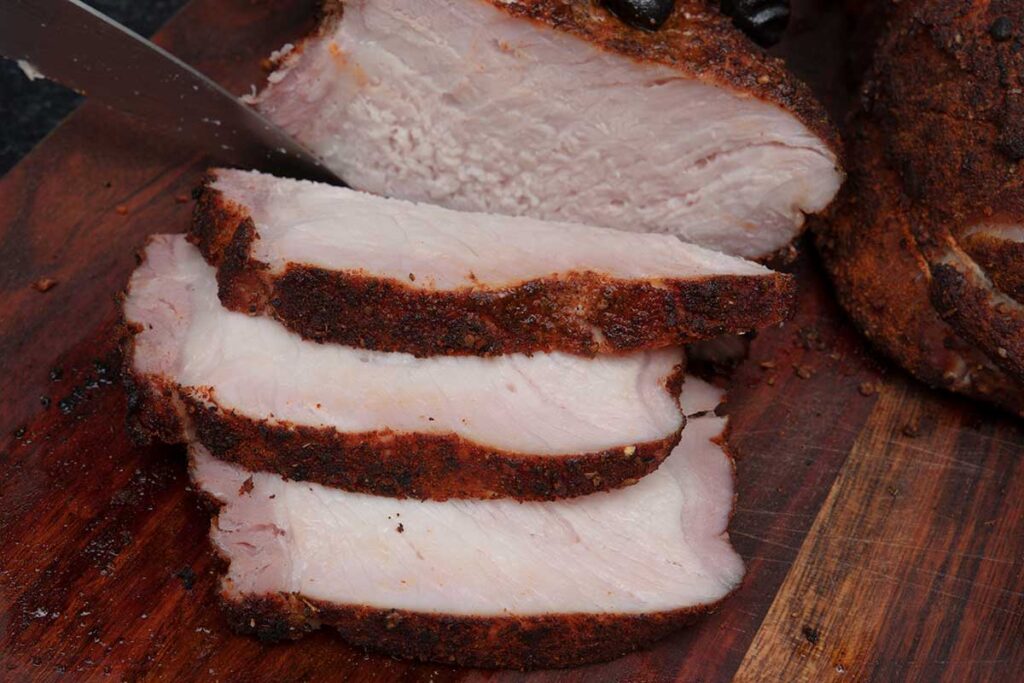 After the pork chops have rested, serve them up as desired. We usually slice it up, but it's entirely up to you.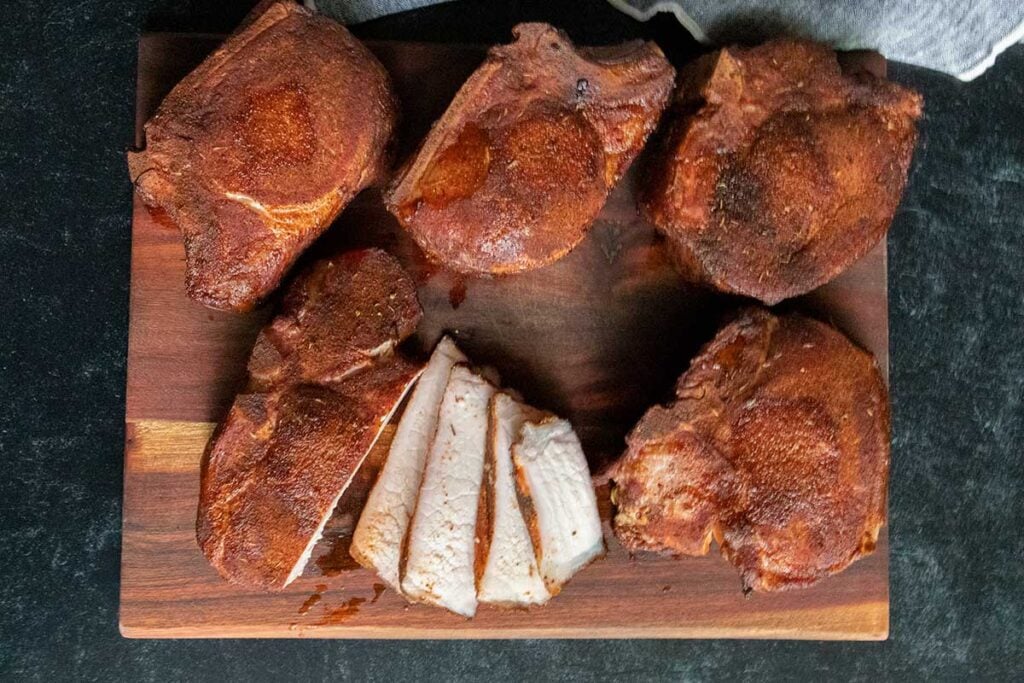 The most important parts of making this dish are the brine, the cooking time (145 degrees F), and the rest period. If you do just these three things, these thick pork chops will turn out perfect.
A thick pork chop is the only way to go. If you're looking for the best smoked pork chops, give this easy recipe a whirl.
I won't lie. When I pull these things off the smoker, I feel like this:
It's a good feeling! 🙂
Tips And Variations
This recipe works for boneless pork chops as well. The cooking times may be less depending on how the boneless chops are cut.
The type of smoker doesn't matter when smoking these. If you have a grill and want to do this, just prepare them over indirect heat.
To add smoke, place some wood chips into aluminum foil and get the packet close to the heat.
Serve the as-is, or finish with your favorite bbq sauce on the side.
FAQs
How long does it take to smoke pork chops at 250 degrees?
Approximately 1 1/2 hours for a double bone-in pork chop. Thinner cuts will take less time. Using an instant-read thermometer, smoke until the internal temperature reaches 140 degrees F. Allow them to rest until they hit 145 degrees F with residual cooking.
Are smoked pork chops completely cooked?
Pork chops are completely cooked if you smoke pork chops to 140 degrees and allow them to rest until they reach 145 degrees F (residual cooking).
Do you flip pork chops when smoking?
If you have smoke completely surrounding the pork chop, no. If they're in the smoker in a way where only one side is getting smoke, you will want to flip them halfway through the cooking process.
Other Recipes For The Smoker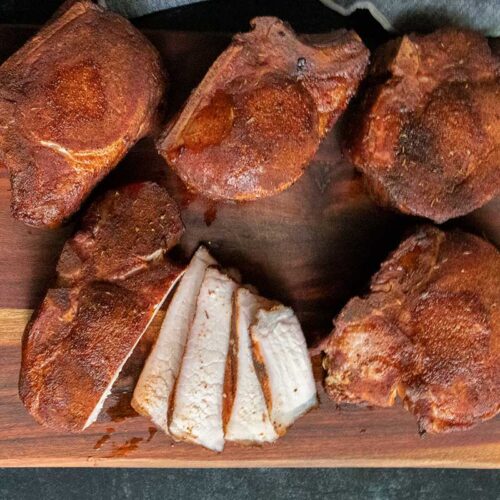 Double Bone-In Smoked Pork Chops Recipe
Double Bone-in Smoked Pork Chops, perfectly juicy, will totally impress your friends and family at your next BBQ.
Print
Pin
Rate
Ingredients
Ingredients for Rub
1/2

cup

Smoked paprika

1/8

cup

Garlic powder

1/4

cup

Chili powder

2

tsp

Kosher salt

3

tbsp

Black pepper

freshly ground (always)

2

tbsp

Onion powder

2

tsp

Celery salt

2

tbsp

Brown sugar

1

tbsp

Dried oregano

1

tbsp

Dried thyme

1

tbsp

Cumin

2

tsp

Dry mustard
Ingredients for Brine
10

cup

Water

3/4

cup

Kosher salt

1/2

cup

Sugar

4

Rosemary

sprigs

2

tbsp

Black peppercorns

2

Bay leaf

1/2

Onion

6

cloves

Garlic

crushed
Instructions
Add all ingredients for brine, mix until salt is dissolved

Cut rack of pork so each portion has two ribs (about 4-5 sections)

Place pork chops into receptacle and pour brine over it

Refrigerate overnight, or longer (12+ hours)

Mix rub ingredients together until well combined

Remove pork chops from brine. Discard the brine and pat dry the pork chops.

Apply rub liberally to all sides of the pork chops

Set smoker temp between 225 degrees F to 275 degrees F. Maintain average temperature of approx. 250 degrees F.

Place pork chops into the smoker

Add preferred wood to fire.

Smoked pork chops until internal temp NEAR bone reads 145 degrees F. Add wood as needed during cook

Remove from smoker and allow to rest minimum 15 to 30 minutes.
Notes
Cook to temperature, not time. All cuts of meat are different. Smoke these until they hit 140 degrees close to the bone, but not touching the bone. Pull them and let them rest.
Nutrition
Calories:
556
kcal
|
Carbohydrates:
16
g
|
Protein:
84
g
|
Fat:
17
g
|
Saturated Fat:
5
g
|
Cholesterol:
229
mg
|
Sodium:
1227
mg
|
Potassium:
1738
mg
|
Fiber:
6
g
|
Sugar:
4
g
|
Vitamin A:
4468
IU
|
Vitamin C:
2
mg
|
Calcium:
112
mg
|
Iron:
6
mg