Grilled Mexican Street Corn Salad (Esquites)
Grilled Mexican street corn salad is a delectable culinary creation that tantalizes your taste buds with an irresistible medley of flavors.
Grilled Mexican street corn salad is like a fiesta on a plate, inspired by the lively street food scene in Mexico.
Imagine the mouthwatering elote, those grilled corn on the cob beauties with toppings that make your taste buds dance.
Well, this salad takes that elote magic and gives it a fresh and convenient twist.
This vibrant dish showcases the perfect balance of sweet, savory, smoky, and spicy elements, resulting in a truly satisfying experience for your palate.
Traditional Mexican street corn in an easy-to-eat form. YES!
Why You Will Love This Recipe
Grilled Mexican street corn salad is a delightful mix of sweet, savory, smoky, and spicy flavors.
It features perfectly grilled corn on the cob, imparting a smoky char and natural sweetness.
Traditional Mexican ingredients like cotija cheese, lime juice, and jalapeno enhance the savory, tangy, and spicy aspects. At the same time, cilantro, green onions, and cherry tomatoes add freshness.
The salad combines these elements into a harmonious blend, creating a bold and satisfying taste experience.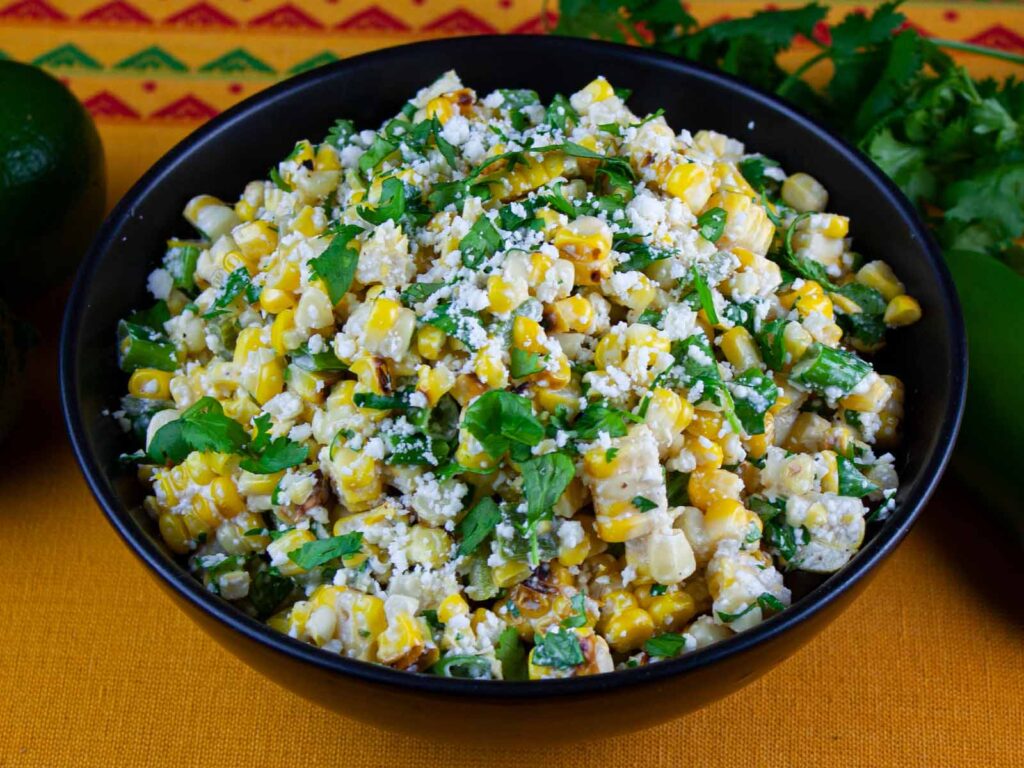 It can be served as a versatile side dish or a refreshing vegetarian main course, capturing the essence of Mexican cuisine.
This salad is so good you will want to make it all the time. Easy to make and even easier to devour!
Need to bring a dish to a potluck or barbecue? This will make you the hit of the party.
Need a main dish to go with this delicious salad? Check out our Mexican Grilled Chicken Breasts (Pechuga Asada), Slow Cooker Mexican Chicken, Crispy Pork Carnitas, or our Grilled Adobo Pork Tenderloin.
Ingredients Needed
The ingredients for this very tasty salad include:
Fresh corn on the cob: Sweet, juicy, and kissed by the grill, it brings the perfect natural sweetness and smoky essence to the dish.
Jalapenos: These little green gems provide a mild kick of heat that elevates the flavors without overpowering them. They add a touch of spiciness that dances on your palate.
Cilantro: With its fresh and citrusy aroma, cilantro brings a delightful burst of freshness and brightens every bite, infusing the salad with its irresistible flavor.
Green onions: The green tops of these onions offer a mild and crisp onion flavor. They provide a subtle pungency that complements the other ingredients, adding depth to the overall taste.
Cotija cheese: This crumbly and tangy cheese, with its rich and salty notes, brings a luxurious and creamy texture to the salad. It perfectly balances the sweetness of the corn and adds a satisfying richness to each mouthful.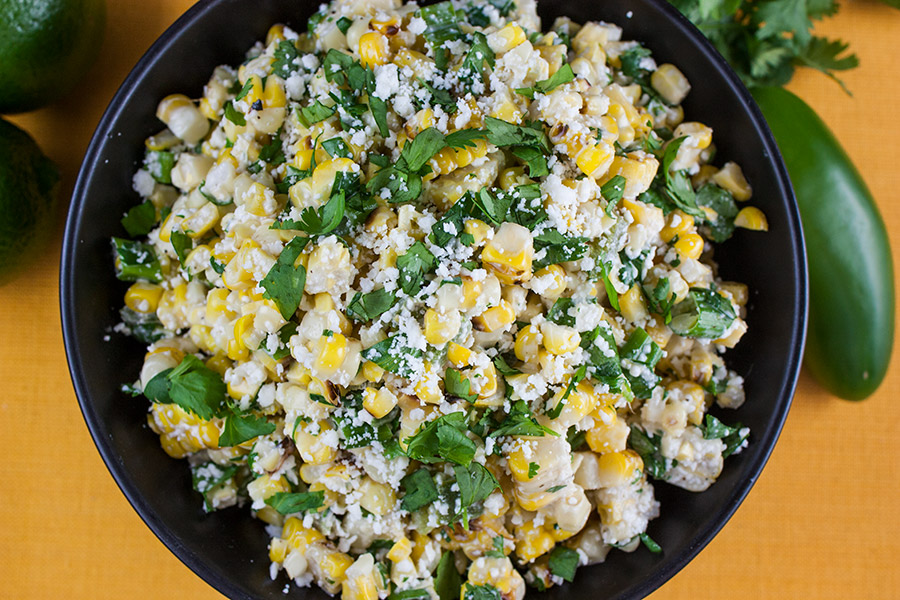 The dressing for the Mexican street corn salad consists of mayonnaise, fresh lime juice, minced garlic, kosher salt, and fresh ground pepper.
Mayonnaise: It adds a creamy and velvety texture to the dressing, coating the ingredients and providing a smooth and rich mouthfeel.
Fresh lime juice: Lime juice brings a vibrant and tangy flavor to the dressing, enhancing the overall freshness of the salad and adding a citrusy zing.
Minced garlic: The minced garlic infuses the dressing with a subtle yet distinct savory note, elevating the flavors and contributing a hint of aromatic complexity.
Kosher salt and fresh ground pepper: The kosher salt enhances the taste by balancing the flavors and bringing out the natural sweetness of the corn, while the addition of fresh ground pepper adds a touch of mild spiciness and subtle heat.
These dressing ingredients work together to create a harmonious blend of creamy, tangy, savory, and subtly spicy elements, enhancing the overall deliciousness of this Mexican street corn salad.
How To Make Grilled Mexican Grilled Street Corn Salad
The first thing we want to do is to grill the corn on the cob and the jalapenos.
Get the grill going and place the corn and jalapenos over a direct flame at a medium-high heat. Grill the vegetables, turning often. You want some good char on the corn and jalapenos.
Continue to grill, turning as you need to ensure even cooking, for about 10 to 15 minutes.
Remove the corn and jalapenos and set aside to cool.
Once cooled, slice the corn off the cob.
The easiest way to do this without losing a finger is to place a small bowl upside down into a big bowl.
Place the corn cob on the small bowl and slice down the cob. The kernels will collect in the larger bowl.
Dice up the jalapenos. This is where you control the heat. Leave the seeds and ribs of the jalapenos for extra spicy goodness. Or remove them for a less spicy bite.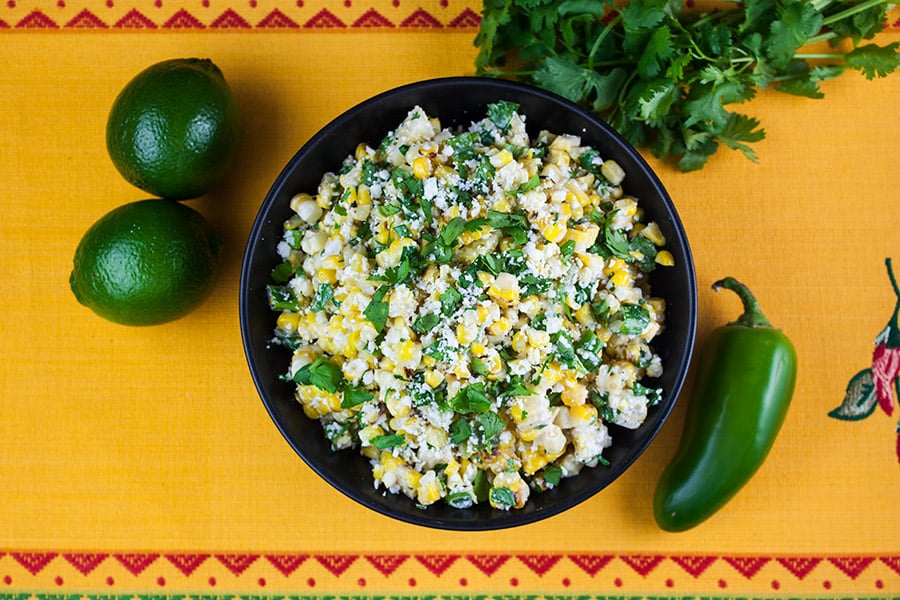 Add the chopped green onions and cilantro.
In a separate small bowl, whisk the mayonnaise, garlic, lime juice, salt, and pepper.
Pour the dressing over the corn mixture and stir to combine.
Add the crumbled Cotija cheese and stir gently to incorporate.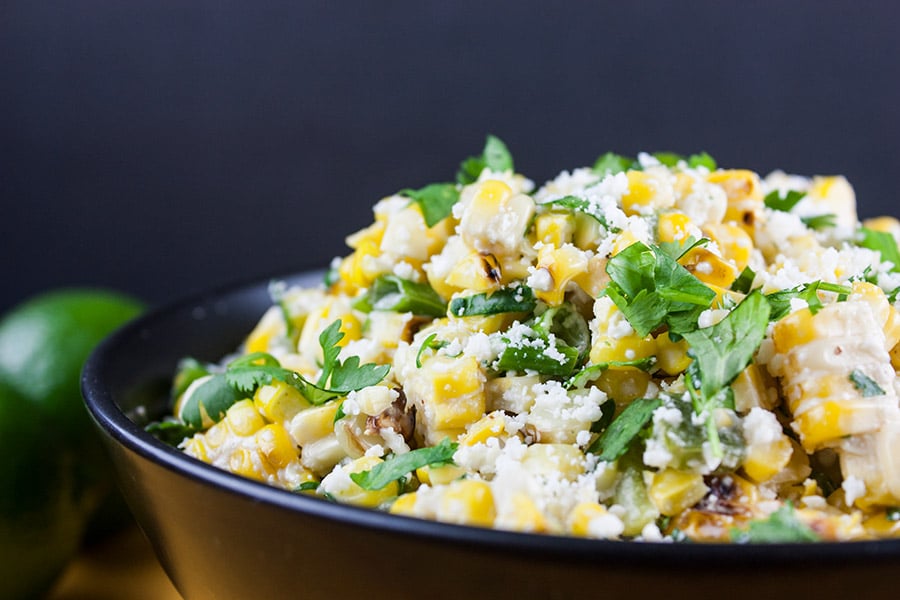 No need to struggle with sticky corn on the cob anymore. This salad lets you enjoy all the fantastic flavors of elote in an easy-to-eat and mess-free form.
This salad is a perfect side dish for almost any meal. Great for barbecues and it brings the flavor explosion that everybody will love.
The first time we made this, I ate it as a salad with a spoon. I have since used this as a topping to street tacos, wrapped it up in burritos, and added it to our slow cooker Mexican chicken. It's delish!
It's like street food made classy, ready to impress your taste buds and transport you to the lively streets of Mexico. So grab a fork, dig in, and let the fiesta begin!
Tips And Variations
We opted for green onion in our Mexican Street Corn Salad. You can, of course, use red onion for a more robust, pungent hit of flavor.
We grilled our jalapenos which added a good smokiness to this dish. Adding chili powder and/or paprika will do the same. It will add mild spiciness and smoky undertones that harmonize with the other flavors—a good option.
Adding a touch of sour cream or Mexican crema would add additional richness and smooth texture. It also will cool down those jalapenos.
There are different ways to modify this dish to your preferences by adding additional ingredients such as black beans, red bell pepper, or lime zest.
Yes, you can use canned corn or frozen corn to make this dish, but using fresh corn is always best.
FAQ's
What is Mexican Street Corn Salad made of?
Mexican street corn salad is made with grilled corn, jalapenos, cilantro, green onions, and Cotija cheese. The dressing includes mayonnaise, lime juice, garlic, salt, and pepper. These ingredients combine to create a flavorful and vibrant salad that embodies the essence of Mexican cuisine.
What is the difference between elote and esquite?
Elote is grilled or boiled corn on the cob with flavorful toppings, while esquite is a deconstructed version with corn kernels served in a cup or bowl, mixed with seasonings and toppings. Both dishes offer delicious ways to enjoy Mexican street corn, either as a handheld treat or a convenient spoonful of flavor.
Is cotija cheese like feta cheese?
Cotija cheese, a Mexican cheese, is firm, crumbly, and has a tangy flavor, while feta cheese, originating from Greece, is softer, creamier, and has a milder taste with briny notes. These cheeses differ in texture and flavor, making them distinctive choices for various culinary applications.
Other Delicious Latin-Inspired Recipes
Grilled Mexican Street Corn Salad Recipe
Indulge in the vibrant flavors of grilled Mexican street corn salad: smoky grilled corn, tangy lime, savory cotija cheese, and a touch of heat, perfectly balanced in one delightful dish.
Print
Pin
Rate
Ingredients
8

ears

fresh corn on the cob

2

fresh jalapenos

3/4

cup

fresh cilantro, chopped

4-5

green onions, diced

(we used green tops only)

1

cup

Cotija cheese
Dressing:
1/4

cup

mayonnaise

3

Tablespoons

of fresh lime juice

1

clove

of garlic

minced

1/4-1/2

teaspoon

kosher salt

adjust to taste

1/2

teaspoon

fresh ground pepper
Instructions
Preheat the grill to 400ºF.

Grill the corn and jalapenos for 15-20 minutes, turning frequently, until lightly charred.

8 ears fresh corn on the cob,

2 fresh jalapenos

Carefully cut the corn off the cobs into a large bowl. Chop and seed (if desired) the grilled jalapenos and toss in the bowl with the corn.

Add the cilantro and green onions.

3/4 cup fresh cilantro, chopped,

4-5 green onions, diced

In a small bowl mix the dressing ingredients. Pour over the corn mixture and toss to combine.

1/4 cup mayonnaise,

3 Tablespoons of fresh lime juice,

1 clove of garlic,

1/4-1/2 teaspoon kosher salt,

1/2 teaspoon fresh ground pepper

Add the Cotija cheese and gently toss to incorporate.

Serve warm, room temperature or cold.
Nutrition
Calories:
360
kcal
|
Carbohydrates:
38
g
|
Protein:
12
g
|
Fat:
21
g
|
Saturated Fat:
8
g
|
Cholesterol:
39
mg
|
Sodium:
684
mg
|
Potassium:
589
mg
|
Fiber:
4
g
|
Sugar:
14
g
|
Vitamin A:
895
IU
|
Vitamin C:
27.2
mg
|
Calcium:
197
mg
|
Iron:
1.4
mg