St. Louis Ribs – Learn How To Do Smoked Ribs Like A Pro
St. Louis Style ribs with our simple mop will deliver the most amazing, tender, flavorful ribs you'll have ever had. And no wrapping!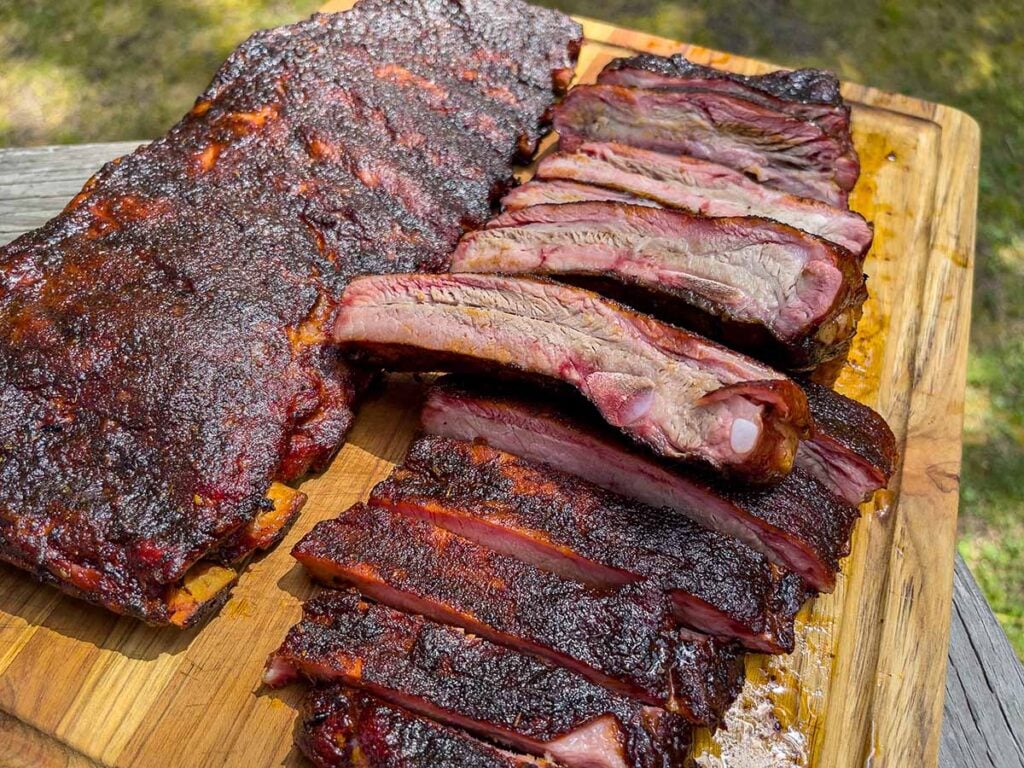 Smoked ribs are one of the cornerstones of the backyard barbecue. Opinions vary on temperature, time, type of wood, fall off the bone vs. tug, etc., to such an extent that a person's head can swim.
Even in our own home, there are differences of opinion on what makes the best rib.
But what is not in question is that this recipe makes a damn good rib. Smoky, a bit of heat, a touch of sweetness, a decent tug with a clean bite. All the makings of perfect smoked ribs.
For this particular recipe for pork ribs, we're not going to wrap our ribs but instead baste them using a mop every 30 minutes. We're not going for the fall-off-the-bone ribs here. We want a bit of pull and a clean bite, not pulled pork.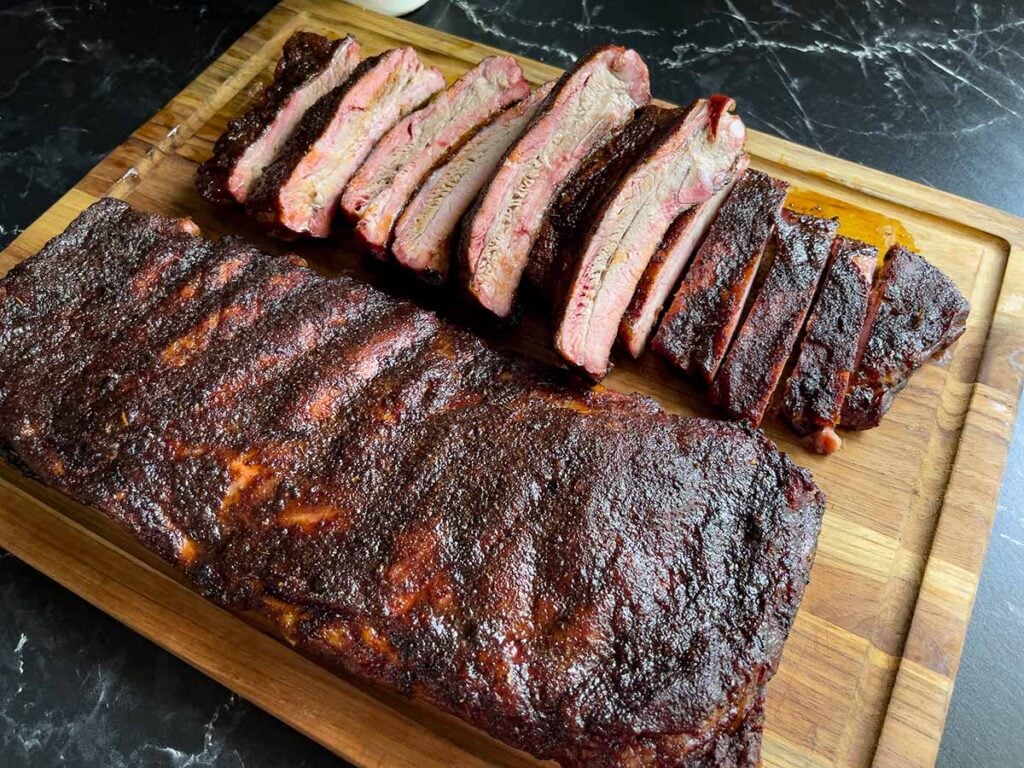 The mop we're using adds an awesome layer of flavor to the ribs, keeping them moist and still delivering a proper, tender rib without wrapping.
One final note: some of you may have heard of the 3-2-1 method of smoking ribs. This is a very good way to turn your ribs into pulled pork.
Some will swear by it, but more often than not, you will find serious barbecuers not recommending this. If you take anything from this article, let it be that. Run away from 3-2-1 rib method.
If you are looking for a 'fall off the bone' experience, check out our popular Fall Off The Bone St Louis Style Ribs. Even these don't go for 6 hours.
What Are St. Louis Style Ribs Exactly?
St. Louis ribs are spare ribs or side ribs. They are taken from the belly side of the rib cage, below the section of back ribs, and above the sternum (breast bone). Spareribs are flatter and contain more bone than meat.
What makes spare ribs St. Louis-style ribs is that they have had the sternum bone, cartilage, and rib tips removed. As a result, the shape is almost rectangular.
What's the Difference Between Baby Back Ribs And St. Louis Style Ribs?
Baby back ribs come from the top of the rib cage between the spine and the spare ribs. They have meat between the bones and on top of the bones and are shorter, curved, and sometimes meatier than spare ribs.
As mentioned, spareribs are flatter and contain more bone than meat but more fat, making the ribs more tender than back ribs.
How To Smoke St. Louis Ribs
I like to compartmentalize when smoking ribs. It's all about getting things ready at the appropriate time, so you're ready to move on to the next step.
Prepare the rub
Prepare the ribs
Smoke the ribs
Eat the ribs
Prepare The Rub
Wow, rubs. So many to choose from. Perhaps you have your favorite. Perhaps you're not sure, but you don't want to go through the trouble of making one.
Let's break it down.
If you have your favorite, great. Feel free to move on to the next step.
If you're unsure what to use but want to keep it simple, I recommend Bad Byron's Butt Rub. It's perfect for pork.
Basic ingredients include paprika, salt, pepper, onion powder, garlic powder, and chipotle powder. It's very decent and contains no sugar, so it's great for those following a Keto diet.
But we like making our rubs. That way, we can take full credit for the amazing barbecue we lay out on the table 🙂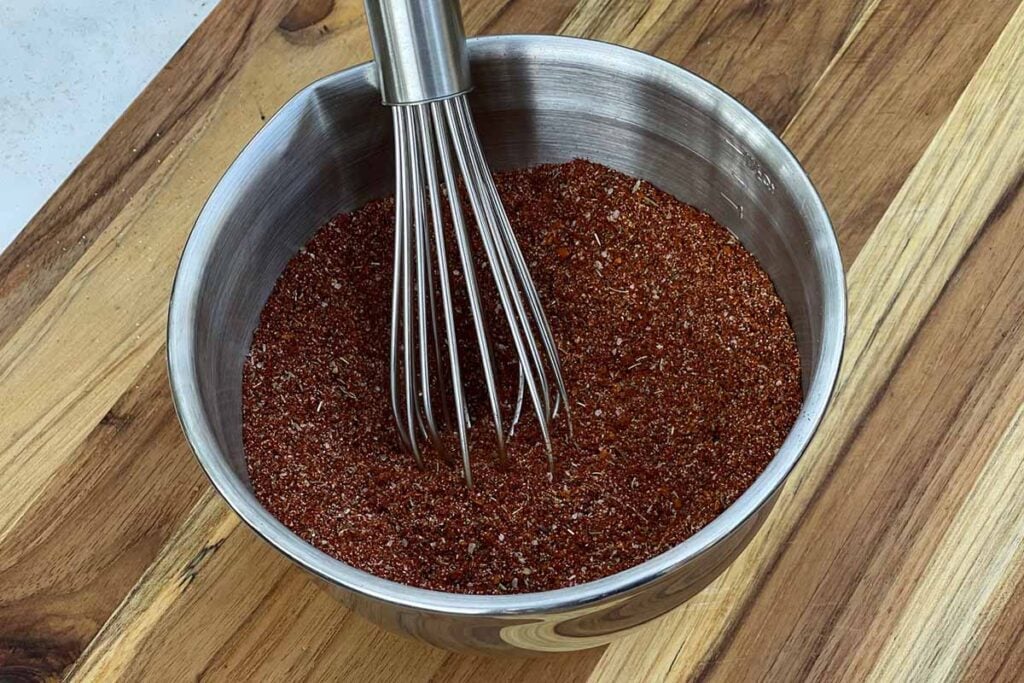 Our rub would be considered a Memphis-style rub. Not overly sweet with a gentle heat. Perfect for pork.
To prepare this rub, combine all the below-listed ingredients in a bowl. Whisk well to combine. When the time comes, you can just sprinkle the rub or transfer it to a spice shaker.
When the rub is ready to go, it's time to address the ribs.
Prepare The Ribs
You can purchase spare ribs and cut them down into St. Louis style. You can also find spare ribs already cut in St. Louis Style.
When looking at spare ribs, check the price. If you trim them yourself, you will remove a decent amount of weight. It may be that it is cheaper to buy them already trimmed.
Trimming The Ribs
It is important to trim excess fat off the ribs. Some won't have hardly any, while some need some work.
The issue is that while some fat will render and make a deliciously moist rib, some will not. An abundance of fat will prevent the smoke and rub from penetrating the ribs.
We usually purchase Costco ribs. Typically, they're well trimmed, but there is always a bit that needs to go.
Trim off any excess bits of pork that may be dangling off the edges of your ribs also.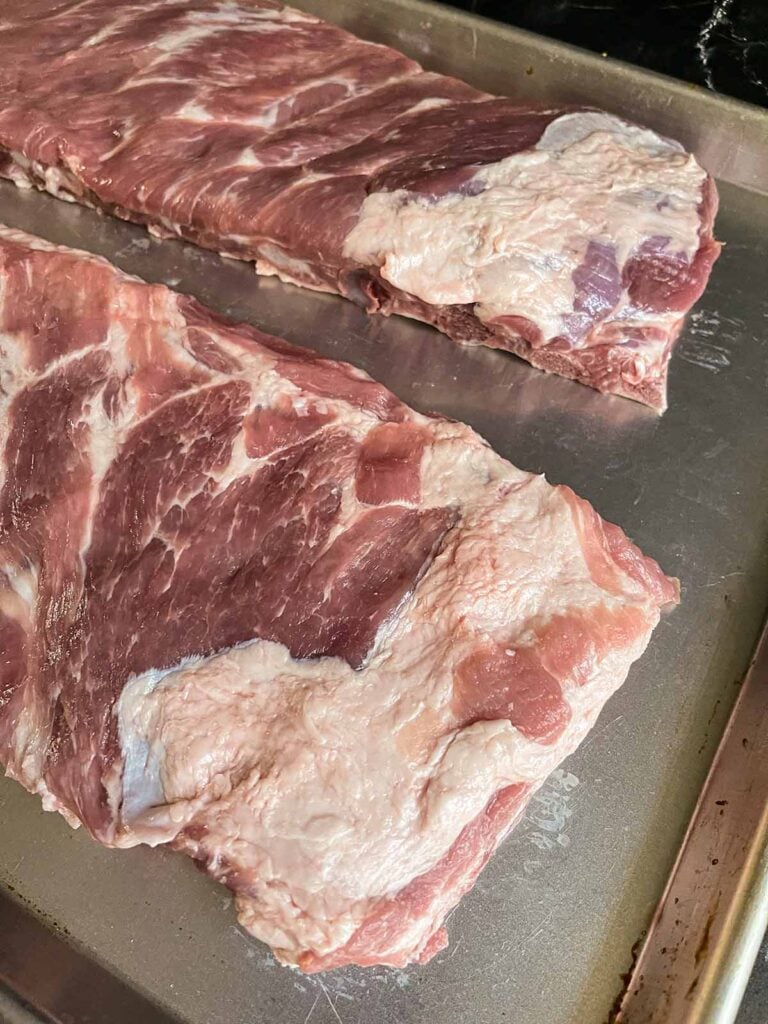 All these pockets of fat need to go. There is no way the smoke and rub will penetrate that, and nobody wants a fatty rib. Some fat ok … most fat not ok.
You can use your finger and press down on the fatty areas. If it is solid, you want to cut some of that away.
Using a sharp knife, go ahead and trim that off. You can take off a little at a time to prevent cutting into the rib meat.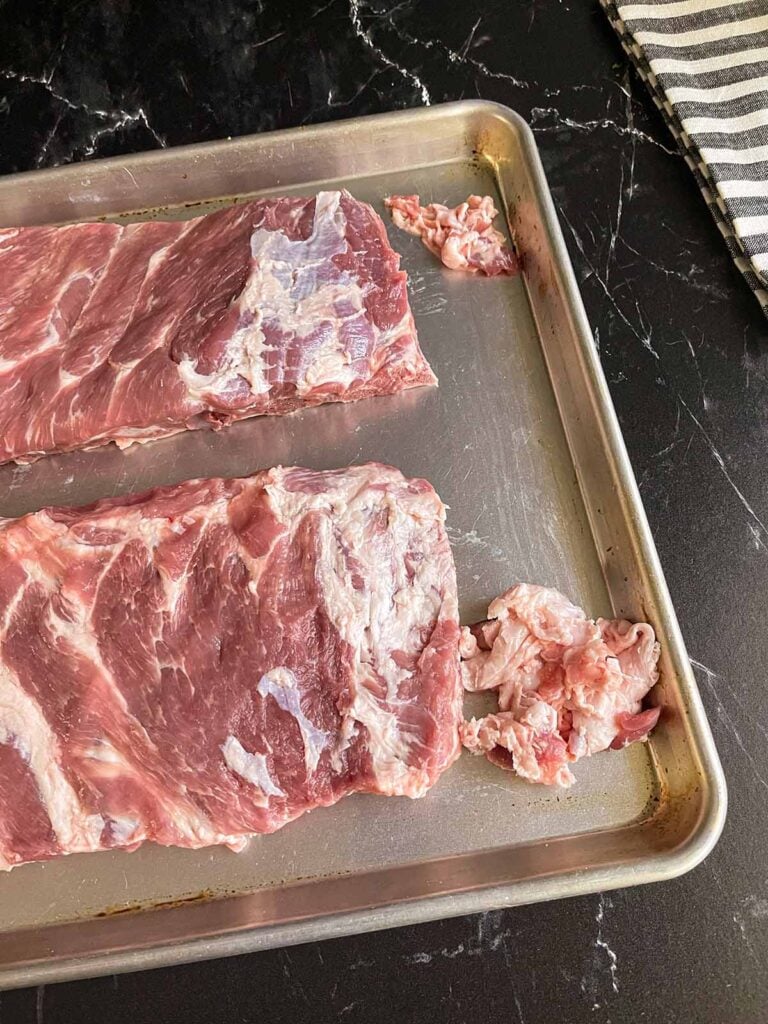 Some ribs will need a lot of trimming, some just a little. You may even luck out and not need to trim the fat off at all. When picking your ribs, look them over pretty good. Anything you trim off increases the cost of your ribs.
Once they're trimmed up, you can cut the spare ribs into a St. Louis style cut.
If you already have them, you can jump forward.
Removing The Back Flap (Diaphragm)
Flip the ribs over to the backside. Locate the strip of meat that appears to run half the length of the ribs.
This is the diaphragm and needs to be trimmed off. This is because it will cook much faster than the rack of ribs. This will result in an overcooked and chewy piece of pork.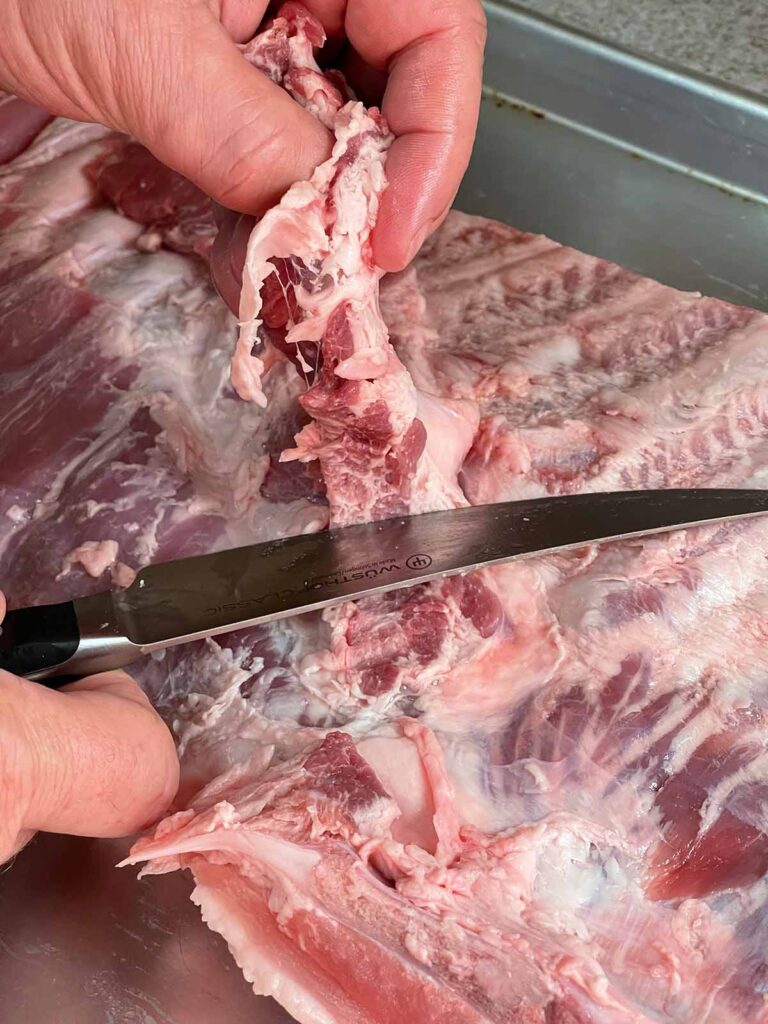 Trim it off. You can reserve this pork for stews or stock. It's a good piece of meat.
Removing The Membrane From The Ribs
There is a very thin membrane on the back side of the ribs. This membrane (silver skin) will prevent good penetration of the smoke and rub. It also will not render and prevent that good bite of rib.
If not done already for you, the silver skin needs to go. Some people will say you don't need to remove it. Some people are wrong.
When enjoying your ribs, you want a clean bite with the slightest tug, so this must go.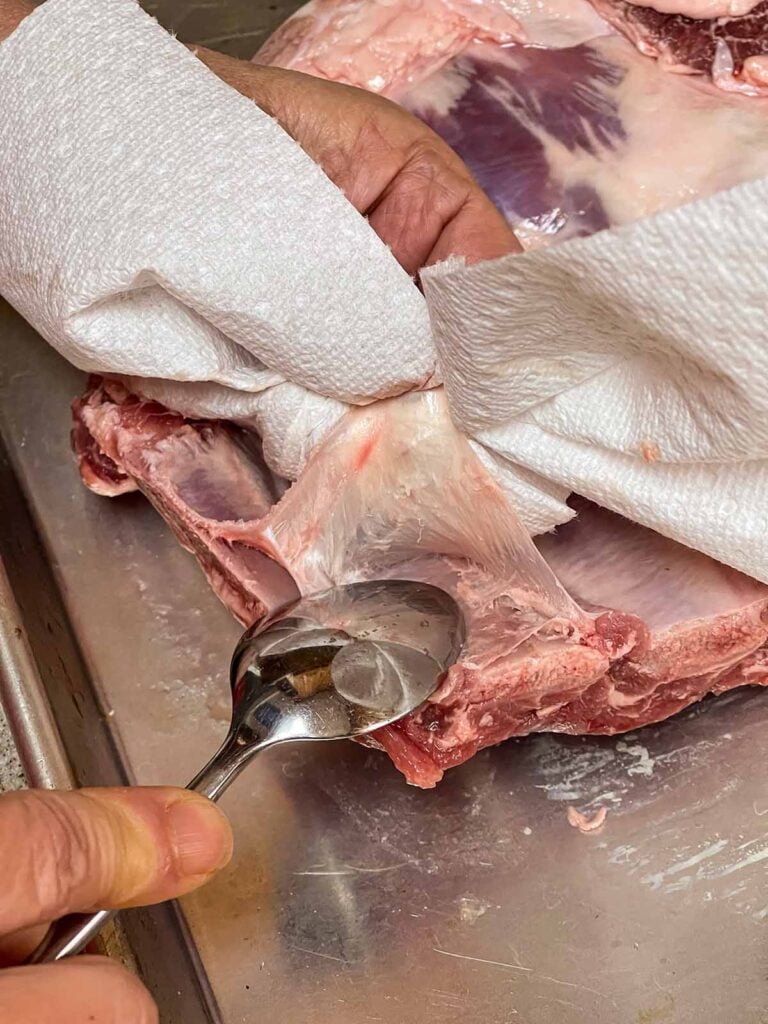 To remove the silver skin, turn your ribs to look at the backside of the rack. Using a spoon, get under that silver skin and pull it up and off a bit.
Using a paper towel, grab it firmly and pull it down the rack of ribs. If it tears on you, no big deal. Just keep grabbing it with the paper towel and pull.
Removing The Brisket Bone
Removing the brisket bone section will square up this rack of spare ribs into the St. Louis style cut we're going for.
As mentioned, we are removing the brisket bone (or sternum bone), cartilage, and rib tips from the rack of ribs.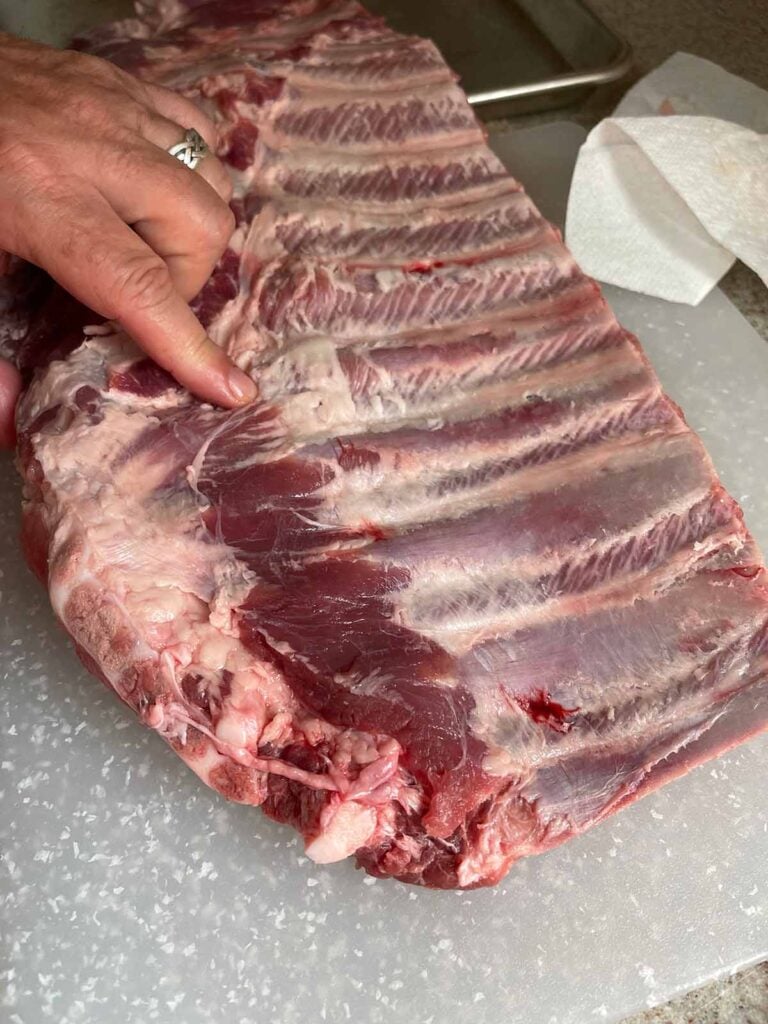 Locate the longest rib in the rack, typically the 4th bone. This is where you will make the lengthways cut down the rack.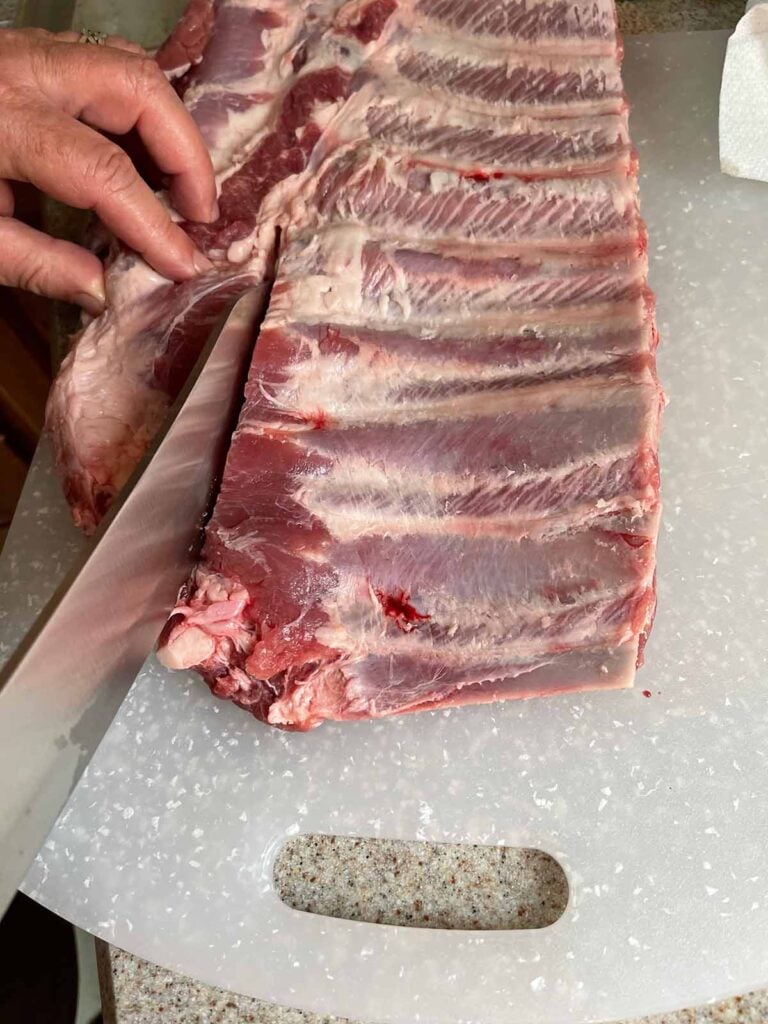 Using a sharp knife, cut lengthways down the rack straight. You might meet a bit of resistance cutting through the cartilage.
This chunk of meat is delicious smoked and is often served in restaurants as rib tips. I will usually throw this on the smoker as well. Makes for a great meat snack!
Final Trim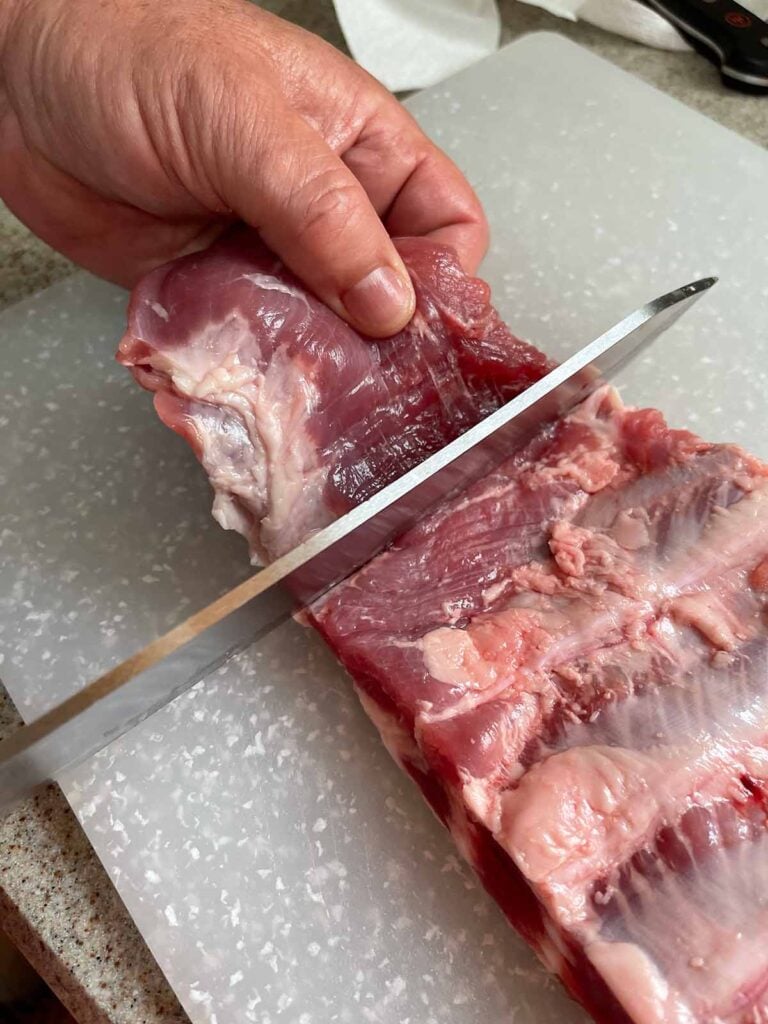 At the end of the rack, you will find a bit of flap meat. As this will get overcooked during the smoking process, we will also trim this off.
We want a uniform shape, so everything cooks as evenly as possible. You can add that piece of meat to the rib tips and smoke it up. Another good piece of meat.
Turn it over and check the rack for any additional bits and pieces that may need to be trimmed off. When done, you should have a nice rectangular, uniform rack of ribs.
Add The Rub
Place your ribs on a large baking sheet bone side up and liberally apply the rub. Pat the rub in so it adheres, then turn the ribs over.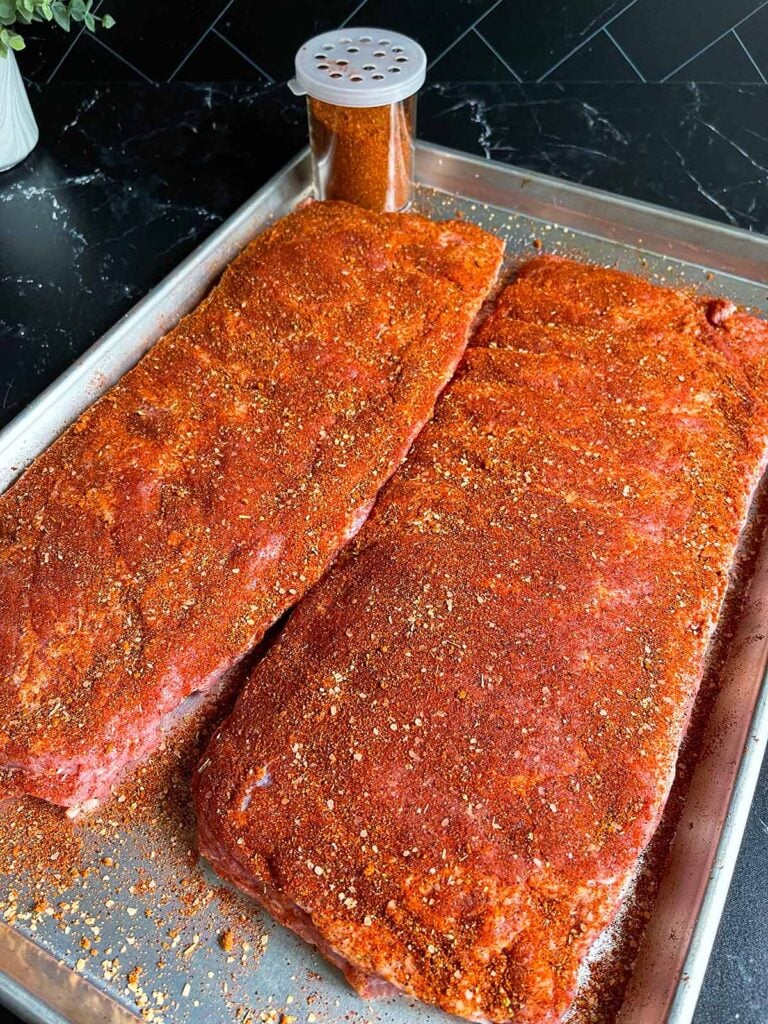 Repeat the process, making sure the meat is fully covered.
Some people swear by using a binder, such as mustard, to get the rub to stick. I have done this in the past myself. I will leave this up to you.
I have found that the rub adheres just fine without using a binder, and as such, I no longer use a binder for my ribs.
Allow the ribs to sit out for 30 minutes to one hour. During this time, you can prepare your smoker and the mop.
Preparing The Mop
As mentioned, this recipe will not call for wrapping the ribs. While wrapping will help soften and break down the ribs, we have noticed that the ribs can get TOO tender. Crazy, right? But it's true.
A good rib should have smoke, good flavor, and a clean bite that does NOT pull all the meat off.
What's great about the mop and a slightly higher temperature will get the ribs off faster, give you a great smoke ring, and still be tender. Plus, you can mess around with the mop ingredients, creating all sorts of flavor profiles.
This is a very basic mop that accentuates the flavor from the rub. It works GREAT!
In a saucepan, add the following ingredients and warm.
3/4 c Worchestershire sauce
6 tbsp butter
2 tbsp Apple cider vinegar
1 tsp Kosher salt
1 tbsp Freshly ground black pepper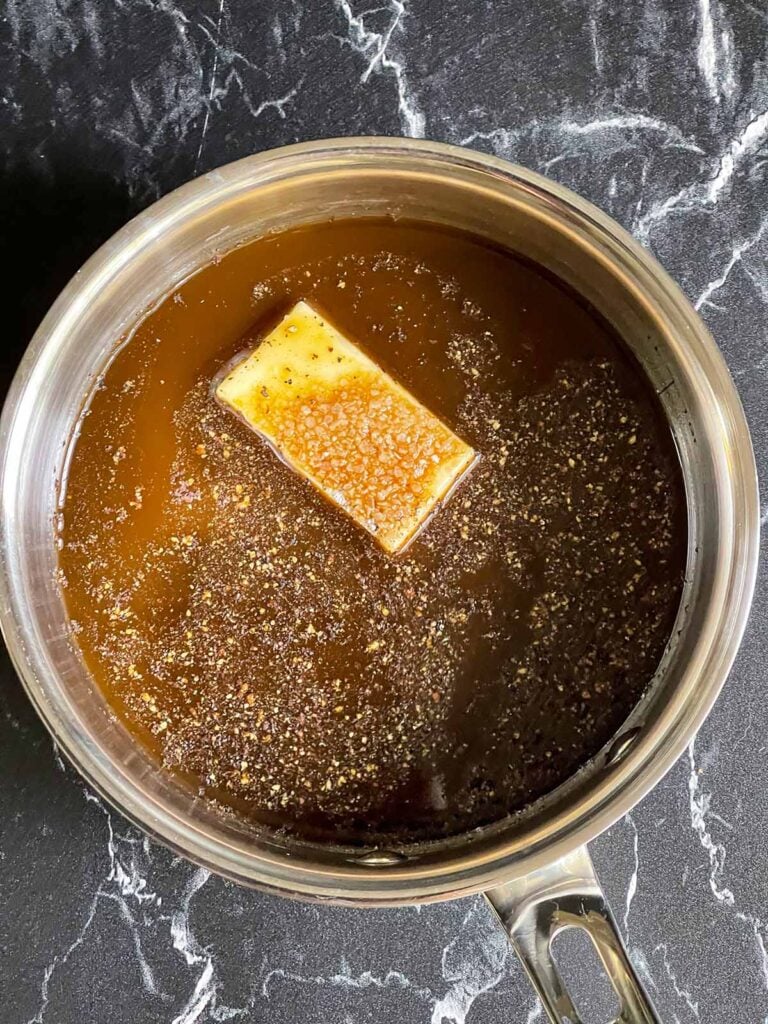 Allow the butter to melt and keep warm.
Smoking The Ribs
Again, there will be all sorts of talk regarding the time and temperature of smoking pork ribs. I have cooked them as low as 225 degrees Fahrenheit and as high as 275'ish.
This technique will be on the higher end, allowing the ribs to come off faster but still allowing for decent smoke as we're not wrapping.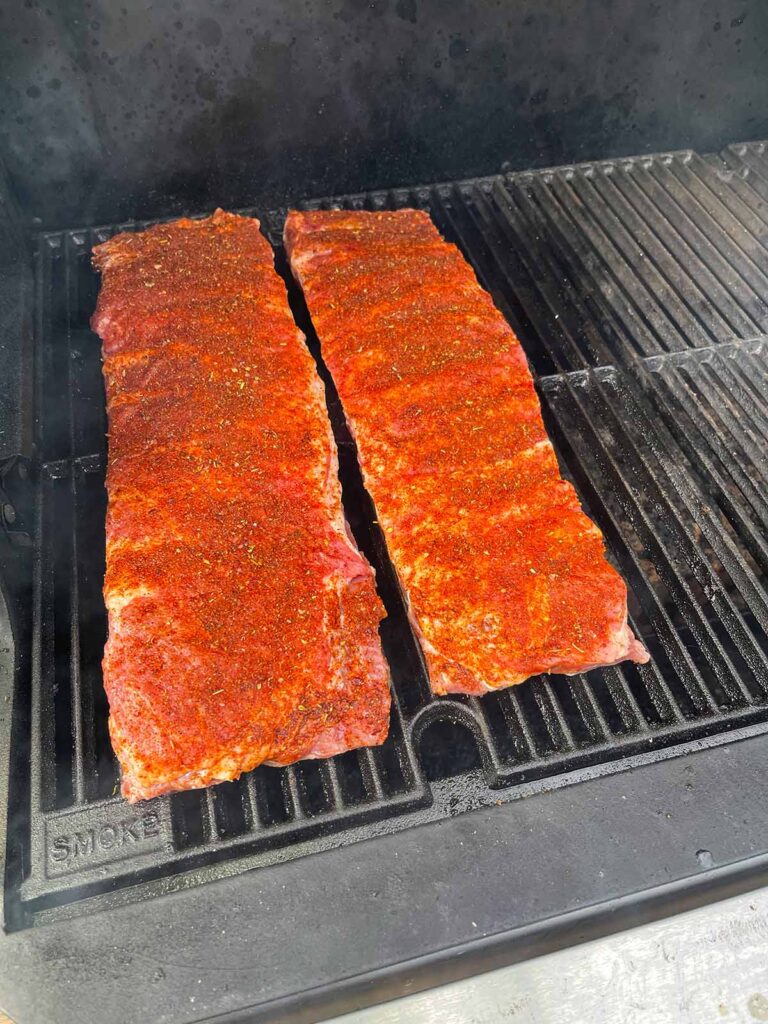 Bring the smoker to a temperature between 250 degrees F and 275 degrees F. When ready, add your preferred wood and place the ribs in the smoker.
What Wood To Use When Smoking Ribs
I would recommend hickory if you like an aggressive smoke (not overpowering, but there). Pecan and Oak are also good choices.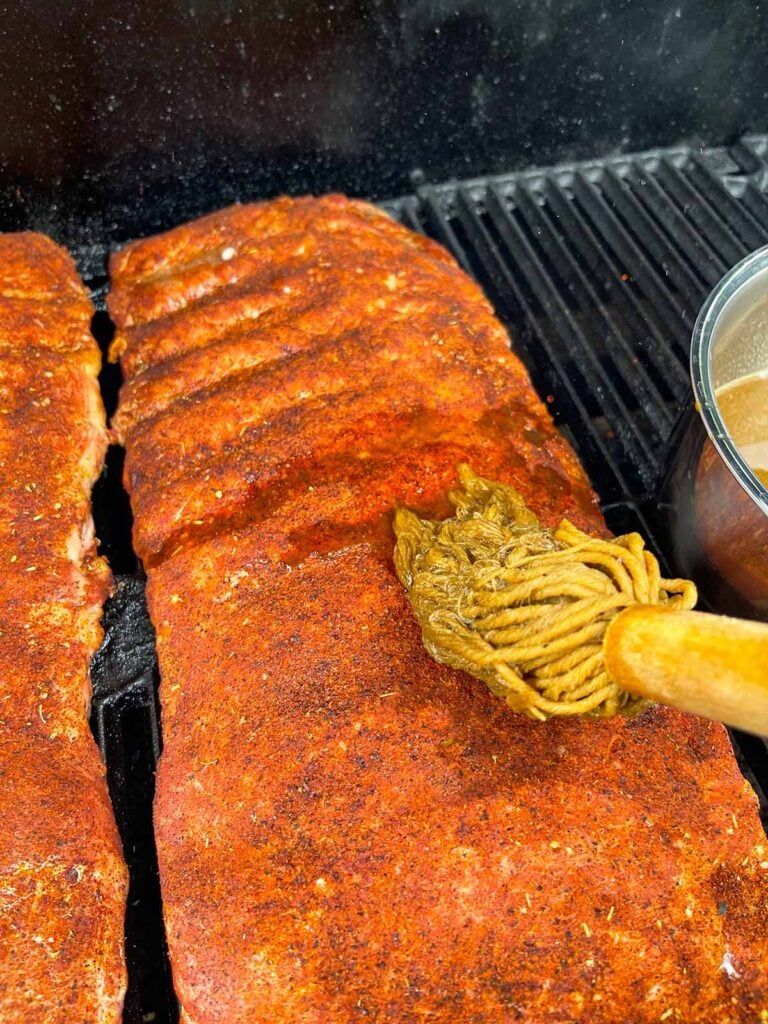 After 30 minutes, gently apply the mop to the ribs. Repeat this step every 3o minutes. To allow an even cook on your ribs, you may also want to rotate your ribs every hour.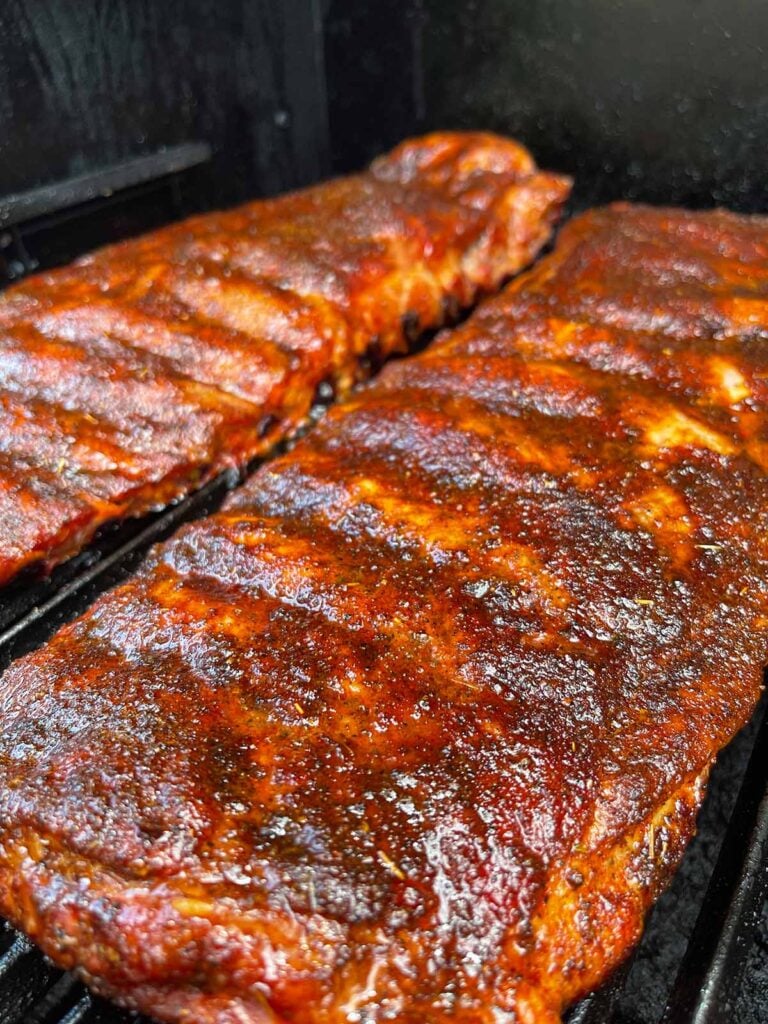 Continue to smoke the ribs, mopping every 30 minutes. After the ribs have been on the smoker for 3 hours, you want to check your internal temperature with an instant-read thermometer.
Continue to smoke the ribs until the internal temperature reached 195 degrees Fahrenheit. I find that this is about as perfect as you can get it. A little less temp will give you a little more tug on the rib. A bit more temperature will give you a more "fall off the bone" experience.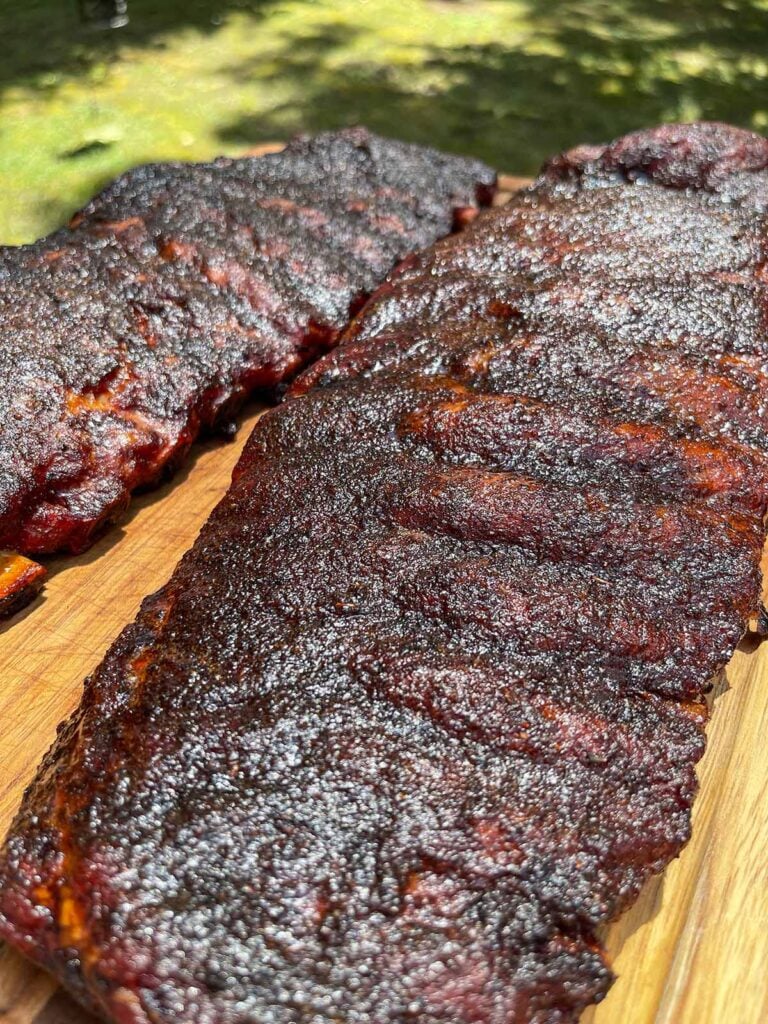 Remove the ribs from the smoker and allow them to rest for approximately 15 minutes.
Eat The Ribs
The easiest way to slice these up is to flip them bone side up and, using a sharp knife, cut cleanly between all the bones.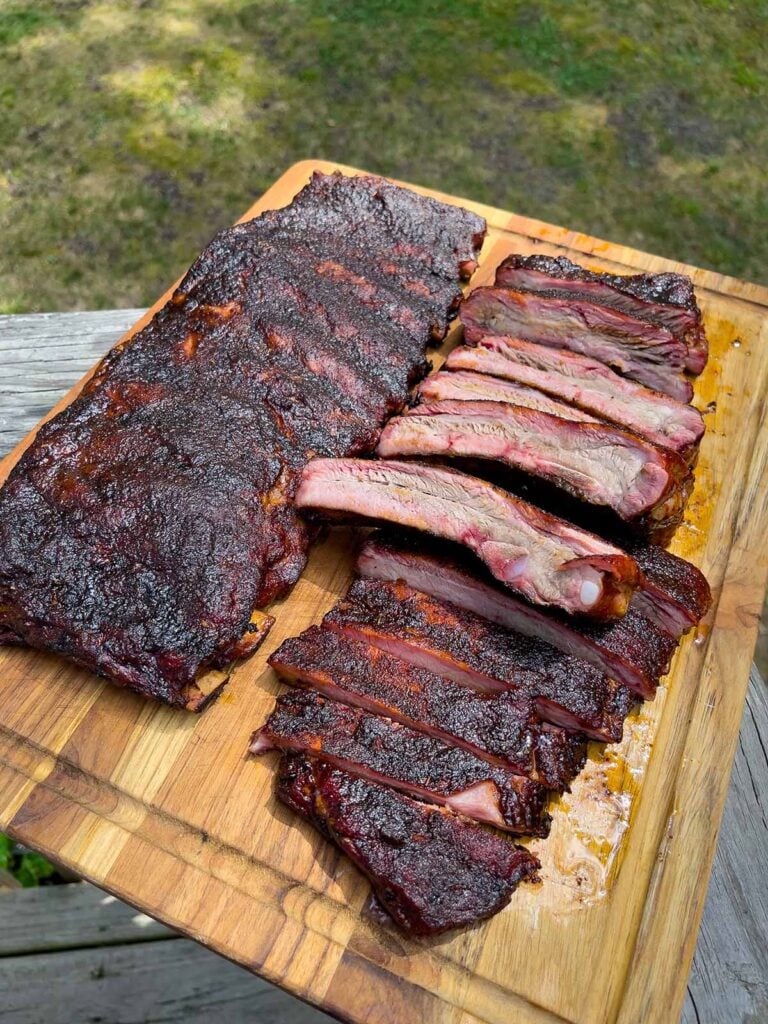 You should see a great smoke ring and super juicy pork on your board!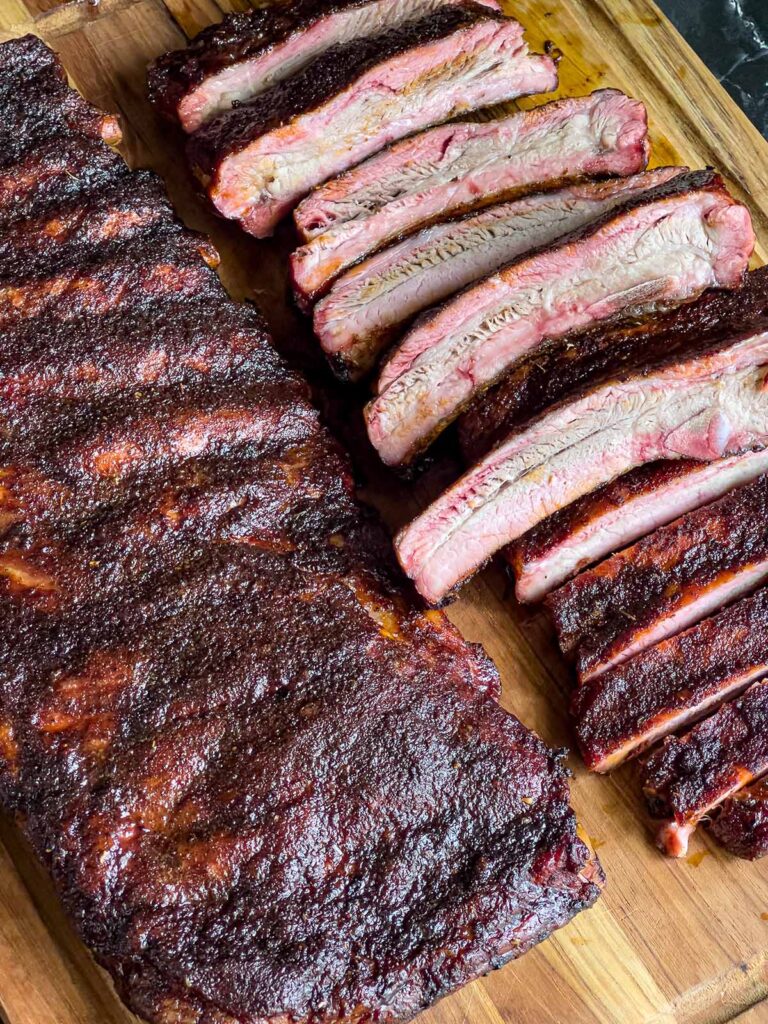 Plate them up and serve with your favorite barbecue sides.
If you're not coming up with any ideas this second, give our Baked Macaroni And Cheese or Easy Barbecue Baked Beans Recipe a look. Both are delicious and would go well with your amazing ribs.
I'm telling you. These smoked ribs are some of the best I have ever had. And on top of that, smoking ribs can't get much easier.
No wrapping, no crazy ingredients. Just good barbecue!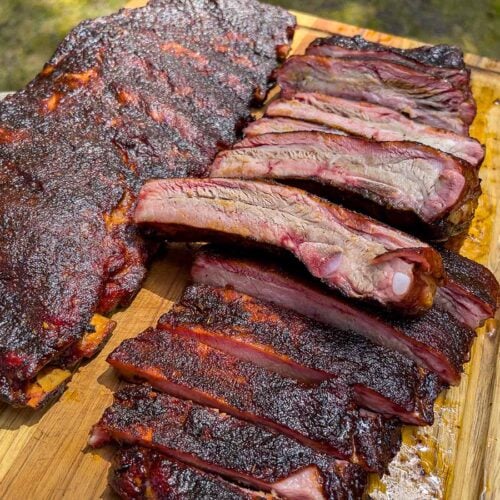 St. Louis Ribs – Learn How To Do Smoked Ribs Like A Pro
Do you want to step up your St. Louis ribs game and serve some fantastic smoked ribs? Try using a mop vs. wrapping. It's a Game-changer.
Print
Pin
Rate
Ingredients
The Ribs
2

racks

Spare ribs

Or spare ribs cut to St. Louis Style
The Rub
1/2

cup

Paprika

2

tbsp

Smoked paprika

2

tbsp

Garlic powder

1/4

cup

Chili powder

3

tbsp

Kosher salt

3

tbsp

Black pepper

2

tbsp

Onion powder

3

tbsp

Brown sugar

1

tbsp

Dried oregano

1

tbsp

Cumin

2

tsp

Dry mustard

1

tsp

Cayenne powder
The Mop
3/4

cup

Worchestshire sauce

2

tbsp

Apple cider vinegar

6

tbsp

Butter

1

tbsp

Black pepper

2

tsp

Kosher salt
Instructions
Preparing The Rub
Combine all rub ingredients in a bowl. Whisk to combine well. Transfer to spice shaker or set aside.
Preparing The Ribs
Trim excess fat and bits off of both sides of ribs.

Flip to the bone side. Trim off the diaphragm flap of meat (if needed).

Remove the silver skin (membrane).

[See video, post regarding cutting ribs down to St. Louis Style cut]

Liberally apply the rub to both sides of the ribs. Set aside 1 hour before smoking
Preparing The Mop
Add all the mop ingredients to a saucepan and keep warm.
Smoking The Ribs
Preheat the smoker to 275 degrees F. Add your preferred wood.

Place ribs in the smoker bone side down and thicker sides facing the heat source.

Smoke the ribs for three hours, mopping the ribs every 30 minutes.

After three hours, start checking for doneness. Using a meat thermometer, monitor your ribs.

Pull the ribs from the smoker when the internal temperature reaches 195 degrees F.

Allow the ribs to rest for 15 minutes.

Turn the ribs over and make clean cuts between each of the bones.
Notes
The rub recipes yields close to 2 cups of rub. I typically use a 1/3 of it for two racks of ribs.
The mop yields about 2 cups. I use a little more than half on two racks of ribs.
A note on meat temperatures. 195 will give you a clean bite. A little lower will produce a bit more tug, while a higher temp will give you a 'fall off the bone' experience.
I would not cook them over 205 nor lower than 185.
Nutrition
Calories:
278
kcal
|
Carbohydrates:
24
g
|
Protein:
13
g
|
Fat:
17
g
|
Saturated Fat:
5
g
|
Polyunsaturated Fat:
1
g
|
Monounsaturated Fat:
1
g
|
Cholesterol:
49
mg
|
Sodium:
2933
mg
|
Potassium:
600
mg
|
Fiber:
7
g
|
Sugar:
11
g
|
Vitamin A:
6515
IU
|
Vitamin C:
1
mg
|
Calcium:
86
mg
|
Iron:
4
mg