Smoked Chicken Panini Recipe
Every bite of this smoked chicken panini is an explosion of taste and texture while keeping the smoked chicken the star!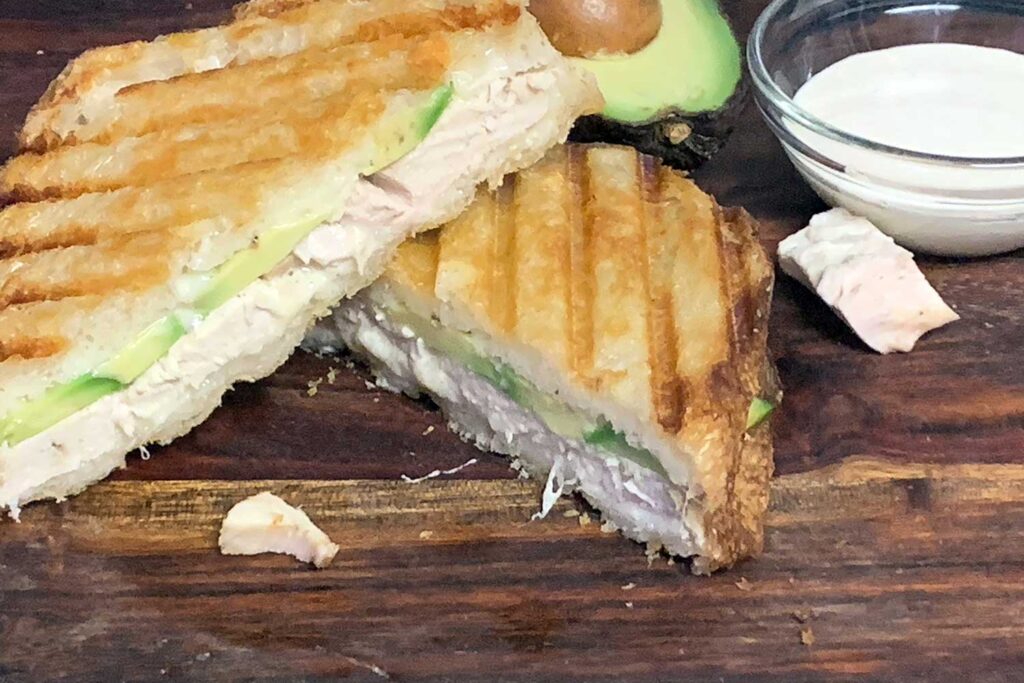 If there are two things I really get a bit geeked out over, it's smoked meat and sandwiches.
Whether it's smoked pulled pork, brisket, chicken, meatloaf … anything. I will find a way to make a sandwich out of it.
Bread is the ultimate conveyance of whatever is it I am eating. My wife will attest to the fact that I spend way too much time crafting my sandwiches.
But if you're going to construct a proper sandwich, show it the respect and do it up right! 🙂
I have done this several times before but never bothered to share but perhaps there are few out there that can understand where I am coming from and would like to try this.
The smoked chicken panini is actually quite simple but each ingredient adds a layer of flavor and texture that makes it a complete and delicious whole.
You get smoke, you get a touch of heat, you get some smoothness and a touch of sourness. All the textures are there as well.
It's just slap down a great sandwich!
Hey, where did sandwiches come from anyways?
Just a quick, fun note on the beginnings of sandwiches and why some of us feel an irresistible pull to the things.
The sandwich caught on in England back in the mid 1700's by one John Montagu, the Earl of Sandwich. According to historians, this Earl love the gambling tables. So much so he would spend hours playing cards.
Whilst ( <— cool English word ) on a particularly long session, he requested the kitchen bring him something he could eat without having to get up. Montagu enjoyed the creation so much that he constantly ate it.
It began to grow in popularity in society and it took on his name: the sandwich. The sandwich was born.
I remember learning this in 4th grade and it always stayed with me. If you really want to get into the 'meat and potatoes' of the Earl of Sandwich, you can go here.
Pretty interesting. But enough of the history lesson. Let's make a sandwich!
Ingredients For Smoked Chicken Panini
Let's talk ingredients first. You, of course, are going to need smoked chicken. Now when I get a craving for some smoked chicken I will throw two on the smoker.
This way I have enough for a smoked chicken dinner, some chicken for smoked chicken salad, and enough left over for a couple of these sandwiches.
Sure, you can smoke just one chicken, but why not double up and have some fun. Here's our smoked whole chicken recipe if you're interested.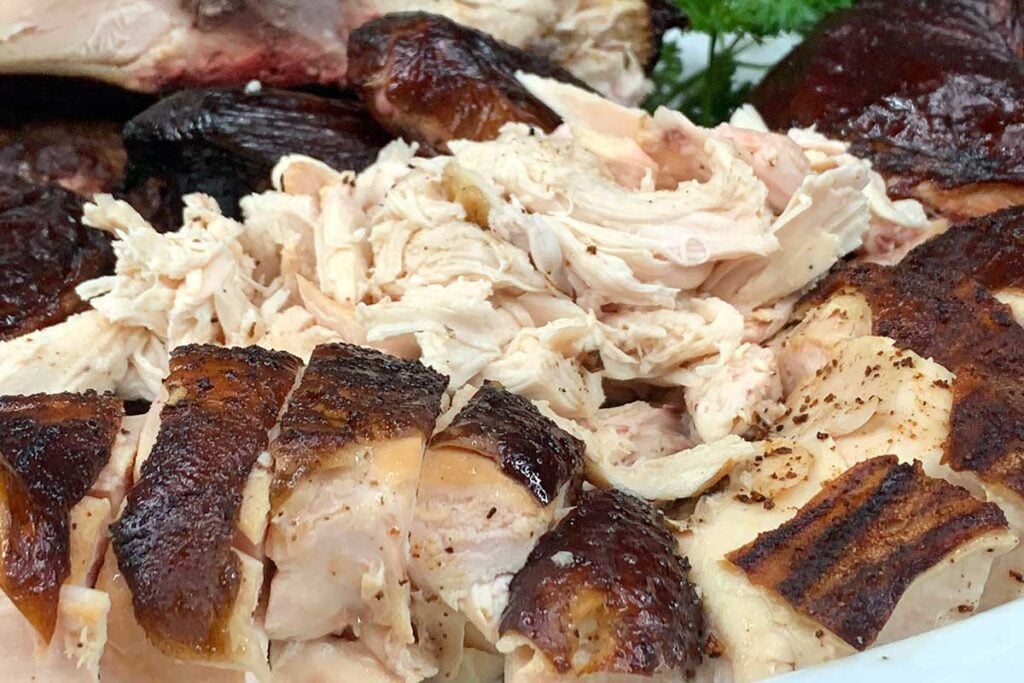 Ours is super smoky, as is how we want it. I even compared ours to the local BBQ joints in town. Ours is better. This is not bragging, it's more of an indictment against our local joints who don't smoke their chicken enough!
Next, and as equally important: Bread. You need good bread to keep this thing in check. Nothing worse than your sandwich falling apart on you as you're eating it.
We use our homemade sourdough. It's amazing and will keep everything in place. Don't use Wonder Bread!
Next, you want to get some cheese. We opted for Havarti. It melts nice, and has a distinct flavor without overpowering the chicken. Any good cheese that melts decently will do.
You could throw on some cheddar, perhaps some pepper jack for an extra kick? You could even throw on some sliced American cheese if you want super melty cheese.
To add to the texture of the sandwich, add some sliced avocado as well. This will add a nice creaminess and the subtle flavor will come through and marry well with all the other ingredients.
Finally, you need to add some Alabama White BBQ sauce to this! This sauce is a vinegary peppery sauce that goes PERFECT with smoked chicken.
Perhaps you never heard of Alabama White? A lot of people haven't and that's ok. I hadn't either until some years ago.
Since then, the ONLY sauce I put on smoked BBQ chicken is this sauce. I wouldn't use this sauce on anything BUT smoked chicken (to this point).
It just goes together. Period. The end. These two things go together!
You can make your own or purchase it from your local grocery store. If you opt to make it, it comes together in about 5 minutes.
There is no cooking, just some simple ingredients, and a quick whisk. You can see the recipe for it here.
So, to sum up, here are the ingredients:
Smoked Chicken
Sourdough Bread
Havarti Cheese
Avocado
Alabama White BBQ Sauce
Salt and pepper to taste. Optional
How To Make A Smoked Chicken Panini
Alright, let's construct this smoked chicken panini already! You can fire up your panini press at this point so it's ready to go by the time your sandwich is ready for cooking.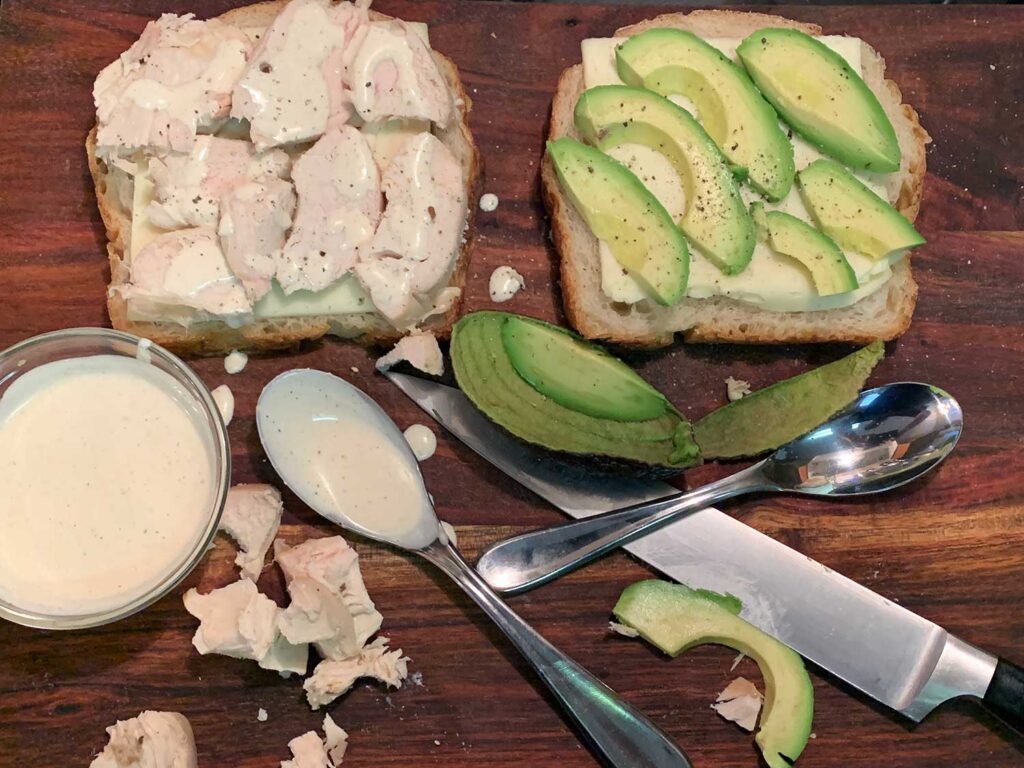 First, lightly butter the bread. You just need a thin layer, no need to slather it on. Too much and it will kind of grease it up too much. While a fan of butter, sometimes less is more.
Some people use mayonnaise instead of butter on their grilled sandwiches. Ugh .. to each his own. I have tried it a couple of times. No thank you!
If you are a fan of that technique, have at it. If you never have tried it, just run away!
Lay one slice down, butter side down (yeah, messy, but it cleans up) and add one slice of the cheese of your choice.
As I previously stated, we went with Havarti, and I'd do it every time if I have it available.
Next place a good amount of your smoked chicken but don't go crazy. Nothing worse than everything falling out while your eating.
After that, add some drizzles of the Alabama White BBQ sauce. Enough to coat, but not make the bread soggy.
Next, add the sliced avocado. I usually add some salt and pepper directly to the avocado. I will season each element of an ingredient lightly versus just hitting the top of every thing.
Once the avocado is in place, add a second slice of Havarti or your choice of cheese.
Top the sandwich with the other slice of bread, butter side out, and place into the panini when it's ready.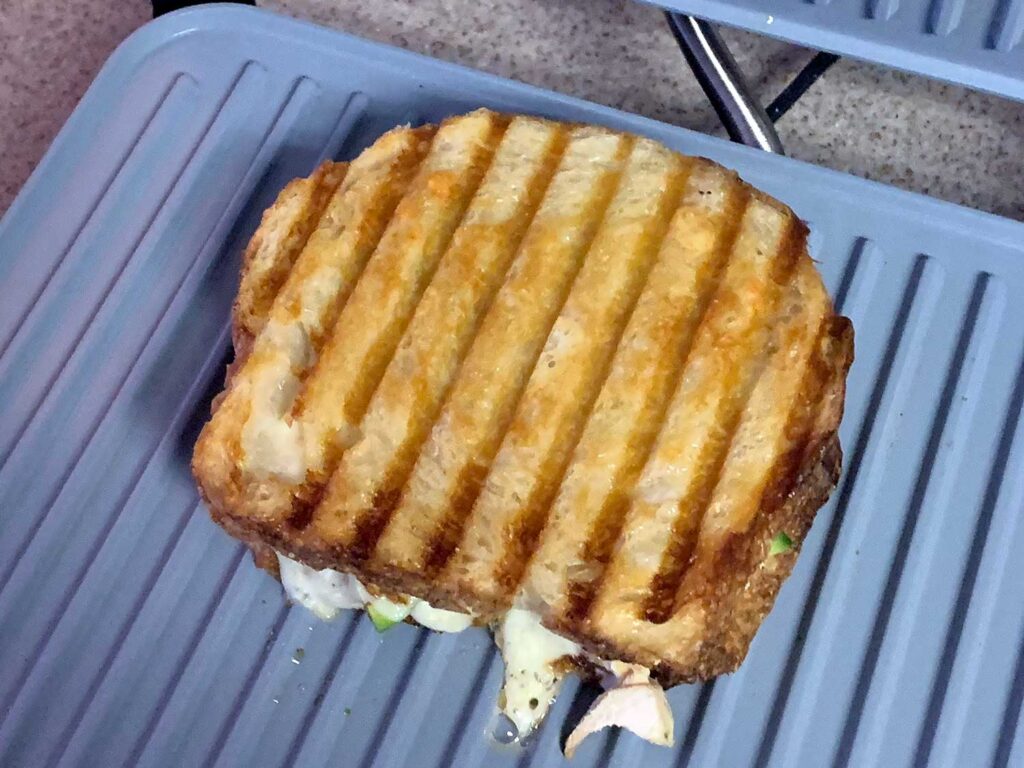 Close the lid and allow to cook for approximately 7 to 8 minutes, or until the bread is nicely toasted, and the cheese is bubbling out.
Once it's done, remove to a cutting board and allow this thing to rest for a bit, 5 minutes or so. If you cut it immediately, the cheese will come spilling out.
If you allow it to relax for a bit, you're still going to get a piping hot sandwich of crunchy goodness.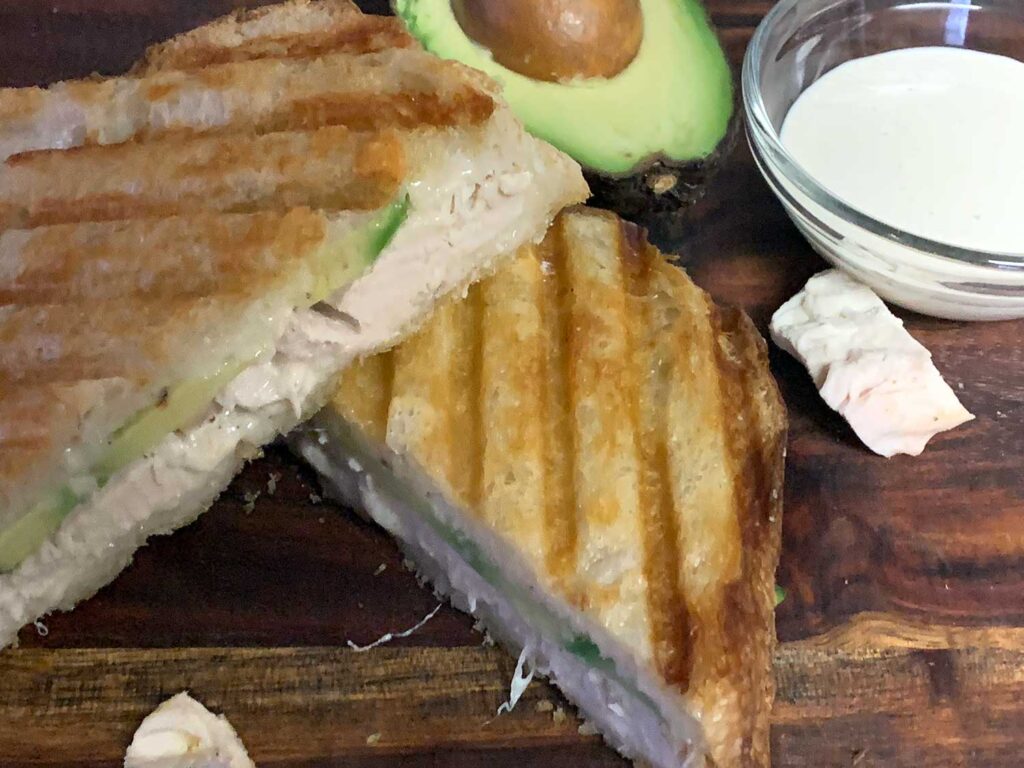 After the rest, slice and enjoy! Serve up with whatever side you like.
Conclusion
Honestly, I'd eat this sandwich out.
It has everything you would want. It's got the great textures of the toasted crunchy bread. It has the smoothness of the avocado. It has the peppery sauce.
And it has the star, that wonderfully smoked chicken. Every bite of this is an explosion of taste and layers of texture.
This is just a primer for those sandwich freaks out there. Find your own path after trying this. Try different cheeses, try different toppings.
You could easily kind of go away from the California of the avocado and add some jalapenos for more kick.
You could go away from the Alabama BBQ sauce and use a regional sauce of your area (Memphis, North Carolina, etc).
There are all sorts of ways to modify this to your particular tastes.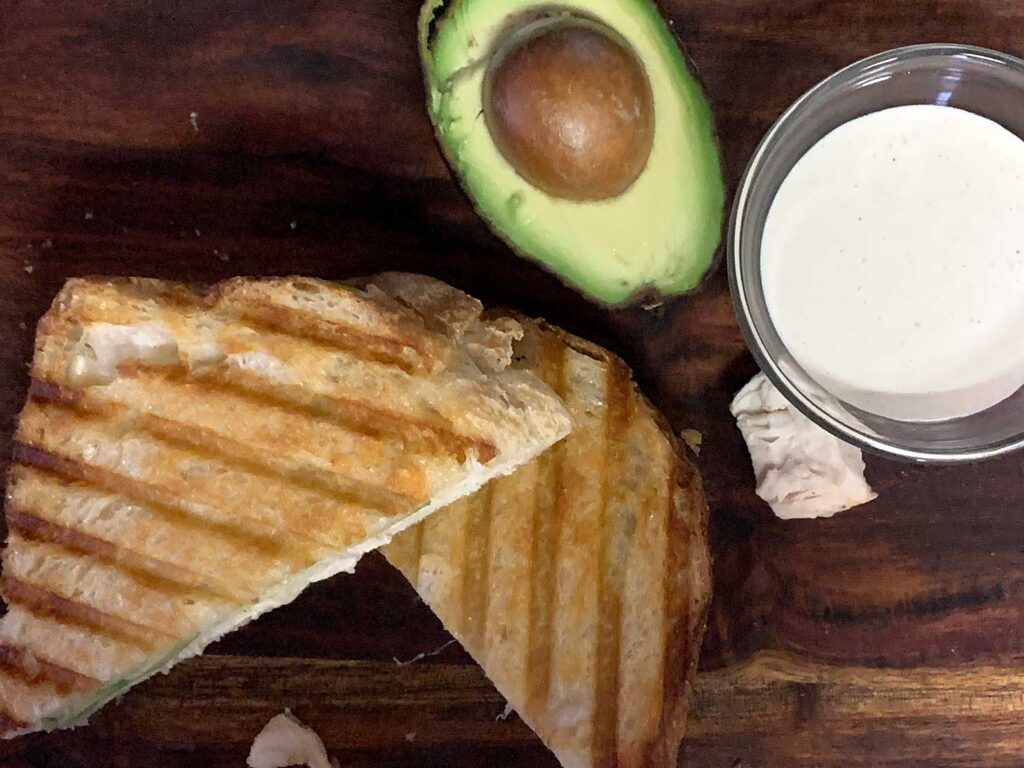 But if you're just not sure, stick to this. You will not be disappointed! Actually, you will be delighted!
Smoked Chicken Panini Recipe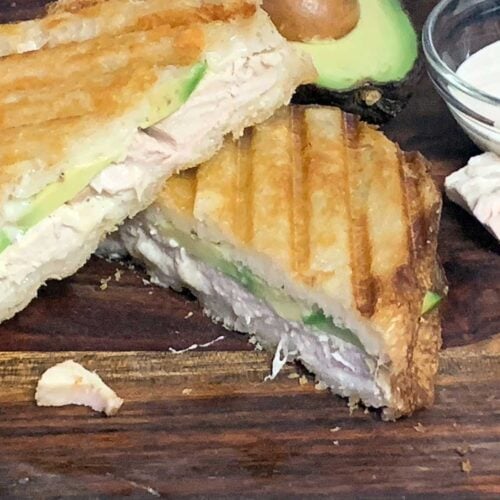 Smoked Chicken Panini Recipe
Every bite of this smoked chicken panini is an explosion of taste and texture while keeping the smoked chicken the star!
Print
Pin
Rate
Instructions
Turn on the panini press and set to medium / medium high

Butter bread on one side each

Place one slice of Havarti cheese on one slice of bread, butter side facing down.

Place smoked chicken on top of Havarti cheese

Drizzle bbq sauce over chicken

Place avocado on top of the smoked chicken

Place last slice of Havarti on top of avocado

Place last piece of bread on top of havarti

Put the sandwich into the panini press and cook for 7 to 8 minutes or until the bread is toasted golden brown and the cheese is bubbling out

Remove the panini and allow to rest for 5 minutes.
Nutrition
Calories:
838
kcal
|
Carbohydrates:
81
g
|
Protein:
41
g
|
Fat:
40
g
|
Saturated Fat:
15
g
|
Trans Fat:
1
g
|
Cholesterol:
90
mg
|
Sodium:
1124
mg
|
Potassium:
791
mg
|
Fiber:
10
g
|
Sugar:
4
g
|
Vitamin A:
667
IU
|
Vitamin C:
11
mg
|
Calcium:
414
mg
|
Iron:
6
mg