This blue cheese dressing is creamy, tangy, thick, chunky, and ah-mazing! It can be whipped up in less than 5 minutes. Really, it's that easy.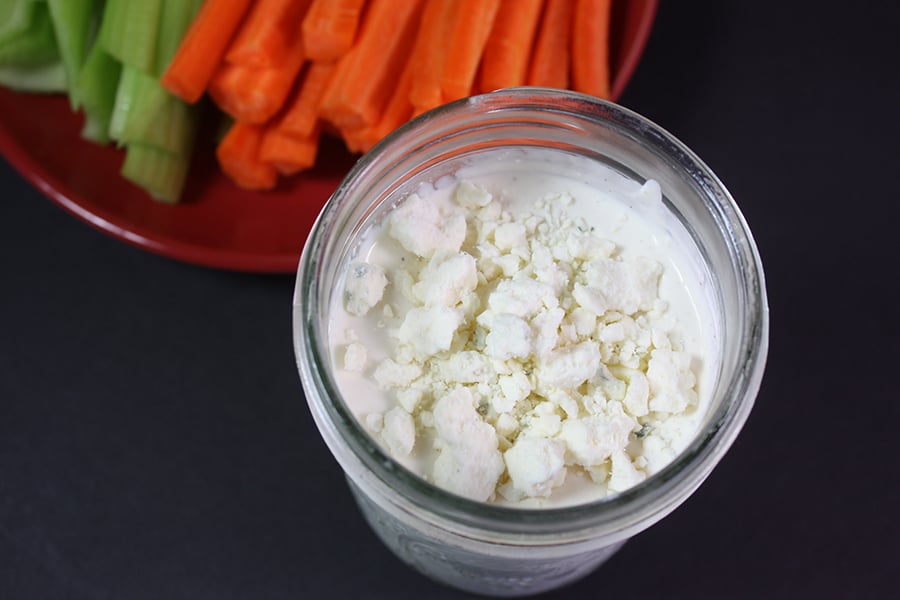 Once you try this dressing you will never purchase store-bought again. I promise.
What You'll Need
No special equipment is required.
Blue cheese crumbles – Blue cheese comes in both crumbles and blocks at most grocery stores.
Buttermilk – Adds extra tanginess to the dressing.
Mayonnaise and sour cream – We highly recommend the full-fat versions but low-fat works too. It just won't be as rich tasting.
Worcestershire sauce and white vinegar – Adding acid to most recipes brighten and enhances the flavors.
Garlic powder, salt, and black pepper – For added flavor.
Tips
Stilton and Roquefort blue cheese – These two are both on the strong flavor side. If you want more stronger flavor choose one of these to use in the dressing.
Gorgonzola has a milder flavor and is creamier in texture. Choose this one if you like a milder blue cheese flavor.
Choose your favorite blue cheese for this recipe. It's really a matter of preference.
If you don't want chunks of cheese in the dressing, mash all of the blue cheese completely. Or you could throw all the ingredients in a food processor to thoroughly blend until creamy.
This dressing gets better with time. Be sure to allow the flavors to meld.
You could also try adding a little fresh lemon juice. Toss in some chopped fresh herbs like parsley or thyme.
If it's too thick for your liking add some more buttermilk to thin it out. I prefer it thick.
How to Make Homemade Blue Cheese Dressing
In a small bowl add 1/2 the blue cheese crumbles and the buttermilk. Mash with the tines of a fork until it resembles large cottage cheese curds.
Add mayonnaise, sour cream, Worcestershire, white wine vinegar, garlic powder, salt, pepper, and remaining blue cheese crumbles. Stir to combine.
Pour into your container and refrigerate for at least 2 hours. This dressing needs time for the flavors to combine.
That's it. I told you, just 5 minutes to prepare.
Try our Southern Buttermilk Ranch Dressing recipe.
How to Serve Blue Cheese Dressing
This homemade blue cheese dressing recipe is perfect as a vegetable dip, buffalo wings dip, salad dressing, wedge salads, and loads more. Use it to top steaks, burgers, or baked potatoes.