Spinach Salad with Curry Mustard Vinaigrette
Spinach salad with curry mustard vinaigrette is a favorite in our house. Sometimes you just need to break up that old garden salad routine.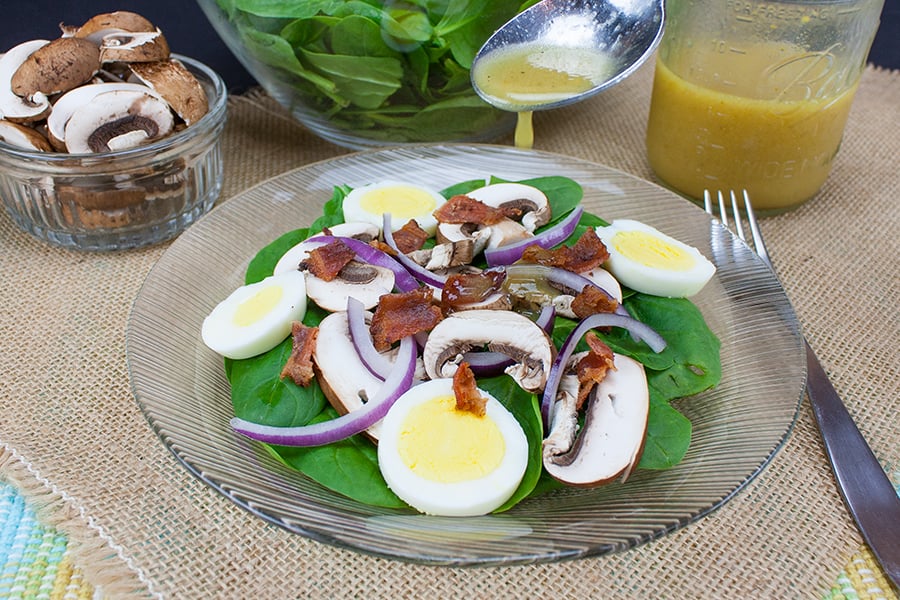 The dressing for this salad is what makes this dish, it has a zippy tang that you just can't resist. It's so simple to prepare and I'm pretty sure you have the ingredients your pantry just waiting to be mixed!
It beats store-bought salad dressing hands down!
Try our Strawberry Shortcake!
This recipe was shared by a good friend of my sister's and we have been enjoying it for years!
I much prefer savory salads if you haven't already noticed. I don't do strawberry spinach salads with a poppy seed dressing. It's just not my favorite.
You know the drill, right? Place all the vegetable oil, white wine vinegar, white wine, soy sauce, sugar, dry mustard, curry powder, salt, and pepper in a jar and shake to combine.
You can also place the dressing ingredients in a small bowl and whisk.
Refrigerate for 15 minutes while assembling the salad for the flavors to combine.
I use a prepackaged bag of baby spinach and tear off any long stems.
Clean, slice the mushrooms.
Thinly slice the red onion.
Boil the eggs.
Fry the bacon and crumble.
We place all the toppings in separate bowls so each person can pick and choose which they prefer. My husband doesn't like mushrooms and my daughter won't eat bacon. Neither of them will eat purple onion.
But if your guests don't mind you can certainly toss the salad ingredients in a large salad bowl.
Prep your plates with the classic spinach salad with bacon and then drizzle the curry vinaigrette, season with salt and pepper. Devour!
We love this as a meal, especially during the summer months. Right now we are trying to knock off a few holiday pounds (ok, maybe a lot of holiday pounds), so it's salads for us. Sigh
Check out our Ceviche!
Best Dressing for Spinach Salad Recipe