Quick and Easy Ceviche Recipe
Ceviche is easy, fresh, and the perfect light summer treat! It's packed full of tangy citrus flavor with bits of crunch from onion and peppers.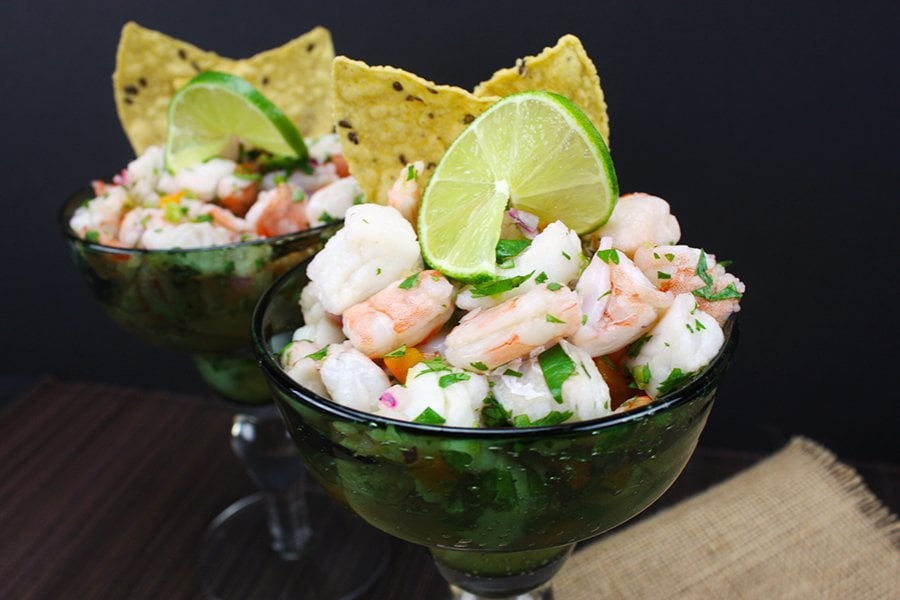 You can make it as mild or spicy as you like. If you like a spicy ceviche recipe, leave the seeds and veins in the jalapeno or add more.
Now picture yourself chilling in the shade with a bowl of cool and refreshing ceviche in one hand and a Honeydew Margarita in the other.
Fresh shrimp ceviche and an icy margarita sound like a pretty good day to me.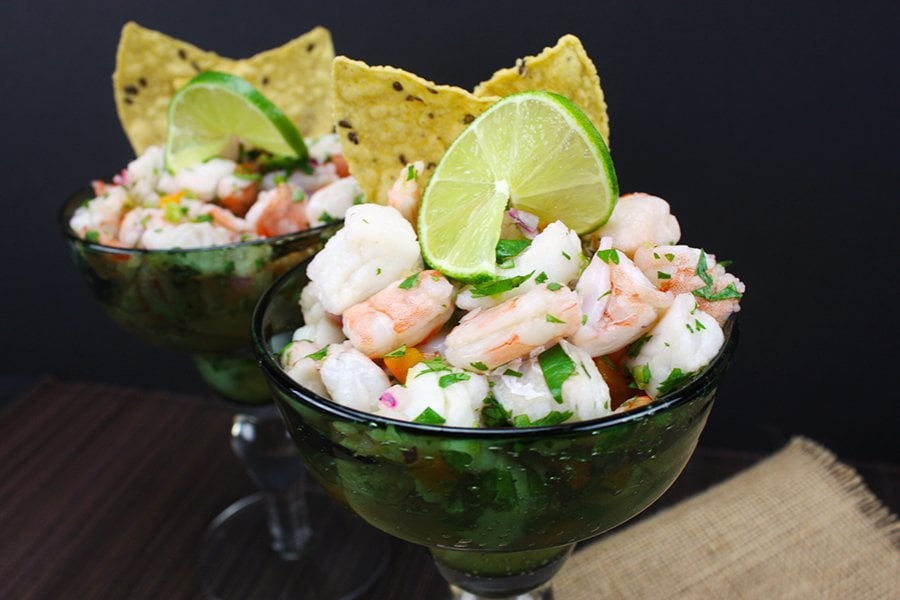 Why You'll Love This
Ceviche is simple to make and one of the freshest tasting dishes you have ever tasted!
Key Ingredients
Fish – This recipe uses fresh shrimp peeled and deveined and fresh cod. It is highly recommended that you only use sushi-grade fish for ceviche.
Citrus – We are using freshly squeezed lemon, lime, and orange juice.
Seasonings – Red onion, fresh jalapeno, orange bell pepper, fresh cilantro, minced garlic, and ginger.
Variations
You can use snapper, halibut, tuna, Mahi Mahi, salmon, or seabass in place of the cod.
You can add in finely chopped cucumber, choose any color bell pepper, or Roma tomatoes.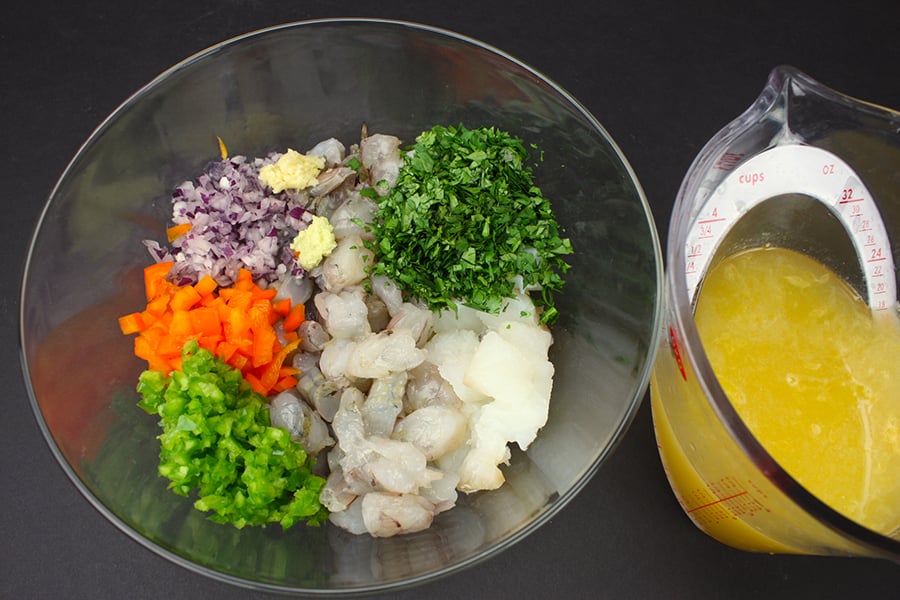 What is ceviche?
It's a Peruvian dish (Peruvian ceviche) usually served as an appetizer. It's made with raw fresh shrimp and fish, that's marinated in fresh citrus juices. The acidic citrus cures the shrimp and fish causing them to become firm and opaque while absorbing flavor.
How to Make Ceviche Recipe
Dice the raw shrimp and fresh fish into 1/2″ cubes.
Dice all vegetables into small pieces.
Squeeze the fresh lime juice, lemon juice, and orange juice into a small bowl or measuring cup.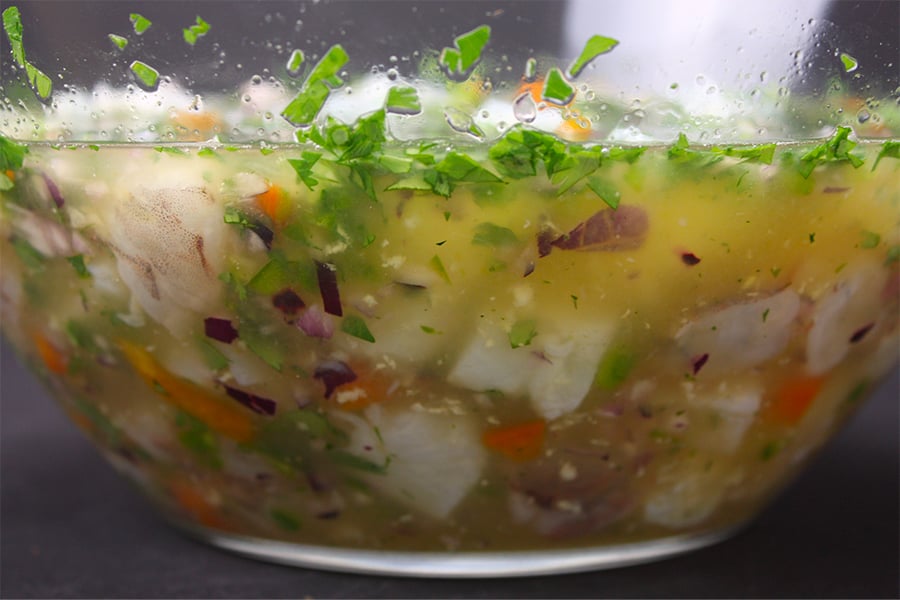 Place the shrimp, fish, bell pepper, red onion, jalapenos, cilantro, garlic, and ginger into a large bowl.
Pour the fresh-squeezed juices over the raw seafood and vegetables, and mix to combine.
Refrigerate for 1 1/2 hours to 2 hours. Some recipes only marinate the raw fish for 30 minutes, some even 15 minutes. I tend to think this is a personal preference.
If you let it sit too long you can overcook the shrimp. Too little and some people are afraid of raw fish. I tend to go for at least 1 hour but up to an hour and a half.
Don't worry, the citrus cooks the fish and shrimp.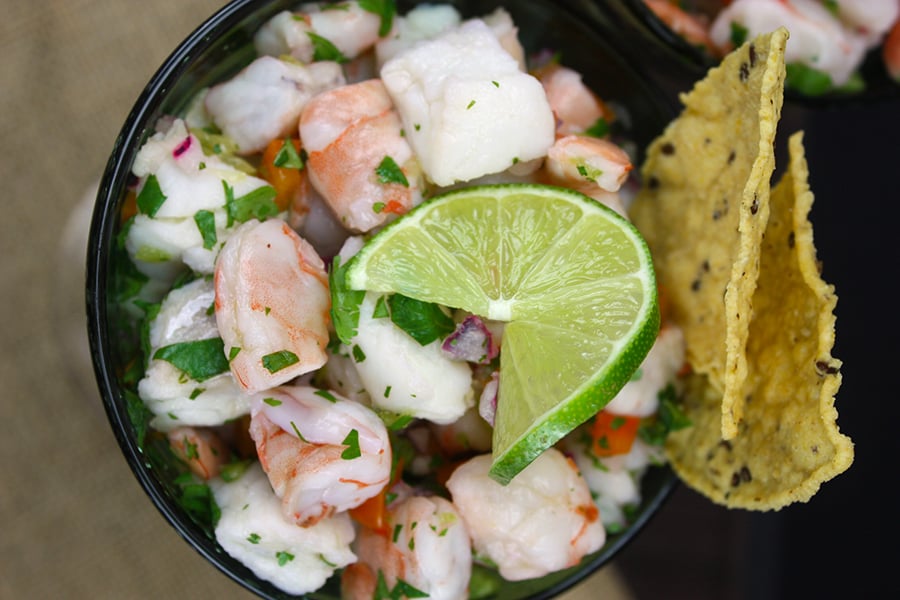 See the shrimp is pink and the fish is solid white!
How to Serve Ceviche
Enjoy this perfect crisp and refreshing ceviche recipe during those hot summer days! Serve the ceviche with tortilla chips or just straight up. Serve as an appetizer or a salad.
This is a perfect dish to serve at parties or get-togethers. It comes together so fast and is so fresh and delicious. Enjoy!
How long does ceviche last?
It will keep well for 1 day stored in an air-tight container in the refrigerator. But after 24 hours I would discard the ceviche.
More Shrimp Recipes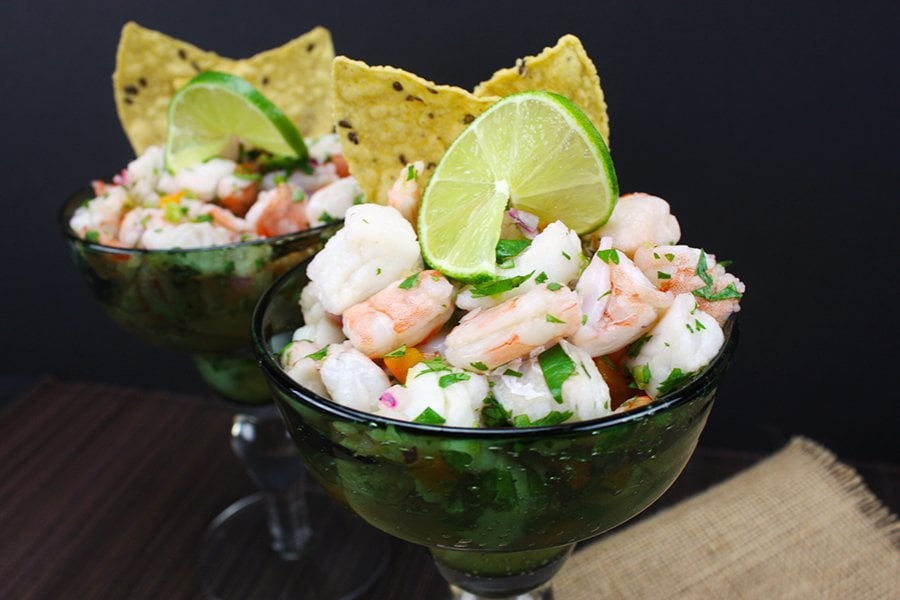 Quick And Easy Ceviche Recipe
This quick and easy ceviche recipe with shrimp and cod is fresh and tangy. Perfect for summer!
Print
Pin
Rate
Ingredients
1

pound

fresh shrimp, cut into 1/2 inch cubes

1/2

pound

cod, cut into 1/2 inch cubes

1

cup

fresh squeezed lime juice

(about 10 limes)

1

cup

fresh squeezed lemon juice

(about 1-2 lemons)

1

cup

fresh squeezed orange juice

(about 2 oranges)

1/4

cup

orange bell pepper, diced small

(or red)

2/3

cup

red onion, diced small

1

jalapeno – seeds and veins removed diced small

1/3

cup

cilantro, chopped

1/2

teaspoon

garlic, minced

1/2

teaspoon

ginger, minced
Instructions
Dice shrimp and fish into 1/2″ cubes.

Dice all vegetables into small pieces, squeeze lime, lemon, and orange juices.

Mix all ingredients and refrigerate for at least 1 1/2 hour to 2 hours.

Serve.
Nutrition
Calories:
232
kcal
|
Carbohydrates:
19
g
|
Protein:
35
g
|
Fat:
2
g
|
Saturated Fat:
1
g
|
Cholesterol:
310
mg
|
Sodium:
916
mg
|
Potassium:
641
mg
|
Fiber:
1
g
|
Sugar:
9
g
|
Vitamin A:
596
IU
|
Vitamin C:
96
mg
|
Calcium:
199
mg
|
Iron:
3
mg