This batter for this beer battered fish.is made delightfully light and crispy with the use of a light-colored beer and baking powder.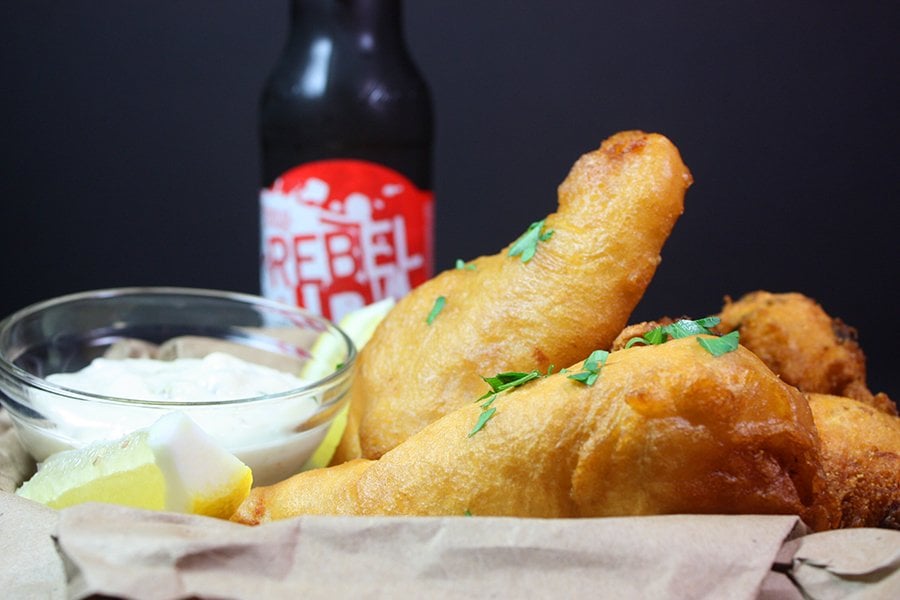 Beer battered fish is easier to make at home than you think. Stay in, make your own and save some money. What could be better than that?
Ingredients Needed
White fish – Such as cod, tilapia, or halibut.
All-purpose flour, baking powder, light-colored beer – These are for the wet batter.
All-purpose flour, garlic powder, cayenne pepper, salt, and black pepper. – These are the dry ingredients for the seasoned dredge and seasoning of the fish.
Vegetable oil – Or canola oil for frying.
Tips
Plan ahead, it's best to make the batter at least 30 minutes before dipping the fish. The resting time allows the carbonation in the beer to activate the baking powder for a lighter, crispier batter.
Oil Temperature – If the oil is not hot enough, the coating will absorb too much grease and will become soggy. If the oil is too hot, it will cook the coating too fast leaving the fish underdone.
Don't overcrowd the pan or deep fryer. Cook just a few pieces at a time to avoid dropping the temperature of the oil.
Heat the oven to about 250 degrees F while you are frying. Place the cooked and drained pieces in the oven to stay warm
How to Make Crispy Beer Battered Fish
In a large bowl whisk together the flour, baking powder, and beer until smooth thin batter forms. It should be thinner than a pancake batter but slightly thicker than a crepe batter.
Loosely cover with plastic wrap and let stand at room temperature for at least 30 minutes.
Cut the fish into long strips about 6 inches. Pat dry with paper towels.
Heat your oil to 375 degrees. Prepare a baking sheet with paper bags or paper towels, and set it aside. Or you can drain them on a wire rack placed on a baking sheet.
Mix together in a small bowl, the garlic powder, cayenne, salt, and pepper. Season the fish fillets on both sides, reserving half of the seasoning mix for the dredging flour.
In a shallow dish whisk together the reserved seasoning mix and 1 cup of flour.
Working with one piece of fish at a time, dip the fish into the seasoned flour, and coat evenly on both sides. Then dip the fish into the beer batter, completely dunking it until it is fully submerged. Drain excess batter and then carefully drop the battered fish into the hot oil.
In batches cook the fish for about 4 to 6 minutes on the first side, turn over and cook for another 2 to 3 minutes, until golden brown. It depends on the thickness of the strips. Some of mine were thinner and cooked quicker than others.
Place on the prepared pan while frying the remaining fish. Season with salt if desired.
Frying fish does not need to be intimidating. This recipe lends perfect crispy and fluffy battered fish right in your own kitchen!
This cod was so tasty. Garnish with lemon wedges, malt vinegar, or tartar sauce.
Yes, this is a great recipe for fish and chips, or try our favorite Jalapeno Hushpuppies.
As I've told you all before I hate frying, but I would do this beer-battered fish anytime.
More Delicious Recipes