Crispy Southern Buttermilk Fried Okra
Buttermilk fried okra is a Southern tradition. Crispy, crunchy, and oh-so delicious. This recipe is a summer southern staple in our house.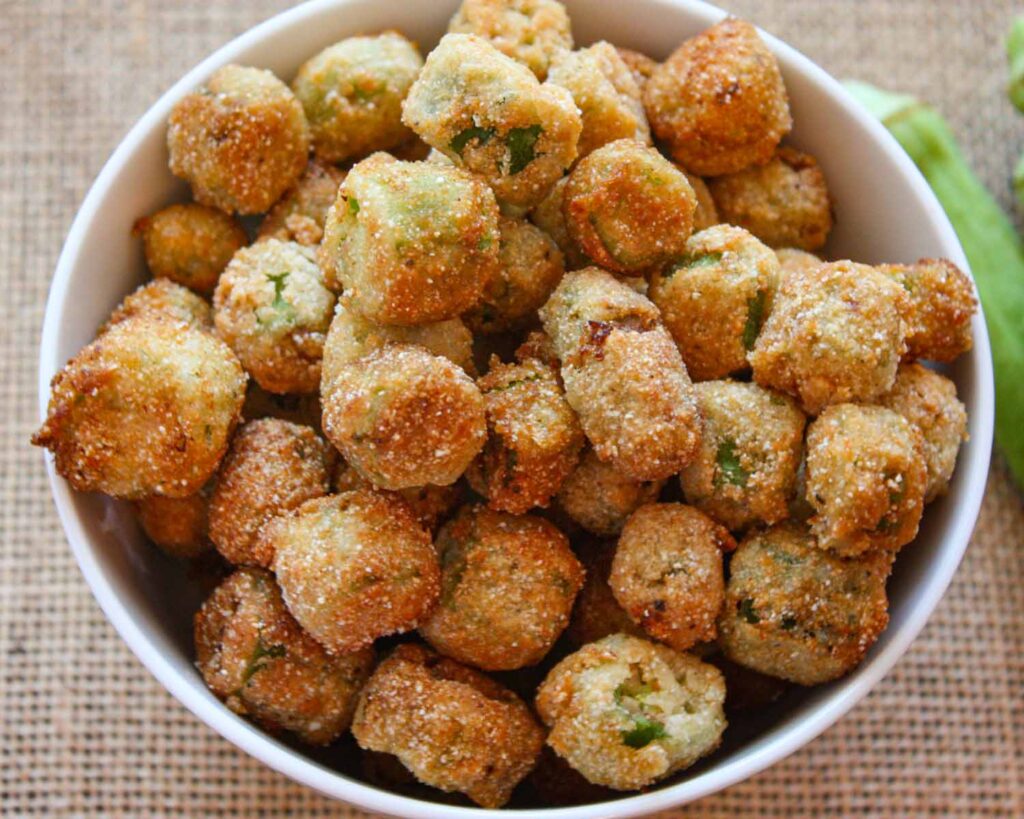 Why You'll Love This
What do you do when your sweet, generous co-worker brings you two bags of fresh from the garden okra? You fry some!
You pickle okra. You even roast some.
It's easy to make at home and so much tastier than frozen battered okra.
You must try buttermilk fried okra if you have never had it before. This stuff is what the South is about, people! And deep frying the okra helps cut the slimy texture!
It's really simple and OH SO DELICIOUS! Especially when it's fresh from the garden. My mother taught me just to coat it in cornmeal and pan-fry it in a small amount of oil.
I love it that way, but it's not a "batter" type. This was the best-fried okra I have ever eaten.
A few of our other favorite Southern recipes to make are Succotash Recipe, Buttermilk Cornbread Recipe, Smoked Chicken Wings served with Alabama White Sauce, and Baked Macaroni and Cheese.
Ingredients Needed
For this crispy fried okra recipe, the okra is coated in buttermilk and then dredged in seasoned cornmeal. You will only need a few ingredients to make this fabulous side dish.
Fresh Okra – Choose blemish-free pods that are about 3 inches long. If the okra is much larger, they tend to be old and tough. I don't recommend frozen okra. After cooking, it tends to become soft and mushy.
Self-rising cornmeal mix – This is our choice for crispy, crunchy fried okra. But some people use both all-purpose flour and cornmeal, and some use just flour. The cornmeal adds more of a crunchy texture to the finished product.
Buttermilk – Some recipes call for an eggwash, but any true Southerner will tell you buttermilk is the only way to go! The buttermilk gives the fried okra a thicker texture and a little tang.
Salt and black pepper – This is the only seasoning you will need for fried okra.
Vegetable oil – Canola oil or peanut oil work great too.
How to Make Buttermilk Fried Okra
Cut the okra pods into 1/2 inch pieces, place them in a bowl, and stir in the buttermilk to coat evenly.
Place the buttermilk-coated okra in the refrigerator for about 30 minutes before tossing it with the cornmeal.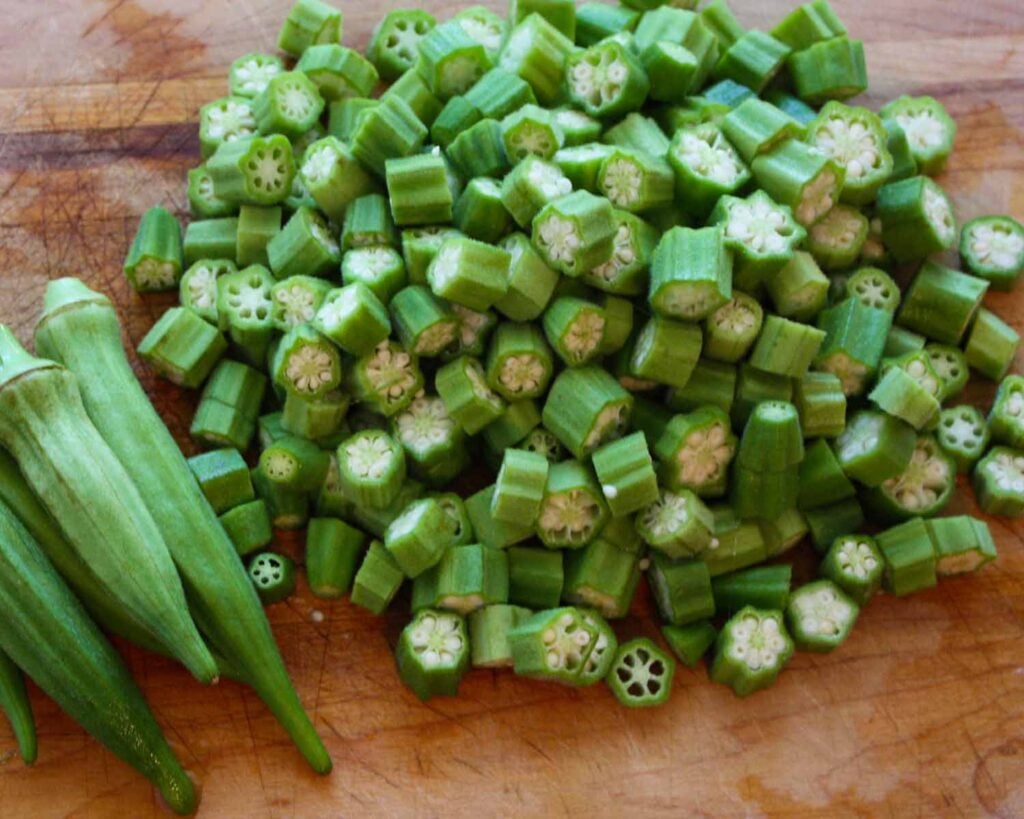 Don't Sweat The Recipe is supported by its readers. We may earn a commission if you purchase through a link on our site. Learn more.
Stir together the cornmeal, salt, and pepper, then toss the okra in the cornmeal mixture until coated evenly. Easy-peasy, right?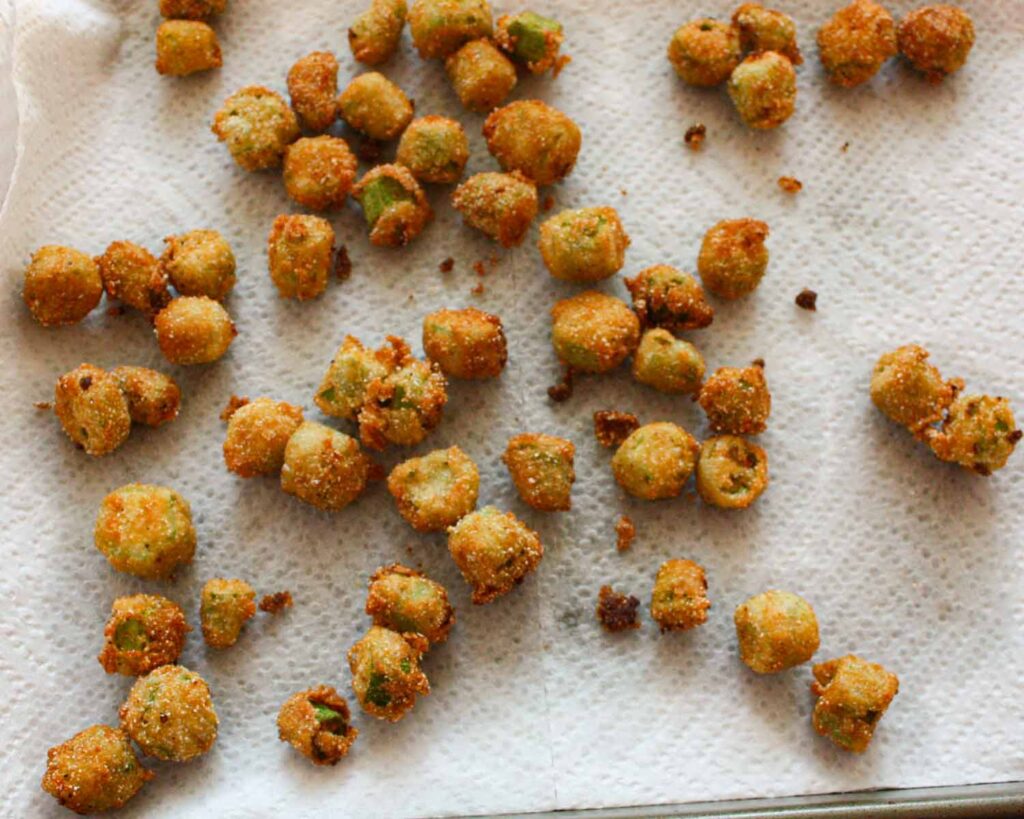 Pour oil into a large, deep cast-iron skillet or Dutch oven to a depth of 1 inch; heat to 300°F. You can also use an electric deep fryer.
Fry the okra for about 4 or 5 minutes until golden and crispy, and then transfer to a paper towel-lined sheet pan to drain.
What to Serve with Fried Okra
Perfect crispy fried okra goes with any protein or even a meatless meal! Perfect with chicken, pork, beef, and fish.
If you like a dipping sauce, try ranch dressing.
Storage, Reheating, and Freezing
Store leftover fried okra in an airtight container in the refrigerator for up to 3 days. Reheat in a 325°F oven for about 15 minutes, or heat in an air-fryer at 350°F for about 5 minutes. Although it won't have that fresh crispy coating or be as tasty as the freshly fried.
You can also freeze it before or after frying. Although fried okra, after being frozen, tends not to be as crispy and delicious.
So I recommend flash freezing breaded uncooked okra. Flash-freeze them on a baking sheet in a single layer for about 30 minutes. Then freeze in a freezer-safe air-tight container or resealable bag for up to 3 months.
Then fry from frozen as instructed in the recipe.
Tips
I keep buttermilk in my refrigerator at ALL TIMES. (for my homemade biscuits) If you don't, use a substitute. One tablespoon of lemon juice or white vinegar added to 1 cup of milk and let stand for 5 to 10 minutes.
I highly suggest fresh okra! Frozen okra tends to become mushy after thawing.
Pick similar size okra for even cooking. You don't want them too large or old. They will be tough and somewhat fibrous.
Use a frying thermometer to control the temperature of the oil. If the oil is too hot, the okra will burn. If the oil is too cool, the okra will absorb excess oil and become mushy.
If you don't have a thermometer, you will know the oil is hot and ready if you drop one piece of okra in the oil, and it starts sizzling immediately.
While frying the okra, stir slightly to ensure they don't stick together and fry evenly on all sides.
For a little spiciness, you can also use other seasonings like garlic powder, cajun seasoning, creole seasoning, or cayenne pepper.
FAQs
Can I use an air fryer?
Sure! Preheat the air-fryer to 400°F. You will need to work in batches. Place the breaded okra into the basket and then liberally spray the okra with cooking spray.
Cook for 5 minutes, open the basket and shake the okra, and then cook for another 5 minutes until golden brown and crisp.
Can I bake the okra?
Yes, you can, but it will not be as crispy as the fried version. I don't recommend this method for that reason. But if you must – Preheat the oven to 425°F.
Liberally spray a baking sheet with cooking spray or oil. Bake for about 20 minutes, tossing the okra around on the pan about halfway through baking.
More Southern Side Dish Recipes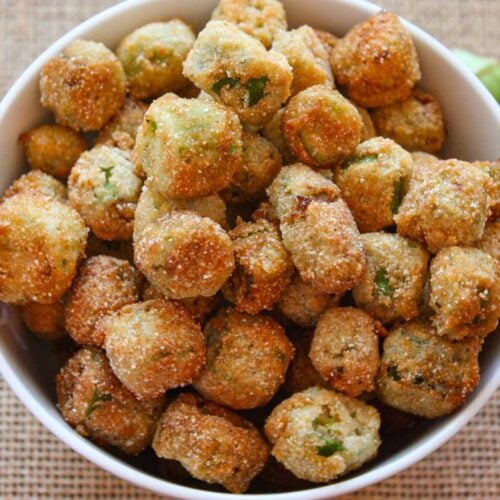 Buttermilk Fried Okra Recipe
Crispy, crunchy and oh so delicious.
Print
Pin
Rate
Ingredients
1

pound

Fresh okra

cut into 1/2-inch-thick slices

3/4

cup

Buttermilk

1 1/2

cups

Self-rising white cornmeal mix

1

teaspoon

Salt

1/4

teaspoon

Black pepper

Vegetable oil for frying
Instructions
Stir together okra and buttermilk in a large bowl. Refrigerate for 30 minutes.

1 pound Fresh okra,

3/4 cup Buttermilk

Stir together cornmeal mix and next 3 ingredients in a separate large bowl.

1 1/2 cups Self-rising white cornmeal mix,

1 teaspoon Salt,

1/4 teaspoon Black pepper

Remove okra from buttermilk, in batches, using a slotted spoon.

Dredge in cornmeal mixture, and place in a wire-mesh strainer. Shake off excess.

Pour oil to a depth of 1 inch into a large, deep cast-iron skillet or Dutch oven; heat to 300°.

Fry okra, in batches stirring occasionally, for 4 minutes or until golden. Drain on paper towels.
Notes
While frying the okra in batches you can keep the cooked okra warm by placing it in a warm oven.
You can also add other seasonings like garlic powder, cajun seasoning, creole seasoning, or cayenne pepper for extra flavor.
See the post for storage, reheating, and freezing instructions.
Nutrition
Calories:
287
kcal
|
Carbohydrates:
58
g
|
Protein:
9
g
|
Fat:
4
g
|
Saturated Fat:
1
g
|
Cholesterol:
5
mg
|
Sodium:
1477
mg
|
Potassium:
532
mg
|
Fiber:
8
g
|
Sugar:
4
g
|
Vitamin A:
1069
IU
|
Vitamin C:
26
mg
|
Calcium:
335
mg
|
Iron:
4
mg