Pan-Seared Salmon Salad with Lemon Dijon Vinaigrette
Pan-Seared Salmon Salad with Lemon Dijon Vinaigrette is one of the quickest, healthiest meals you can serve your family! Literally, this meal is on the table in 15 minutes.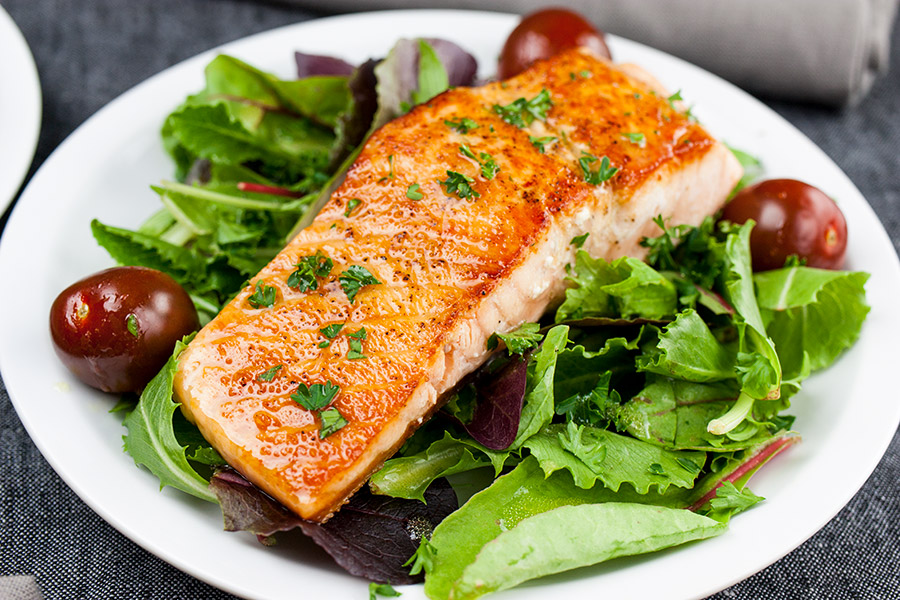 The fresh homemade lemon dijon vinaigrette brings tons of tangy, zesty flavor to the salmon and the salad. A meal that will check all the boxes for everyone in your family or dinner guests.
Try our Pork Egg Roll Bowl recipe!
Pan-Seared Salmon Salad with Lemon Dijon Vinaigrette
How to make Pan-Seared Salmon
Squeeze the lemon juice into a small measuring cup. Add the dijon mustard, parsley, salt, and pepper. Slowly whisk in the olive oil, set it aside.
You can chill for a few minutes but don't leave it in the refrigerator too long, the olive oil will solidify.
Season the salmon fillets with salt and pepper. Heat 2 tablespoons of olive oil in a large non-stick skillet over medium-high heat. Place the salmon skin-side down in the hot pan, and fry for 3-4 minutes or until it releases easily from the skillet. This will result in nice and crispy fish skin.
Turn the salmon over onto the flesh side and continue to pan-fry the salmon for another 3-4 minutes until golden brown. The salmon should no longer be translucent but still moist in the center.
Place about 1 1/2 cups of spring mix salad greens on a plate with a few grape tomatoes. Top the greens with a piece of salmon, drizzle with the desired amount of lemon dijon vinaigrette and serve.
Season with salt and pepper to taste.
You can certainly add additional veggies of your choice to the "salad recipe". Try red onions and bell peppers thinly sliced.
That's it! Easy, right?
I'm trying my best to put my husband on a low-carb diet. This dish sold him … for this meal at least.
He was never a fan of salmon. I, too have not been a salmon lover. But if cooked properly it's delicious.
Personally, I could eat this meal a couple of times a week. Also, we eat this Crustless Broccoli Cheddar Quiche recipe on a regular basis.
Serve this perfectly pan-seared salmon salad dressed with a fresh lemon dijon vinaigrette any night of the week. It's elegant yet so simple!
Check out our popular recipe for Fried Cabbage and Sausage!
Easy Pan Seared Salmon Recipe