Cauliflower Mock Potato Salad
Cauliflower mock potato salad has all the flavors of traditional potato salad but without all the carbs! Yay, another potato swap dish.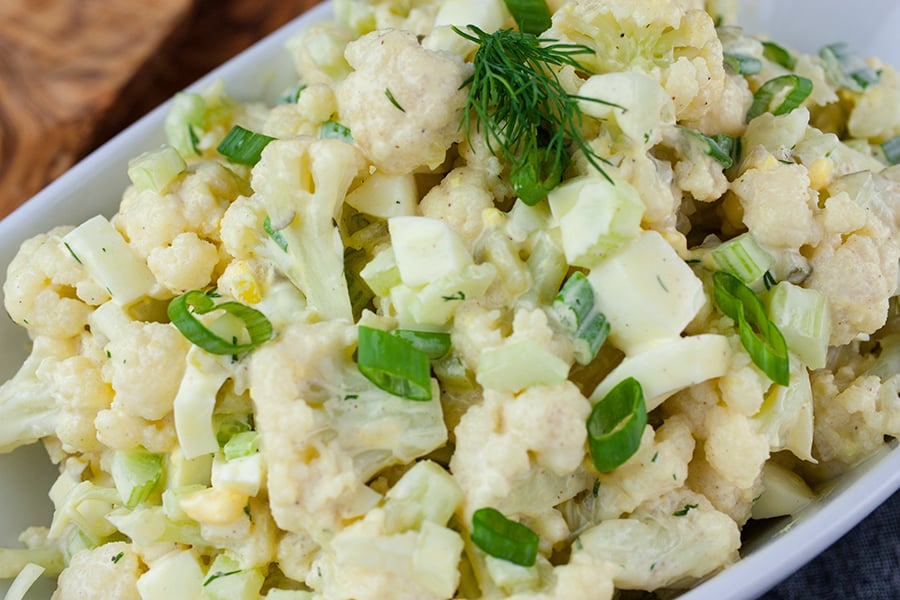 Perfect side dish for summer barbecues or any meal of the year. Even real potato salad lovers are going to enjoy this healthier swap.
My husband was reluctantly surprised at the flavor of this dish. As I have said before, I am slowly trying to cut some carbs from his diet. So this makes another win for me.
You guys just don't know how bad it is with him…he would wrap macaroni and cheese in a flour tortilla! Ugh! (husband edit: Mac and cheese wrapped in a tortilla is AWESOME!)
Serve this with our amazing Smoked Chicken Wings!
Cauliflower Mock Potato Salad
How to Make Tasty Cauliflower Potato Salad
Cut the cauliflower into bite-sized pieces.
Cook the cauliflower, you can do this by steaming or boiling. But if you boil it make sure it's completely drained, dry, and cooled before adding the dressing.
I use microwave steaming bags they are just way more convenient and have no cleanup.
In a large bowl add the steamed cauliflower, boiled eggs, celery, green onions, and relish.
You can use white or red onion for more crunch if you like.
In a small bowl whisk together the mayonnaise, dijon, fresh dill, vinegar, celery salt, kosher salt, and pepper.
Gently toss the dressing with the salad ingredients until evenly coated.
Chill for at least 30 minutes to one hour. You want the flavors to come together.
Cauliflower instead of potatoes are the perfect substitute to be able to enjoy the flavor when you are living a low carb keto life.
Take a break from mashed cauliflower and enjoy eating cauliflower mock potato salad on your keto diet plan!!!
Check out some of our other cauliflower recipes: Cauliflower Mac and Cheese and Loaded Cauliflower Mash Casserole.
Keto Cauliflower Potato Salad Recipe