Fried Cabbage and Sausage
Fried cabbage and sausage is an easy low-carb one-pan meal ready in less than 30 minutes.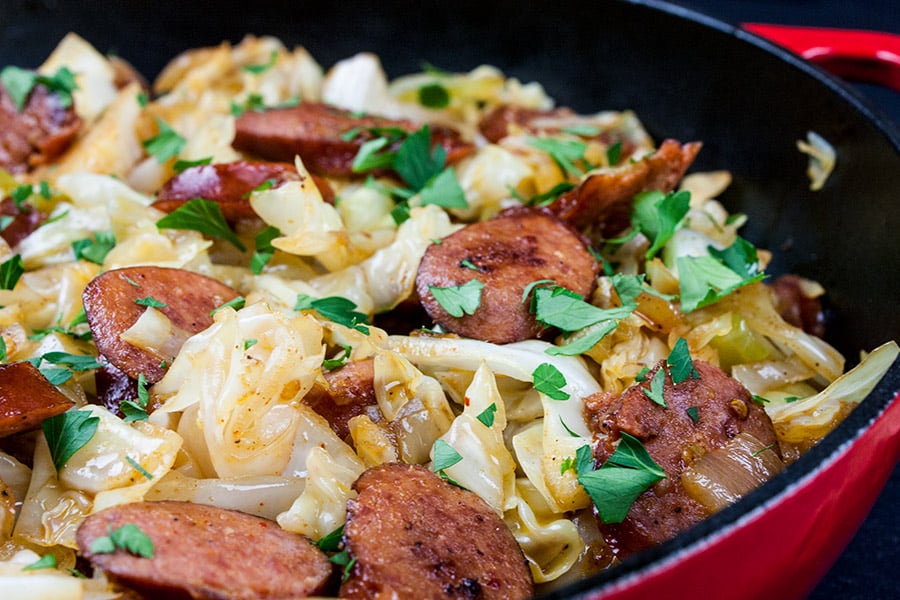 A quick and easy weeknight meal on a budget! A simple dish with few ingredients that make shopping and cooking a breeze!
Fried Cabbage and Sausage Recipe
Ingredients Needed for Cabbage and Sausage
Green cabbage
Smoked sausage – Or you can use Kielbasa.
Unsalted butter
Onion and garlic
Red wine vinegar, smoked paprika, kosher salt, black pepper, and crushed red peppers – These seasonings really bring this dish to life!
You can also use red cabbage, but we highly recommend green cabbage. Cut the cabbage yourself into slightly thicker slices. Shredded cabbage will cook down to almost nothing.
How to Make Fried Cabbage and Sausage
Heat 2 tablespoons of butter in a large skillet over medium-high heat, add the onion, and saute until translucent, about 5-7 minutes. Add the garlic and saute for another minute. Pour in the red wine vinegar and stir and scrape the pan.
Add the sliced sausage and saute until browned on both sides, about 2-3 minutes.
Add the cabbage, remaining butter, paprika, salt, and pepper. Stir to combine and coat with the butter and seasonings.
Cook, stirring occasionally until the cabbage is tender and slightly browned about 8-10 minutes.
What do I serve this with?
This dish is perfect on its own! But you could serve it over mashed potatoes or egg noodles for those that aren't eating low carb.
This can also be served as a side dish for any meal.
How to Store Fried Cabbage and Sausage.
Store leftovers in an air-tight container for up to 4 days in the refrigerator. This makes a great meal prep option. Just portion out, store in the fridge, and reheat in the microwave when ready to eat.
Can You Freeze Fried Cabbage and Sausage?
Yes! Store in freezer-safe, air-tight containers for up to 3 months. Thaw in the refrigerator overnight, and reheat as usual.
Serve and enjoy this quick and healthy meal.
More Delicious Low Carb Recipes
Sausage and Cabbage Skillet Recipe