Easy Grilled Orange Rosemary Chicken Kebabs
You are going to love these Orange Rosemary Chicken Kebabs! Great for all your summer cookouts!
Why This Recipe Works
This recipe is a spectacular symphony of tastes! The marinade is concocted from olive oil, orange zest, and a blend of spices that transforms simple chicken and veggies into flavor dynamite.
The citrusy burst from orange zest and juice dances hand in hand with savory and smoky undertones, while fragrant rosemary struts its herbal charm.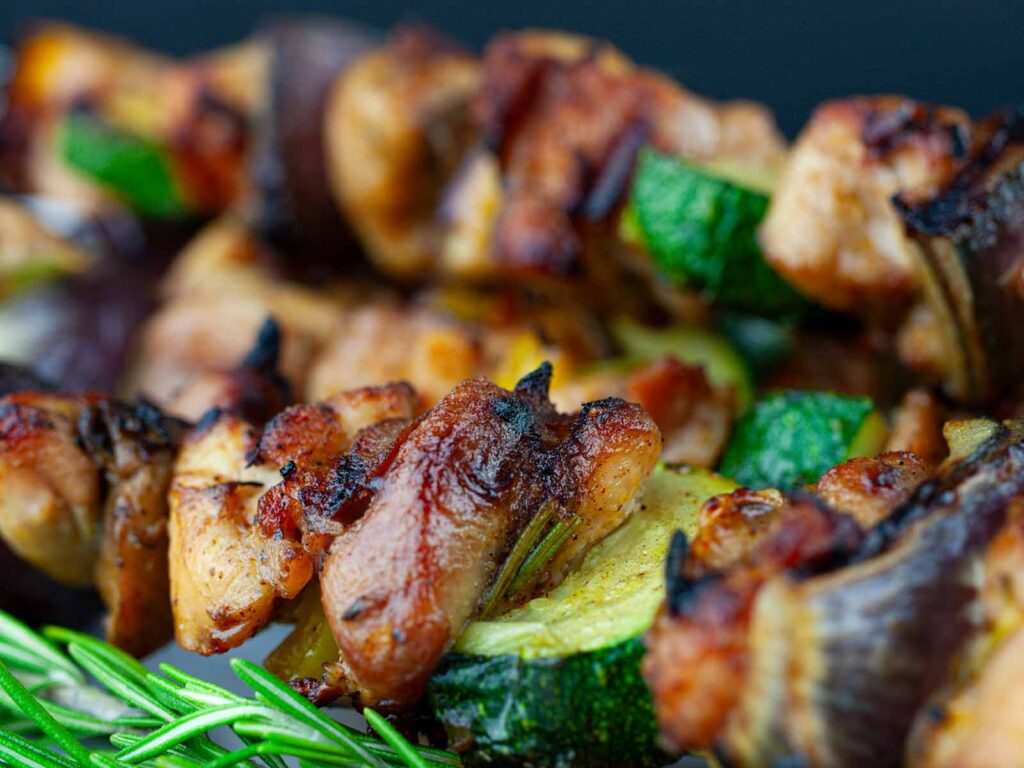 The veggie wonderland of zucchini, bell peppers, onions, and mushrooms is crispy, tender, and downright irresistible.
And don't forget the chicken thighs, the heroes of the grill, bringing their juicy vibes to the party.
Speaking of grilling, that's where the real magic happens. Flames kiss the kebabs, adding a smoky edge that grooves perfectly with the paprika's earthiness, and the veggies turn into caramelized deliciousness.
These kebabs are like a vibrant rainbow on a plate, making your taste buds do a happy dance even before you take that first bite. And hey, feel free to put your own spin on things—tweak the spices, swap in your favorite veggies, and make it your culinary masterpiece.
In the end, it's the mix of easy-peasy preparation, an explosion of flavors and textures, and a visual presentation that'll make the whole family oooh and ahhh.
Do you want some delicious sides to go with this dish? How about a delicious greek salad? Or how about some banging homemade hummus with pita bread (naan bread works too)? Either would be awesome … or do both!
Ingredients Needed
The Kebabs
Chicken Thighs (Boneless, Skinless): The main protein source of the kebabs, chicken thighs are used for their tender and flavorful meat. They absorb the marinade well and become juicy and succulent when grilled.
Zucchini: Zucchini adds a fresh and slightly earthy taste to the kebabs. Its texture holds up well on the grill and provides a balanced contrast to the other ingredients.
Yellow Bell Pepper: Yellow bell peppers contribute a sweet and mildly tangy flavor. Their vibrant color also adds visual appeal to the kebabs, making them look more appetizing.
Red Onion: Red onions bring a touch of mild onion flavor and a subtle sweetness. They become slightly caramelized when grilled, adding depth to the overall taste.
Button Mushrooms: Mushrooms offer an umami-rich component to the dish. When grilled, they develop a hearty and satisfying texture, enhancing the overall complexity of flavors.
The Homemade Marinade
Olive Oil: The olive oil serves as the base for the marinade, helping to coat and flavor the chicken and vegetables while also preventing them from sticking to the grill. It contributes to the overall moisture and succulence of the kebabs.
Rosemary (Fresh, Rough Chopped): Rosemary is a fragrant herb that adds a distinct earthy and piney flavor to the dish. Chopped rosemary is used in the marinade to infuse the chicken and vegetables with its aromatic essence, enhancing the overall taste profile.
Orange Zest: Orange zest, the outer peel of the orange, provides a burst of citrusy aroma and flavor. It adds a refreshing and zesty note to the kebabs, balancing the savory components.
Orange Juice (Fresh): Orange juice adds a hint of natural sweetness and acidity to the marinade. It complements the other flavors and helps tenderize the chicken while also contributing to the appealing orange theme of the dish.
Garlic (Minced): Garlic is a flavor enhancer that brings depth and richness to the marinade. Its pungent taste marries well with the other ingredients, creating a more complex and savory flavor profile.
Ancho Chile Powder: Ancho chile powder is a mild and slightly smoky chili powder that adds a subtle heat and depth of flavor to the marinade. It contributes to the overall complexity and provides gentle warmth to the dish.
Smoked Paprika: Smoked paprika imparts a smoky and slightly sweet flavor to the kebabs. It enhances the overall taste and complements the grilled aspect of the dish, adding depth to the marinade.
Sea Salt: Sea salt is a fundamental seasoning that enhances the flavors of all the ingredients. It helps to balance the flavors and draws out the natural tastes of the chicken, vegetables, and other seasonings.
Black Pepper (Fresh Ground): Freshly ground black pepper adds mild spiciness and subtle heat to the marinade. It works in tandem with the other spices to create a well-rounded and harmonious flavor profile.
Each of these ingredients plays a crucial role in creating a well-balanced and flavorful chicken kebab dish, combining savory, citrusy, smoky, and herbal elements for a satisfying eating experience.
How To Make Orange Rosemary Chicken Kebabs
To make the orange juice chicken marinade whisk the olive oil, fresh rosemary, orange zest, orange juice, garlic, ancho chile powder, smoked paprika, salt, and pepper in a measuring cup or small bowl.
This will produce about 1/2 cup of marinade.
Cut the chicken thighs into 1 1/2″ pieces and place in a large bowl. You can also use boneless skinless chicken breasts.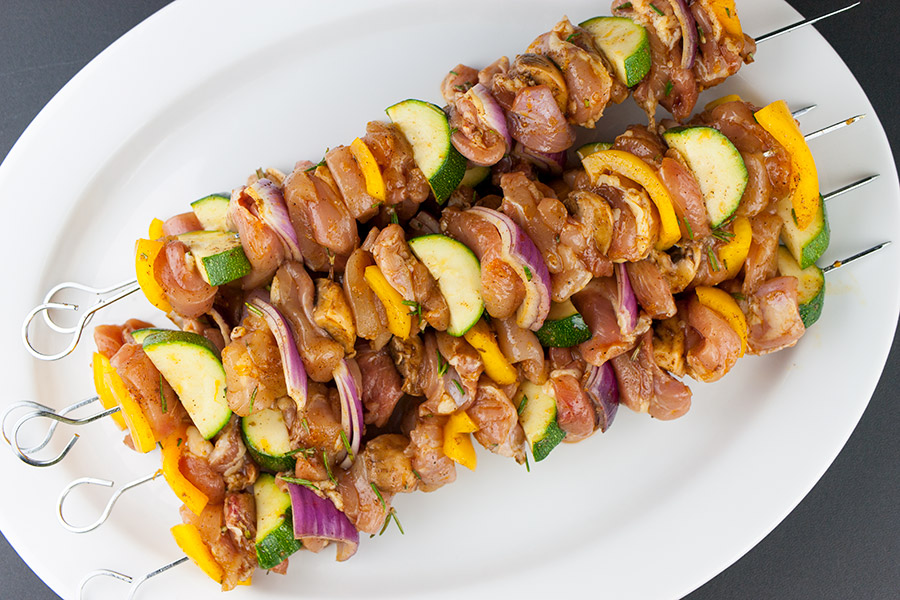 Pour 1/4 cup of the marinade over the chicken and toss to coat evenly. Chill for at least one hour.
I make mine in the morning and let them marinate all day.
When ready to grill, chop the vegetables into about 1/2″ pieces and place them in a large bowl.
Pour the remaining marinade over the vegetables and toss to coat evenly.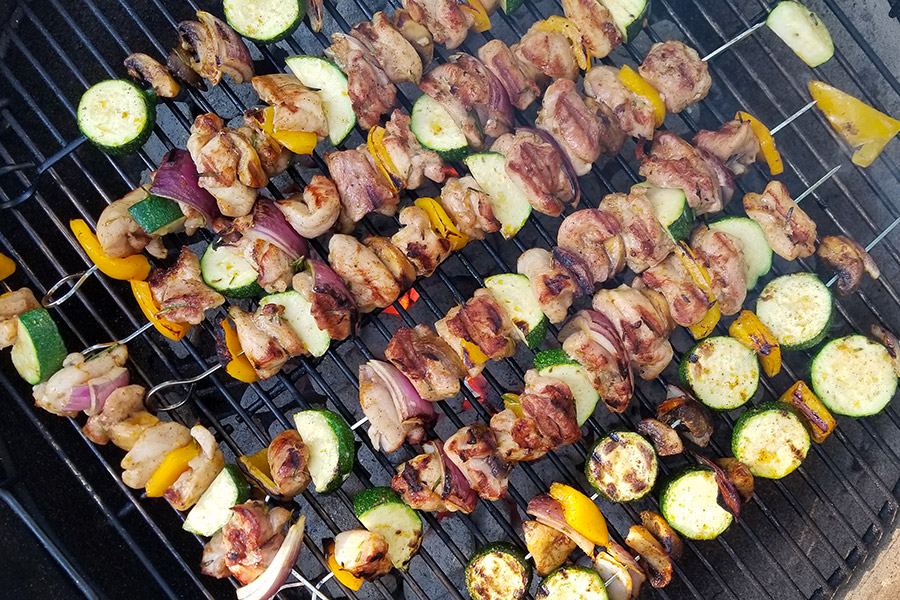 Choose your favorite vegetables. Just make sure they will cook in the same amount of time as the chicken. We used zucchini, yellow bell pepper, mushrooms, and red onion.
We use metal skewers. If you're using bamboo skewers or any other kind of wooden skewers, soak them in water for about 30 minutes before placing them on the grill.
Thread the chicken pieces and vegetables alternately onto the skewers.
Get the temperature of your grill to medium-high heat.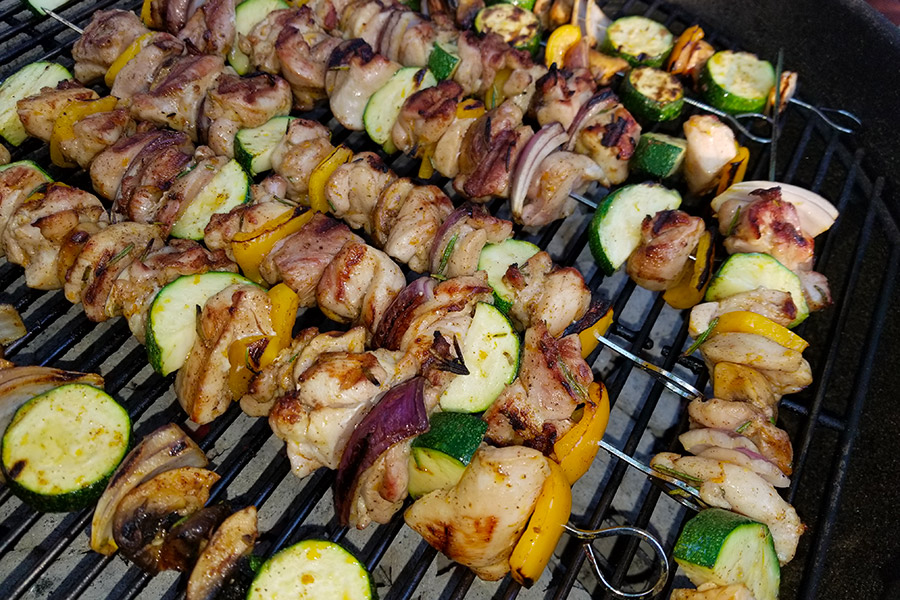 Place the chicken skewers on the grate and grill the kebabs for 13-15 minutes, turning occasionally until the chicken is no longer pink in the center and reaches an internal temperature of 165 degrees F. We usually only turn them one time.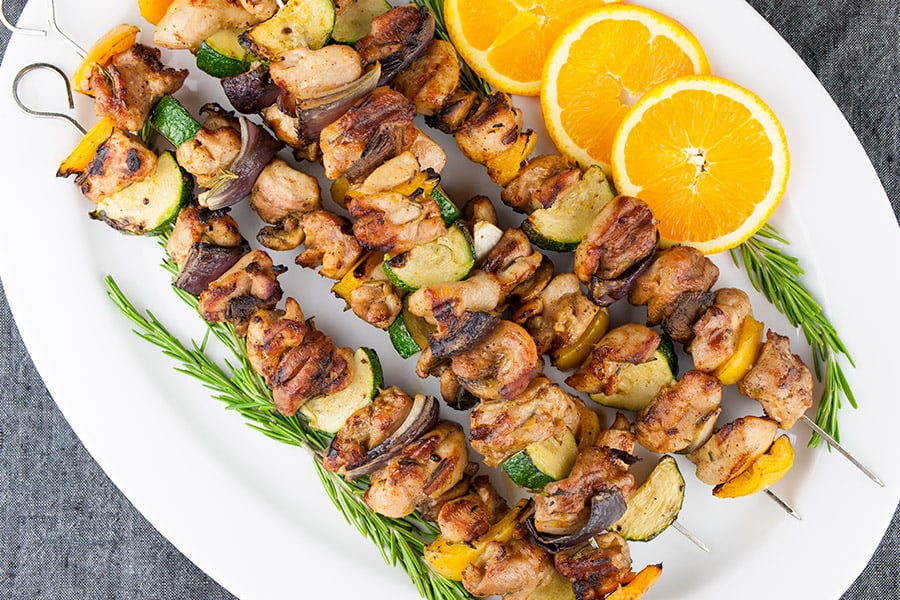 Let them stand for a few minutes and serve.
Easy to make yet bursting with flavor and textures, these kebabs are a culinary escapade that promises satisfaction in every bite.
Did I mention they are low carb, keto? Bonus!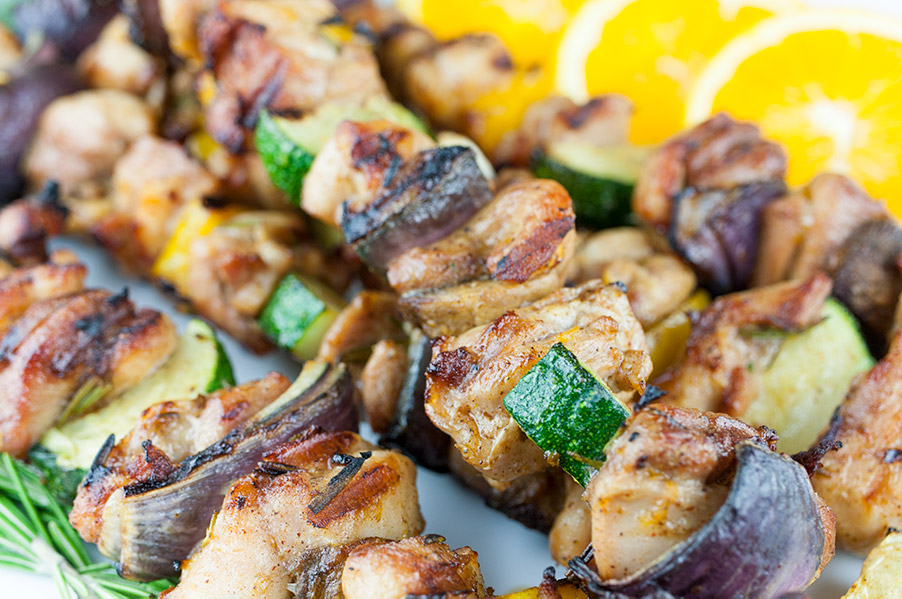 Tips And Variations
Don't rush the marinating process. Let the chicken sit in the marinade for at least 2-4 hours or even overnight in the refrigerator. This will allow the flavors to meld and the marinade to work its magic, resulting in juicier and more flavorful chicken.
When threading the veggies onto the skewers, consider their cooking times and textures. Hardier veggies like bell peppers and red onions might need a bit more time on the grill compared to zucchini and mushrooms. Ensure uniform sizes for even cooking, and give the skewered veggies enough space to cook thoroughly without overcrowding.
Before grilling, make sure the grill grates are preheated and lightly oiled to prevent sticking. Keep a watchful eye on the kebabs while grilling, turning them occasionally to achieve an even char. Use a food thermometer to ensure the chicken reaches a safe internal temperature of 165°F (74°C). Since chicken thighs vary in thickness, some might cook faster than others, so be prepared to remove them as they're done to avoid overcooking.
Whole chicken breasts work too. You want juicy chicken though, not dry chicken breasts. Watch the internal temperature and use a meat thermometer.
Infuse a tropical vibe by swapping the orange zest and juice for pineapple juice. Replace ancho chile powder with a dash of cayenne for a gentle kick. Thread chunks of fresh pineapple onto the skewers alongside the chicken and veggies. The sweetness of pineapple will complement the smokiness and herbs, creating a delightful fusion of flavors that will transport you to a beachside barbecue.
Give your kebabs a Mediterranean flair by using lemon zest and lemon juice instead of orange. Swap rosemary for oregano, and add a splash of balsamic vinegar to the marinade for depth. Use cherry tomatoes, red and yellow bell peppers, red onion, and feta cheese cubes as your veggies. After grilling, sprinkle fresh chopped basil and drizzle extra virgin olive oil for a burst of Mediterranean aromas and flavors.
Take a trip to Asia with an Asian-inspired variation. Replace orange zest and juice with lime, and use soy sauce, grated ginger, and a touch of honey in the marinade. Instead of rosemary, go for cilantro and mint leaves for a bright herbal note. Thread chicken, red bell pepper, red onion, and pineapple onto the skewers. Grill until caramelized and serve with a side of peanut sauce for a delectable fusion of sweet, savory, and nutty flavors.
FAQs
How do you make chicken kebabs?
To make chicken kebabs, marinate boneless chicken pieces with a flavorful mixture of ingredients, thread them onto skewers with vegetables, and grill until cooked through and slightly charred.
How long to cook chicken kebabs?
Chicken kebabs usually take about 12 to 15 minutes to cook on a preheated grill, turning occasionally, until the chicken reaches an internal temperature of 165°F (74°C) and the vegetables are tender with a slight char.
How do you grill chicken kebabs?
To grill chicken kebabs, preheat the grill to medium-high, thread marinated chicken and vegetables onto skewers, grill for 12-15 minutes while turning occasionally until the chicken reaches 165°F (74°C), rest briefly, then serve.
Are chicken kebabs healthy?
Chicken kebabs can be a healthy option as they provide lean protein and the opportunity to incorporate various vegetables, but their overall healthiness depends on factors like portion size, marination ingredients, and cooking methods.
Are chicken kebabs keto friendly?
Chicken kebabs can be keto-friendly when prepared with low-carb vegetables, a keto-approved marinade (avoiding added sugars), and grilled with healthy fats like olive oil, as long as the total carbohydrate content aligns with your daily keto goals.
More Delicious Grilled Chicken Recipes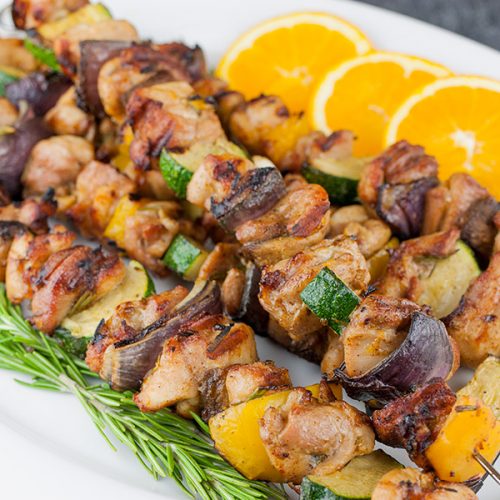 Orange Rosemary Chicken Kebabs Recipe
Savor the blend of zesty orange, aromatic rosemary, and succulent chicken in these flavorful and vibrant orange rosemary chicken kebabs.
Print
Pin
Rate
Ingredients
1/3

cup

olive oil

1 1/2

tablespoon

rosemary

fresh, rough chopped

1/2

teaspoon

orange zest

2

tablespoons

orange juice

fresh

2

cloves

garlic

minced

3/4

teaspoon

ancho chile powder

1/2

teaspoon

smoked paprika

1

teaspoon

sea salt

1/2

teaspoon

black pepper

fresh ground

6

chicken thighs

boneless, skinless (about 2lbs)

1

medium

zucchini

cut into 1/2″ pieces

1

medium

yellow bell pepper

cut into 1/2″ pieces

1

medium

red onion

cut into 1″ pieces

8

oz

button mushrooms

quartered into 1″ pieces
Instructions
In a small bowl or measuring cup, whisk together the olive oil, rosemary, orange zest, orange juice, garlic, ancho chile powder, smoked paprika, salt, and pepper.

1/3 cup olive oil,

1 1/2 tablespoon rosemary,

1/2 teaspoon orange zest,

2 tablespoons orange juice,

2 cloves garlic,

3/4 teaspoon ancho chile powder,

1/2 teaspoon smoked paprika,

1 teaspoon sea salt,

1/2 teaspoon black pepper

Cut the chicken thighs into 1 1/2″ pieces and place in a large bowl. Pour 1/4 cup of the marinade over the chicken and toss to coat evenly. Chill and marinate for at least 1 hour.

Meanwhile, place the cut vegetables into a large bowl. Pour the remaining 1/4 cup marinade over the vegetables and toss to coat evenly. (The vegetable can marinate for about 30 minutes.)

1 medium zucchini,

1 medium yellow bell pepper,

1 medium red onion,

8 oz button mushrooms

Thread the chicken and vegetables alternately onto the skewers. (this is when you could cover the kabobs with plastic wrap and refrigerate until ready to grill)

Grill kebabs 13-15 minutes or until the chicken is cooked through, turning occasionally.
Notes
Leftovers?
To store leftover chicken kebabs, allow them to cool down to room temperature, then transfer them to an airtight container and refrigerate within 2 hours of cooking. When reheating, use a microwave or oven until the internal temperature reaches 165°F (74°C), ensuring they are heated thoroughly. Enjoy within 3-4 days for the best quality.
Nutrition
Serving:
6
g
|
Calories:
387
kcal
|
Carbohydrates:
7
g
|
Protein:
20
g
|
Fat:
31
g
|
Saturated Fat:
6
g
|
Cholesterol:
110
mg
|
Sodium:
485
mg
|
Potassium:
517
mg
|
Fiber:
1
g
|
Sugar:
2
g
|
Vitamin A:
375
IU
|
Vitamin C:
48.1
mg
|
Calcium:
29
mg
|
Iron:
1.5
mg