Easy Homemade Pizza Dough From Scratch
Are you a pizza lover who has always wanted to try making your own pizza dough at home? Look no further! This easy homemade pizza dough recipe gives you that perfect base for all your favorite pizza toppings.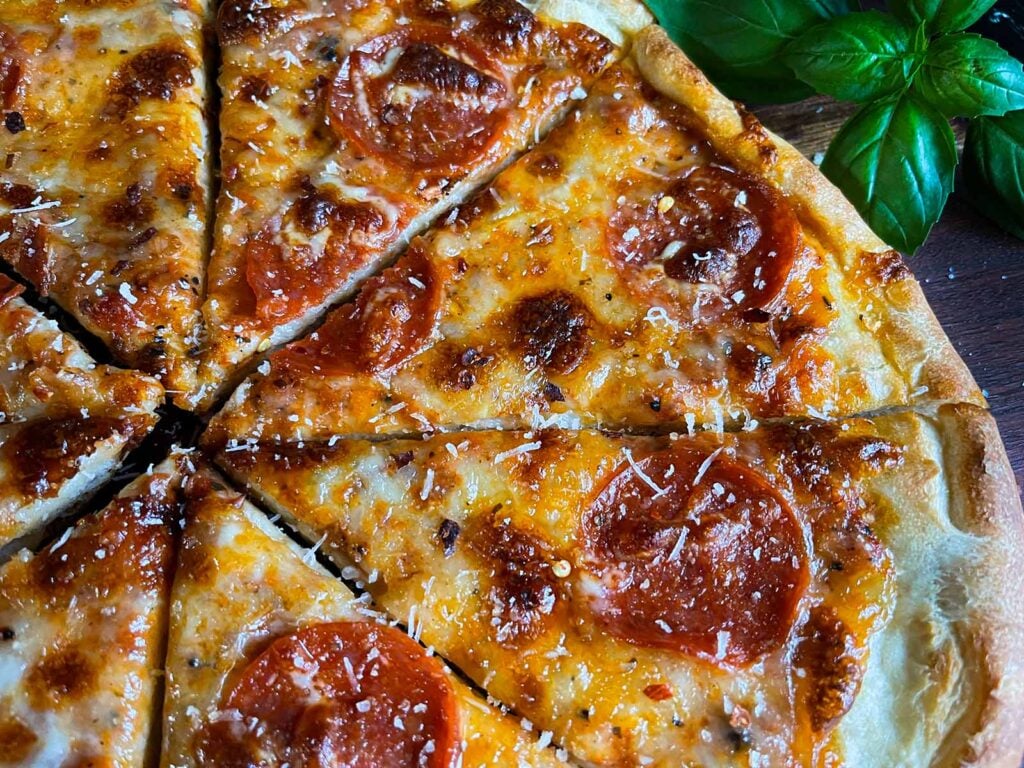 Why This Recipe Works
I never knew how easy it is to make homemade pizza dough.
Honestly, with just a few simple ingredients and a little bit of patience, you can create a delicious pizza crust that rivals your favorite pizzeria.
It's been my go-to homemade pizza dough recipe, and if you're tired of ordering out for that mediocre pizza, this is the way to go!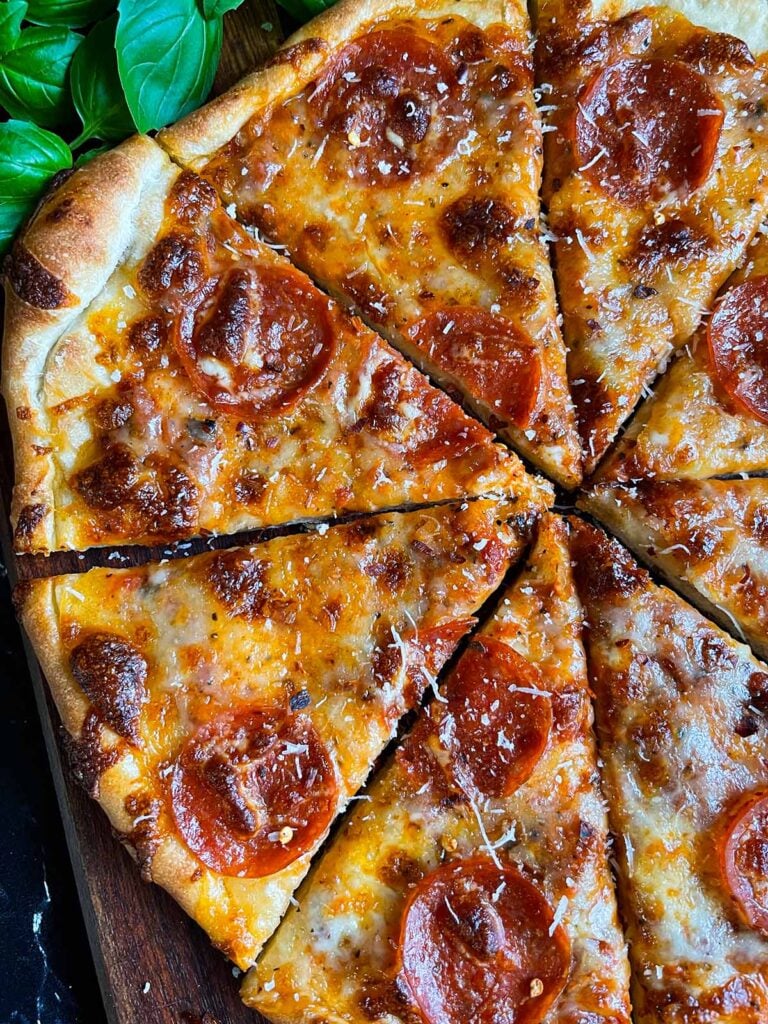 Just add your favorite toppings, and you're pulling out a tasty pie at a fraction of the cost that tastes better than delivery.
Our easy pizza dough recipe delivers the following:
Perfect Texture: The combination of bread flour and kosher salt ensures that the dough has the right structure and chewiness, resulting in a crispy crust that's not too thin or too thick.
Simple Ingredients: With just sugar, active dry yeast, water, and bread flour, you can achieve outstanding results without any fancy or hard-to-find ingredients.
Ease of Preparation: This recipe is beginner-friendly and doesn't require any special skills or equipment.
Customizable: Once you have the basic dough down, you can experiment with different toppings to create your own unique pizzas.
Ingredients Needed
Pizza dough consists of the same basic ingredients as bread dough: water, yeast, flour, salt, and olive oil.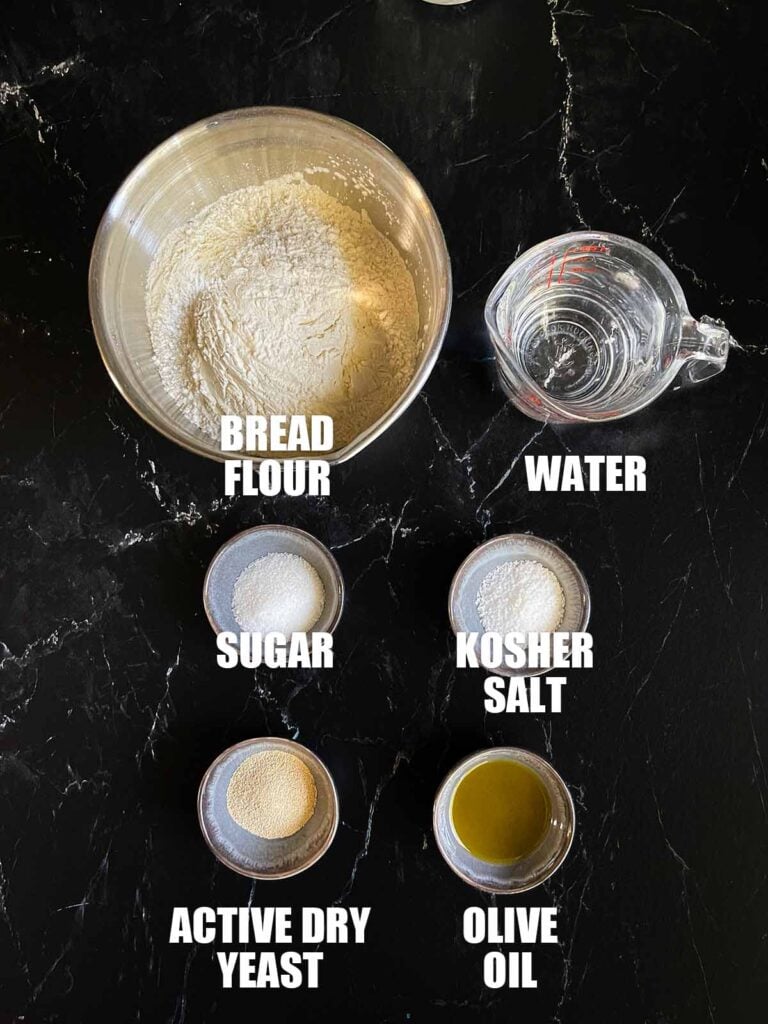 Sugar: The sugar serves as food for the yeast during the fermentation process. As the yeast consumes the sugar, it produces carbon dioxide gas, which causes the dough to rise and creates air pockets, giving the crust its airy texture.
Active Dry Yeast: The yeast is the leavening agent responsible for the dough's rising. When combined with warm water and sugar, it becomes activated and starts to ferment, leading to the production of carbon dioxide gas, which leavens the dough.
Kosher Salt: Salt enhances the flavor of the dough and also regulates the yeast's activity. It helps to control the fermentation process, ensuring that the dough rises at the right pace and develops the desired texture.
Warm Water: Warm water activates the yeast, allowing it to ferment and produce carbon dioxide gas. The ideal water temperature is usually between 105°F to 115°F (40°C to 46°C), as water that's too hot can kill the yeast, while water that's too cold will hinder its activation.
Olive Oil: Olive oil will add moisture to the dough, resulting in a softer and more tender crust. It also imparts a pleasant, mild flavor to the dough, enhancing the overall taste of the pizza crust.
Bread Flour: Bread flour contains a higher amount of gluten-forming proteins (glutenin and gliadin) than all-purpose flour, making it perfect for pizza dough. The gluten provides structure and elasticity to the dough, giving it the necessary strength to hold its shape and rise properly.
How to Make This Easy Homemade Pizza Dough
In a large mixing bowl, combine the warm water and sugar.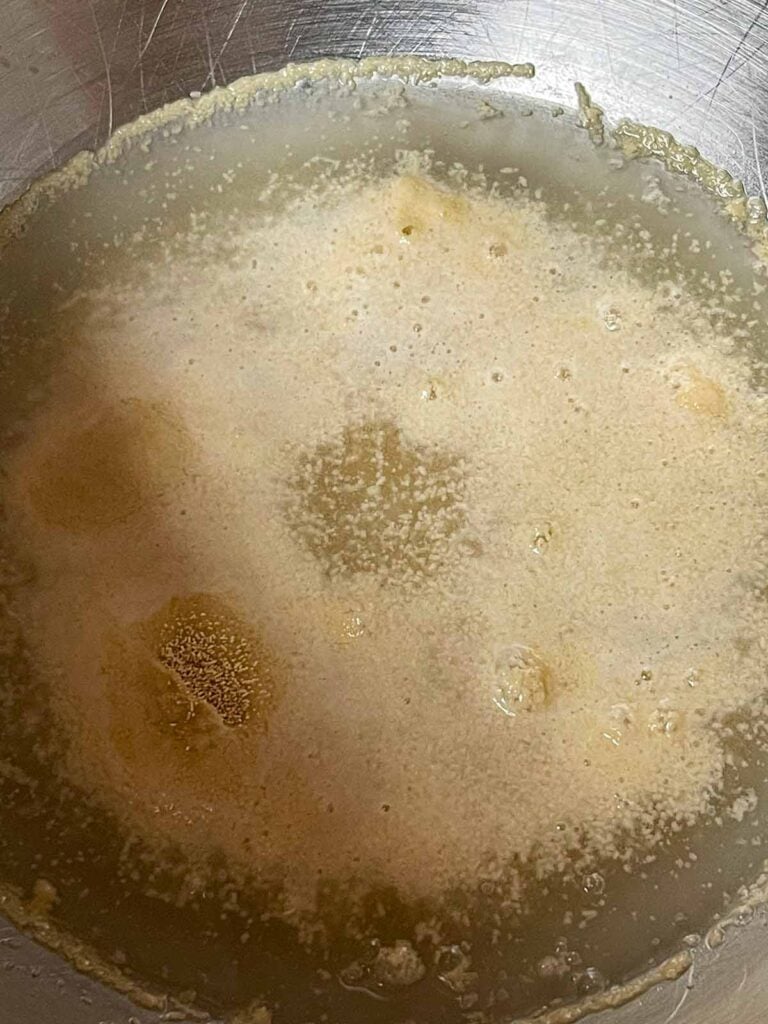 To activate the yeast, sprinkle the active dry yeast over the water and let it sit for about 5 minutes until it becomes foamy.
Add the kosher salt and olive oil to the yeast mixture. Gradually mix in the bread flour, about 1 cup at a time, and mix the dough until a shaggy dough starts to form.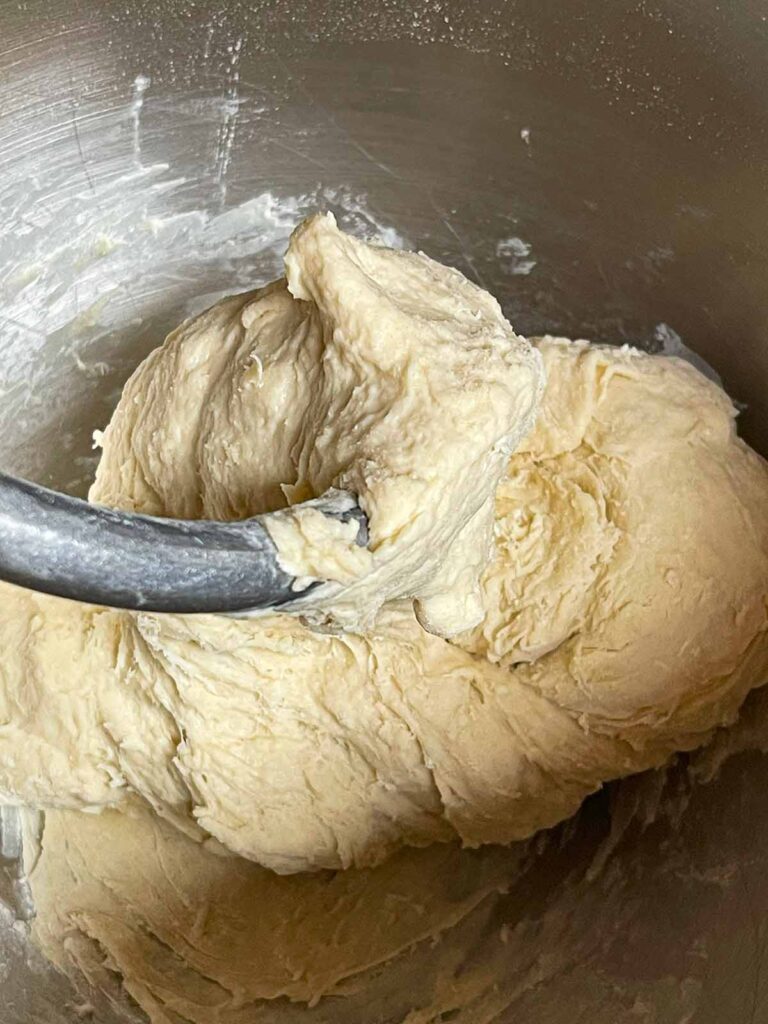 Knead the dough for approximately 6 minutes at medium to medium-low speed.
Alternatively, Turn the dough out onto a lightly floured surface and knead it for about 8-10 minutes until it becomes smooth and elastic.
Don't Sweat The Recipe is supported by its readers. We may earn a commission if you purchase through a link on our site. Learn more.
For the first rise, form the dough into a ball of dough and place it back into the large bowl and add a touch of olive oil to grease the bowl and keep the dough moist.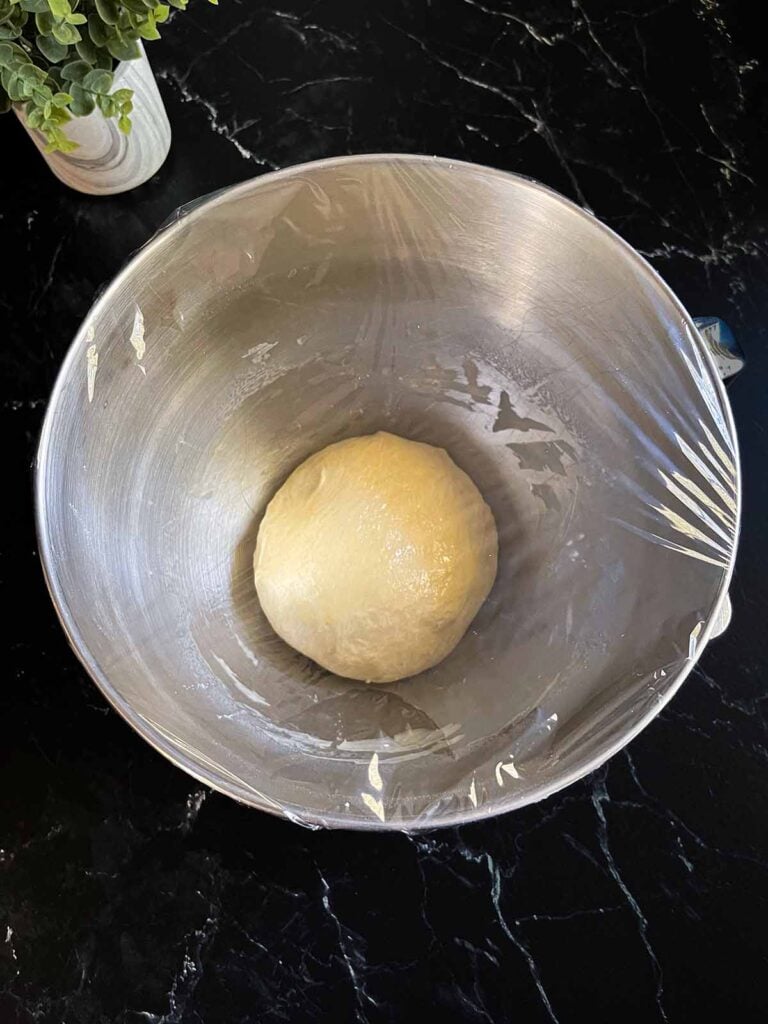 Cover the bowl with plastic wrap and let the dough rise in a warm place for one to two hours or until doubled in size.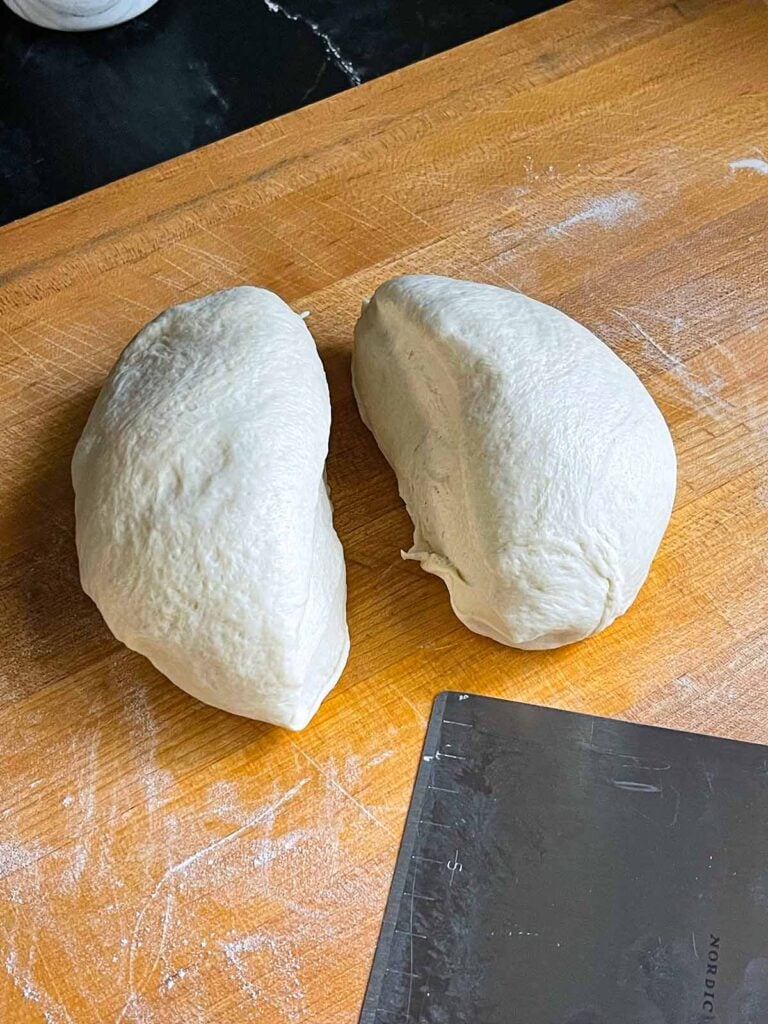 After the first rise, punch down the dough and divide it into two equal portions. This recipe makes enough dough for two medium pizzas.
Preheat the oven to 500ºF degrees and place a pizza stone on the center rack.
To shape the dough, take one ball of dough and, using a rolling pin, roll it out on a lightly floured surface to your desired shape and thickness.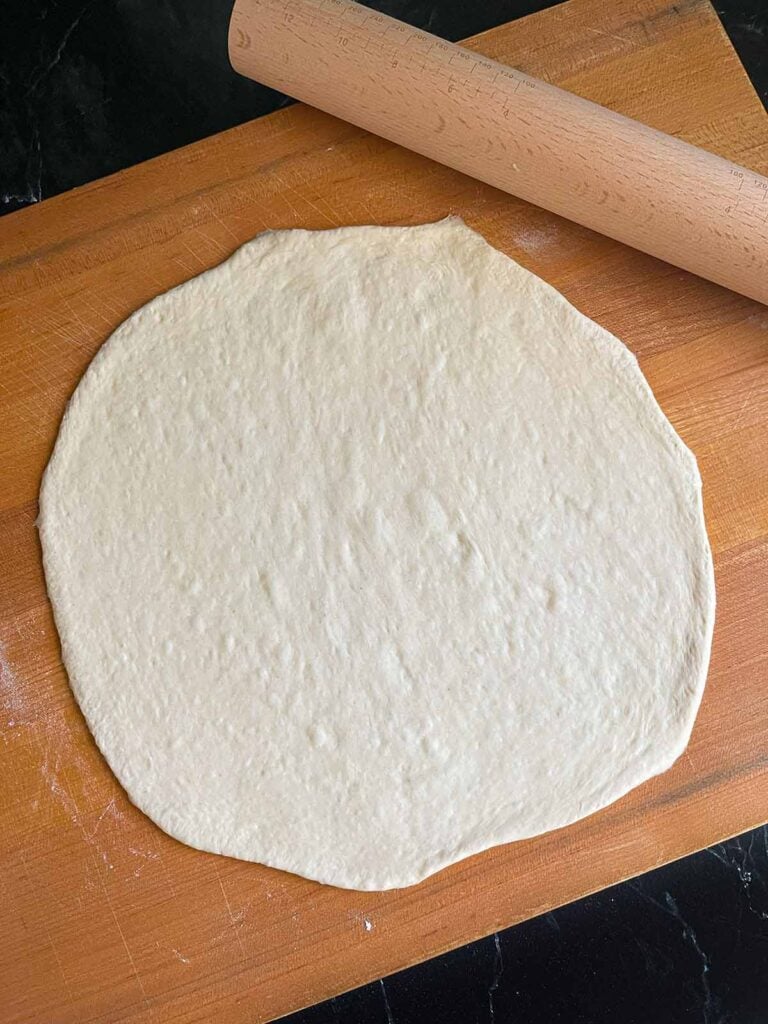 Alternatively, you can use your hands to stretch and shape the dough.
Add your favorite toppings to the top of the dough and transfer to the pizza stone.
If you have a pizza peel, you can transfer the shaped dough directly onto the preheated pizza stone. Placing cornmeal on the pizza peel makes the dough slide off perfectly!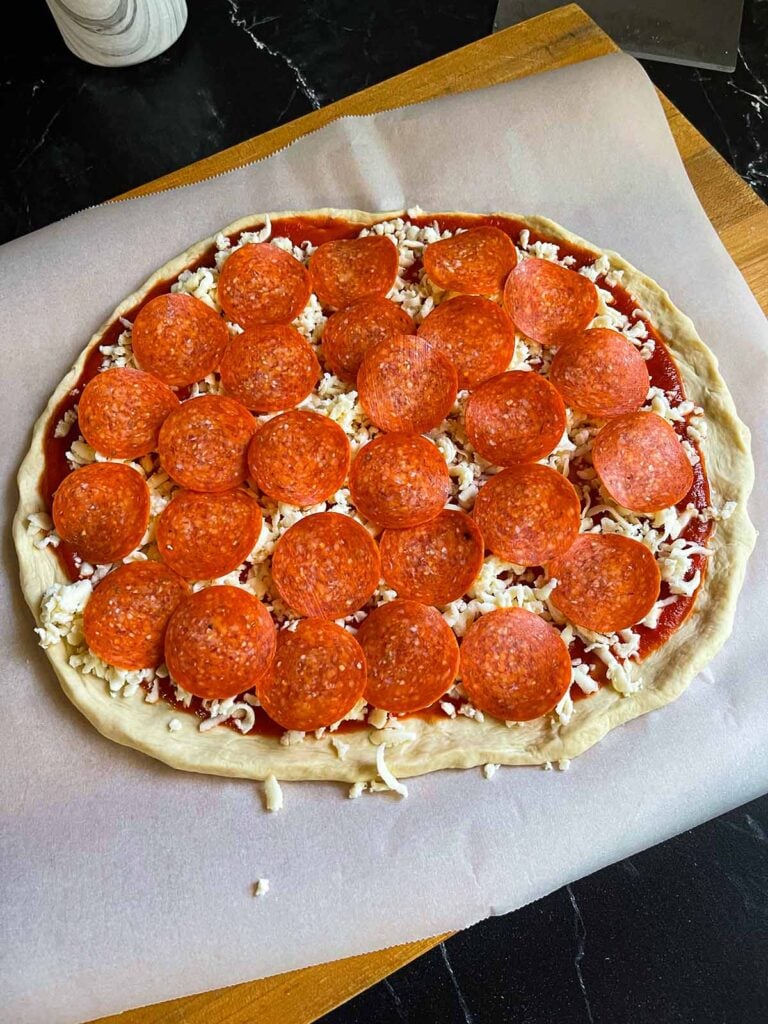 If not, you can place the dough on a piece of parchment paper and slide it onto the hot stone.
Bake the pizza for about 8-10 minutes or until the crust is golden brown and the toppings are cooked to your liking.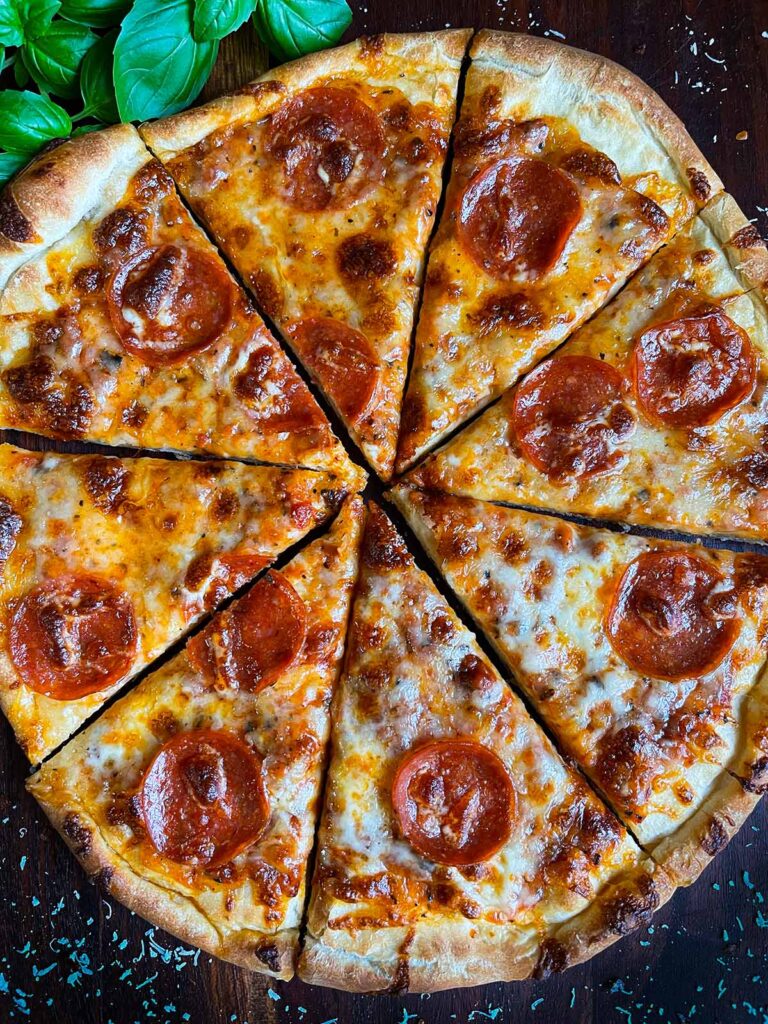 Take the pizza out of the oven, slice it, and savor your creation with your friends and family!
Whether it's your first time attempting homemade dough or a pizza pro, this great recipe is designed to deliver outstanding results.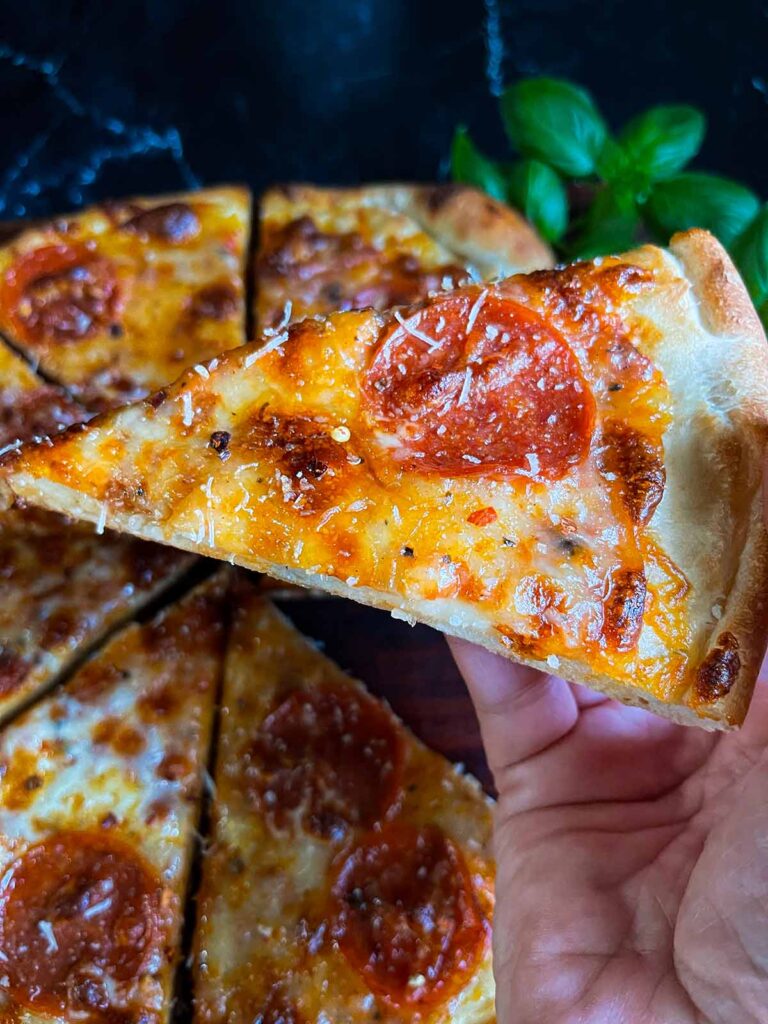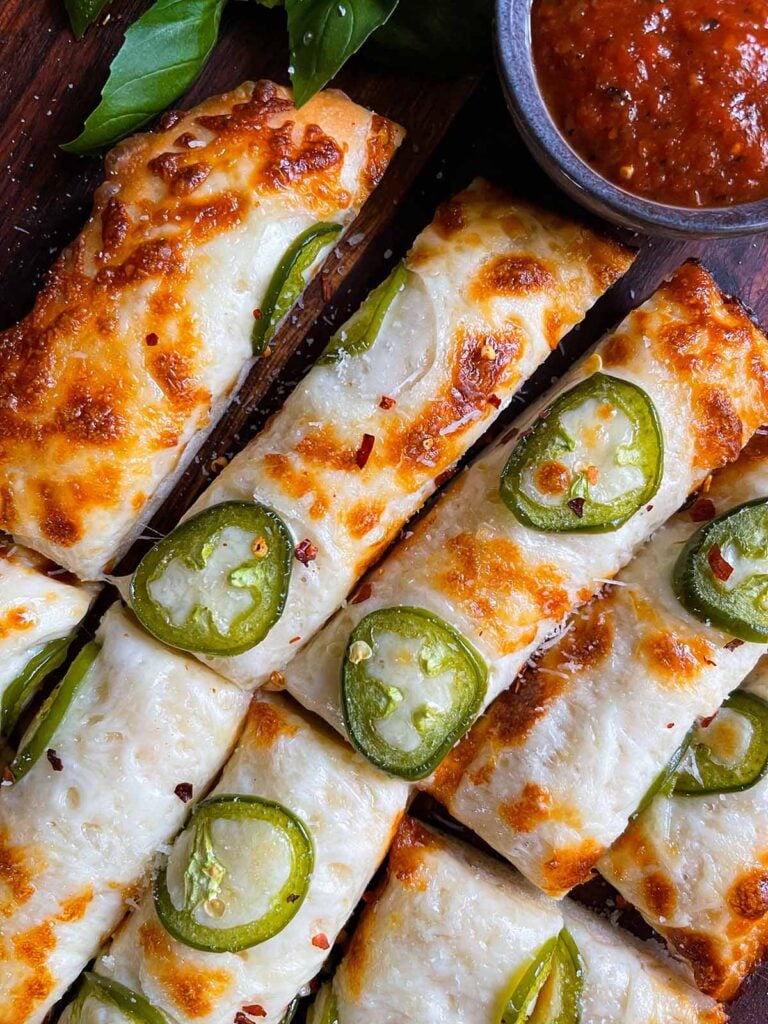 So, go ahead and explore different favorite pizza recipes, experiment with different types of flour, and make pizza night an occasion to enjoy your favorite things.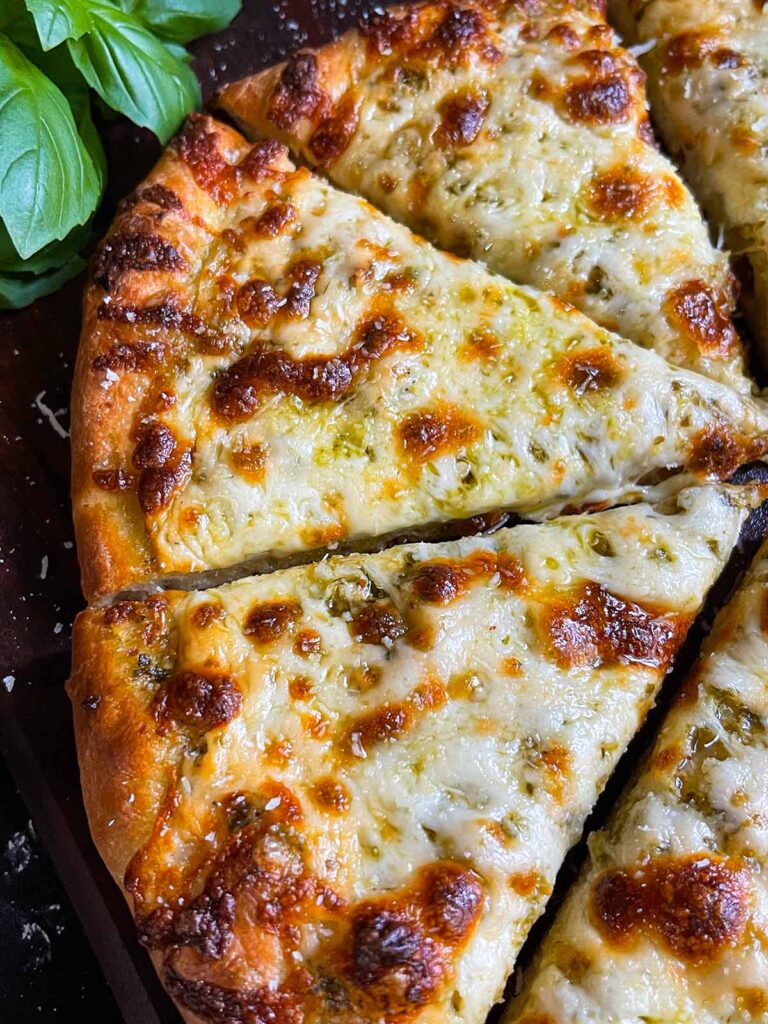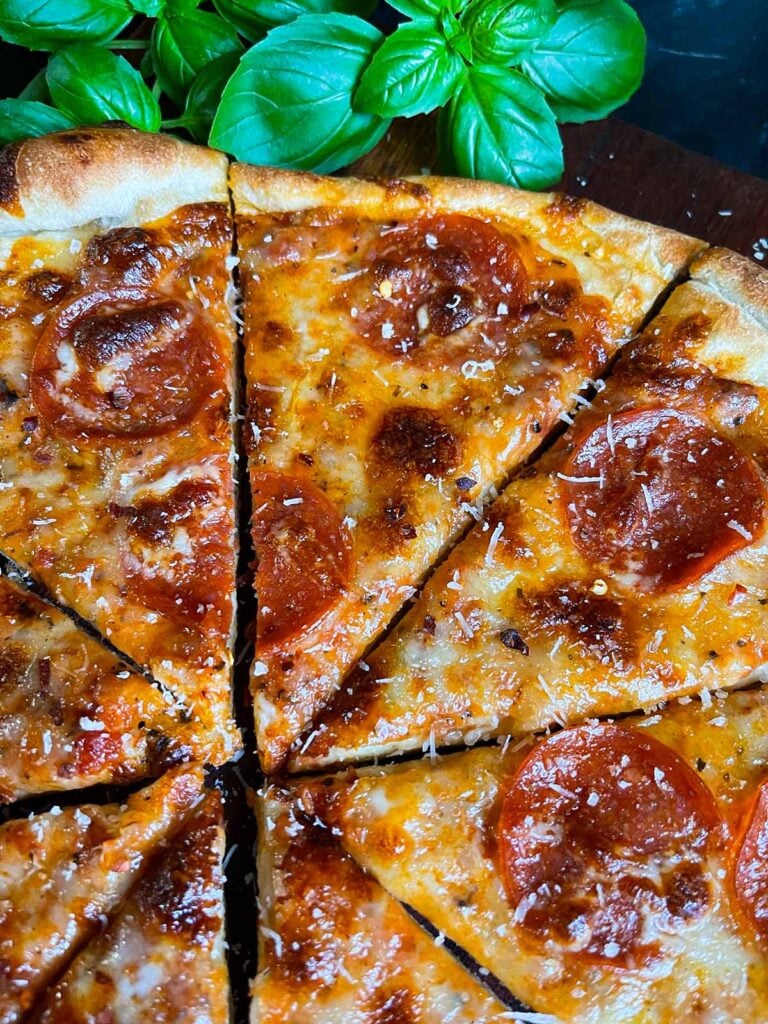 With this easy homemade pizza dough, you're sure to create the best homemade pizza with your own personal touch. Enjoy your pizza-making journey!
How Do You Shape Pizza Dough?
To shape the dough, take one ball of dough and, using a rolling pin, roll it out on a lightly floured surface to your desired shape and thickness.
Alternatively, you can use your hands to stretch and shape the dough.
Shape the dough on the parchment by gently pushing the center of the dough out with the heel of your hand.
You can use your fingers to continue to stretch the dough as it gets thinner into a 12-inch circle. You can use your fingers to create a raised crust.
Add the toppings and bake. We use a simple jarred pizza sauce, pepperoni, and mozzarella. You can use your favorite jarred pizza sauce of your choice and any toppings you desire.
Transfer the pizza using the parchment paper to slide it onto a baking sheet, pizza pan, or baking stone.
Yield: 2 – 12″ pizza crusts; about one lb. of dough.
Tips And Variations
Overnight Rise: For even better flavor and texture, you can let the dough rise in the refrigerator overnight. Simply cover the bowl with plastic wrap and let it rise in the fridge for 24 hours before proceeding with the rest of the steps.
Instant Yeast: If you don't have active dry yeast, you can use instant yeast instead. Just use the same amount and follow the instructions as provided.
Different Flours: While bread flour works best for pizza dough, you can experiment with different types of flour, such as all-purpose flour or pizza flour, to see which one gives you the best results.
Pizza Steel: If you don't have a pizza stone, you can use a pizza steel as an alternative. The pizza steel retains heat exceptionally well and produces a crispy crust.
FAQs
Can You Freeze Pizza Dough?
Absolutely! After the first rise, divide the dough into portions and wrap each portion tightly in plastic wrap or store them in an airtight container. Freeze the dough for up to 3 months. When you're ready to use it, let it thaw in the refrigerator overnight, and then proceed with the second rise and baking steps.
What kind of toppings can I use for my homemade pizza?
The possibilities are endless! You can go for classic options like pepperoni, mushrooms, bell peppers, and onions, or get creative with gourmet toppings like arugula, prosciutto, caramelized onions, or grilled vegetables. Don't forget to add a delicious homemade pizza sauce to bring all the flavors together.
My dough didn't rise as much as I expected. What went wrong?
Several factors can affect the rise of your dough, including the temperature of the water and the yeast. Make sure the water is at the right temperature (not too hot or cold) and that the yeast is fresh and active. Additionally, letting the dough rise in a warm place is essential for proper fermentation.
Can I use a stand mixer with a dough hook to knead the dough?
Yes, you can! Using a stand mixer with a dough hook can save you time and effort in kneading the dough. Knead the dough at medium-low speed for about 8-10 minutes or until it becomes smooth and elastic.
More Delicious Recipes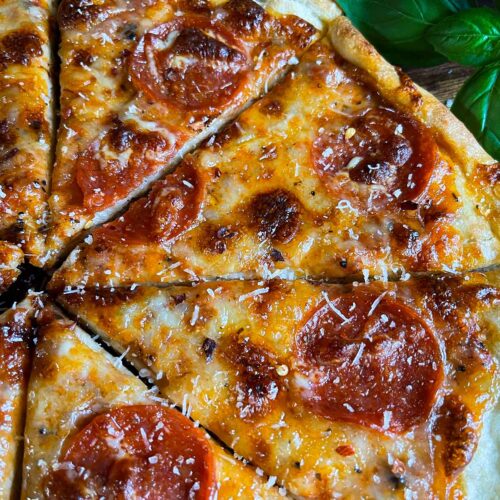 Easy Homemade Pizza Dough Recipe
Easy and better than takeout! Best pizza dough recipe, ever.
Print
Pin
Rate
Ingredients
1

cup

warm water

2 1/4

teaspoons

active dry yeast

1

tablespoon

sugar

2

teaspoons

salt

2

tablespoons

olive oil

3

cups

bread flour

give or take 1/2 cup…depending on the humidity
Instructions
In mixing bowl of a stand mixer, stir yeast and sugar into warm water.

Allow to sit for 5-10 minutes or until bubbles form and mixture starts to foam. This tells you that the yeast is alive and kicking.

Pour in salt, oil and half the flour and mix.

Once that flour is incorporated, start adding flour in a little at a time until you get the pizza dough to the consistency you want. (slightly tacky, but when you touch it, it doesn't stick to your hands)

Once you reach this stage, knead for 6 minutes. The dough should be smooth and easy to work with. And the bowl should be clean!

(This is the point when you could freeze your dough. Divide into portions, place into freezer bags, seal removing all air and freeze. To use, remove from freezer and let sit out to get to room temperature and double in size; 6-8 hours. Then use as you'd like.)

Lightly grease the bowl & the dough so it doesn't dry out, cover with plastic wrap and let it rise 1-2 hours.

Preheat oven to 500 degrees with a pizza stone or upside down sheet pan inside.

Spread pizza dough out into a 12-inch circle on parchment paper for ease of transfer to the stone or sheet pan.

Place your toppings on the dough and bake for 9 to 12 minutes.
Notes
This recipe makes 2 medium size pizzas. Nutrition information is based on the dough only.
Nutrition
Calories:
189
kcal
|
Carbohydrates:
37
g
|
Protein:
7
g
|
Fat:
1
g
|
Saturated Fat:
1
g
|
Sodium:
617
mg
|
Potassium:
79
mg
|
Fiber:
2
g
|
Sugar:
2
g
|
Vitamin A:
8
IU
|
Calcium:
7
mg
|
Iron:
1
mg
Recipe from laurenslatest