Smooth Creamy Cheesecake (strawberry topping)
Smooth and creamy cheesecake at its best! Homemade cheesecake does not have to be intimidating. It's really pretty easy.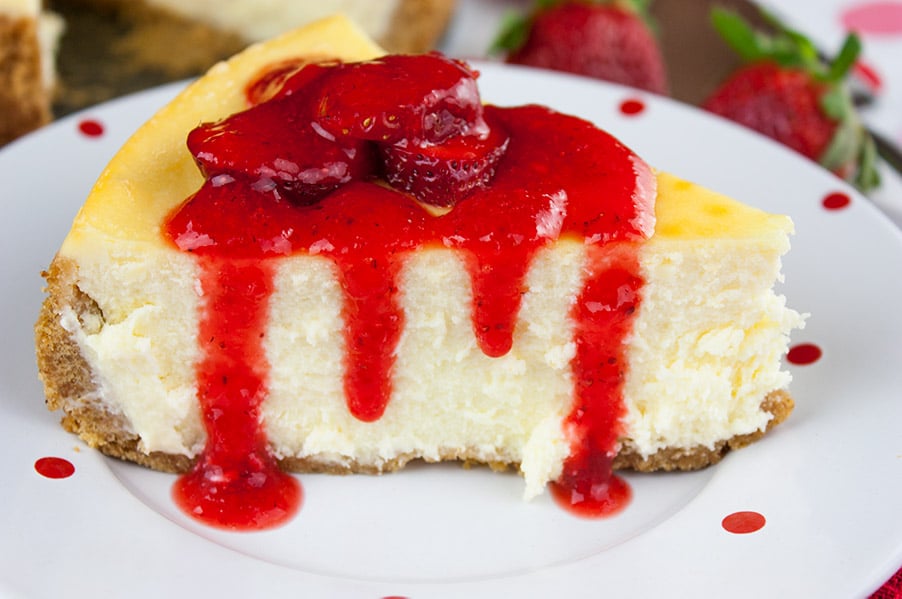 Rich, smooth, creamy, and absolutely sublime! Everyone needs a basic cheesecake recipe, and this one is sure to please.
Give our Strawberry Shortcake recipe a try. You won't regret it!
Smooth and Creamy Cheesecake
First and foremost, it is VERY IMPORTANT that your cream cheese, eggs, and heavy cream are at room temperature.
Spray the springform pan with non-stick baking spray or line with parchment. Wrap the bottom of an 8-inch springform pan with two layers of heavy-duty aluminum foil.
Also, have a large roasting pan ready that will accommodate the springform pan. You will be baking the cheesecake in a water bath, so the springform should fit in the middle and not touch the sides of the outer pan.
The water bath cooks the cheesecake gently, preventing cracking and resulting in a smooth, creamy cheesecake.
Preheat the oven to 350ºF.
In a medium-size bowl mix 1 1/2 cups of graham cracker crumbs, 1/3 cup melted butter and 1 tablespoon of sugar until moistened and starting to come together.
Then press the graham cracker crust into the bottom of the pan and up the sides about 1/3 of the way. Place in the refrigerator while you prepare the cheesecake batter.
Check out our Easy Key Lime Pie recipe.
With an electric mixer on medium-low, beat the cream cheese for 3 minutes. Add the sugar, continue beating increasing the speed to medium-high until light and fluffy. This will take about 5 minutes. It should be smooth and fluffy.
Add the eggs one at a time, continue beating until combined. Add the heavy cream until incorporated, being sure to scrape down the bowl and the paddle several times during the whole process. Make sure to scrape the very bottom of the bowl as well. Add the vanilla and incorporate.
Pour the batter into the prepared pan and place it in the roasting pan. Place both pans into the oven on the middle rack. Carefully fill the roasting pan with boiling water about halfway up the sides of the springform pan. Being sure not to splash hot water into the cheesecake batter.
Bake the cheesecake 45 minutes to 60 minutes (all ovens are different). It should jiggle slightly but no wet spots, it will continue to cook some while cooling. Carefully remove the springform pan from the water bath and place on a wire rack to cool completely.
Once cool, refrigerate for at least 4 hours before serving.
Try this fun twist on cheesecake – Chocolate Covered Cheesecake Bites!
You can eat the cheesecake plain or serve with a fresh strawberry coulis (the fancy French name for fruit sauce). I highly recommend either way.
Serve and indulge in this smooth and creamy cheesecake drizzled with fresh strawberry sauce!
Smooth and Creamy Cheesecake Recipe