Absolute Best Ever Lasagna Recipe
This absolute best ever beef lasagna recipe comes to us via my sister and brother-in-law. This is the ultimate meat lasagna!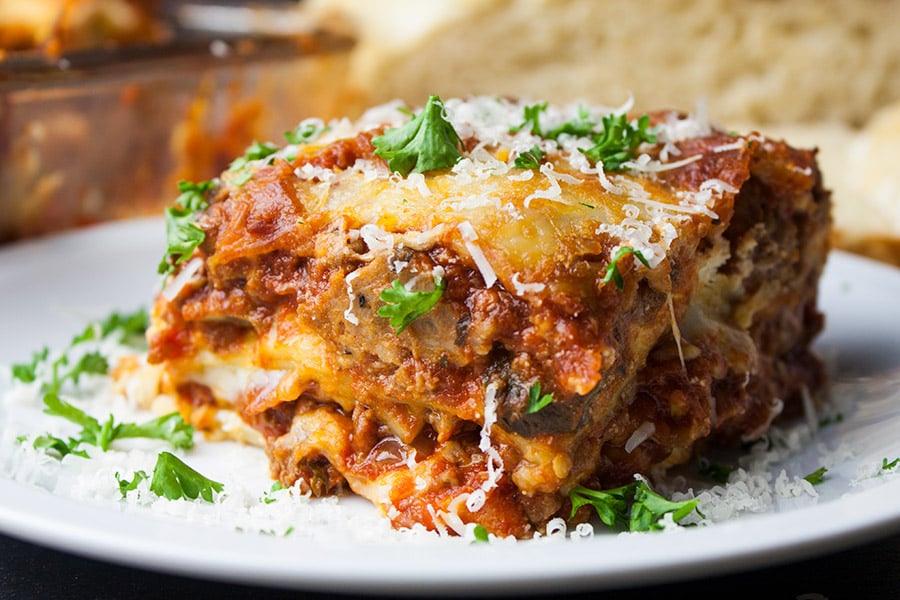 Three layers of deliciously rich, luscious meat sauce, creamy cheesy ricotta (no cottage cheese here!), and perfectly cooked noodles. You honestly would have a hard time finding something better at a restaurant. This dish delivers!
Also, keep reading for the trick to getting a perfect portion cut every time.
Make it a night of indulgence and serve our Bread Pudding for dessert!
Best Lasagna Recipe
How to Make the Best Lasagna
The most time-consuming step is making the meat sauce. But the sauce is what makes this lasagna amazing!
Although we were raised in a large Italian family there was never an authentic lasagna sauce recipe delivered to our table. *gasp* Shocking, I know!
Lasagna Meat Sauce
In a large dutch oven or heavy-bottomed pot over medium-high heat, brown the ground beef and hot Italian sausage. Drain excess fat, add the pepperoni and cook for about 1 minute.
Add the onion, garlic, parsley, and fennel. Cook about 10 minutes, stirring frequently.
Add the crushed tomatoes, tomato paste, sugar, fresh basil, bay leaves, oregano, salt, and pepper. Bring to a boil, add the wine.
Reduce the heat and simmer for 1 hour. Add the mushrooms and simmer another 30 minutes (if doubling the recipe, simmer longer).
Around this time the kitchen starts to smell WONDERFUL! The tomato sauce is simmering away so this is usually when I am pouring a glass of wine.
Dipping some freshly baked bread into some olive oil and red pepper flakes usually happens too. Cooking should be an experience, right?
Assembling The Lasagna
Preheat the oven to 350F degrees.
In a large pot boil the lasagna noodles according to the package instructions, stirring occasionally. Drain and set aside.
In a medium-size bowl mix the ricotta, egg, and parmesan.
Spread 1 1/2 cups of the meat sauce evenly in the bottom of a 13x9x2 baking pan.
Ok, so here's the tip for layering the noodles for the perfect portion.
First place about 1 1/2 cups of sauce in the bottom of a 9×13 baking dish. Layer 1/3 of the noodles HORIZONTALLY.
Next, top with about 2 cups of the meat sauce, 1/3 of the ricotta mixture and 1/3 of the mozzarella cheese.
For the second layer place the lasagna noodles VERTICALLY and repeat the layering process.
The third layer of noodles is placed horizontally, repeat the layering with the remaining ingredients. This layering process makes it much easier to cut and keep a uniform serving. No falling apart.
Just for your sanity, place the lasagna pan on a rimmed baking sheet before placing it in the oven. This will keep you from cleaning up the oven from any spills.
My brother-in-law cooks it uncovered for the entire baking time. I, however, cover for the first 30 minutes with aluminum foil. Then for the remaining cooking time, I remove the foil.
Doing this gives you that nice brown, crusty cheese top! This is always a favorite in our home.
Remove from the oven and let it sit for at least 20-30 minutes before cutting. This also helps keep the serving uniform. To serve, hit it with a little parmesan cheese, or perhaps some Romano, your preference.
Plan on making this No-Knead Large Dutch Oven Bread serve along with this Absolute Best Ever Lasagna. If you're looking for a good meat lasagna recipe, give this one a try. You won't regret it, I promise.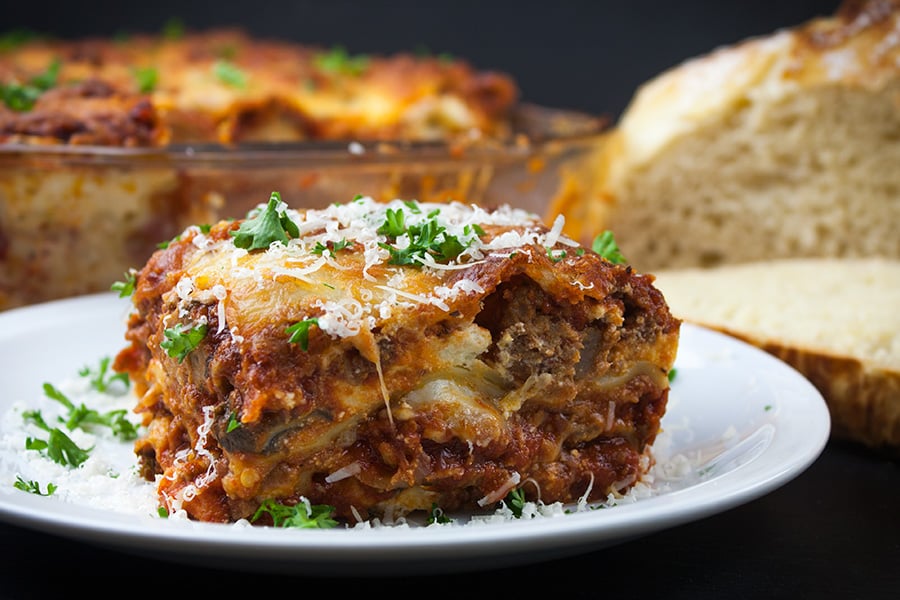 This recipe doubles perfectly and fills my 14-inch lasagna pan that serves a crowd. It's great for making ahead and freezing. Just make through the layering process, wrap in freezer paper and freeze. Thaw before baking.
Serve and enjoy a taste of heaven!
Absolute Best Ever Lasagna Recipe