Fast And Easy Shrimp Piccata
Shrimp Piccata will become your new favorite go-to weeknight meal. It's on the table in under 30 minutes.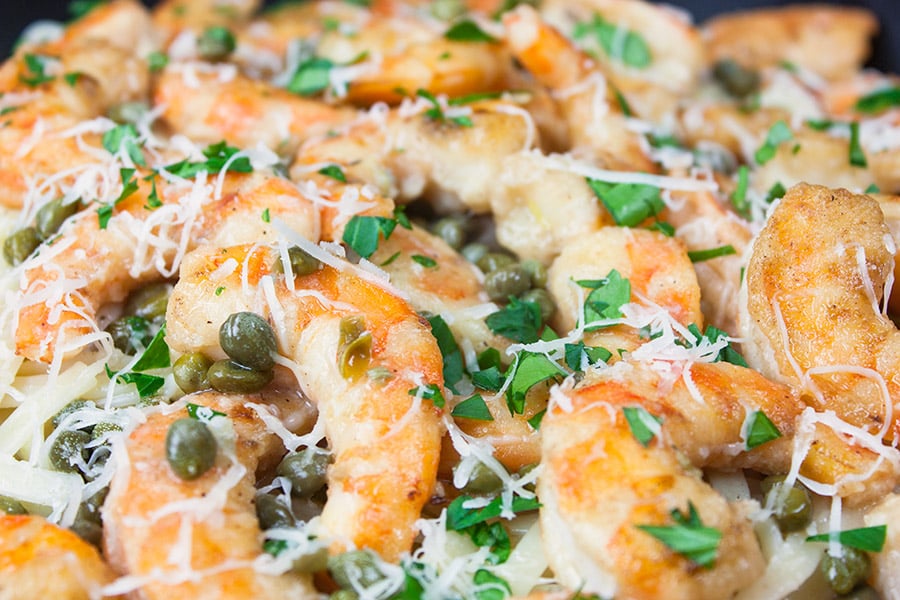 Shrimp sauteed in a lemon-butter-caper sauce. Serve over your favorite pasta, you can't go wrong. It's fresh, bursting with flavor, and comes together super easy.
Try our Shrimp Salad!
Fast and Easy Shrimp Piccata
Start boiling the pasta according to the package directions. (reserve 1/4-1/2 cup of the pasta water)
In a medium bowl, whisk together the flour, salt, and pepper. Toss the shrimp in the flour mixture.
In a large skillet over medium heat, melt 3 tablespoons of butter. Add the shrimp to the skillet and saute one for one minute on each side. Don't overcrowd the pan. You might need to do this in two batches. Remove the shrimp to a plate.
Add the garlic to the skillet and cook for about 1 minute. Deglaze the pan with lemon juice, zest, capers, remaining butter, and wine. Simmer for 2 minutes. Add the shrimp back to the skillet and cook for 1-2 more minutes. Do NOT overcook the shrimp. Add reserved pasta water to bump up the sauce, if desired.
Toss in the fresh parsley and season with salt and pepper to taste.
Garnish with Parmesan cheese. Serve this quick and easy shrimp piccata immediately and enjoy it.
Check out our Strawberry Shortcake!
Shrimp Piccata Recipe
Recipe inspired by SippitySup