Bakery Style Chocolate Chip Muffins
Bakery style chocolate chip muffins anyone? A simple and quick recipe to whip up any morning of the week.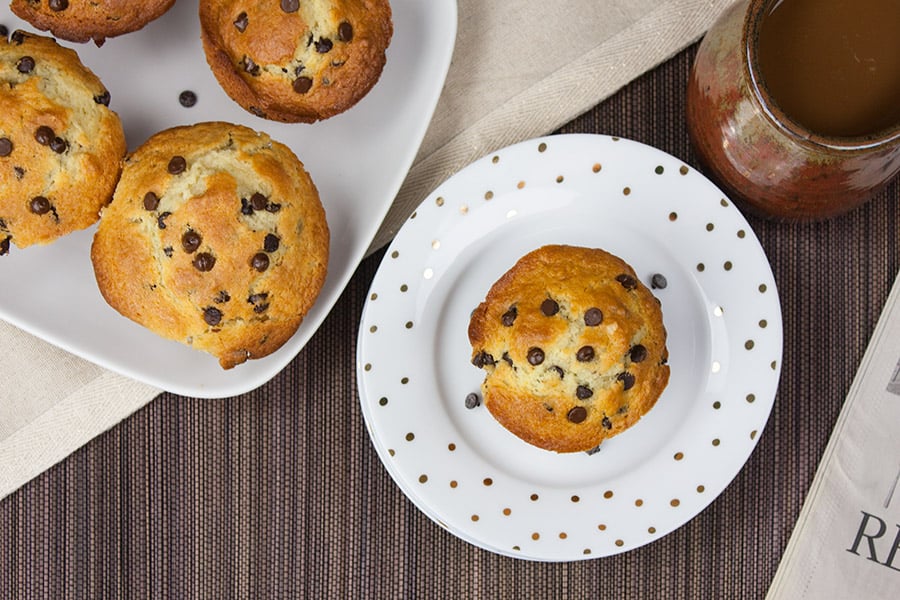 These bakery-style chocolate chip muffins have a slightly crispy edge, tender, fluffy, moist inside, and make a great grab and go breakfast.
Try our Strawberry Shortcake!
Bakery Style Chocolate Chip Muffins
No prep pics are needed for this, right? Good, because I totally forgot. I was so excited about eating these muffins!
Preheat oven to 425°F. Prepare a 12 cup muffin tin with non-stick baking spray or line with paper liners.
In a medium bowl, whisk the flour, baking powder, baking soda, and salt. Toss in the mini chocolate chips and set aside.
In a large bowl, whisk together the melted butter, granulated sugar, room temperature eggs, buttermilk, and vanilla extract. Slowly add the wet ingredients to the dry ingredients. Carefully fold together until JUST combined.
Divide the batter into the muffin pan. Sprinkle a few extra chips on top just to look pretty.
Bake at 425°F for 5 minutes. Reduce the oven temperature to 375°F and continue to bake for another 12-15 minutes or until a toothpick inserted into the center comes out clean. Do not over-bake the muffins will dry out.
We have also made these muffins in the 6 cup jumbo muffin tin. (Adjust your baking time, of course.) But, oh my, one gigantic chocolate chip muffin is pure heaven!
Serve warm and enjoy this bakery-style muffin!
Check out our Pumpkin Muffins!
Chocolate Chip Muffin Recipe
Recipe inspired by CookingClassy