Cilantro Lime Slaw Shrimp Tacos
Cilantro lime slaw shrimp tacos topped with a lime cream sauce are a fresh, tasty, quick and easy meal.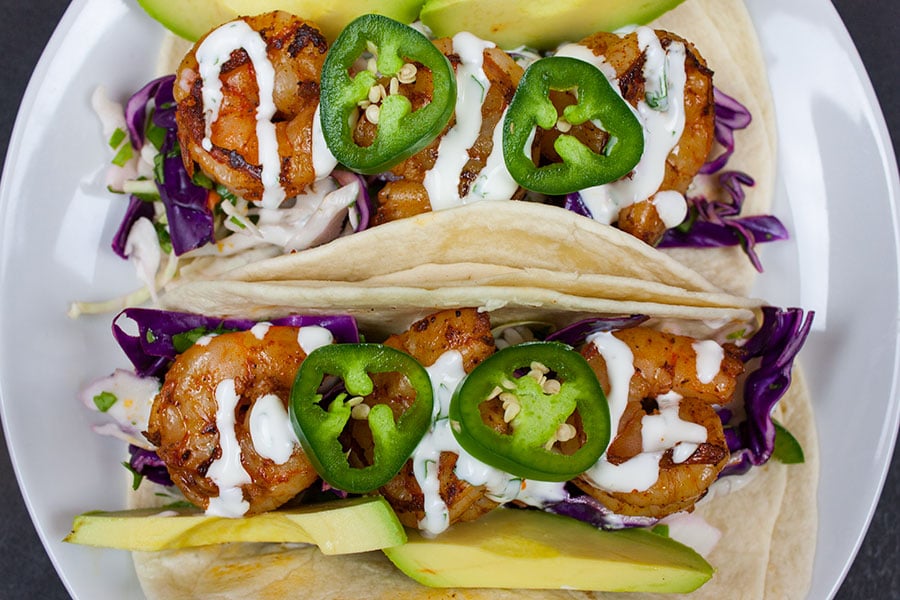 Crunchy, fresh, bright, tangy, and delicious! Great warm weather meal in no time.
Prep is the longest part of this recipe. The shrimp cook in less than 5 minutes, so it's great for a busy weeknight.
Try our Shrimp Salad!
Cilantro Lime Slaw Shrimp Tacos
In a medium bowl combine the olive oil, cayenne pepper, chili powder, cumin, kosher salt, and pepper. Stir to combine. Add the shrimp and toss to coat evenly.
Allow to marinate for about 10-15 minutes while you prep the slaw and cream sauce.
Try our Street Tacos recipe! Or our Blackened Fish Tacos Recipe!
These easy shrimp tacos were such a hit at our table I plan on making them all summer. Just like our Shrimp Stacks!
It's going to be a Summer Shrimp Fest at our house. I could literally eat shrimp daily if only my family felt the same.
In a medium bowl add the green cabbage, purple cabbage, green onions, cilantro, jalapeno, and juice of 1 lime and toss to combine. Set aside.
In a small bowl combine the 1/2 cup of sour cream, cilantro, and remaining 2 tablespoons of fresh lime juice.
Heat a large skillet over medium heat. Cook the shrimp for 1-2 minutes on each side. Immediately transfer the shrimp to a plate. You don't want to overcook the shrimp by leaving them in the hot pan.
Assemble the cilantro lime slaw shrimp tacos by warming the flour tortillas (or corn tortillas), layer two on top of each other. Top with the slaw, a couple of shrimp, avocado, jalapenos, and cream sauce. Garnish with lime wedges.
Serve immediately.
Try our Street Tacos recipe!
Easy Shrimp Tacos Recipe