Rosemary Garlic Grilled Baby Potato Skewers
Rosemary garlic grilled baby potato skewers are a great side dish for those summer barbecues. Fluffy inside, slightly crispy outside, infused with herb and garlic flavor.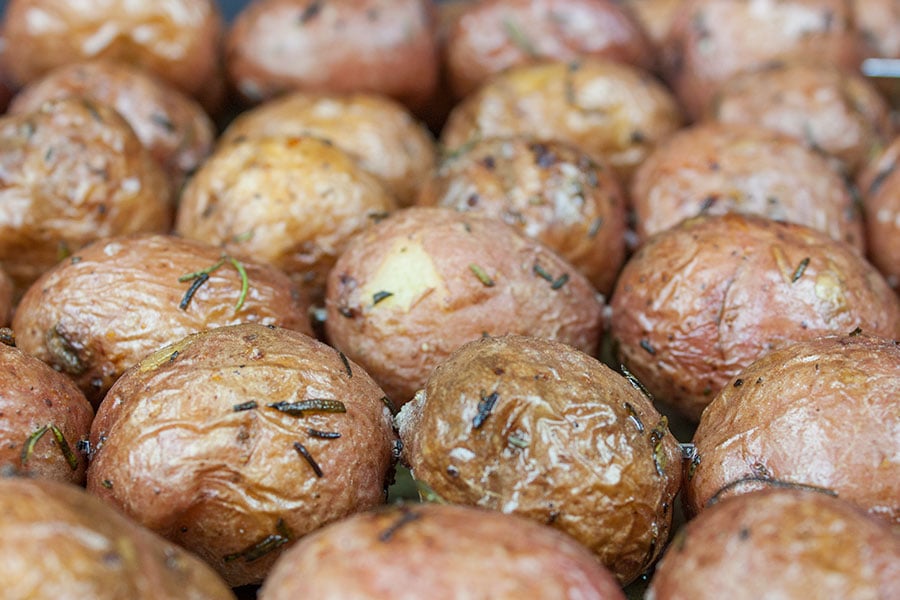 Why You'll Love These
Everyone loves potatoes on a stick, right? Or any food on a stick?!
Crispy perfection and tender fluffy insides! It's an easy side dish to throw on the grill while the protein is cooking.
Key Ingredients
Potatoes – In this grilled baby potatoes recipe we are using baby red potatoes. But you can also use Yukon gold baby potatoes or even baby sweet potatoes. Small potatoes are key!
Oil – This recipe uses olive oil which helps the skins to crisp up while grilling.
Seasonings – Fresh rosemary, garlic cloves, sea salt, and fresh ground pepper.
Tips
Use fresh rosemary! Dried rosemary tends to be woody as it doesn't soften while marinating or cooking.
Don't overcook the potatoes during parboiling. You want them firm enough to slide on the skewers without breaking.
Choose similar size potatoes. You want them to cook evenly.
If using wooden skewers be sure to soak them in water for at least one hour before sliding the potatoes on.
After placing them on the skewers drizzle any remaining oil mixture over the potatoes!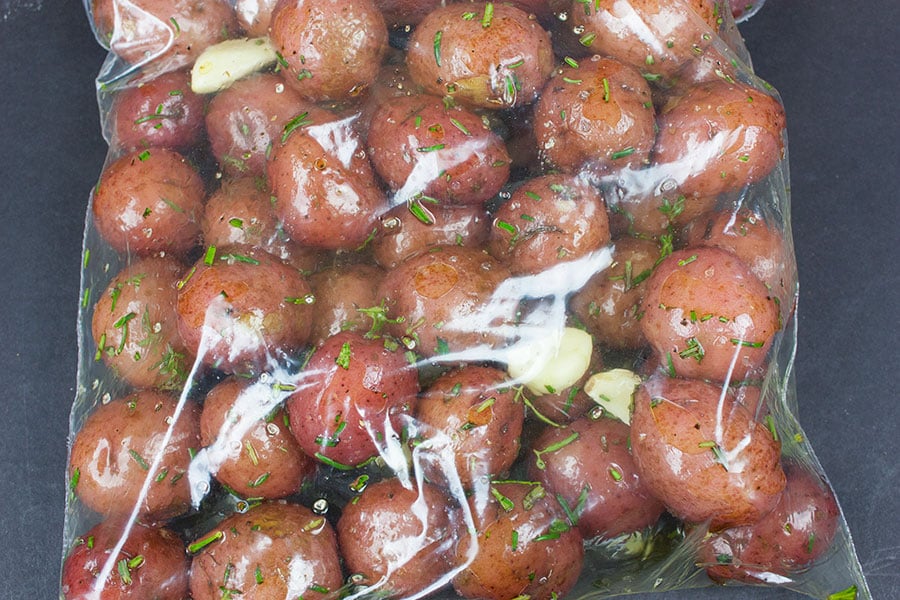 How to Make Rosemary Garlic Grilled Baby Potato Skewers
Easy and can be made ahead. You can use red baby potatoes or baby Yukon Gold potatoes.
Parboil the potatoes for about 10 minutes. Cool to just warm (not piping hot), place in a large zip-top bag, and pour in the olive oil, rosemary, garlic, salt, and pepper. Or you can use a large bowl or container with a lid.
Give it a good shake and massage to distribute the seasonings. Allow it to marinate for several hours up to 24.
We drizzle the remaining garlic-herb mixture over the skewered potatoes.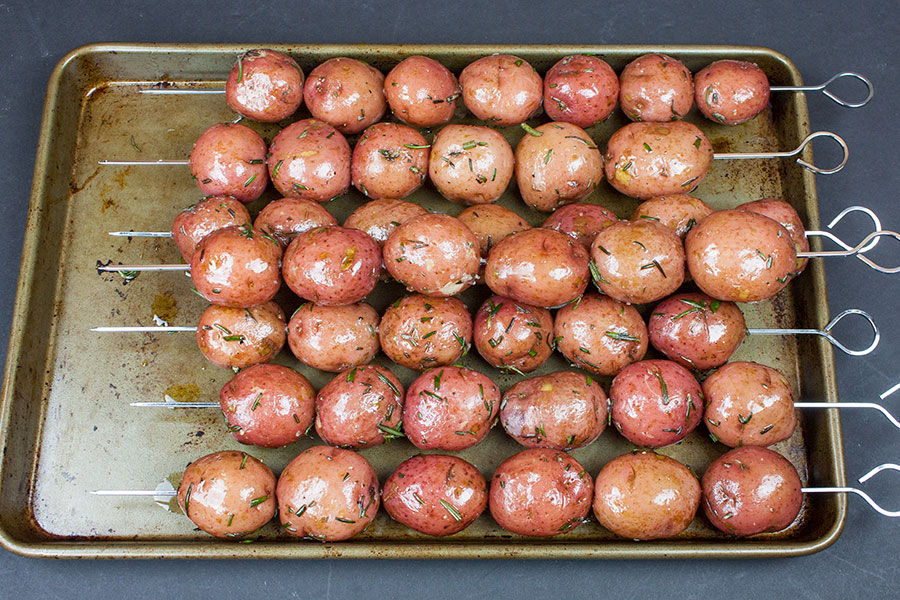 How to Grill Baby Potatoes
Preheat the grill to medium-high heat. Skewer the potatoes.
Grill the potatoes for 20 to 30 minutes, turning them as needed until the potatoes are tender.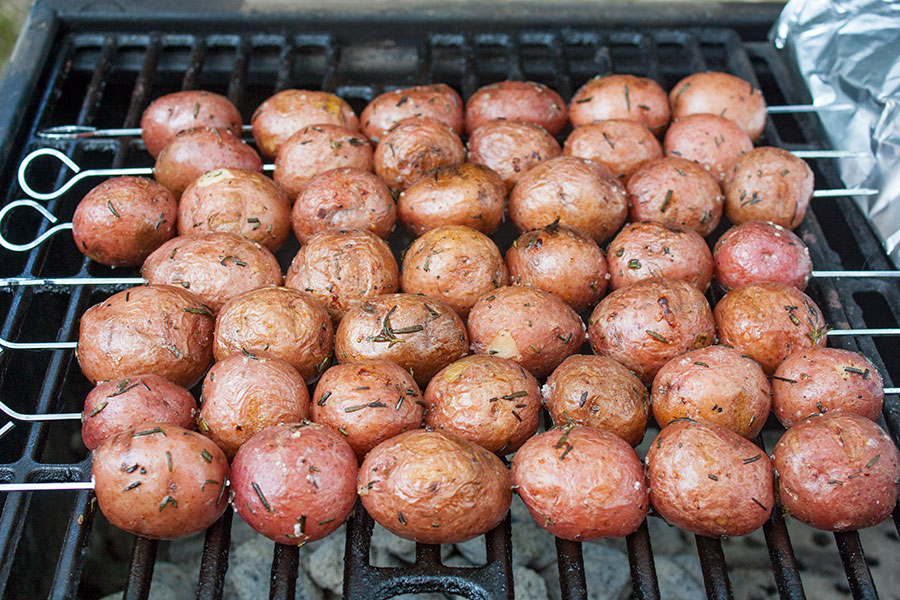 These grilled baby potatoes are loaded with great rosemary, and garlic flavor and are sure to please everyone. So easy to make ahead you will be making them every time you light the grill.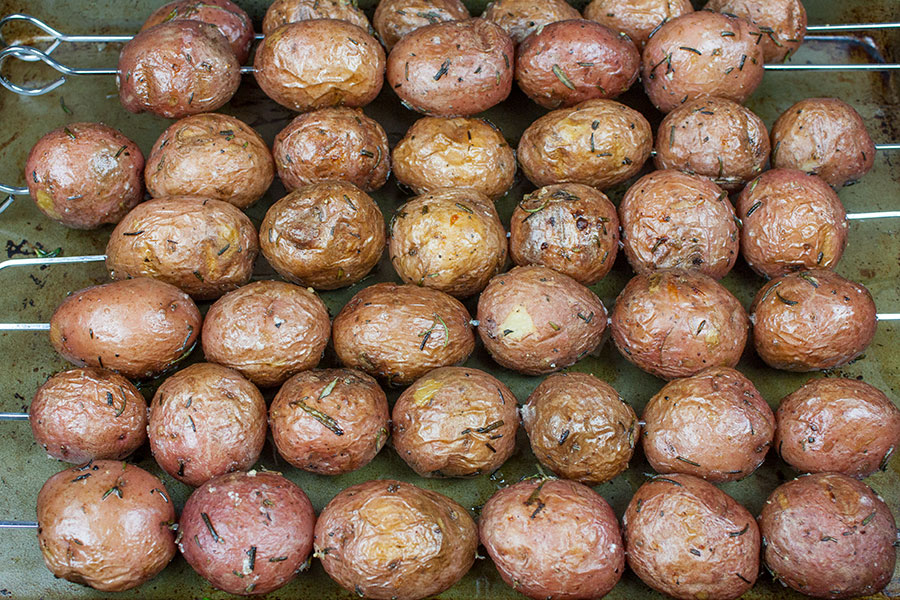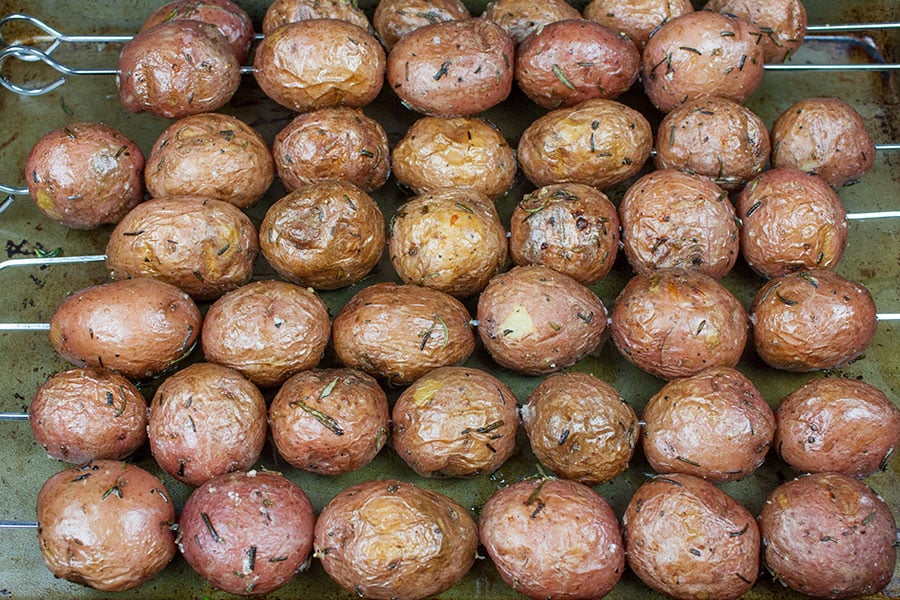 Just slide them off the skewers and serve. Or just hand everyone a skewer and let them go to town. Careful they will be hot!
Serve With
You will serve this grilled potato skewer every time you have a barbecue.
You can serve these grilled potatoes with any protein you are cooking on the grill. Such as chicken, pork, hamburgers, steaks, and shrimp!
Can these be made ahead?
Yes, cool the potatoes to room temperature and pour the marinade over them. Place in the refrigerator for up to 24 hours.
When ready to grill remove them from the fridge about one hour before cooking. The olive oil will solidify in the refrigerator.
Should I boil potatoes before grilling?
Yes. Parboiling potatoes before grilling ensures they will be creamy on the inside and crispy on the outside.
How long does it take to cook small potatoes on the grill?
Depending on the size of the potatoes about 30 to 40 minutes.
More Potato Recipes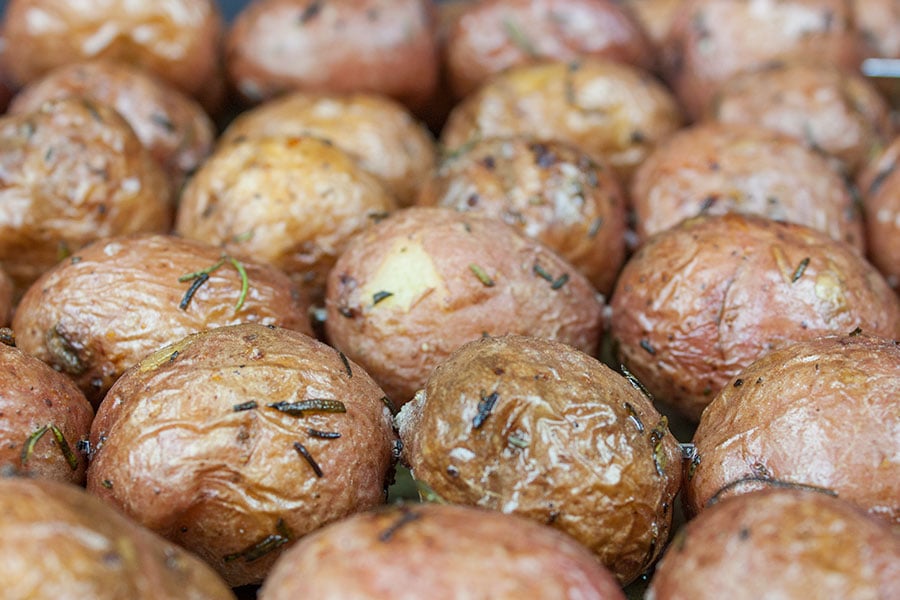 Rosemary Garlic Grilled Baby Potato Skewers Recipe
A great side dish for those summer barbecues. Fluffy potato inside, slightly crispy outside, infused with herb and garlic flavor.
Print
Pin
Rate
Ingredients
56

oz

baby potatoes

2 – 28oz bags

1/4

cup

olive oil

2

tablespoons

fresh rosemary, chopped

2 1/2

teaspoons

sea salt, divided

1/2

teaspoon

fresh ground pepper

6-8

large

garlic cloves, cracked

1

large

gallon zip bag
Instructions
Parboil the potatoes in a large pot of water that covers the potatoes by at least one inch and 1 teaspoon of salt.

Boil them about 10 minutes, or until fork or knife can be inserted in but with some resistance ( this will vary depending on the size of the potatoes)

Remove from the heat and drain thoroughly.

Allow cooling to a just warm, not hot.

Place the potatoes in a zip-top bag.

Pour in the oil, rosemary, garlic, salt, and pepper.

Seal the bag, shake and massage around to distribute the oil and herbs all over the potatoes.

Leave to marinate for as long as you can but at least 2 hours. I just leave them on the counter. They can be prepared like this up to 24 hours in advance. If you put them in the refrigerator the oil will congeal. Remove in advance before grilling to allow the oil to come to room temperture.

When you are ready to cook the potatoes, remove from the bag and thread onto skewers.

Preheat the grill to medium-high heat.

Place on the grill and cook for around 20 – 30 minutes, turning as needed.

Once golden brown, very soft and slightly charred, remove from the grill and serve.
Nutrition
Calories:
289
kcal
|
Carbohydrates:
47
g
|
Protein:
6
g
|
Fat:
9
g
|
Saturated Fat:
1
g
|
Sodium:
986
mg
|
Potassium:
1126
mg
|
Fiber:
6
g
|
Sugar:
2
g
|
Vitamin A:
19
IU
|
Vitamin C:
53
mg
|
Calcium:
39
mg
|
Iron:
2
mg
Inspired by A Virtual Vegan