Easy Twice Baked Potatoes Recipe
Take baked potatoes to the next level. These easy twice baked potatoes add tons of flavor and texture to this go-to side dish. Great with everything!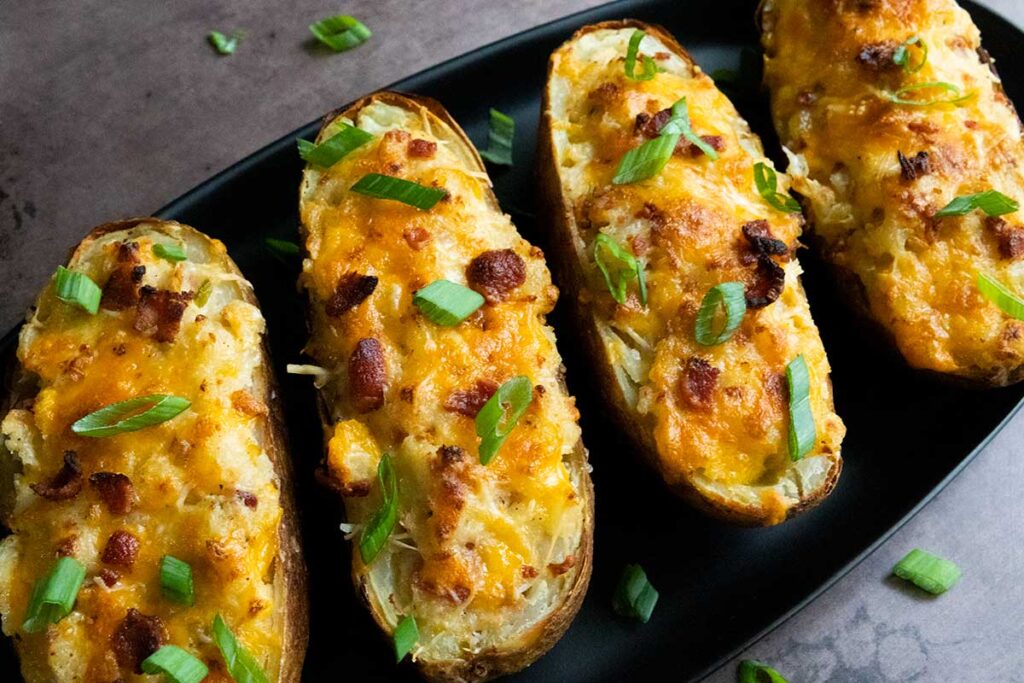 While I am a huge fan of baked potatoes as a side to any robust protein, such as steak or pork, sometimes it's fun to jack it up a bit. Twice-baked potatoes take a baked potato up a few notches. And when I say a few, I am talking from good to GREAT!
We're talking about adding two kinds of cheese, bacon, sour cream, some garlic, and onion, and baking it again. Super easy and super good.
If you have never done this, you have to try it. It's always a treat and kicks what can be a decent meal into a spectacular one! All those wonderful textures and flavors in every bite. It's a winner!
How To Make Twice Baked Potatoes
This twice baked potatoes recipe is very easy to put together but does take a bit of time as we're baking potatoes. But other than that, it's just a matter of adding all your ingredients together and putting them back into the oven.
Ingredients Needed
Chances are you already have these ingredients which makes this a great go-to recipe. You will need the following
Two large Russet potatoes
4 slices of cooked bacon
1 cup of shredded cheddar cheese (we used sharp – recommended)
1/2 cup of parmesan cheese
1/2 cup of sour cream
2 tablespoons of butter
1 clove of garlic
2 green onions
salt and pepper
Olive oil
The Steps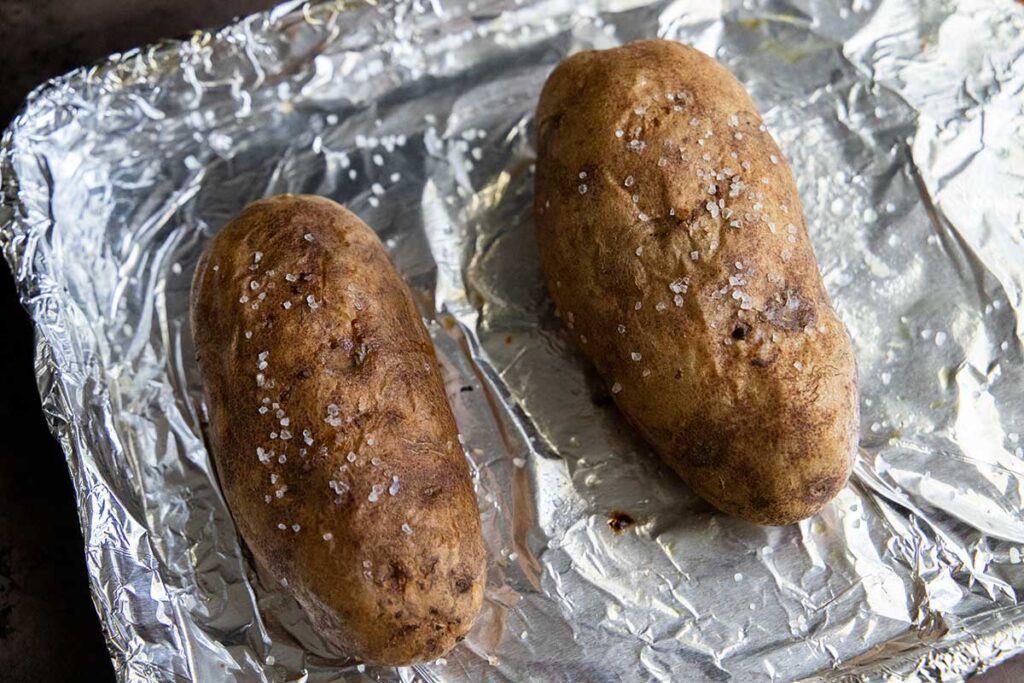 Preheat your oven to 400 degrees. While it is coming to temperature, scrub the potatoes and place them on a baking sheet. Prick the potatoes with a fork a few times to allow steam to escape. Coat lightly with olive oil and sprinkle the potatoes with a little kosher salt.
When the oven hits temperature, place the potatoes in the oven and allow them to cook for approximately 1 hour (up to one hour and 30 minutes) or until a butter knife can easily pierce through the potato.
While the potatoes are cooking, in a skillet cook the bacon until it reaches your preferred doneness. Remove from the skillet, drain on paper towels, and set aside.
Add the whites of the chopped green onion to the bacon fat and cook over medium to medium-low heat until the white of the green onions is translucent. Reserve the green part of the onion for garnish. Add the garlic and cook for 1 more minute making sure the onion and garlic do not burn. Pour the onion, garlic, and bacon fat into a small bowl or ramekin and set aside.
The bacon at this point should be cool enough to handle. Chop into small pieces and bits and set aside.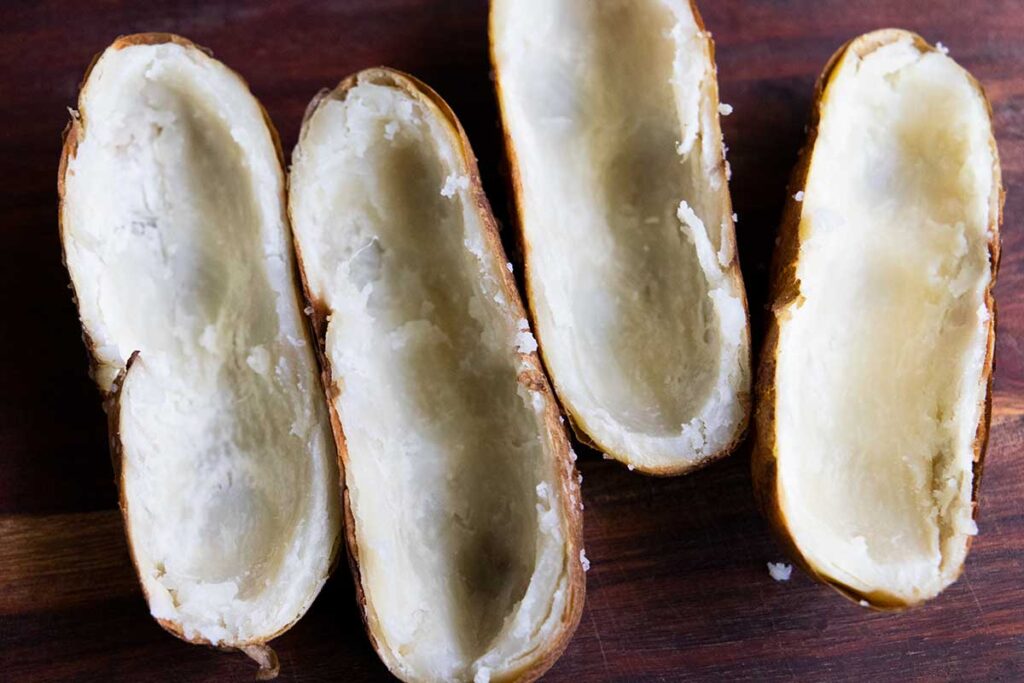 When the potatoes are ready, remove them from the oven. Using a potholder or oven mitt to handle the potatoes, cut each potato in half lengthwise. Using a spoon, remove the potato flesh and place it into a mixing bowl. Make sure to leave approximately 1/4″ of the potato along the shell to maintain its structure.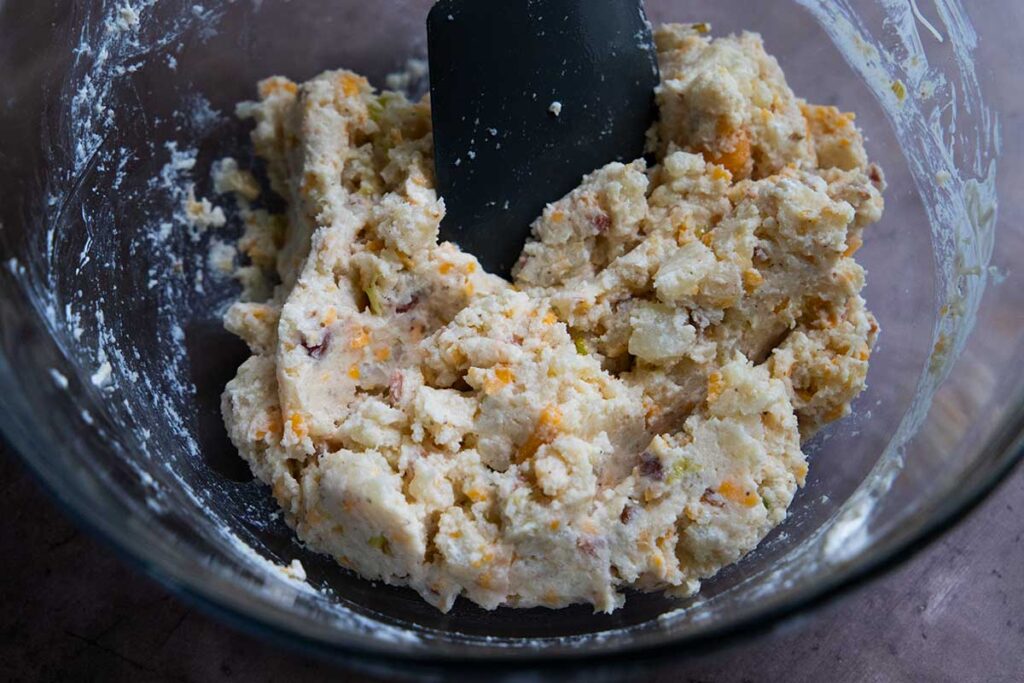 In the mixing bowl using a fork, mash the potatoes until sufficiently fluffy. Add the melted butter and the onion-garlic bacon fat mixture to the mixing bowl.
Next, add the bacon, the sour cream, and the parmesan and cheddar cheeses. Reserve a few sprinkles of the bacon and cheeses for later.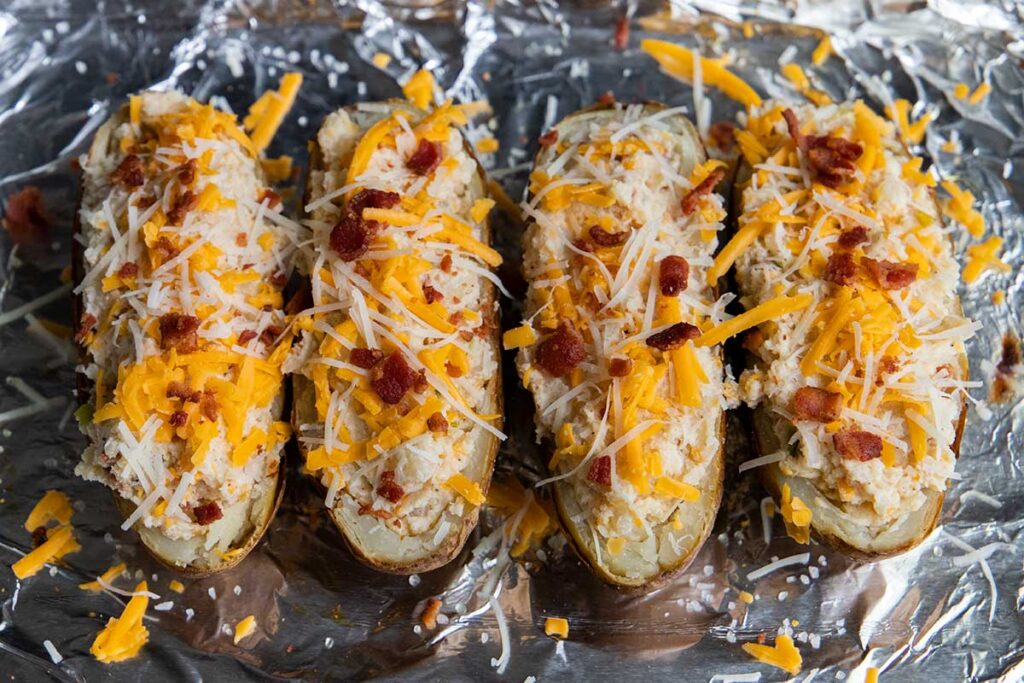 Mix together until well combined. Spoon the mixture back into the potato shells evenly. Sprinkle remaining cheeses and bacon over the potatoes and return to the oven.
Continue to bake until heated throughout, approximately 15 minutes, and remove from the oven.
Garnish with sliced green onion and serve.
Conclusion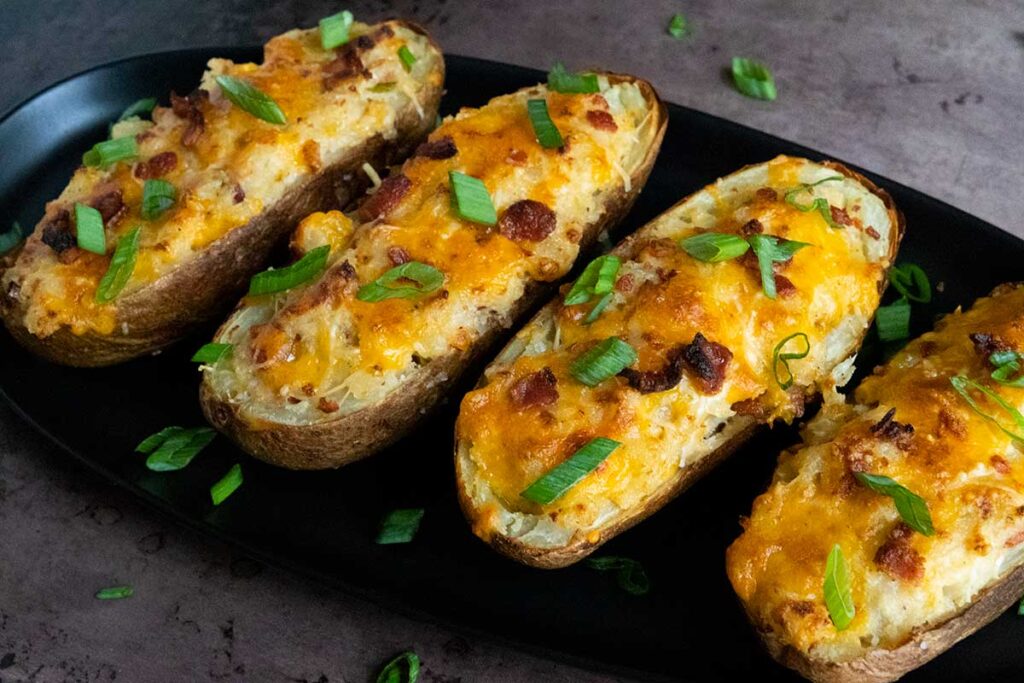 This recipe is great when you want to mix things up a bit. Sometimes our menus can get a little stale.
We have made these potatoes for decades. We don't do it often because, to be honest, we forget. We forget how easy it is and we forget how damn tasty it is.
It's only after one too many regular baked potatoes does the bulb go off and we're like "hey, what about twice-baked?" and the mixing bowl comes out and I get excited all over again.
This will please them all. If you want vegetarian, leave out the bacon. If you need to feed a larger crowd, double the recipe. This is a great go-to recipe that won't fail you.
You can pair this with whatever you like, but I find that beef and potatoes go great together. Take a look at our prime rib roast and tell me this potato dish wouldn't go great with it!
You might also want to take a peek at our Potatoes Au Gratin With Gruyere. They're fabulously decedent!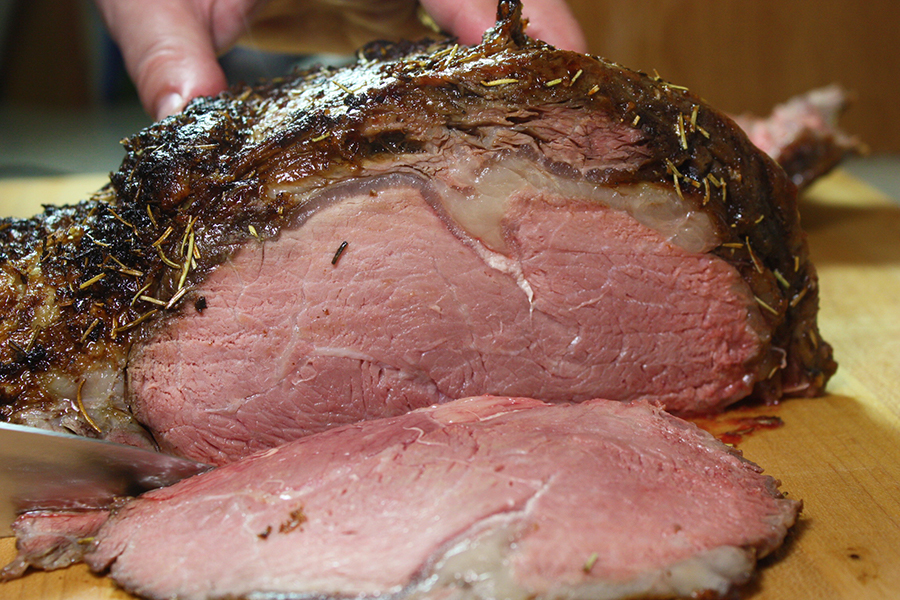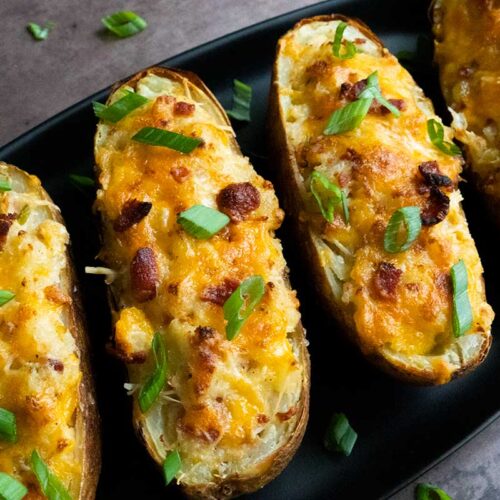 Twice Baked Potatoes Recipe
Take baked potatoes to the next level. Twice baked potatoes add tons of flavor and texture to this go-to side dish. Great with everything!
Print
Pin
Rate
Ingredients
2

Russet potatoes

Large

1

cup

Cheddar cheese

shredded

1/2

cup

Parmesan cheese

shredded

4

slices

Bacon

cooked and chopped fine

1/2

cup

Sour cream

2

tbsp

Butter

melted

1

clove

Garlic

chopped fine

1/2

tsp

Salt

1/2

tsp

Black pepper

freshly ground

2

Green onion

whites finely chopped, green part cut for garnish

1

tbsp

Olive oil

to coat potatoes
Instructions
Preheat oven to 400 degrees Fahrenheit

Scrub potatoes clean and prick with fork to allow steam to escape during baking

Bake potatoes for one hour (up to one hour and 30 minutes) or until a butter knife can easily pierce through the potato.

Cook bacon in skillet and set aside

Discard all but 1 tbsp of bacon fat

Add white part of green onions to bacon fat, cook until translucent.

Add garlic to skillet, cooking for 1 minute. Do not burn

Remove from heat and transfer onion and garlic mixture to small bowl

Chop bacon into small bits and pieces. Reserving some for garnish.

Remove potatoes from oven when done

Cut potatoes in half lengthwise

Scoop out flesh of potatoes into mixing bowl leaving 1/4 inch around shell of potato

Mash potatoes until nice and fluffy

Add the melted butter and the onion-garlic bacon fat mixture to the mixing bowl

Add the bacon, the sour cream, and the parmesan and cheddar cheeses. Reserve a few sprinkles of the bacon and cheeses for later.

Mix together until well combined. Spoon the mixture back into the potato shells evenly

Sprinkle remaining cheeses and bacon over the potatoes and return to the oven

Continue to bake until heated throughout, approximately 15 minutes and remove from the oven

Garnish with sliced green onion and serve
Nutrition
Calories:
425
kcal
|
Carbohydrates:
22
g
|
Protein:
17
g
|
Fat:
31
g
|
Saturated Fat:
17
g
|
Polyunsaturated Fat:
2
g
|
Monounsaturated Fat:
9
g
|
Trans Fat:
1
g
|
Cholesterol:
79
mg
|
Sodium:
855
mg
|
Potassium:
581
mg
|
Fiber:
2
g
|
Sugar:
2
g
|
Vitamin A:
803
IU
|
Vitamin C:
8
mg
|
Calcium:
407
mg
|
Iron:
1
mg