Potatoes Au Gratin With Gruyere
I'm a fan of potatoes. Honestly, who isn't? But typically we fall into the rut of baked, mashed, or roasted. They're quick and easy. As such, we tend to forget what a few simple ingredients can do with the humble potato to make a truly delicious and decadent side dish.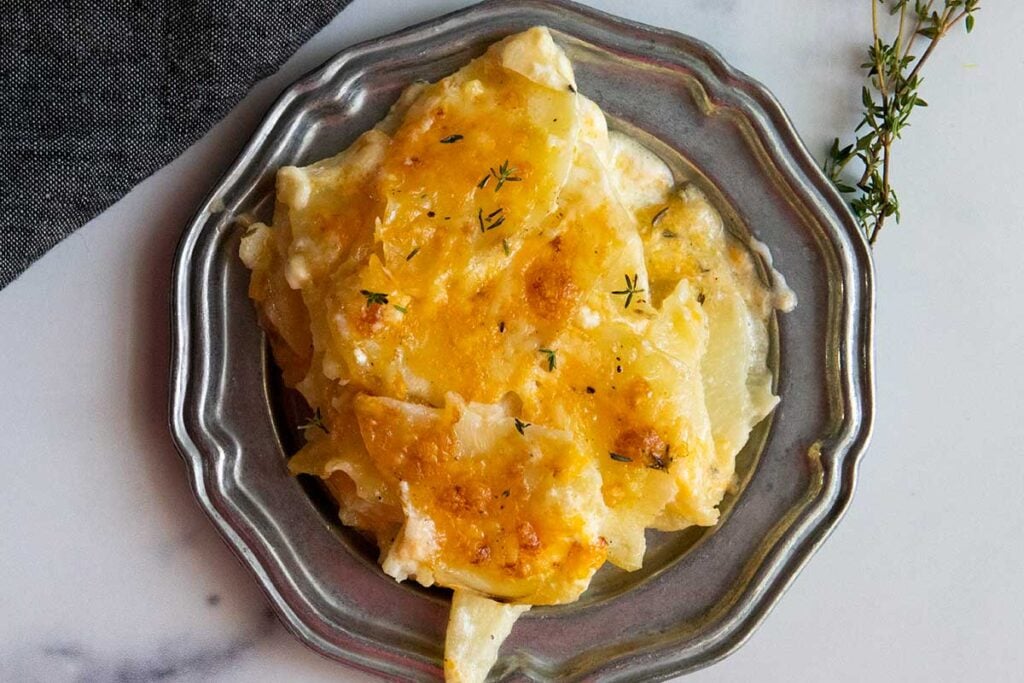 This potatoes au gratin with gruyere cheese dish will make you wonder why you haven't been doing this more often. The addition of heavy cream, a couple of cheeses, and some hints of fresh thyme turn a potato side into a potato star. This casserole rocks!
How To Make Potatoes Au Gratin
This dish comes together pretty quick. It's just a matter of laying your potatoes down in layers and topping each one with the heavy cream mixture, cheddar cheese, and the gruyere cheese.
Gruyere is a great cheese for baking. It melts wonderfully and the cheese itself is mild and adds savory notes to dishes. It's has a distinctive flavor yet is not overpowering.
Ingredients Needed
You will need the following:
2 1/2 pounds of Russet or Yukon Gold potatoes(about 5-6 medium sized)
1 1/2 cups heavy cream
2 cloves of garlic, minced
2 tablespoons of melted butter
1 1/2 cups shredded sharp cheddar cheese
1 1/2 cups shredded gruyere cheese
1 teaspoon kosher salt
1/2 teaspoon freshly ground black pepper
1 1/2 teaspoon of fresh thyme or 1/2 teaspoon dried thyme
It's important to get everything ready to assemble as you don't want your sliced potatoes to start oxidizing while you're preparing everything else.
Start by grating the gruyere and cheddar cheeses and place them into the refrigerator until ready.
In a bowl, add the heavy cream, the minced garlic, and the melted butter and combine well using a whisk. Set aside.
At this point, you will want to begin preheating the oven to 350 degrees Fahrenheit.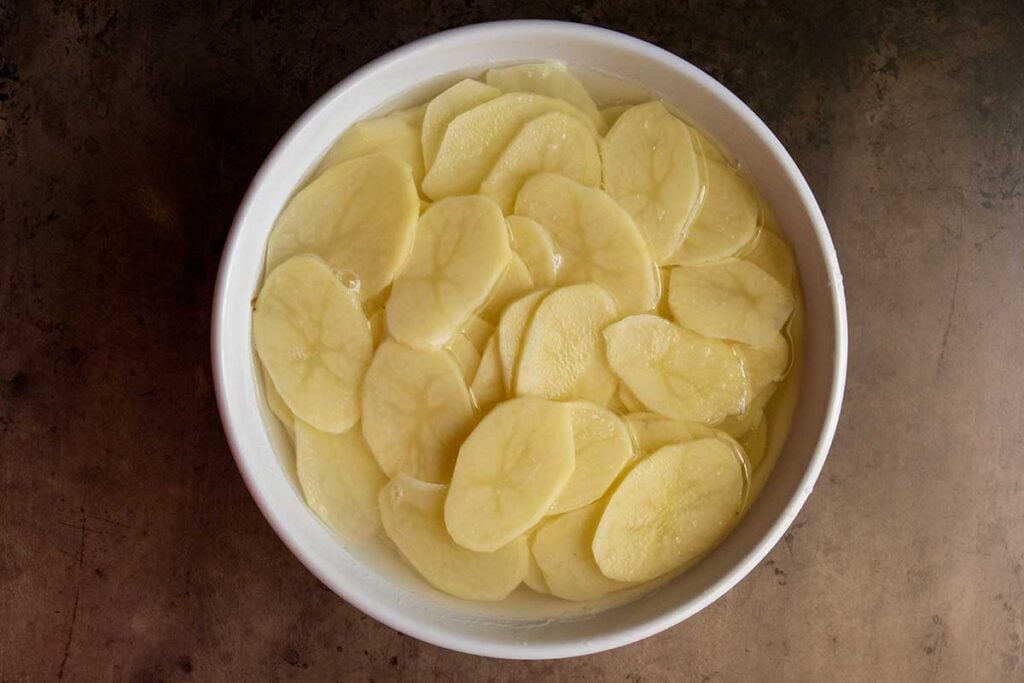 Peel the potatoes and using a mandoline or knife, slice potatoes 1/8″ thick and place slices into a large pot or large bowl with cold water. When all the potatoes are sliced, drain them completely and pat dry.
Layer 1/3 of the thinly sliced potatoes in a 9×13 inch casserole dish or similar baking dish.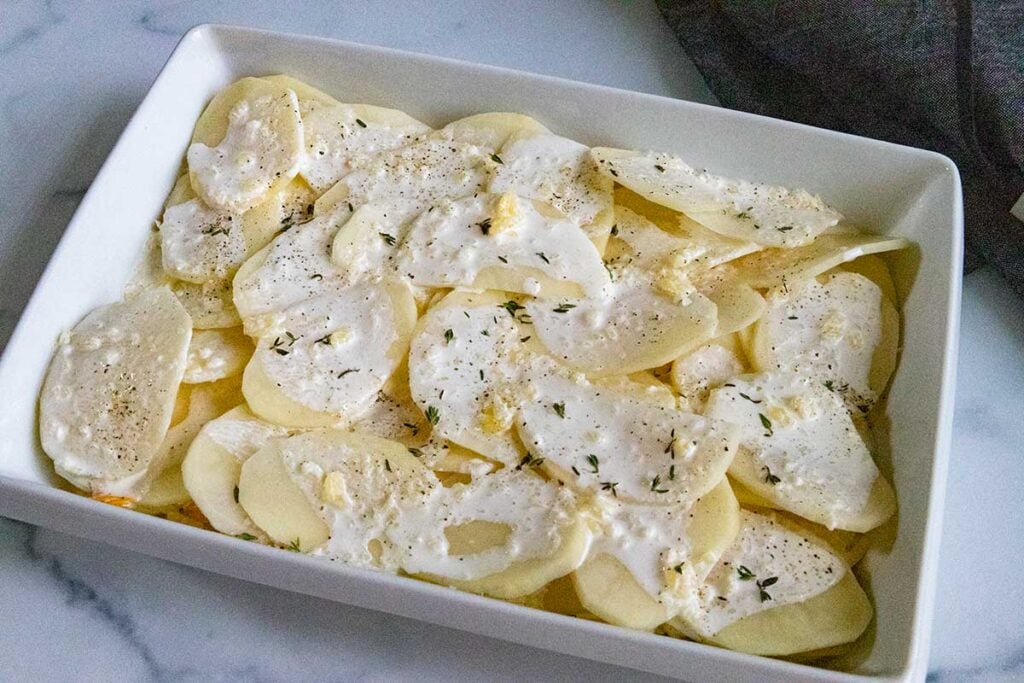 Pour 1/3 of the heavy cream mixture, 1/3 of the salt and pepper and thyme, and 1/3 of each of cheddar and gruyere cheese over the potatoes.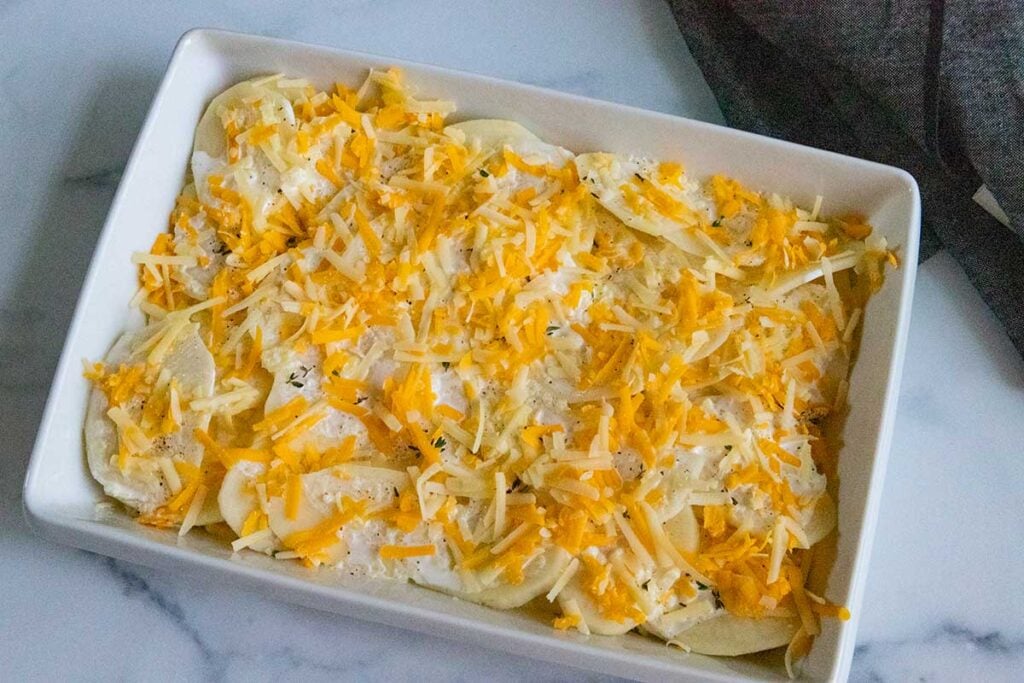 Repeat this process for the second and third layers but on the third layer do not add the shredded cheese.
Cover with aluminum foil and bake for 75 minutes or until the center potatoes are tender (use a knife to test).
Remove the au gratin potatoes from the oven and remove foil. On the top layer of potatoes add the remaining cheese and return to the oven.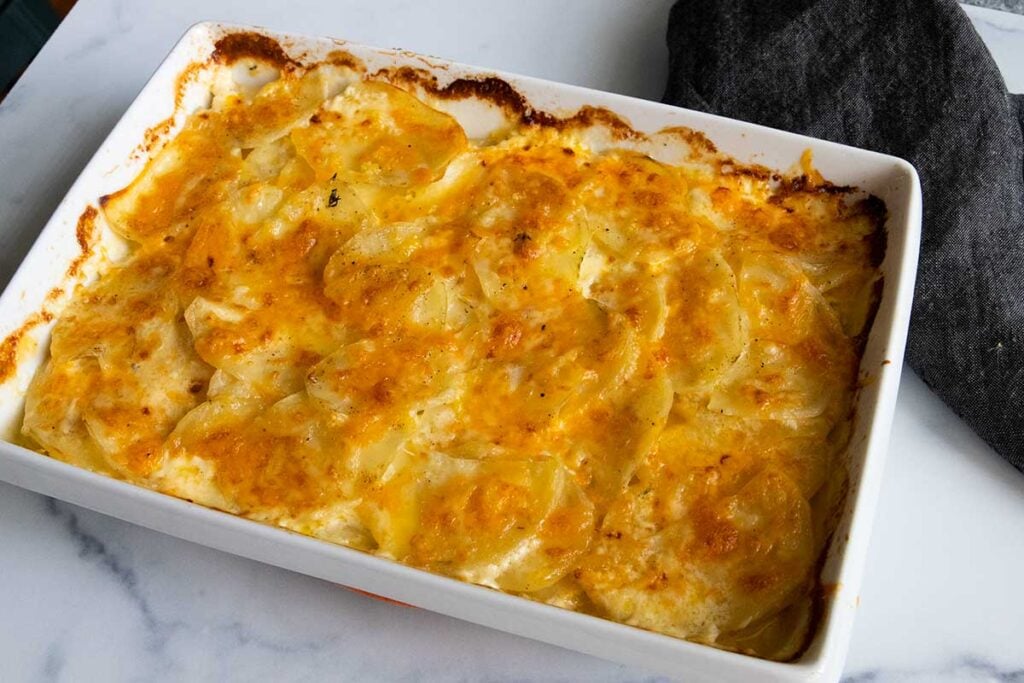 Bake for an additional 15 minutes or until the cheeses are golden brown and the dish is bubbling.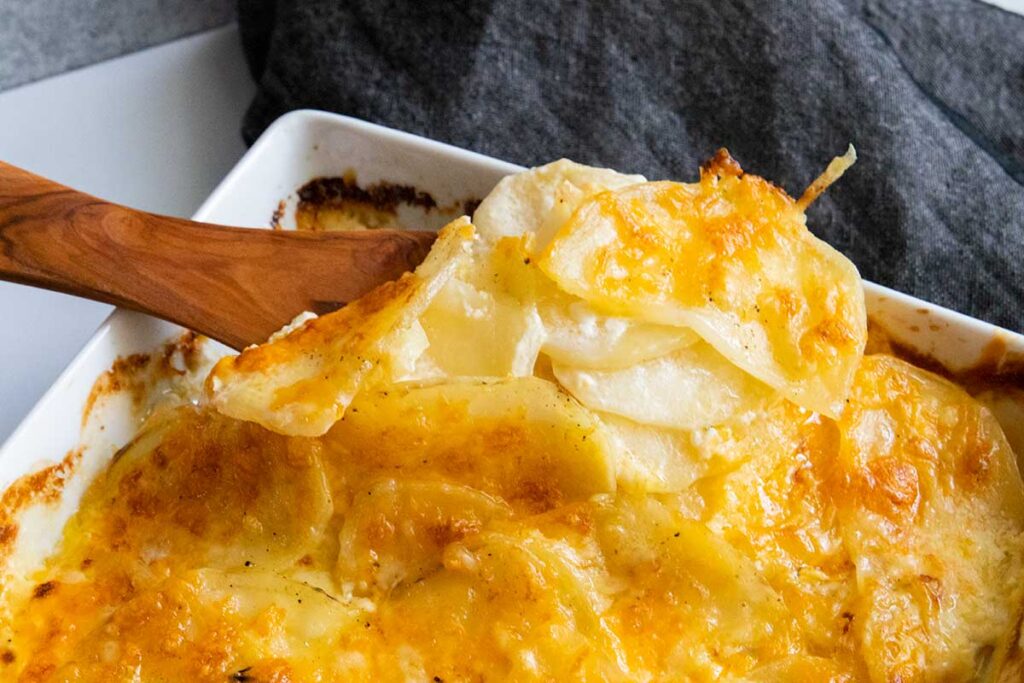 Remove from the oven and allow to rest for at least 10 to 15 minutes before serving to allow to set up.
Can I Make Ahead Potatoes Au Gratin?
Sure can! Bake them as directed then allow them to cool. Cover tightly with aluminum foil and refrigerate. When you're ready, bake covered (with the foil) at 350 degrees F until heated all the way through (25-30 minutes).
Are There Dairy Free Substitutions for Potatoes Au Gratin?
Unsweetened Almond milk and dairy free cheese are great substitutions.
Conclusion
There are tiny little differences between scalloped potatoes and au gratin potatoes. So tiny that I would venture to say that some would, and could call these scalloped potatoes as well.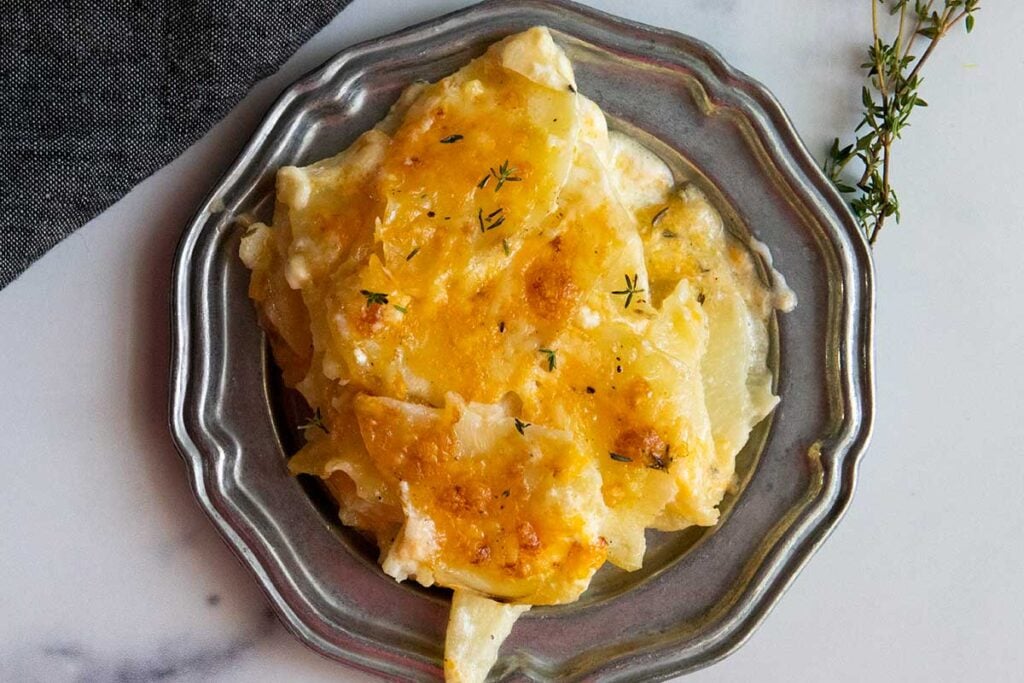 Whether scalloped or au gratin … they're delicious. The tenderness of the potatoes married with the cheeses makes this a hearty, rich potato dish that could be paired with almost anything.
So if you're looking for a great side dish that comes together pretty quickly, give this one a try. Potatoes Au Gratin with Gruyere cheese is definitely a step up in elegance from the standard mashed or roasted potatoes.
Potatoes Au Gratin With Gruyere Cheese Recipe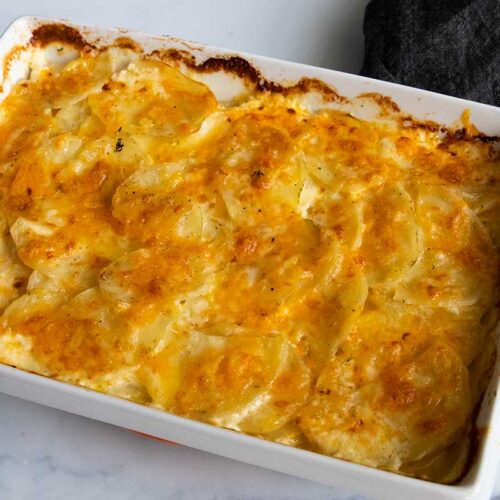 Potatoes Au Gratin With Gruyere Cheese Recipe
Elevate the humble potato with these amazing Potatoes Au Gratin with Gruyere cheese. Super simple and incredibly delicious!
Print
Pin
Rate
Ingredients
2 1/2

lbs

Russet potatoes

or Yukon Gold

1 1/2

cup

Heavy cream

2

cloves

Garlic

minced

2

tbsp

Butter

melted

1 1/2

cup

Sharp cheddar cheese

grated

1 1/2

cup

Gruyere cheese

grated

1

tsp

Kosher salt

1/2

tsp

Black pepper

freshly ground

1 1/2

tsp

Thyme

fresh, or 1/2 tsp dried thyme
Instructions
Grate the gruyere and cheddar cheeses and place into the refrigerator until ready.

In a bowl, add the heavy cream, the minced garlic, and the melted butter and combine well using a whisk. Set aside

Preheat the oven to 350 degrees Fahrenheit

Peel the potatoes and using a mandoline or knife, slice potatoes 1/8″ thick and place slices into a large pot or large bowl with cold water

When all the potatoes are sliced, drain them completely and pat dry

Layer 1/3 of the thinly sliced potatoes in a 9×13 inch casserole dish or similar baking dish

Pour 1/3 of the heavy cream mixture, 1/3 of the salt and pepper and thyme, and 1/3 of each of cheddar and gruyere cheese over the potatoes

Repeat this process for the second and third layer but on the third layer do not add the shredded cheese

Cover with aluminum foil and bake for 75 minutes or until the center potatoes are tender (use a knife to test)

Remove the au gratin potatoes from the oven and remove foil. On the top layer of potatoes add the remaining cheese and return to the oven

Bake for an additional 15 minutes or until the cheeses are golden brown and the dish is bubbling

Remove from the oven and allow to rest for at least 10 to 15 minutes before serving to allow to set up

Serve. Salt and pepper to taste
Nutrition
Calories:
480
kcal
|
Carbohydrates:
28
g
|
Protein:
17
g
|
Fat:
35
g
|
Saturated Fat:
21
g
|
Polyunsaturated Fat:
1
g
|
Monounsaturated Fat:
10
g
|
Trans Fat:
1
g
|
Cholesterol:
118
mg
|
Sodium:
555
mg
|
Potassium:
673
mg
|
Fiber:
2
g
|
Sugar:
1
g
|
Vitamin A:
1210
IU
|
Vitamin C:
9
mg
|
Calcium:
455
mg
|
Iron:
2
mg