Do you have trouble accomplishing the perfect temperature for prime rib? I did, until now!
I can't even begin to tell you how angry and disappointed I have been with overcooked prime rib made in my kitchen. When you spend that kind of money on a really good piece of beef you want it to be perfect, right?
I found a video of Method X from Food Wishes that walks you through the method in detail. This method works perfectly.  The temperature of the prime rib when cooked is slightly warm but with the au jus, each bite is ah-mazing!   So here is how it's done.
So here is how it's done.
Try our Bread Pudding!
Prime Rib Roast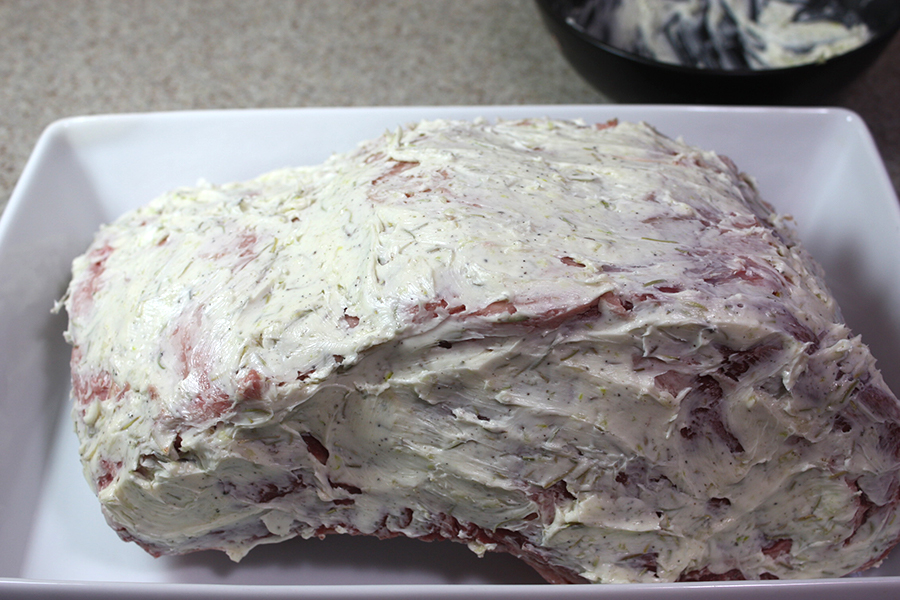 How to Cook a Prime Rib
The prime rib must come to room temperature before roasting. This step is critical in the process. Overnight or a minimum of 6 hours.
In a small bowl, mix the softened butter, herbs, garlic, and black pepper together. Brush the butter mixture all over the roast. Place the prime rib in a roasting pan.
No matter what method you use (traditional or Method X), you should always have a probe style thermometer inserted so that the internal temperature can be monitored, to avoid any chance of over-cooking.
Set the probe alarm to 125 F. for medium-rare, and pull the roast from the oven even if there's still time left on the timer when the meat thermometer reads 125 degrees F.
Now you use the formula for roasting. Multiply the exact weight times 5 minutes. For me, it was 5.81 x 5 = 29.05 minutes, which we round to 29. (The cooking time will be different for larger or smaller cuts of meat.)
Preheat the oven to 500 degrees. You will be roasting at high heat for the number of minutes you just calculated.
Place the roast in and cook for the exact amount of minutes required by the formula. After that time turn the oven off and set a timer for 2 hours. DO NOT OPEN THE DOOR FOR ANY REASON DURING THE 2 HOURS.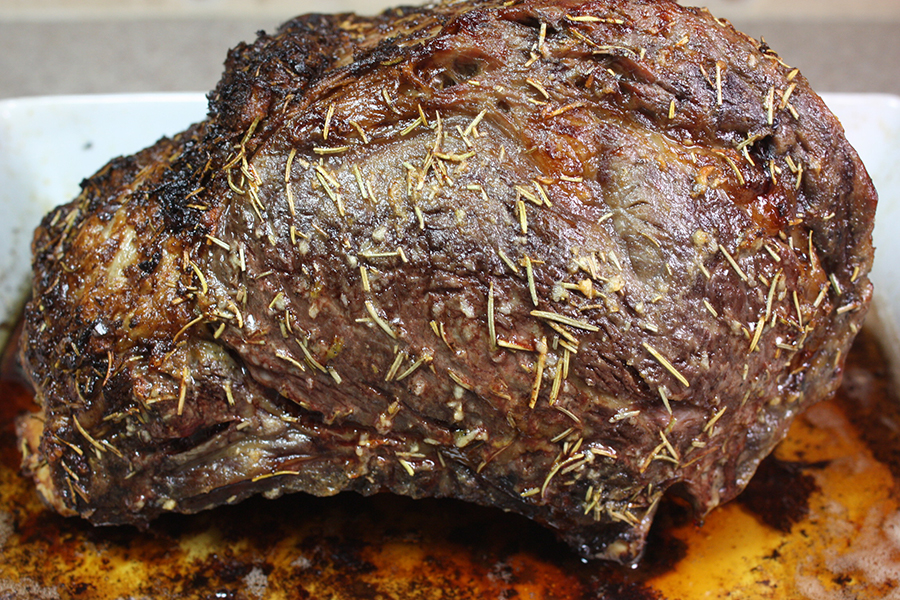 Remove the roast from the pan.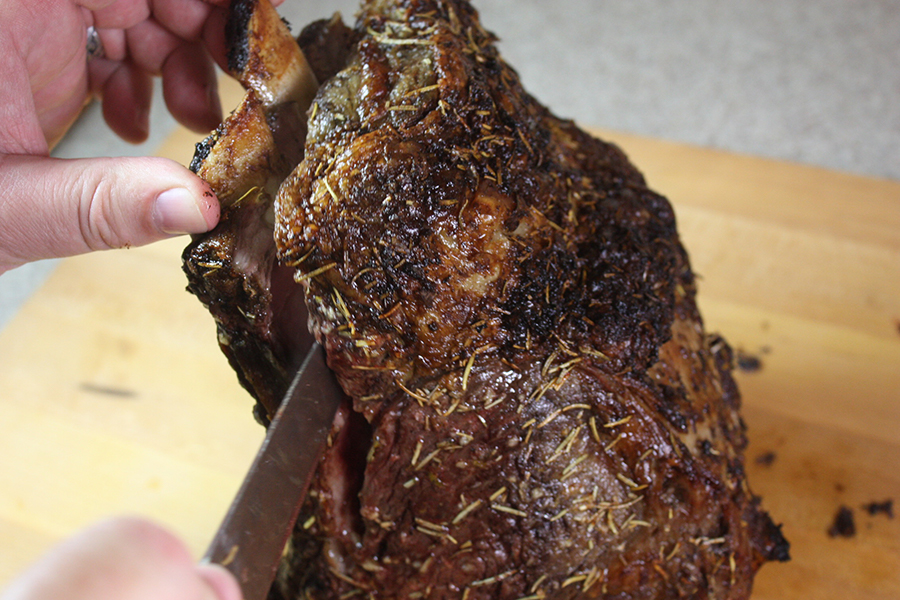 Remove the bones for easier slicing.
Our Strawberry Shortcake is always a hit!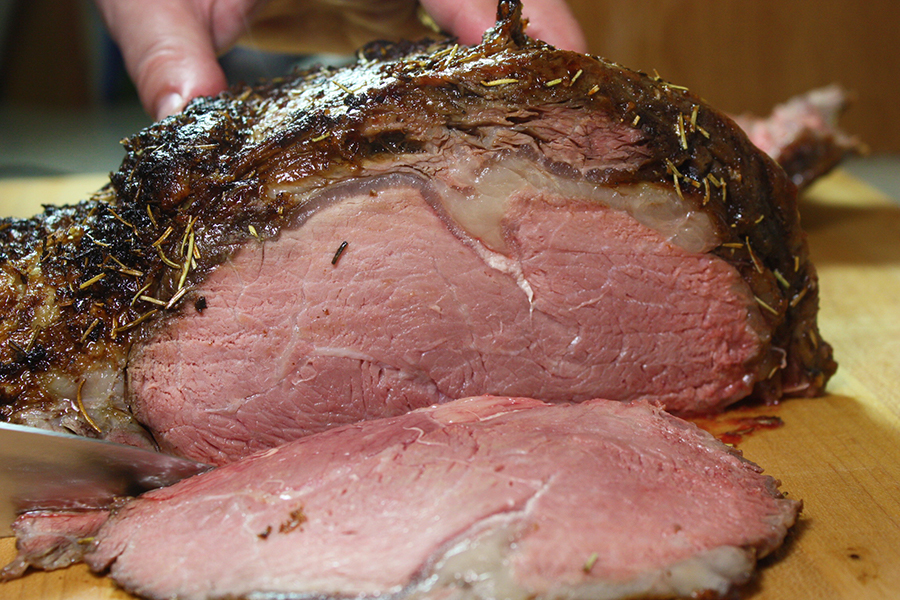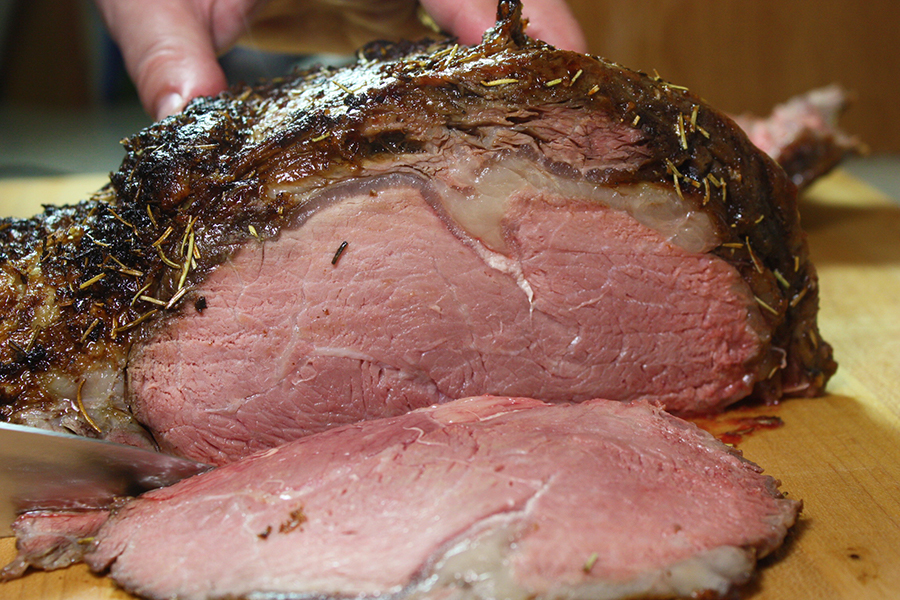 Look at that perfect medium-rare prime rib!
Slice and serve with a side of au jus. I hope you will be as impressed with yourself as I was when this beauty came out of my oven.
Check out how to cook Thick Cut Bone-In Pork Chops moist and tender!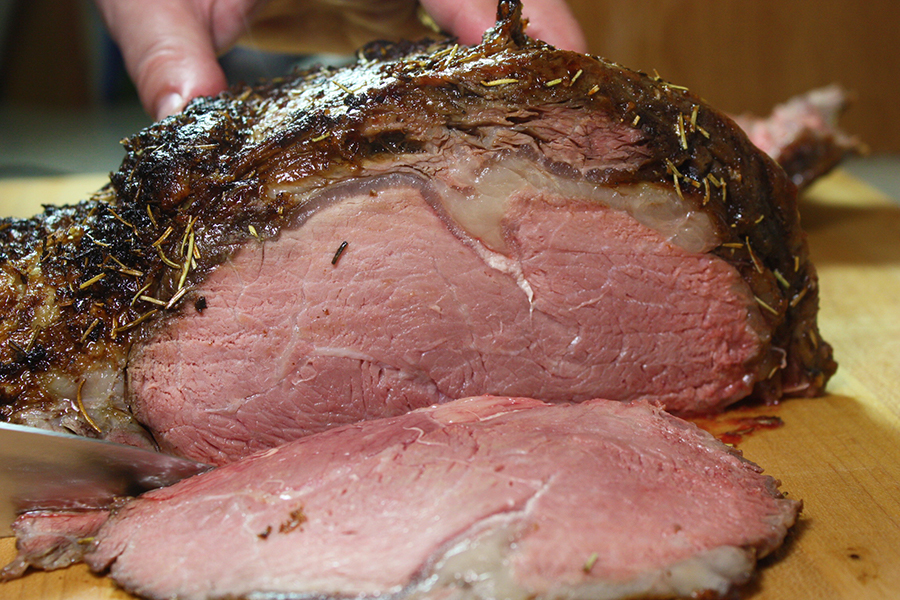 Prime Rib Roast
Prime Rib – This method makes perfect medium-rare every time!
Print
Pin
Rate
Ingredients
5

lb

prime rib

1/2

cup

butter, softened

1

tablespoon

fresh ground pepper

1

tablespoon

kosher salt

2

teaspoons

dried rosemary

3

gloves

garlic, minced
Au Jus
1/4

cup

beef fat and pan drippings

2

cups

beef broth

salt and pepper to taste
Instructions
Prime Rib Roast
Preheat the oven to 500 degrees

In a small bowl, mix the softened butter, herbs, garlic, and pepper together.

Spread butter mixture evenly over the prime rib.

Sprinkle kosher salt thoroughly over entire roast.

Multiply the exact weight of your prime rib times 5 minutes. Round up or down according to your results.

Insert the probe style thermometer. (set to temperature to 125 degrees, if yours has the capability)

Roast the prime rib at 500 degrees for the amount of time yours requires.

Turn oven off, do not open the door, leave in the oven for 2 hours.

Remove the roast from the pan and set aside.
Au Jus
Place roasting pan on the burner at medium-high heat, remove all but 1/4 cup of fat and drippings.

Add beef broth to the pan, scrap to remove the bits from the bottom of the pan and bring to boil.

Reduce to your preference, about 1 1/2 cups or less.
Nutrition
Calories:
1272
kcal
|
Carbohydrates:
1
g
|
Protein:
53
g
|
Fat:
116
g
|
Saturated Fat:
52
g
|
Cholesterol:
269
mg
|
Sodium:
1782
mg
|
Potassium:
912
mg
|
Fiber:
1
g
|
Sugar:
1
g
|
Vitamin A:
473
IU
|
Vitamin C:
1
mg
|
Calcium:
42
mg
|
Iron:
6
mg