Grilled Beer Brats with Peppers and Onions
Step up the grill game with some delicious grilled brats braised in peppers, onions, and beer! The flavors are amazing!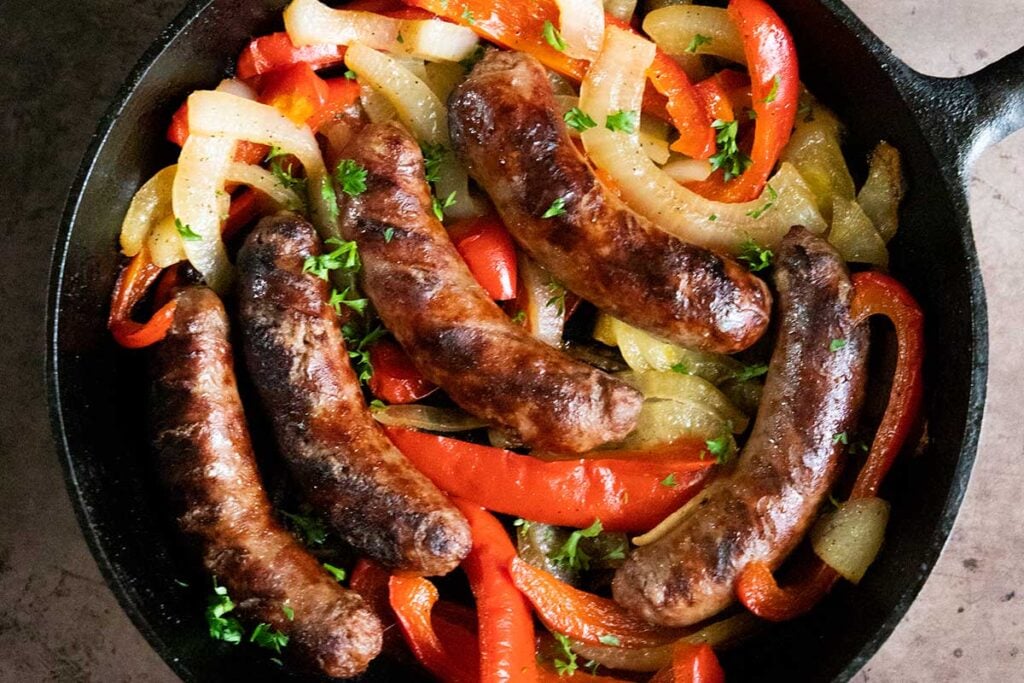 Grilled beer brats are a great way to mix up the grill game, I said it. Hamburgers, hot dogs .. of course. But why not just take a step further, mix it up just a bit, and bring some explosive flavors to the picnic table!
This recipe is so easy and the rewards of the great flavors will have you kicking yourself for all the missed opportunities that you had in the past. Grilled brats are very tasty, these take it a step further!
The crispiness and flavor of the beer brat mixed with the sweetness of the peppers and onions goes together so well. And when you put it all together on a steamed bun … man o man, super goodness.
How To Make Grilled Beer Brats With Peppers and Onions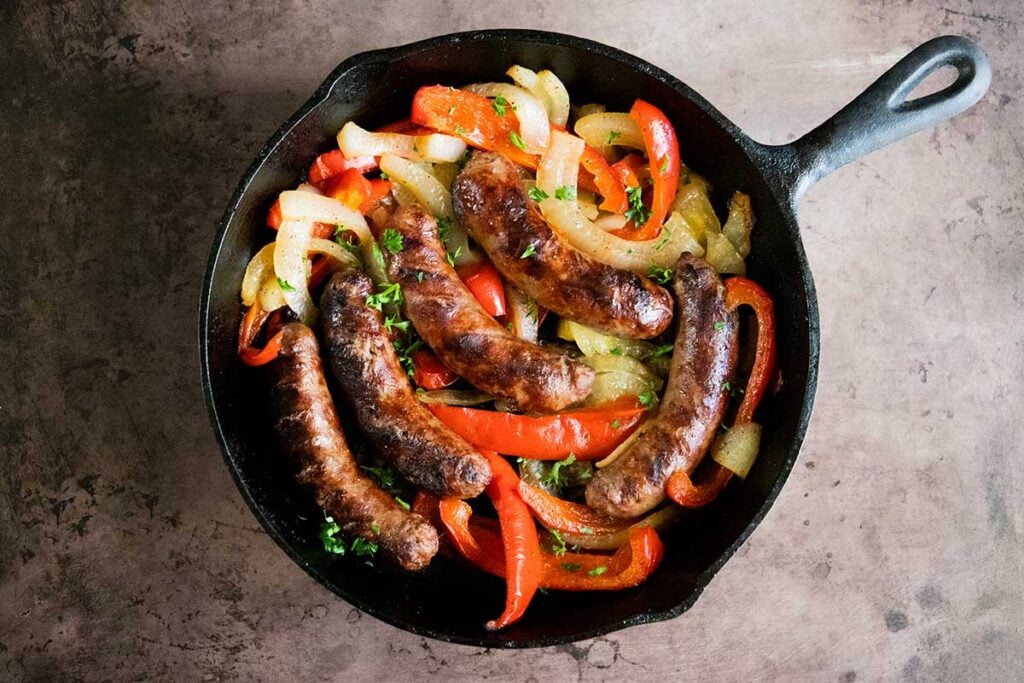 What Do I Need?
This recipe is super easy and comes together in about 30 minutes. You will need a few things:
A grill (duh)
10″ to 12″ cast iron skillet
Brats (we did a package with 5)
1 large onion
1 bell pepper (we used red bell pepper)
1 16 oz beer (we opted for a summer ale)
1 tablespoon of oil
Hot dog buns
Any additional favorite toppings, such as sauerkraut, mustard, etc.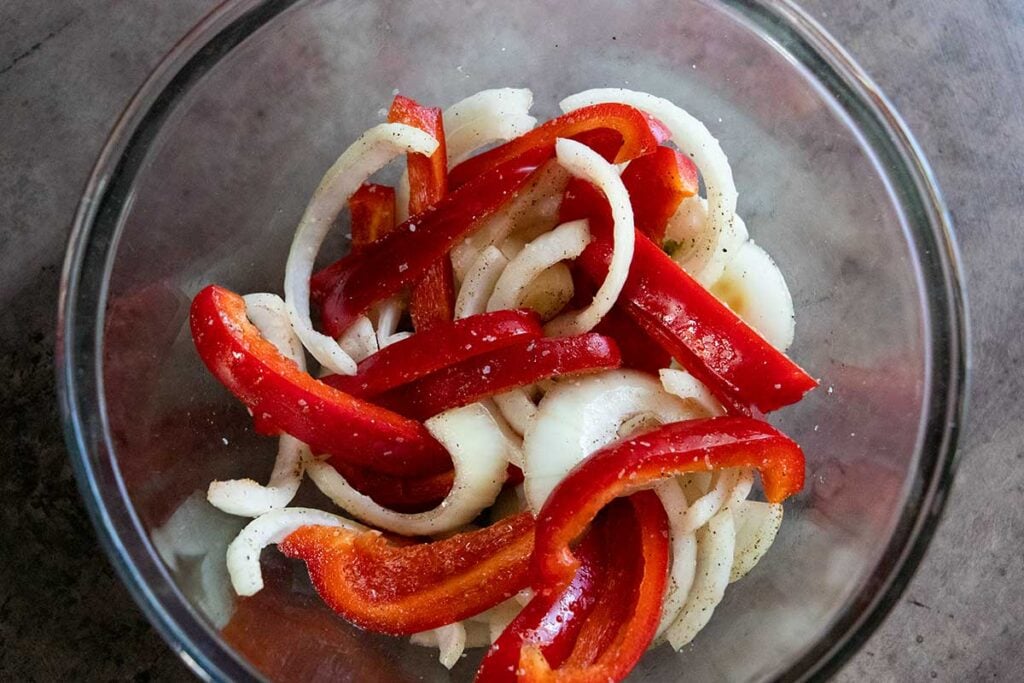 To start, slice the onions and peppers. We recommend slicing the peppers and onions relatively thin so when you're eating your brat, you're not trying to wrangle a big bite of pepper or onion.
Place the sliced vegetables in a bowl and add 1 tablespoon of oil. You can use any kind of oil you like, we used olive oil. Toss in a couple of dashes of salt and pepper as well.
Cooking The Brats
Startup the grill and toss on the cast iron skillet. While that is heating up place the brats on the grill over direct heat and give them a good char all around. This takes about 5 minutes.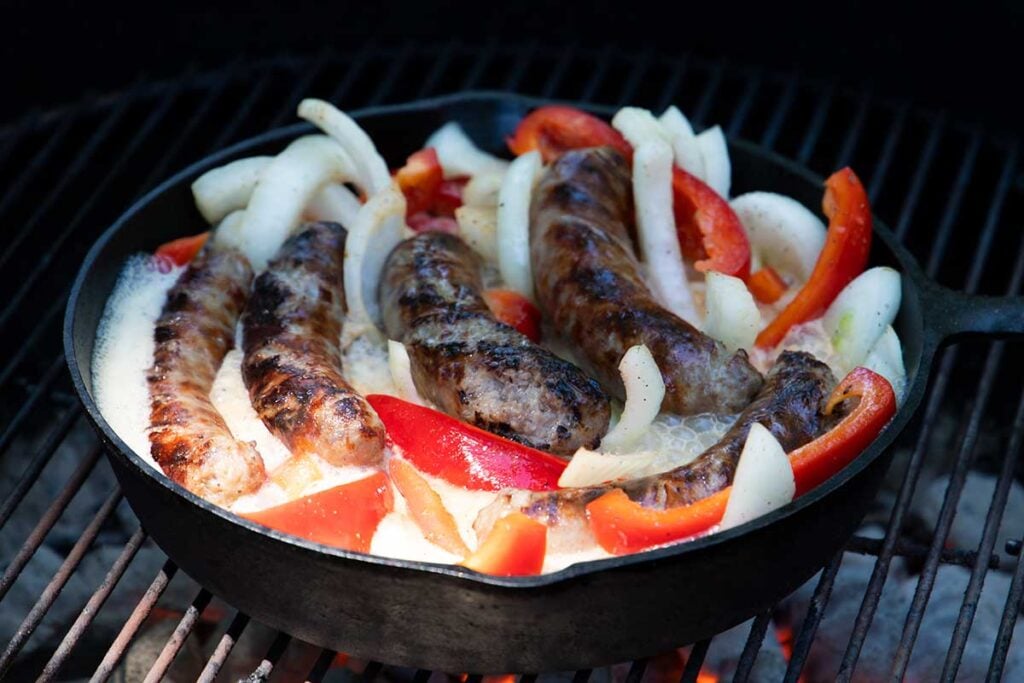 When the skillet is nice and hot, and it should be after 5 minutes, add the onions and peppers and brats to the skillet and pour the beer in.
A note on the beer: use a light summer beer vs something really hoppy. We used Samuel Adams Summer Ale and it was fabulous. We also considered using Blue Moon, which would be pretty darn tasty as well.
When you pour the beer in, depending on the size of your skillet, you might have to pour in half, then add the other half once it calms down due to the heat of your skillet.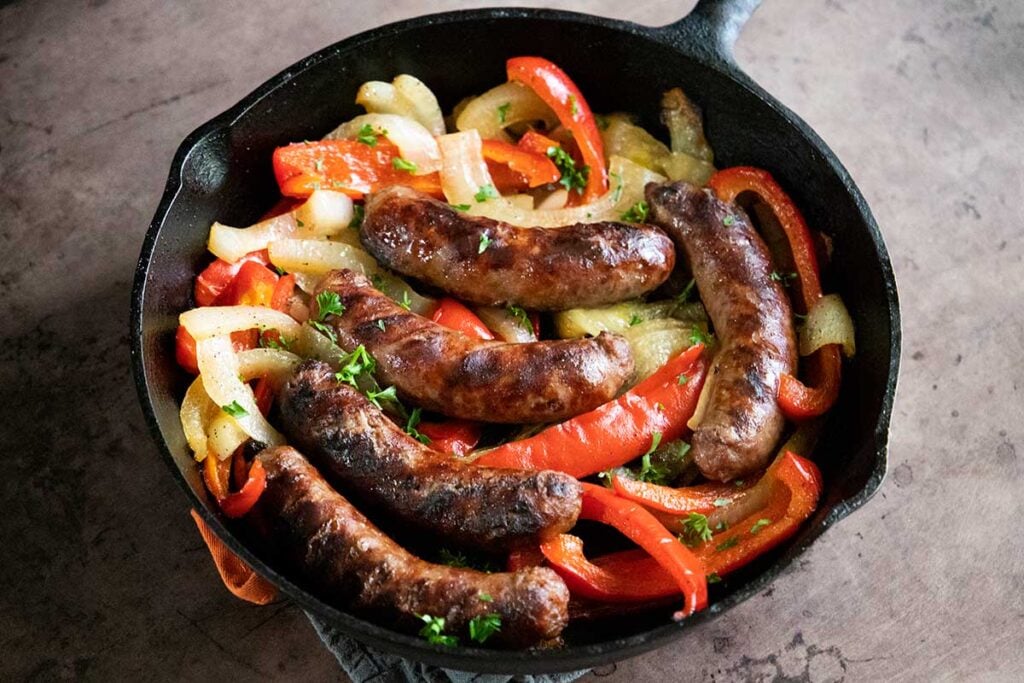 Cover with a lid or some aluminum foil and allow to cook over medium heat for 15 to 20 minutes. The peppers and onions should be fully cooked and the beer should be reduced until it's almost gone.
Using some pot holders, remove from the grill and serve immediately. Place the brat in a bun and top with the peppers and onions and any other toppings you choose.
Conclusion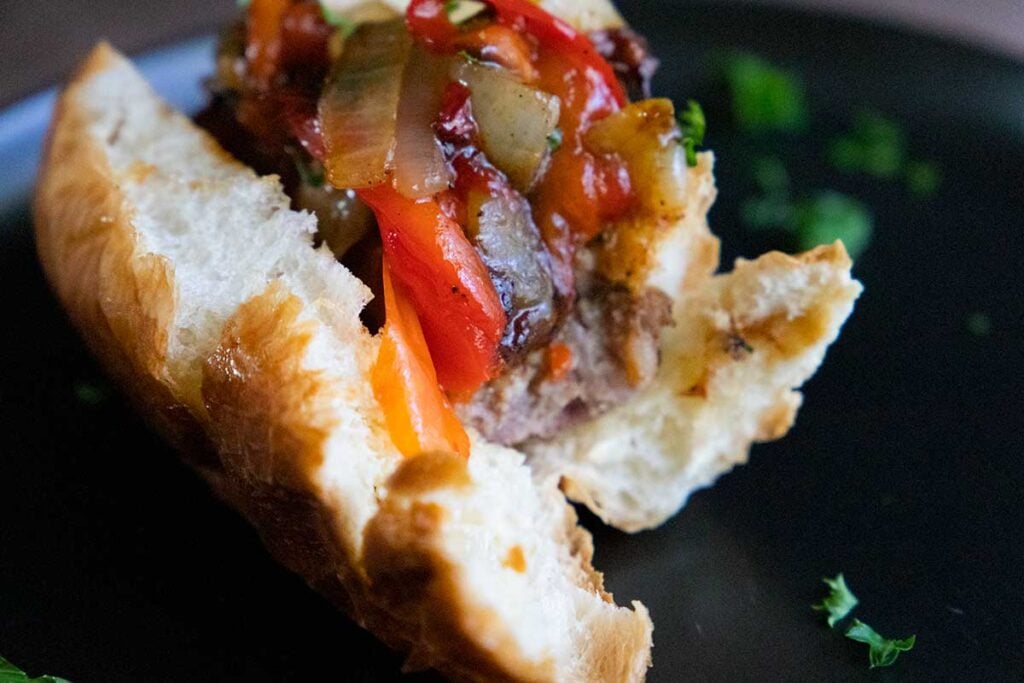 I had one with just the peppers and onions – delicious! I had one with peppers and onions and a very tasty stone ground mustard – delicious! I had one plain, no bun, no onions or peppers – DELICIOUS!
The beer that you decide on gets absorbed into the brats and vegetables and you can taste the hints of it. It really was amazing and this will happen every time going forward.
I will definitely play around with the various beers out there to see what other flavor combinations can be had. This is a great brat recipe that can be played with and tweaked to your particular tastes.
Hope you try it, you won't be disappointed! Time for lunch, and I am going for leftovers!
We also have a great turkey burger recipe that might interest you. Check it out, it's awesome!
Grilled Beer Brats with Peppers And Onions Recipe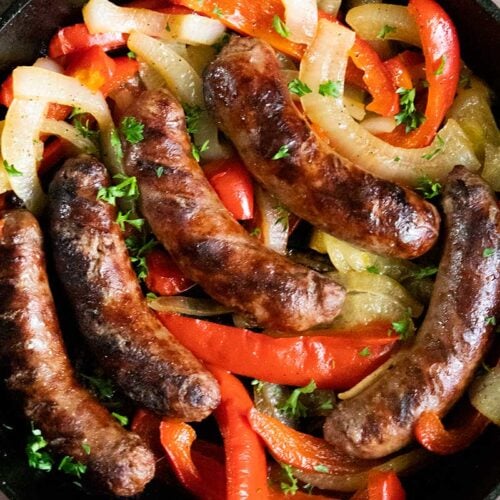 Grilled Beer Brats with Peppers And Onions Recipe
Step up the grill game with some delicious grilled brats braised in peppers, onions, and beer! The flavors are amazing!
Print
Pin
Rate
Equipment
Grill

10" – 12" Cast Iron Skillet
Ingredients
5

Brats

Typically 1 package

1

Onion

Sliced thin

1

Bell Pepper

Sliced thin

16

oz

Beer

Light ale variety

5

Hot Dog buns

1

tbsp

Olive oil

Vegetable oil is fine as well

dash

Salt

dash

freshly ground black pepper
Instructions
Slice up the peppers and onions thinly and place in bowl. Add 1 tablespoon oil and a dash of salt and pepper to veg and toss, coating the peppers and onions

Start grill, place the cast iron skillet on to the grill to start heating it

Grill brats, getting a good char on all sides, about 5 minutes

Add the peppers, onions, brats and beer to cast iron skillet

Cover and allow to cook for about 20 minutes until vegetables are fully cooked and beer has reduced down

Remove from the heat and serve immediately with favorite toppings
Nutrition
Calories:
393
kcal
|
Carbohydrates:
30
g
|
Protein:
14
g
|
Fat:
21
g
|
Saturated Fat:
7
g
|
Polyunsaturated Fat:
2
g
|
Monounsaturated Fat:
10
g
|
Cholesterol:
49
mg
|
Sodium:
776
mg
|
Potassium:
390
mg
|
Fiber:
2
g
|
Sugar:
5
g
|
Vitamin A:
750
IU
|
Vitamin C:
33
mg
|
Calcium:
102
mg
|
Iron:
2
mg