Roasted Chicken with Dijon Cream Sauce
Roasted chicken with dijon cream sauce is melt-in-your-mouth delicious! This is my take on the French Poulet à la Dijonnaise (chicken in a dijon white wine sauce).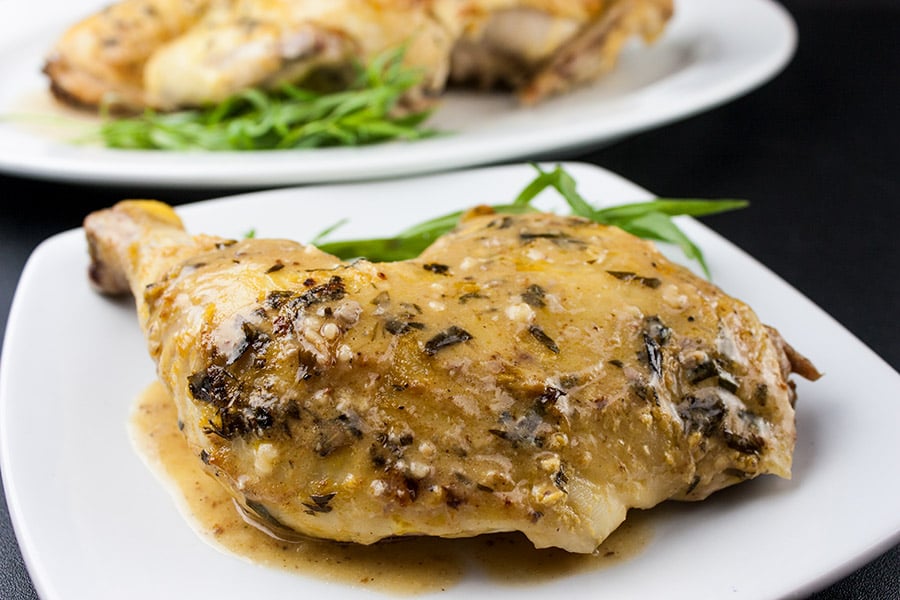 Tender roasted chicken smothered in a creamy, tangy tarragon sauce. A simple bistro-style dish that makes a great weeknight meal yet elegant enough to serve dinner guests!
Try our Bread Pudding!
Roasted Chicken with Dijon Cream Sauce
Preheat oven to 400 degrees.
Spatchcock chicken cooks the chicken faster and more evenly. (A whole intact chicken can be roasted with this sauce but it will take longer to cook.) Place the chicken breast-side down on a cutting board. Use heavy-duty kitchen scissors to cut out the backbone by cutting down from neck to tail along each side. Remove and discard. Open the bird up like a book. Use a sharp paring knife to cut down the center of the bird, just deep enough to incise the cartilage covering the breastbone. Turn the chicken over and press down on the chicken to flatten it completely. ( I have pressed the chicken flat without incising the cartilage and it works just as well.)
Dry the chicken with paper towels, season with salt and pepper.
Place the chicken skin side up in an oven-safe skillet or roasting pan. Brush the chicken with the dijon mustard, sprinkle the fresh tarragon evenly over and spoon the creme fraiche over the entire chicken.
Roast the chicken for 40-60 minutes, until the thickest part of the breast registers 150°F on an instant-read thermometer and the legs are at least 175°F.
Remove the chicken from the pan to a plate to rest. Remove all but 2 tablespoons of fat from the roasting pan. Place the pan over medium-high heat and bring to a boil, whisk in 1 tablespoon of flour and cook for at least 1 minute. Add the 1/4 cup of white wine, 1 cup of chicken stock, and boil until it thickens about 3-4 minutes.
Slice the chicken into serving size pieces and drizzle with the sauce.
Serve and enjoy this roasted chicken with dijon cream sauce!
Also, try our favorite Slow Cooker Rotisserie Chicken.
Chicken Recipe with Mustard Cream Sauce