Slow Cooker Roasted Chicken
Slow cooker roasted chicken will become one of your new favorite meals! It's easy to prep, set, and cook. No-fuss, no muss! This is a great recipe for those busy days!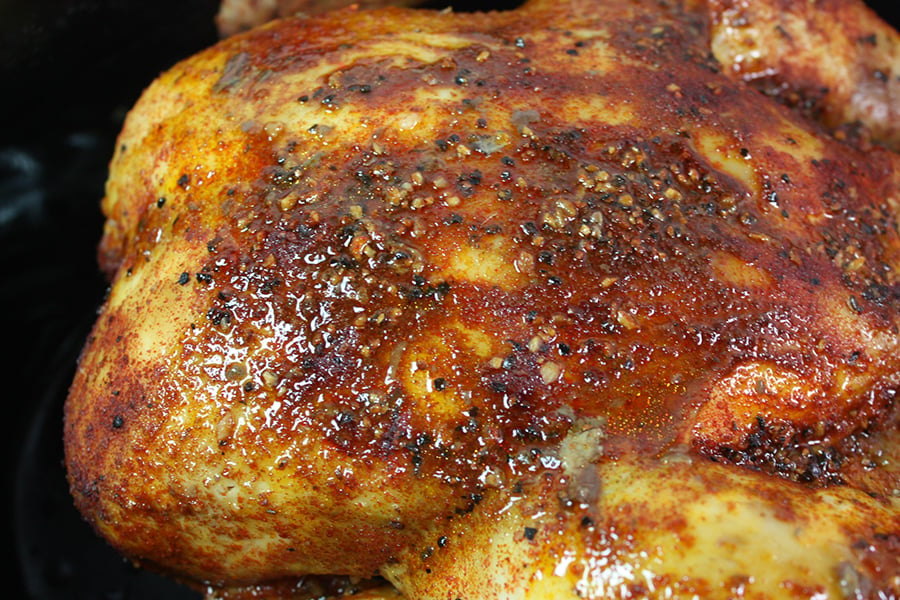 Cooking a whole chicken in the slow cooker creates a super moist, tender, and juicy whole chicken.
You can prep this chicken in no time flat before you leave for work. Or better yet, prepare it the night before and place the bowl in the fridge.
When you wake up the next morning, remove it from the fridge. I like the insert of the slow cooker to warm to room temperature before placing it in the unit to cook. So I pull it out and place it on the counter to come to room temperature while I'm scrambling around in the fridge for the cream to put in my first cup of coffee.
Ingredients Needed for CrockPot Whole Chicken
Whole chicken – 4 to 5 pounds of a whole chicken.
Smoked paprika – Or regular paprika. The slow cooker will not brown the skin so this helps with coloring the chicken.
Steak seasoning, salt, and pepper
Slow Cooker Whole Chicken Video
How To Make A Whole Chicken In The Crock Pot
Place a few small balls of aluminum foil on the bottom of the slow cooker. So the chicken isn't sitting in its own juices while cooking.
Mix spices in a small bowl. (I use this steak seasoning
)
Pat the chicken dry with paper towels. Rub the seasoning mix all over the outside and inside of the chicken. Put the chicken breast side up in the crock.
Cover and cook on low for 6-7 hours, or cook on high for 4-5 hours until the chicken is cooked through and reaches an internal temperature of 165 degrees F. (Cooking time can vary not all slow cookers are the same.)
Variations
Switch up the seasonings to whatever you wish. Try store-bought Rotisserie Chicken Seasonings such as Badia or McCormick's.
Couldn't be easier, right? Crockpot whole chicken is too easy to not make every week!
If you like crispy skin you can carefully place the chicken on a baking sheet. Put the chicken in the oven under the broiler to crisp up the skin, if desired.
Carve, serve and enjoy this crock pot whole chicken!
More Delicious Recipes
Slow Cooker Whole Chicken Recipe