Buffalo Chicken Dip Recipe
Buffalo chicken dip easy and fast? You got it. How does ingredients to stomach in 30 minutes sound? Yep, I thought so.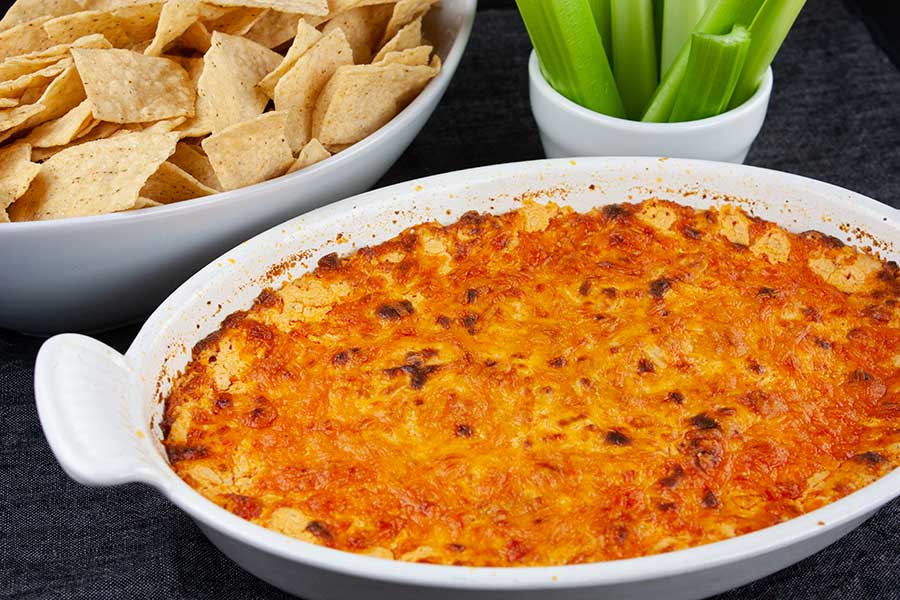 This buffalo chicken dip recipe is great for any occasion when you have friends over or even when you're chilling with your family watching a movie. It's quick, it's easy, and it's good! Hot, cheesy goodness mixed with some spicy and salty is a PERFECT snack that hits all the taste buds like the fist of an angry god! You're gonna love this buffalo chicken dip.
But for ME .. the best time is for this dip is football season. When football just starts to peek it's head over the horizon this recipe comes out.
Now … you can just have a little while watching football. Or … you can make a TON and eat yourself silly on this stuff for 12 hours watching game after game over the weekend and on Mondays. Buffalo chicken dip doesn't care. It will be there for you anytime anyway you want it.
This dip, with a favorite beverage, will get you through anything: whether your offense drives up the field like a tank or your defense can't protect your quarterback on the right side. This buffalo chicken dip will be your best friend. Give it a whirl.
How To Make Buffalo Chicken Dip
Ok, let's get this party started. First, preheat the oven to 350 degrees F. This comes together so fast you'll probably be waiting for the oven to reach temp.
In a large bowl mix up your sour cream, cream cheese, and blue cheese dressing.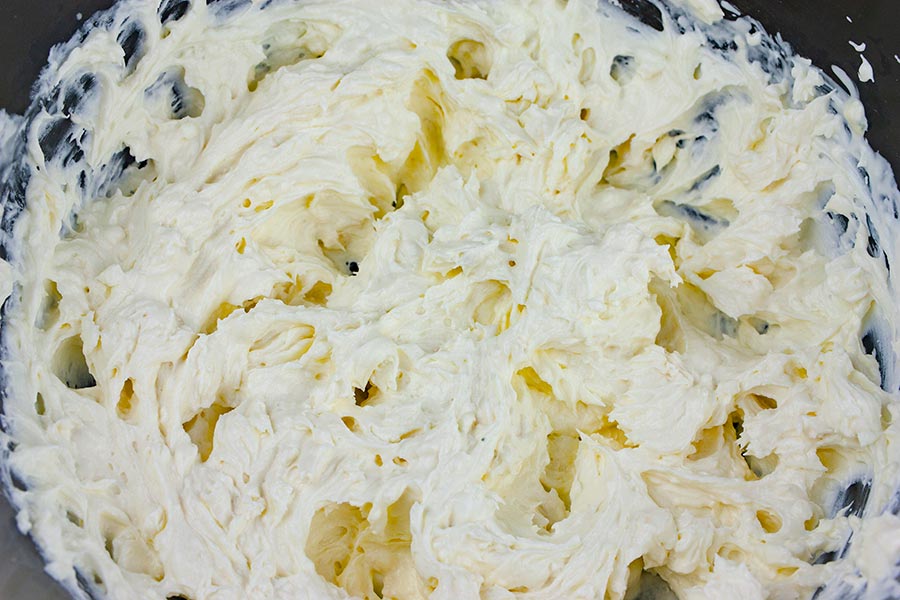 Next, add your chicken, buffalo sauce, and 1 cup of cheddar cheese. Stir to combine. Transfer the dip into a small casserole dish and spread evenly as needed. Top with the remaining 1/2 cup of cheddar cheese.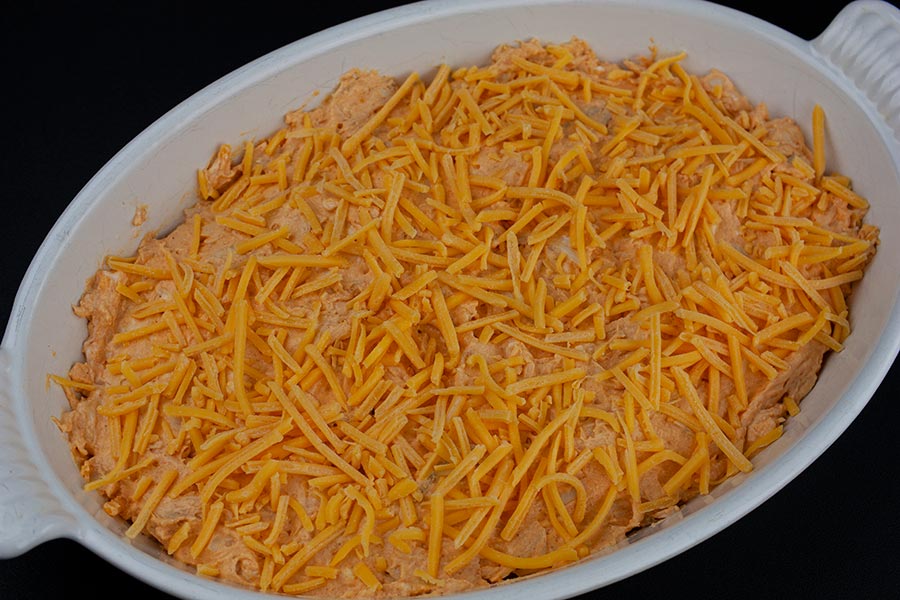 Put the dish into the oven and bake for 15 minutes or until cooked through. Serve with your favorite dip delivery choices, such as a corn chip or toasted baguette. To keep this dish low carb, you can also serve with celery sticks or some other such thing. I recommend sticking with the chips!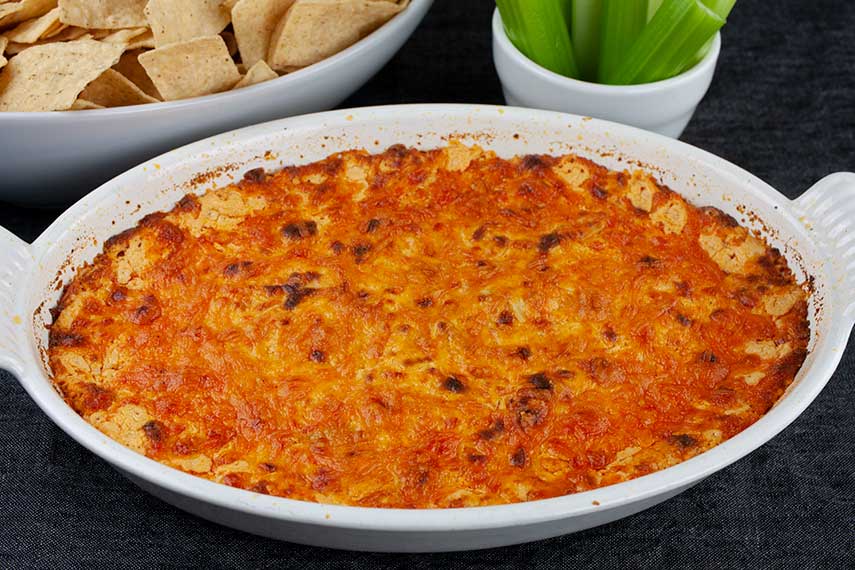 There you go, folks. Nice and easy buffalo chicken dip … a piece of cake and ready for your next tailgate or get-together or movie night.
We love to throw this together on probably too many an occasion but it is so easy and so good to not. Let us know what you think if you decide one day to put this very easy buffalo chicken dip together.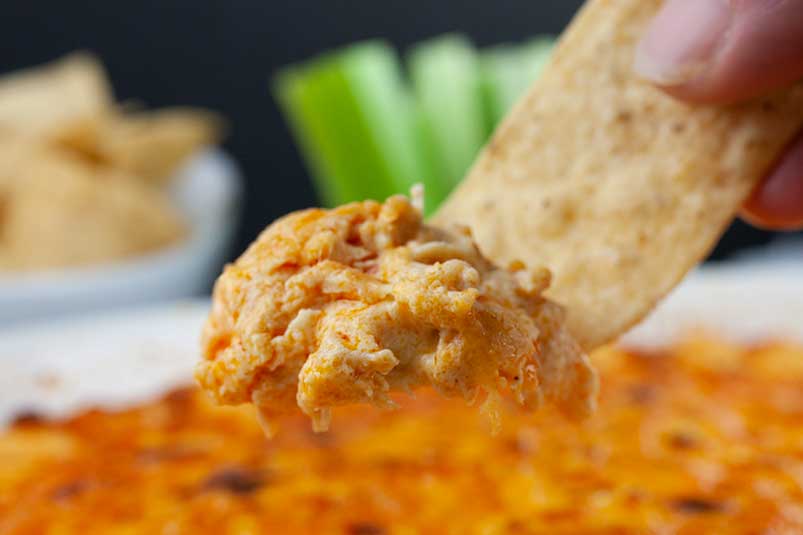 Buffalo Chicken Dip Recipe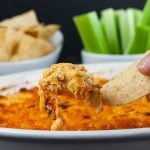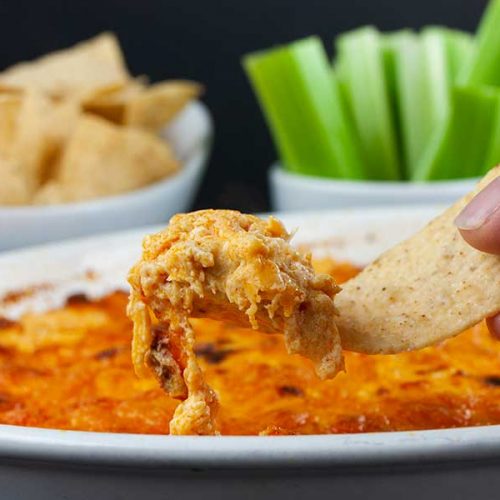 Print Recipe
Buffalo Chicken Dip
Make this easy buffalo chicken dip for your next get-together. It's so easy and so good that this will become a standard go-to recipe whenever you need a quick and easy dip or appetizer.
Ingredients
Buffalo Chicken Dip
8

oz

Cream cheese

1/2

cup

Blue cheese dressing

1/2

cup

Sour cream

1 1/2

cups

Shredded cheddar cheese, divided

1/2

cup

Buffalo sauce

2

cups

Cooked chicken, shredded
Chips, etc.
1

Bag

Chips

and/or

1

Loaf

Baguette

Sliced and toasted and/or

1

Bunch

Celery

chopped into short stalks
Instructions
Preheat oven to 350 degrees F

In a large bowl, combine cream cheese, sour cream, blue cheese dressing, and 1 cup of shredded cheddar cheese

Add 2 cups chicken and 1/2 cup buffalo sauce

Transfer to casserole dish and spread evenly as needed

Bake 15-20 minutes, until hot and bubbly.

Serve immediately with chips, toasted baguette slices, and celery sticks as desired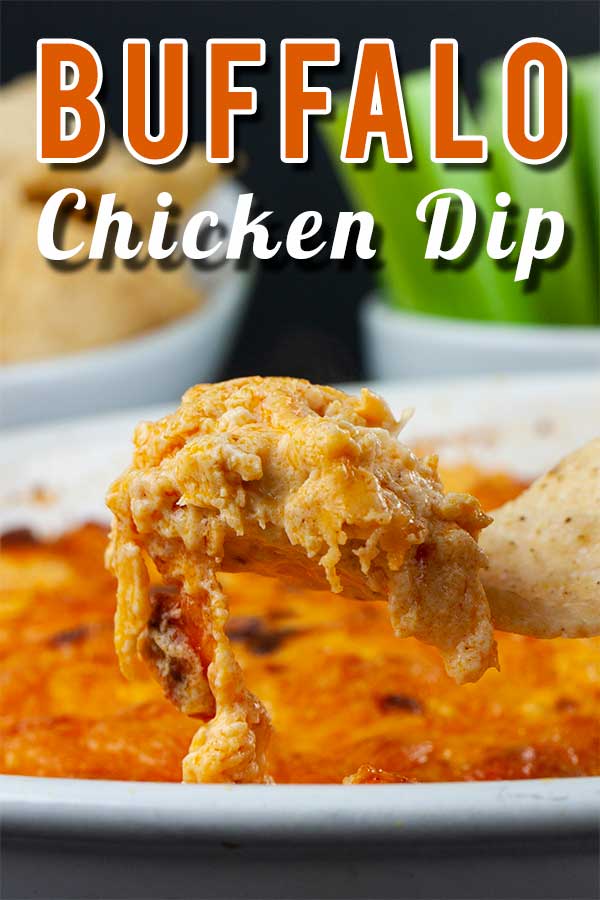 More Delicious Recipes