Baking Sourdough On A Smoker
Baking sourdough on a smoker just took baking to another level! Use that smoker and don't worry about heating your oven.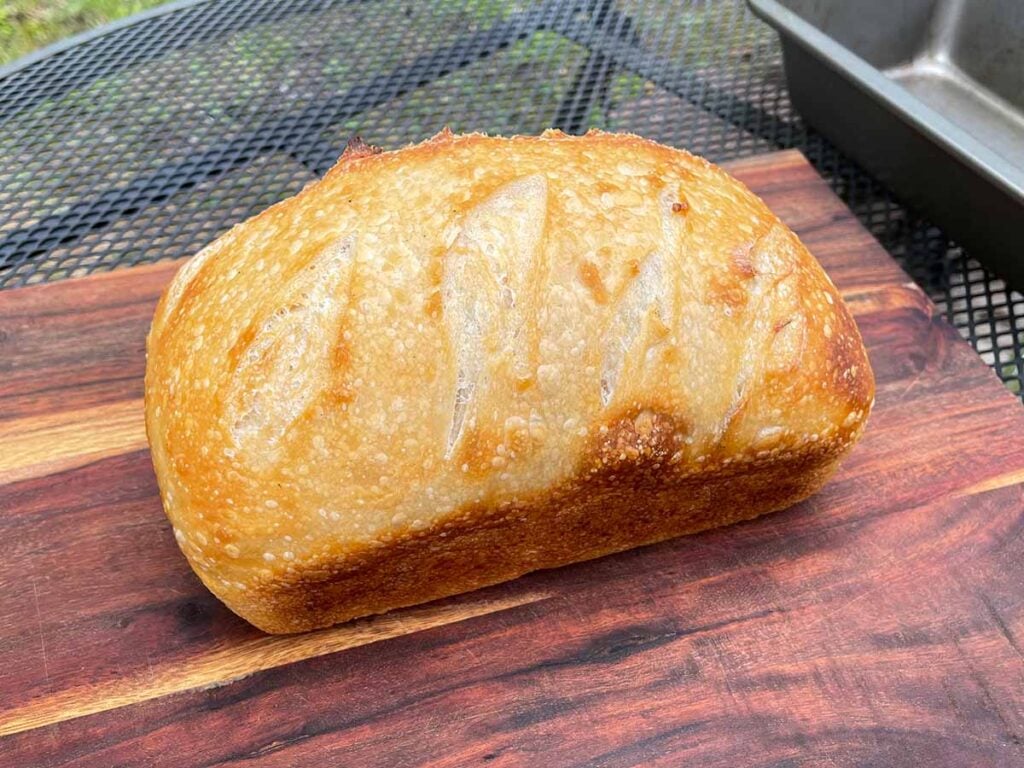 One of the things Leigh and I enjoy making over and over again is our sourdough. It never gets old to us. In fact, there is a small rivalry between us as to who makes the better loaf.
But only one person in this house has used a smoker for baking bread. And that's me. 🙂
First things first, can you use a smoker to bake bread? If you can get your smoker nice and hot, you absolutely can.
My newest toy is the Masterbuilt 1050. I love this thing. It has not failed me once.
And while I was a bit troubled by the fact that it was electric, I solved that issue by figuring out how to get it to run off of a battery charged with solar power.
But that's a different story.
After countless racks of ribs and pork butts, I wondered what other things I could do with this smoker.
And then it hit me!
Don't Sweat The Recipe is supported by its readers. We may earn a commission if you purchase through a link on our site. Learn more.
Sourdough On A Smoker
This post does not cover making the sourdough bread, only baking it on the smoker. Please check out our sourdough post if you need to know that first step.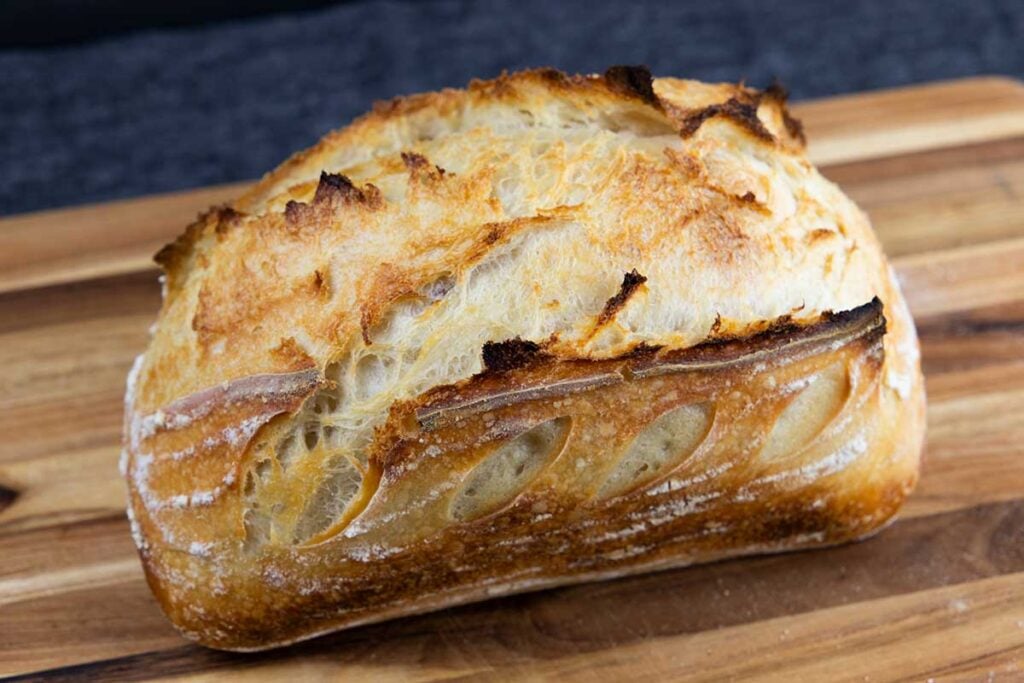 We spent two years just working on it before we published it. We've been making it for years now, and it is rock solid.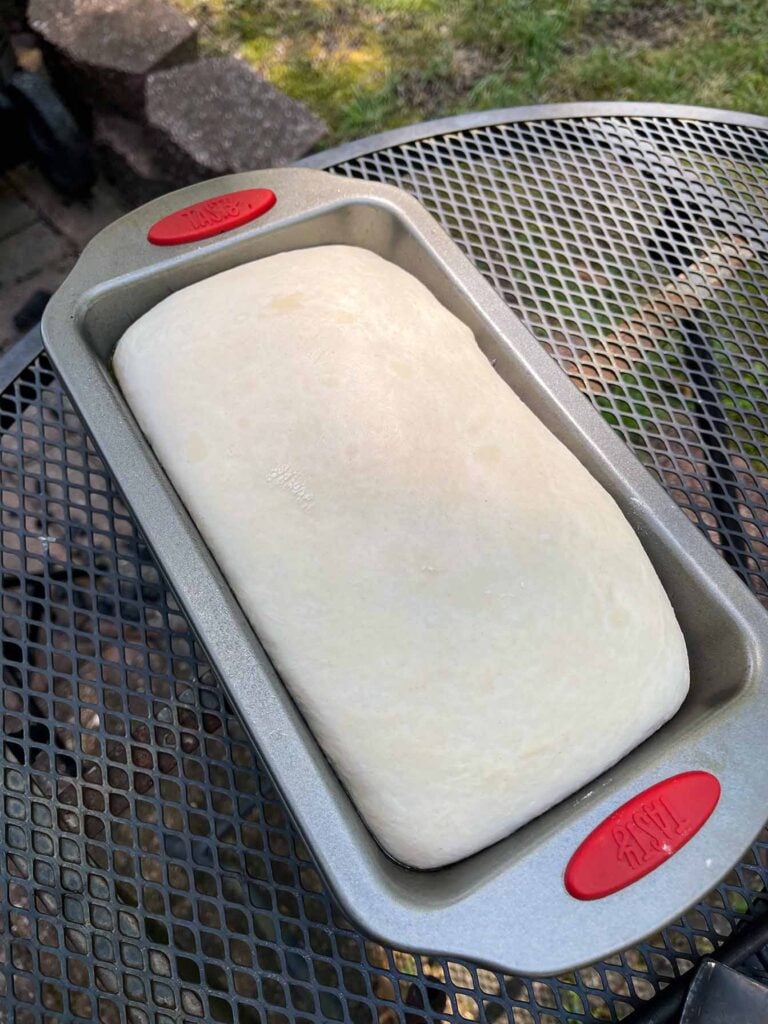 When you're ready to bake, get the smoker to 500 degrees F. Let it stay there for about 10 minutes to keep the smoker's heat steady.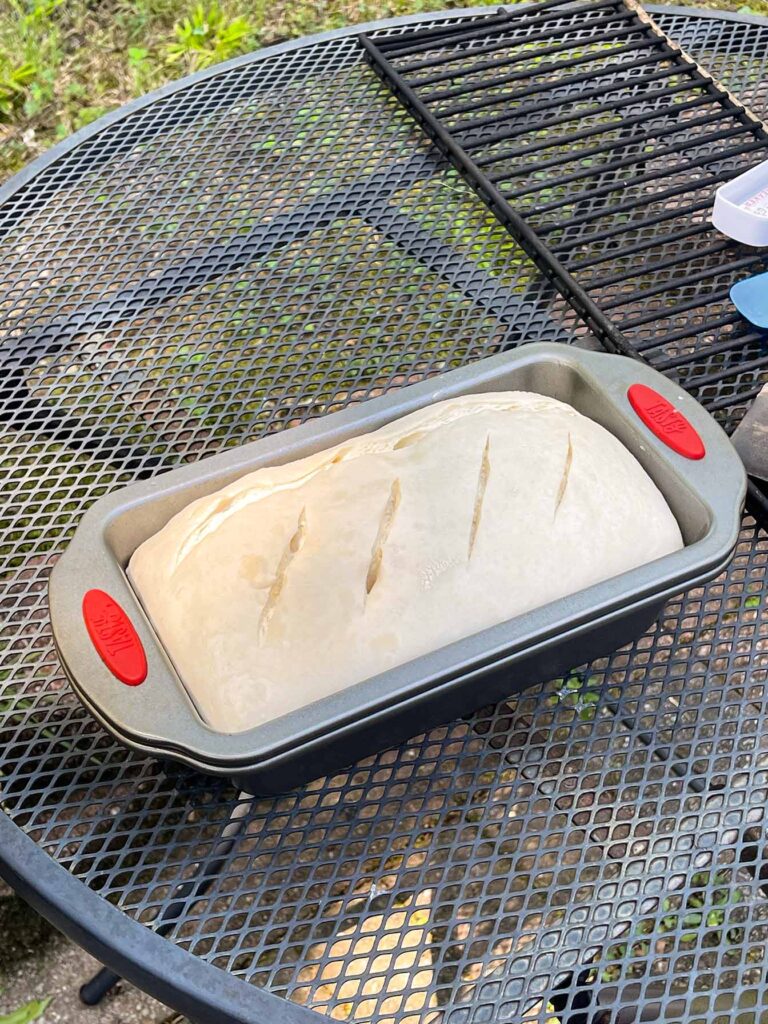 Score the bread using deep cuts with a lame or sharp knife. This allows the bread to rise as it's baking.
Fill a small baking pan with water. This will go into the smoker with the bread to add steam to the bread-making process.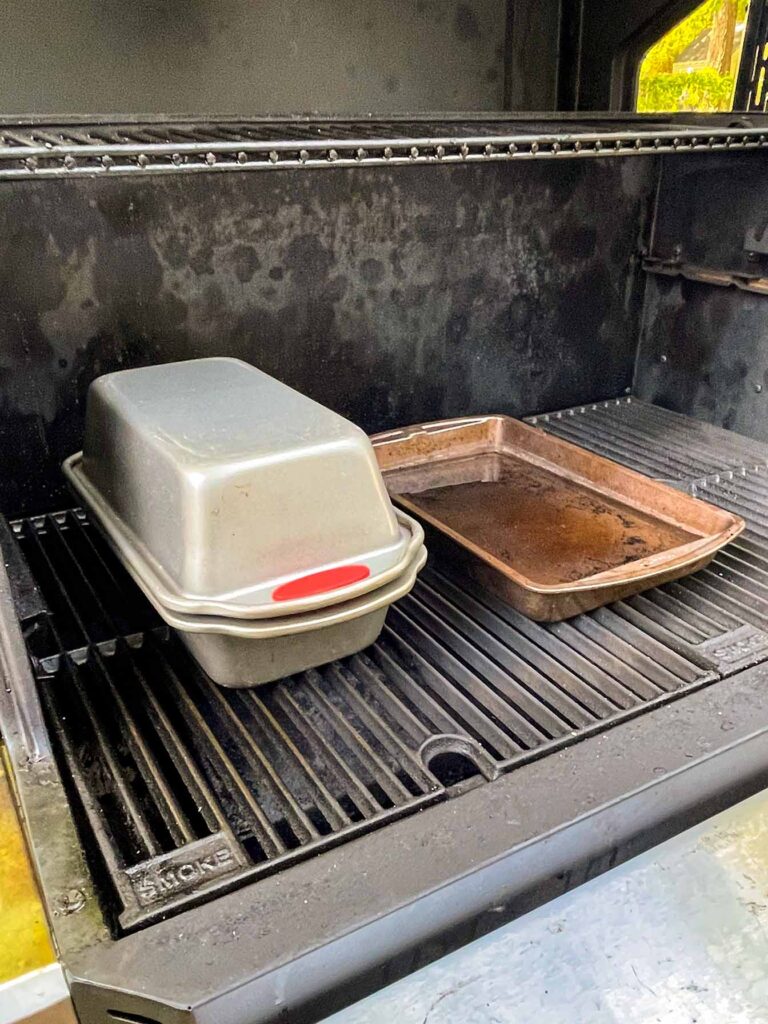 When you're ready, using a spray bottle, mist the top of the sourdough loaf about 10 times and cover. Place the bread and the water pan into the smoker.
Drop the temperature on the smoker to 435 degrees F and close the lid. Continue to bake for 20 minutes.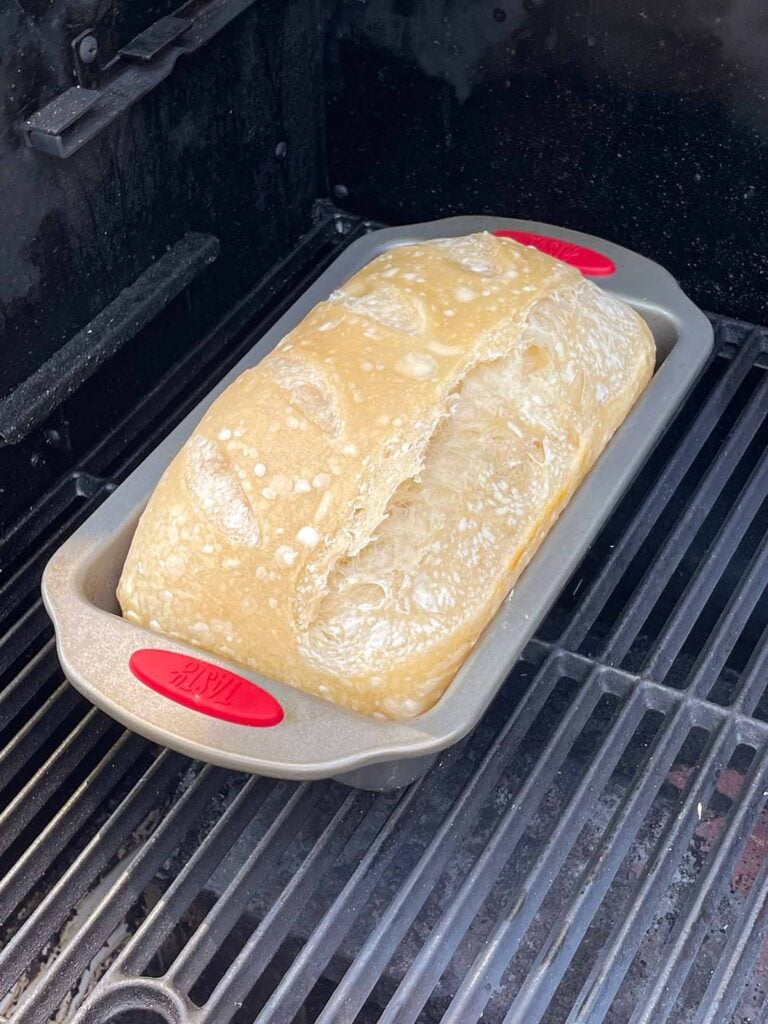 After 20 minutes, remove the cover from the sourdough. Turn the bread 180 degrees to allow for even cooking, and remove the water tray.
Close the lid and continue to bake for 15 to 20 minutes until the top is a nice golden brown.
You can also check the internal temperature of the loaf of sourdough. It's done when it hits 200 degrees.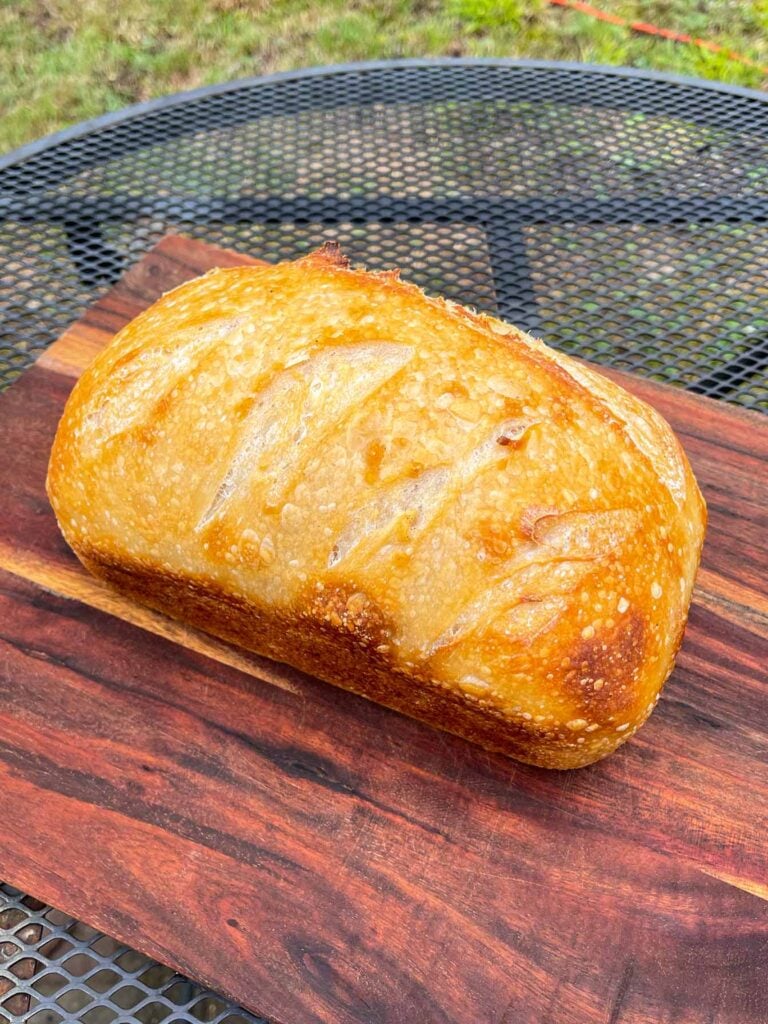 Pull the loaf out and let it rest. Now, the hard part.
Leave it alone until it cools. We only follow this advice if we're doing two loaves or more. That first one gets cut after about 20 minutes. 🙂
Nothing beats fresh bread! And what's nice about using the smoker is you can do as many loaves as you can fit in there.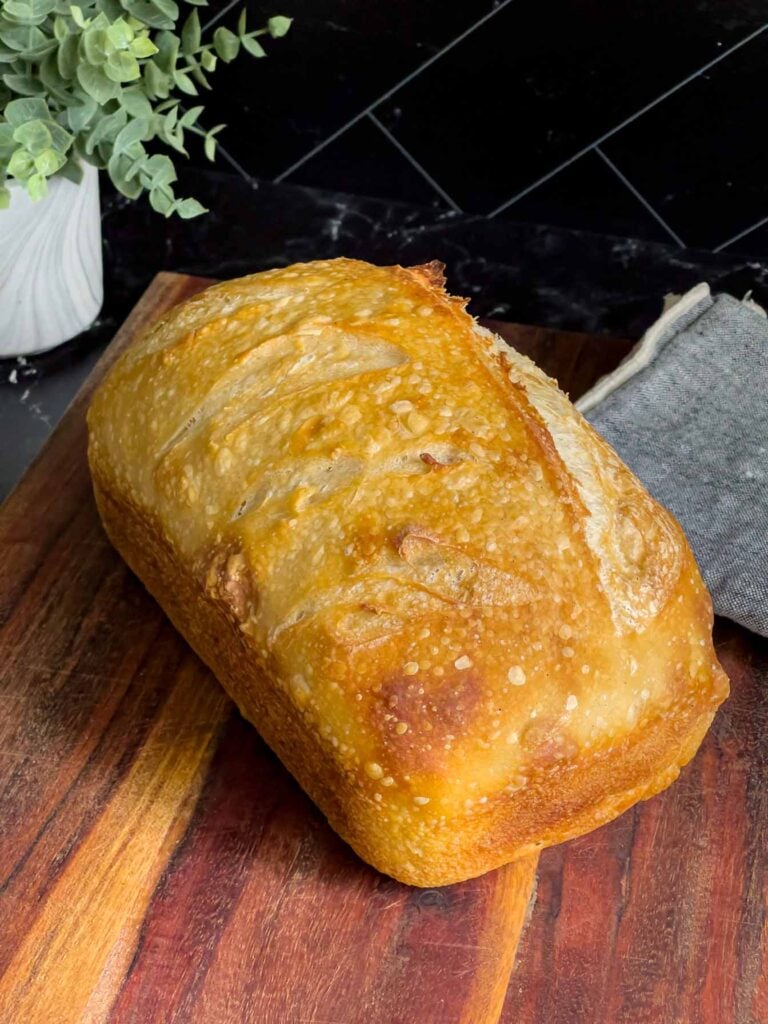 We only usually do two at a time, but everybody gets bread when we get on a tear and do it every day. I have given bread to my barber, auto mechanic, and neighbors. The smiles make it all worth it.
Baking bread on the smoker is as easy as using the oven. Any pellet grill, pellet smoker, or gravity-fed smoker would be ideal for doing something like this as it's so easy to maintain the temperature.
You can use loaf pans or use a dutch oven for a more traditional artisanal loaf.
I went with the loaf this time because I was already thinking about the patty melt I would make using this bread.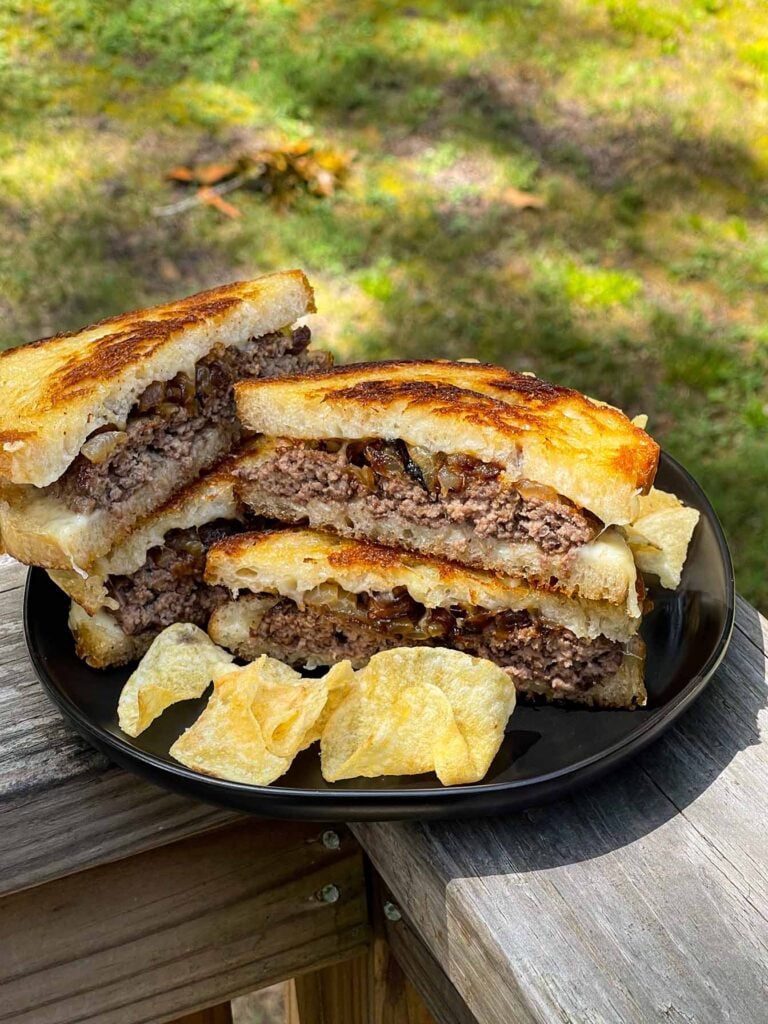 It did not disappoint. 🙂
I urge you all to try baking bread on a smoker. The number of bread recipes out there will keep you busy for some time.
I would recommend that you give our sourdough a look. In fact, we have an awesome Italian bread recipe that would work just as well if sourdough isn't your thing.
Smokers, it's not just for ribs anymore!
FAQ
Can you bake bread on a smoker?
If you can match the temperatures called for in the bread recipe, you can bake bread on a smoker.
Does bread baked on a smoker taste smoky?
Using charcoal as your heat source does not alter how the bread tastes.
Other Bread Recipes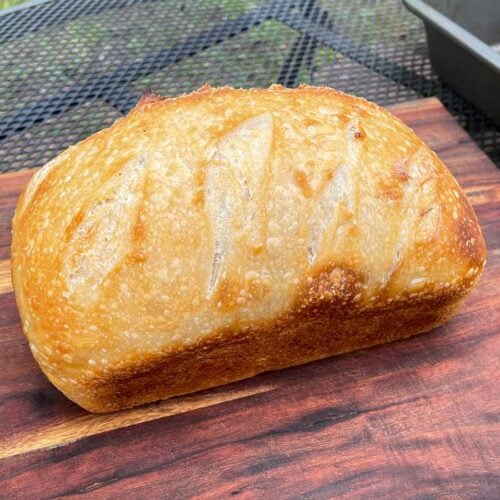 Baking Sourdough Bread On A Smoker Recipe
Ever try baking sourdough bread on a smoker? If you can bake it in the oven, you can bake it in a smoker.
Print
Pin
Rate
Ingredients
The Sourdough Bread
140

grams

Sourdough starter

255

grams

Water

380

grams

Flour

12

grams

Kosher salt
Instructions
Make the sourdough bread dough according to the recipe (see notes)

Preheat the smoker to 500 degrees F.

Score the sourdough with a lame or sharp knife.

Place water tray and sourdough into the smoker.

Spritz sourdough with water about 10 times and cover.

Reduce the heat to 435 degrees F.

Remove the cover from the sourdough and remove the water tray.

Rotate the sourdough 180 degrees to ensure even cooking

Bake for an additional 15 to 20 minutes until golden brown. Internal temperature of the bread should be 200 degrees F.

Remove from the smoker. Remove the sourdough from the baking pan and place on a wire rack to cool.