No Knead Large Dutch Oven Bread
No-knead large dutch oven bread is a recipe adapted for those that only own one large dutch oven.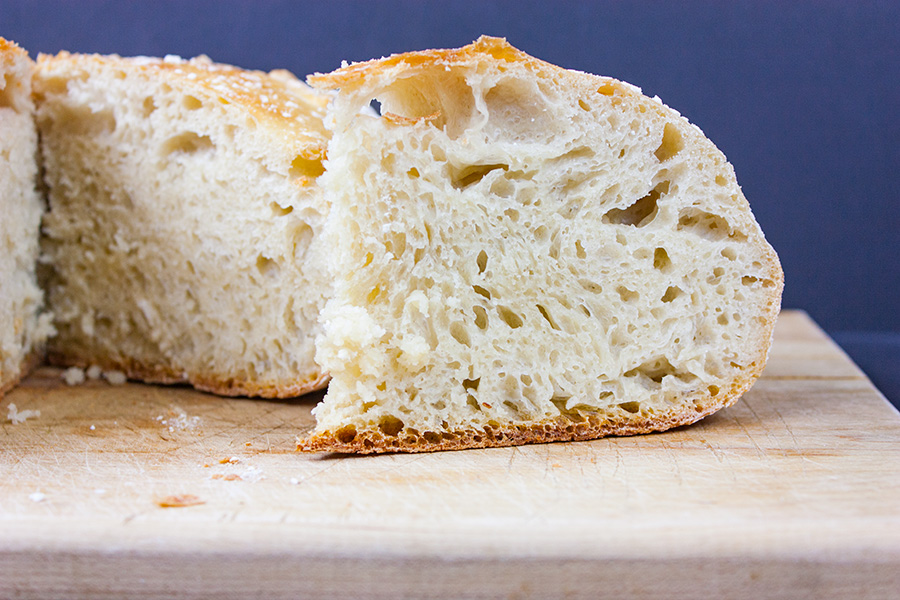 I'm sure you all have heard of the no-knead miracle bread. Just in the last few months have I started making this bread. I avoided it due to the long rest period. Don't be like me this recipe is amazing!
I only have one 5.5-quart dutch oven. All though absolutely divine, the original recipe just wasn't enough to achieve a tall loaf in my pot.
I researched to see if anyone had tried doubling the recipe for a larger dutch oven. Yes! FrugallivingNW had achieved what I was looking for! No-knead large dutch oven bread would finally be mine!
No Knead Large Dutch Oven Bread
In a large bowl, combine the flour, salt, and yeast. Instant or active dry yeast can be used. Add the water and stir with a wooden spoon until all the ingredients are well incorporated; the dough should be wet and sticky.
Cover the bowl with plastic wrap. Let the dough rest 12 to 18 hours on the counter at room temperature.
This is what it should look like after resting. The bread dough will smell yeasty, darken slightly and covered with small bubbles.
The dough is very sticky. When ready to bake, generously flour your hands and a work surface.
Place the dough on a work surface and sprinkle with more flour. Fold the dough over on itself once or twice and, using floured hands, tuck the dough underneath to shape the dough into a rough ball.
Place a large rectangle of parchment paper on a cotton towel and dust it with enough flour to prevent the dough from sticking to the parchment paper as it rises; place dough seam side down on the parchment paper and dust with more flour. Pull the corners of parchment paper around the loaf, wrapping it completely to keep a round shape. (I forgot a photo of this step, sorry.)
Allow to rise about 2 hours.
Preheat the oven to 425 degrees F.
While the oven is heating place an oven-safe cast iron dutch oven with lid in the oven to heat.
Once heated, carefully pull out the dutch oven and remove the lid. Untie the dough and carefully slide the parchment with the dough down into the dutch oven.
Cover with lid and bake for 40 minutes. Uncover and continue baking for 10-15 more minutes, until the crust is a deep golden brown. ( baking times can vary) The internal temperature of the bread should be around 200 degrees.
When done carefully use the parchment as handles to remove the loaf of bread to a wire rack to cool.
But not too long because you are going to want to slather a ton of butter on a warm slice of fresh-baked bread.
This no-knead large dutch oven bread has a crusty exterior and a slightly chewy interior. Perfection!
Other Delicious Bread Recipes