No knead skillet bread is a super easy, simple bread recipe that whips up quickly. Yes, you can have fresh, warm homemade bread on the dinner table tonight! It's just that easy.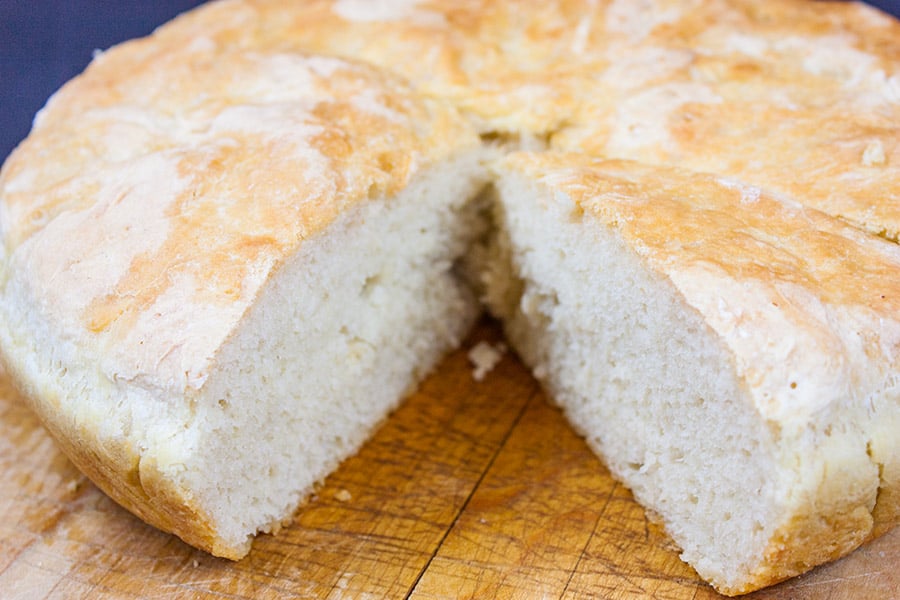 This bread has a crusty outside and soft, warm, flavorful middle. Pull out that trusty cast-iron skillet and put it to use.
Try our Bread Pudding!
No-Knead Skillet Bread
In a large mixing bowl, combine the yeast and water. Add half the all-purpose flour and stir with a wooden spoon. Add the sea salt and remaining flour and stir until combined.
Cover with plastic wrap and let rise in a warm place until doubled in size, about 1 hour.
Brush 2 tablespoons olive oil over the bottom of a 10 or 12-inch cast-iron skillet.
Sprinkle the dough and your hands with flour before shaping it into a disk. The dough will be sticky, it doesn't have to shape perfectly. Place it in the skillet, cover loosely with oil sprayed plastic wrap, let rise until puffy, about 30 minutes.
Meanwhile, preheat the oven to 400°F.
Drizzle additional olive oil over the top of the bread.
Bake bread for 30 to 40 minutes, or until the bread turns golden brown.
Let cool slightly before slicing. (this never happens in my house, so the first piece was squished a little)
Next time I'm going to incorporate some fresh rosemary leaves.
Serve and enjoy homemade fresh-baked, no-knead, cast iron skillet bread with your dinner!
Try our Smoked Chicken Wings!
Fry Pan Bread Recipe
Recipe inspired by BakerBettie