Quick And Easy White Bread Recipe
This easy white bread recipe actually started out as an Italian bread recipe but as fans of all things bread, we realized this would make a much better white bread. And we were right.
We have prepared this recipe so many times that we finally felt the need to put it up here. It is quick, and it is delicious.
This is also a great recipe if you're just starting out on a new baking journey. It's almost impossible for it to fail and its an awesome win when you pull it out of the oven.
Freshly baked bread is amazing and serving it to your friends and family will bring smiles to everyone's faces.
Try our Soft and Fluffy One Hour Dinner Rolls recipe!
Making This Easy White Bread
This recipe is so easy you're gonna have it memorized in no time.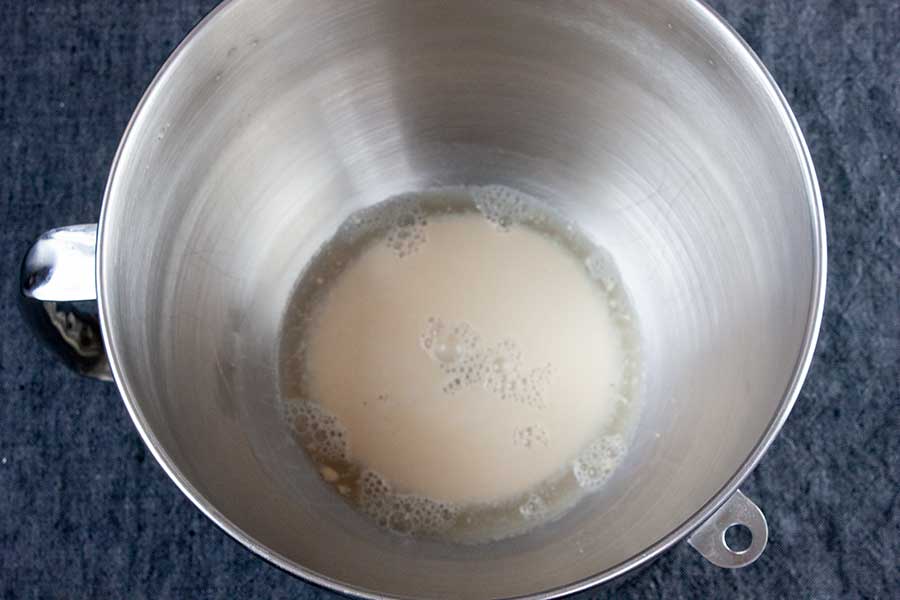 Take out a stand mixer with a dough hook and combine the warm water, sugar, and yeast in the mixer bowl.
After about 5 minutes you should see that the yeast has bloomed. It will look foamy and frothy as the yeast is activated.
Add the two cups of flour with the kosher salt and olive oil and turn up the mixer a bit. Allow it to begin to form the dough.
You will need to add additional flour if the dough is not coming away from the sides. Add a bit at a time until you see this.
When fully incorporated, increase the speed of your mixer to medium and knead for 10 minutes.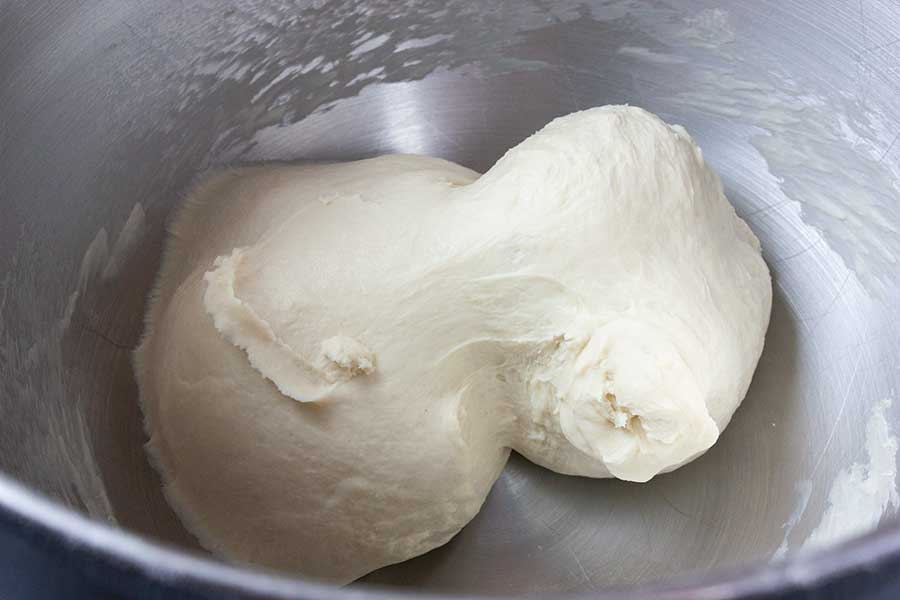 After 10 minutes your dough will be ready. It should have a smooth and elastic consistency and be slightly sticky to the touch.
You might also like our No Knead Large Dutch Oven Bread recipe.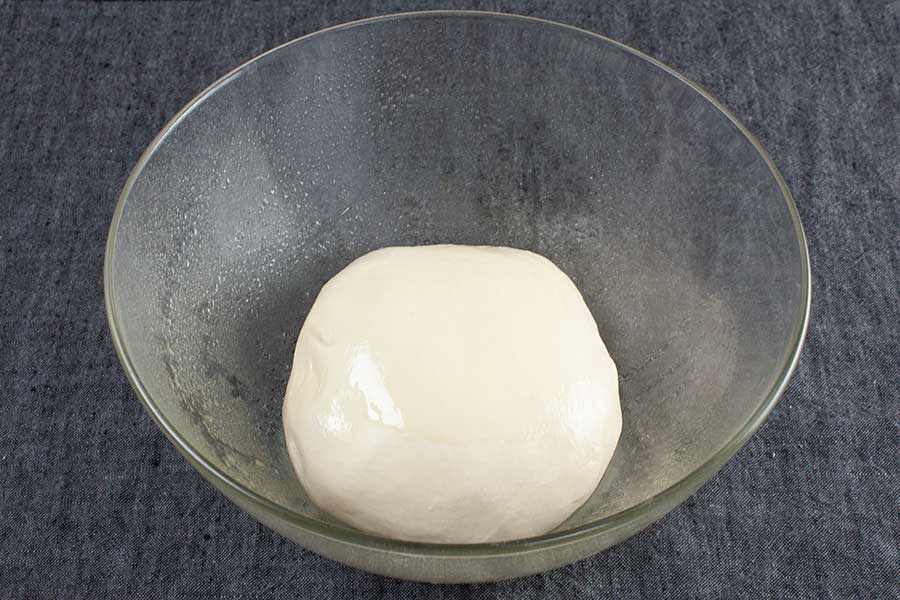 Take the dough and shape it into a rough ball. Wetting your hands will make this a snap. Transfer to a greased bowl and allow to rise for 30 minutes to an hour or until it doubles in size.
You will want to let it rise in a warm place. We usually put ours in the oven with the oven light on. This works for us.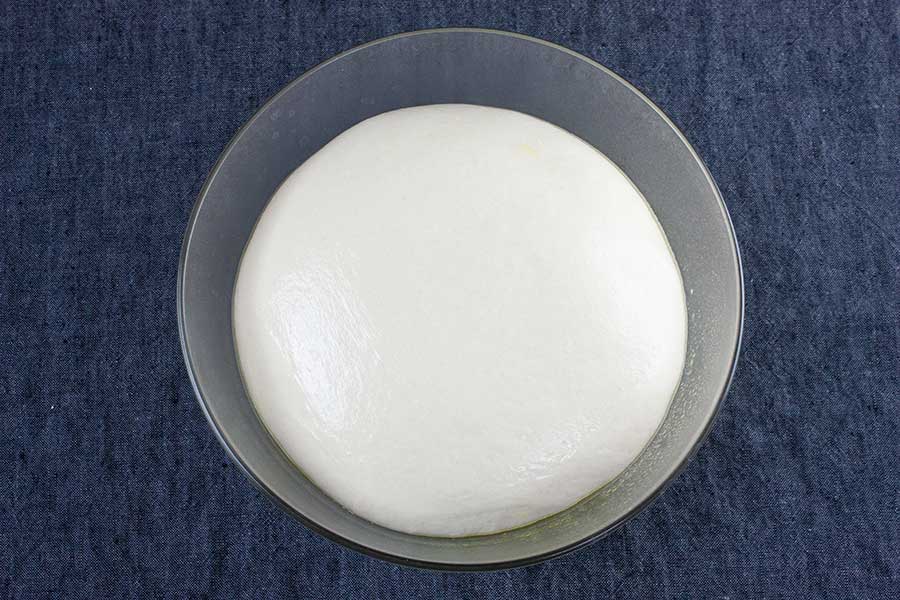 Turn the bread dough out onto a lightly floured surface and punch down using your fingertips and allow to rest for about 10 minutes.
After the rest, shape your dough into a loaf by shaping it into a rectangle. Fold the corners in and starting at the top, fold down 1/3 of the way and push together.
Keep repeating this until you have a rough loaf shape and pinch closed. Fold the ends under as well and pinch closed then transfer to a lightly floured or greased 9×5 inch loaf pan.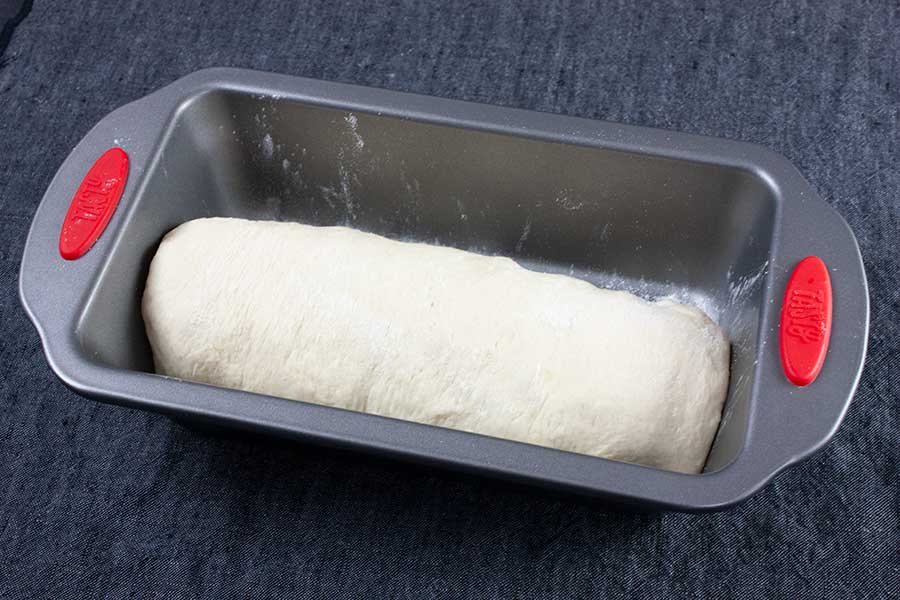 Allow the dough to rest and rise until doubled, approx. 1 hour.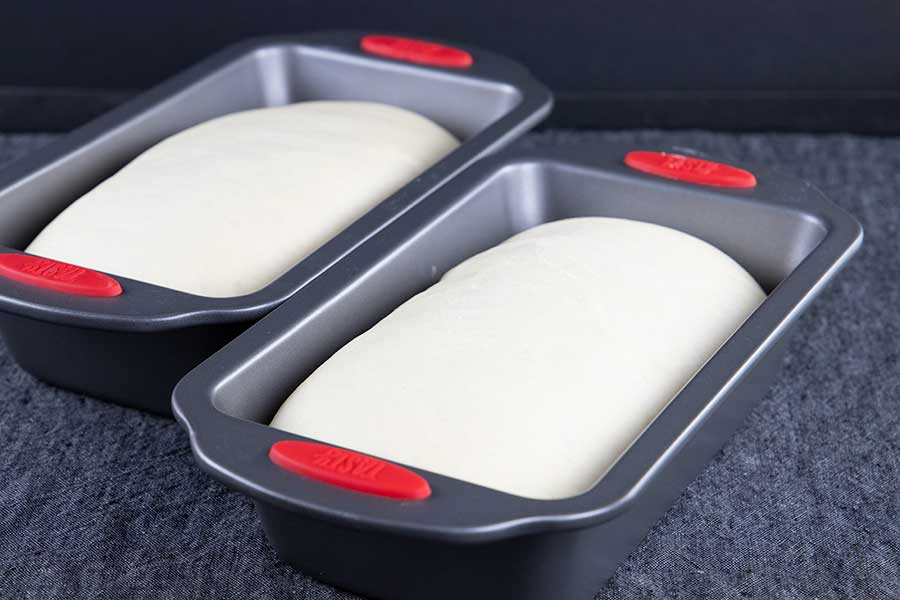 Bake at 400 degrees Fahrenheit for 20 minutes or until golden brown. Remove the loaf and allow to cool on a wire rack.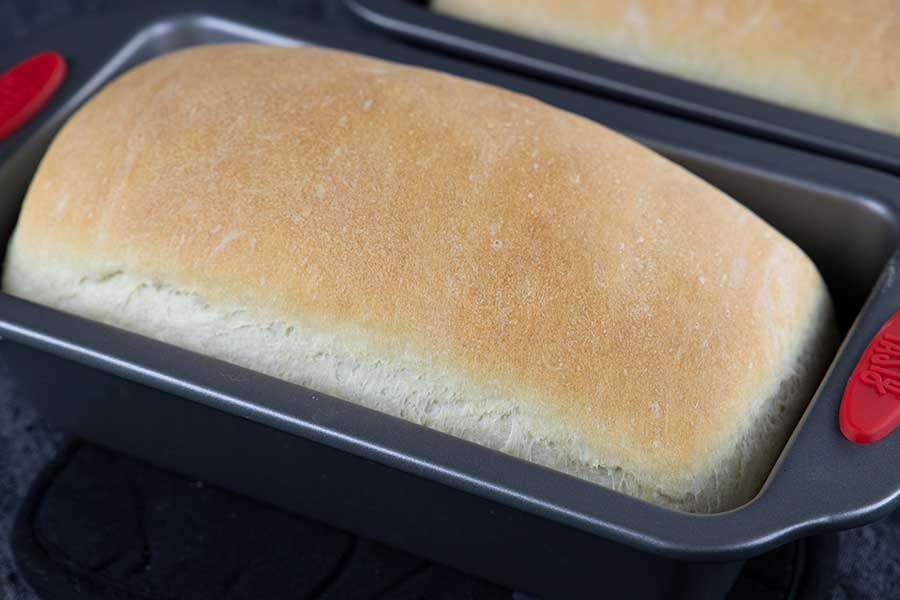 Allow it to rest for a bit before you start slicing it up. This is probably the hardest step in the whole process.
I would give it about 20 to 30 minutes before slicing. With that said, I think the max time I have waited was 5 minutes so …
As you can see, the crumb of the bread is light and airy. What you can't really see is how amazing it tastes. There is only one real way for you to find out and it's to make it yourself. You won't be sorry, I promise you.
Is it easier to pick up a loaf at the store? Yeah, perhaps. But when you can bust out two fresh baked delicious loaves of bread in a couple of hours why would you?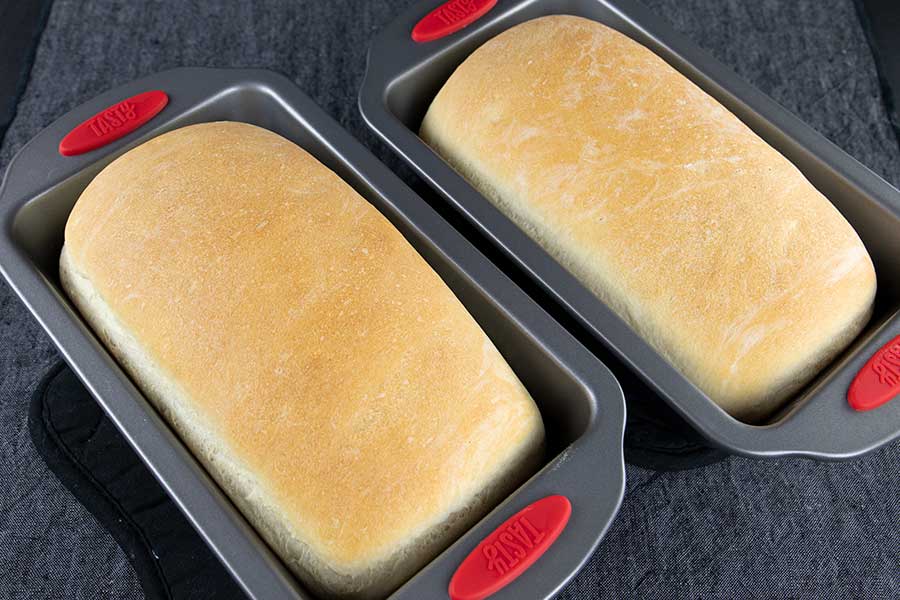 A note on doubling the recipe. Yes, you can. There are no modifications outside of doubling each recipe ingredient. You can make one or two loaves as you see fit.
This recipe is also perfect for dinner rolls. Just shape them into rolls and bake at the same time and temperature and viola!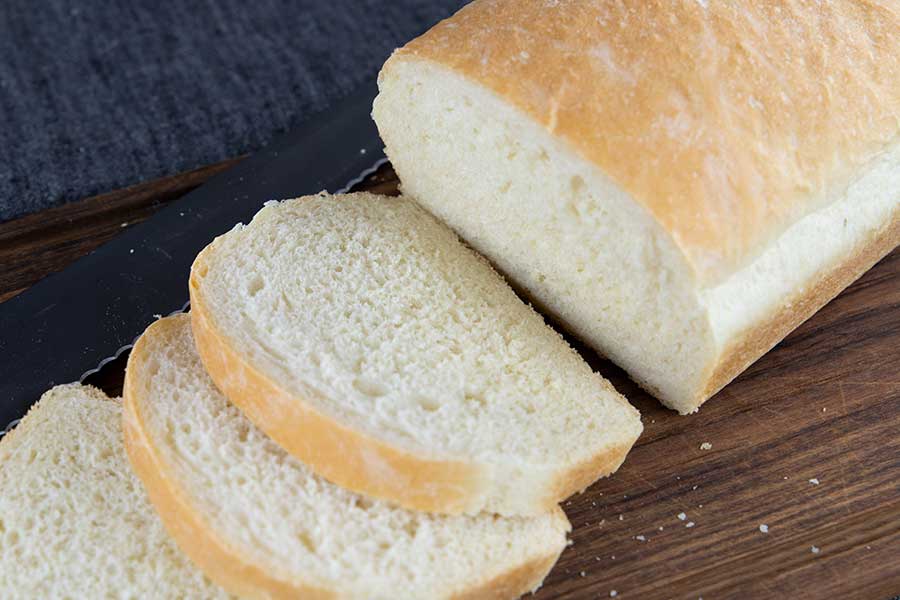 We hope you try this easy recipe. It's perfect for sandwiches, toast, or just warm from the oven. It's fast, easy, and most importantly, delicious. We have made this recipe more times than I can count and it is wonderfully consistent every time.
Give it a go, you won't be sorry.
Looking for an easy skillet bread? Try our No Knead Skillet Bread recipe.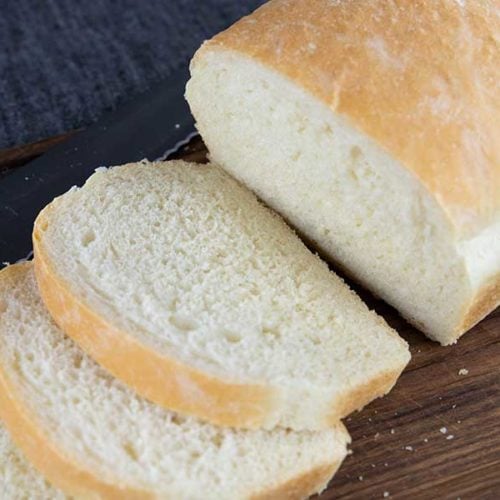 Easy White Bread Recipe
This easy white bread recipe is fast and crazy delicious. It comes out soft and light and is so easy to make you will not go back to store-bought.
Print
Pin
Rate
Ingredients
1

Envelope

Active dry yeast

1/4 ounce

1

tsp

Sugar

1

cup

Warm water

Approx. 115 degrees Fahrenheit

2-3

cup

All-purpose flour

have 1 extra cup of flour ready to add if needed. We usually end up adding an additional half cup during the kneading process.

2

tbsp

Olive oil

1

tsp

Kosher salt
Instructions
Combine warm water, yeast, and sugar into the bowl of stand mixer. Let stand for approx. 5 minutes until yeast begins to bloom (foamy, frothy).

Add 2 cups flour, kosher salt, and olive oil to bowl and mix on slow for 1 to 2 minutes until combined well.

Turn the mixer up a bit faster but slower than medium and gradually add more flour until bread begins to leave the sides of the bowl and pull together. The dough will appear shaggy at first but then will become smooth.

Turn the mixer to medium and beat for 10 minutes then transfer to a greased bowl and allow to rise until doubled. Depending on the warmth of your kitchen, this can take between 30 minutes to 1 hour.

Using your fingers, press into dough to punch it down and allow to rest for another 10 minutes.

Turn your dough onto a lightly floured surface and shape into 8" loaves – make a rectangle with your dough. Fold in each corner of the dough then from the top fold 1/3 of the way down. Repeat until it's all folded into itself and seal the seam by pinching the dough. Fold in each end and pinch closed.

Place loaf into greased 9 x 5 baking pan and allow to rise until doubled.

Bake at 400 degrees Fahrenheit for 20 minutes or until golden brown.

Remove from oven and allow to cool on a wire rack.
Notes
This recipe is for one loaf of white bread. To double, just double each ingredient.
Nutrition
Calories:
149
kcal
|
Carbohydrates:
25
g
|
Protein:
4
g
|
Fat:
4
g
|
Saturated Fat:
1
g
|
Sodium:
293
mg
|
Potassium:
42
mg
|
Fiber:
1
g
|
Sugar:
1
g
|
Calcium:
5
mg
|
Iron:
1
mg