Baked spaghetti is so much easier to prepare than lasagna.  It's almost lasagna but with spaghetti noodles.  Who likes boiling lasagna noodles?  It's a big pain! Maybe it's just me who despises large pots of boiling water.   My daughter claimed she likes this dish better than lasagna.  Don't get me wrong, I will still make and EAT lasagna.  Just not very often.  This recipe makes enough for an army, so either cut it in half or feed the army.  The leftovers freeze and reheat beautifully.  As a matter of fact, it's even better the next day!
Baked Spaghetti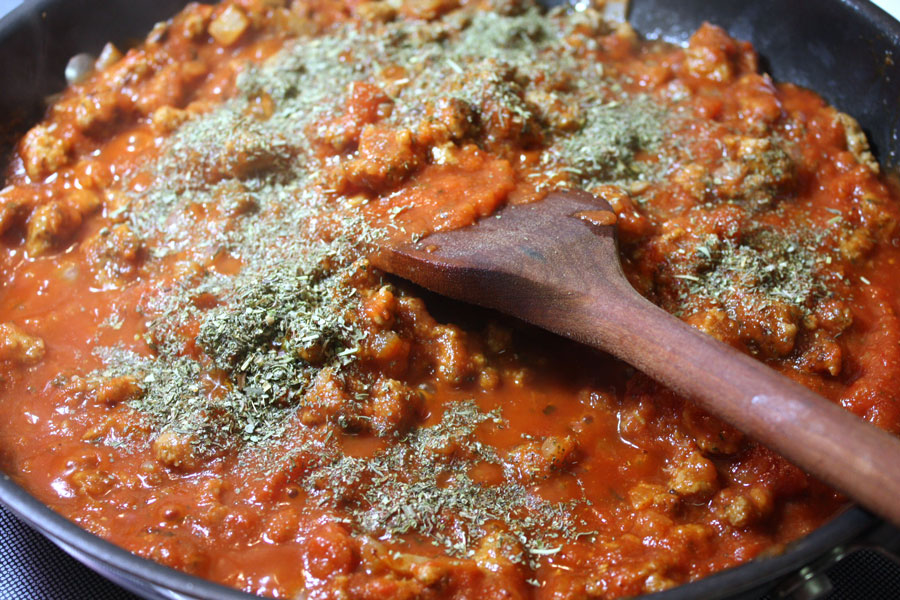 It's very simple to put together.  Saute the meat and onions, throw in the sauce and spices and cook while you boil the noodles.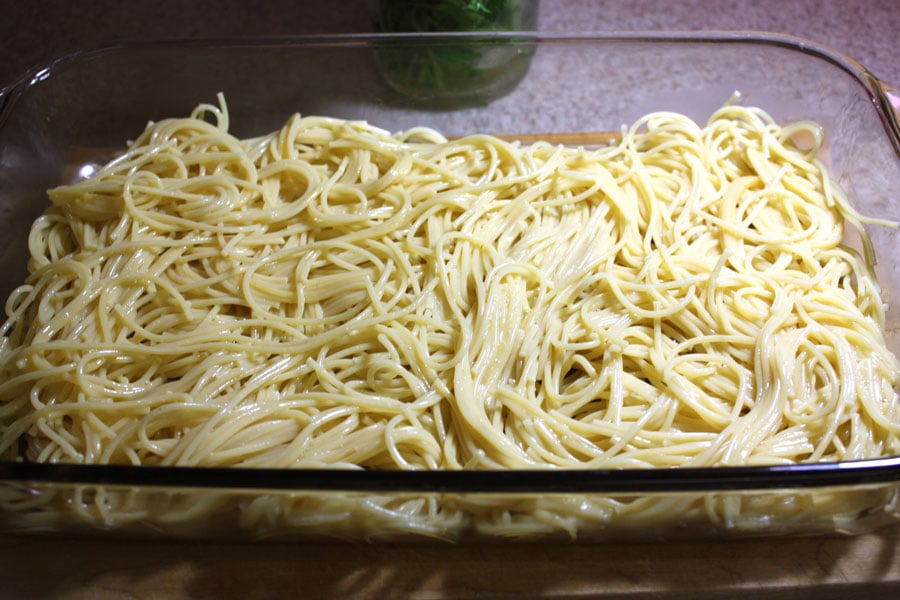 Layer it up twice.  Noodles first, sauce, ricotta, mozzarella, and parmesan.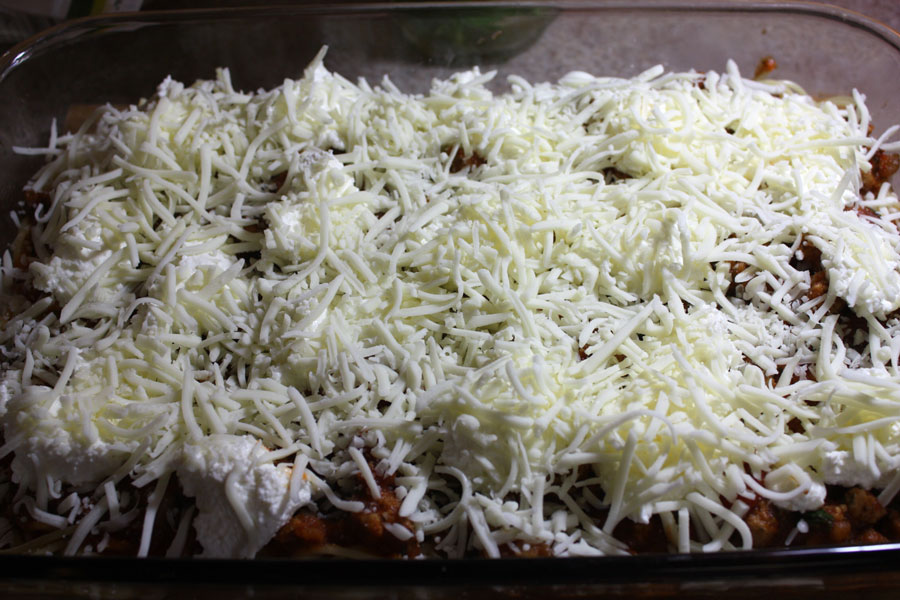 Do it all again, then bake.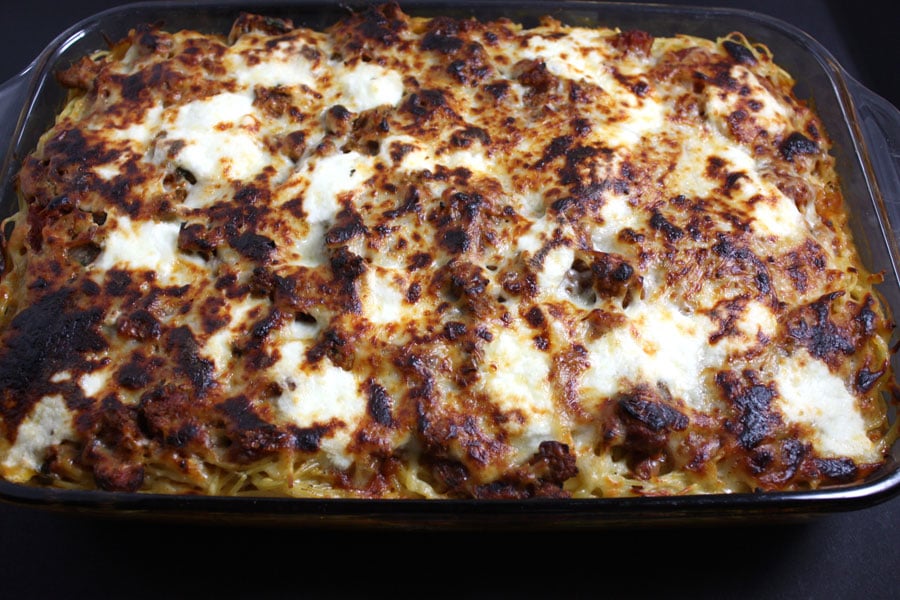 Let it rest to set up and serve.  Perfect with a salad and garlic bread!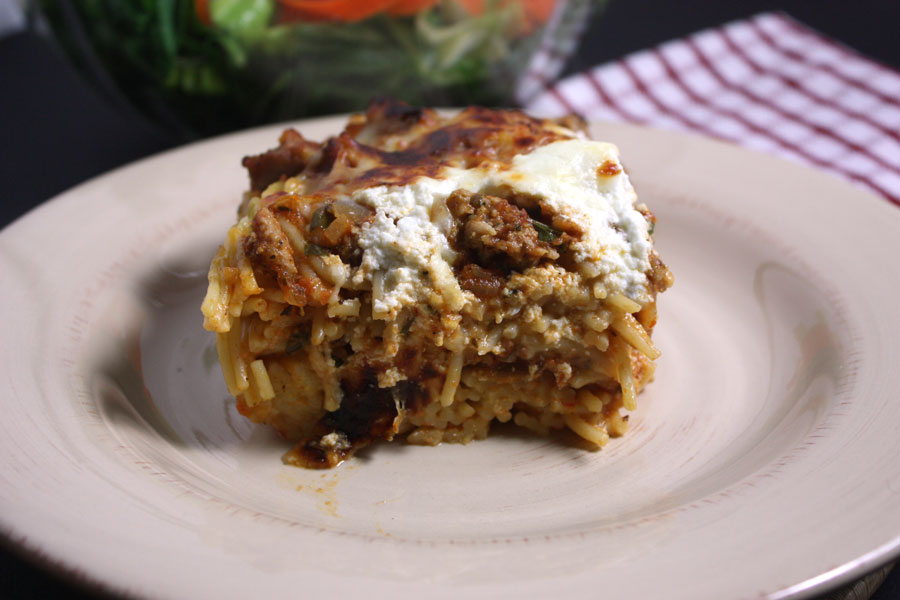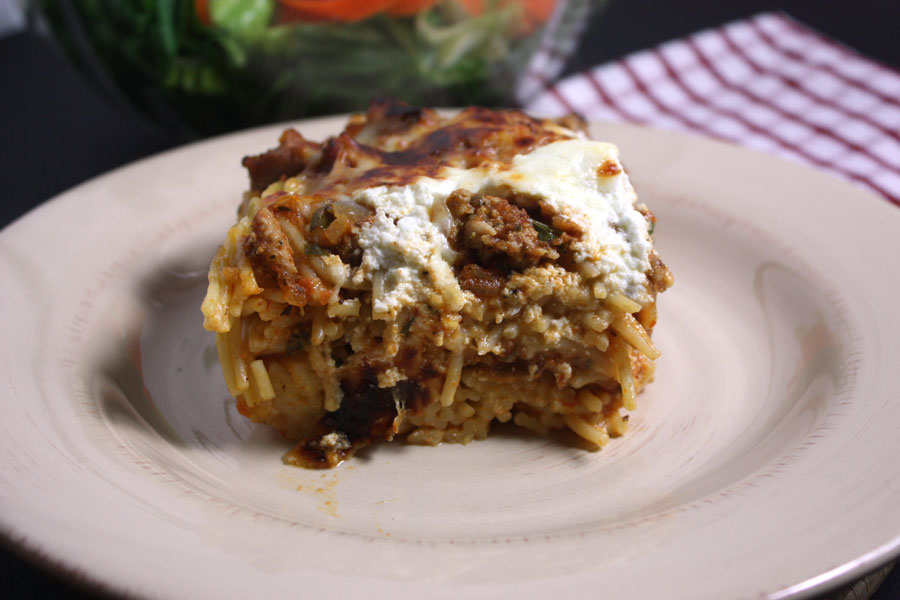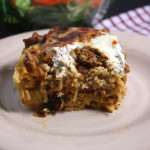 Print Recipe
Baked Spaghetti
Baked Spaghetti - A family favorite meal. Creamy, cheesy spaghetti casserole!
Ingredients
3/4

lb

Thin Spaghetti

1

lb

Italian sausage

1

medium onion, chopped (about 1 1/2 cups)

2

cloves

Garlic

pressed

1/2

teaspoon

Red Pepper flakes

3

cups

or 24 ounces of Marinara

1

cup

water

1

Tbsp

Italian seasoning

1/2

cup

Fresh Parsley, chopped

1

Tbsp

Olive Oil

1

cup

Parmesan cheese, grated

2

eggs, beaten

1 1/2

cups

Ricotta Cheese

3

cups

Mozzarella Cheese, shredded
Instructions
Heat a large pot of water to boiling, add pasta and cook for 5 - 6 minutes, al dente. (it will continue to cook in the oven)

Drain the pasta, rinse with cold water.

Preheat your oven to 350°F.

In a large sauté pan. Turn the heat on, to medium. Slowly cook the sausage, breaking it up into smaller pieces. Cook until the sausage is cooked through, no longer pink anywhere, and lightly browned. Remove the sausage from the pan to a paper towel-lined dish.

Drain most of the fat from the pan

Add the chopped onions to the pan. Increase the heat to medium-high. Cook, stirring frequently until the onions become translucent. Add the minced garlic and red chili pepper flakes, and cook a minute more.

Add the marinara sauce and the 1 cup of water to the pan with the onions. Add the sausage back, Italian seasoning and chopped parsley. Bring to a simmer and reduce the heat to a very low simmer. Cook for 10 to 15 minutes or so while you prepare the pasta. Season to taste with salt and pepper.

Place the cooled pasta in a large bowl. Toss with olive oil, then 2 beaten eggs.

Place half of the pasta in an even layer in the casserole dish.

Cover with half of the sauce. Then dot the sauce with half of the ricotta cheese. Sprinkle half of the parmesan over the ricotta layer and then half of the mozzarella. Layer again with the remaining pasta, sauce, parmesan, and mozzarella.

Cover with foil and bake for 40 min at 350°F. Remove the foil and bake an additional 20 minutes uncovered.

Remove from oven and let rest for at least 10 minutes before cutting into squares and serving.