Tangy Southern Mustard Coleslaw
Tangy southern mustard coleslaw is not your traditional creamy mayo dressed coleslaw.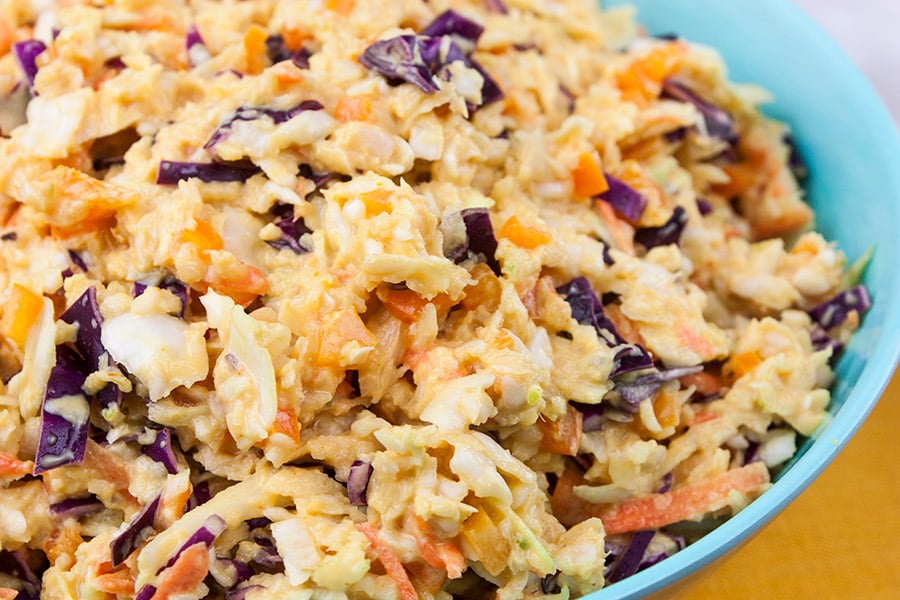 A complex flavor that's tangy, creamy, slightly sweet and spicy. Which makes it perfect for pulled pork or even better…slaw dogs!
This is our take of Big Bob Gibson's coleslaw recipe.
Tangy Southern Mustard Coleslaw
How to make Tangy Southern Mustard Coleslaw
Shred the vegetables in a food processor or cut by hand.
Combine the green cabbage, purple cabbage, onion, bell pepper, carrot, and celery in a large bowl and mix well.
In a medium-size bowl whisk together the apple cider vinegar, yellow prepared mustard, ketchup, sour cream, mayonnaise, salt, and cayenne pepper.
Feel free to add more cayenne pepper if you prefer a spicier kick.
Pour the dressing over the vegetable mixture and stir to coat evenly.
Cover and chill for at least 1 hour.
Serve this Tangy Southern Mustard Coleslaw as a side dish or top pulled pork sandwiches or hot dogs at your next summer barbecue! It's great for potlucks.
Mustard Coleslaw Recipe