Stuffed Bell Peppers Recipe
This stuffed bell pepper recipe is a classic dish that delivers a big flavor with affordable ingredients.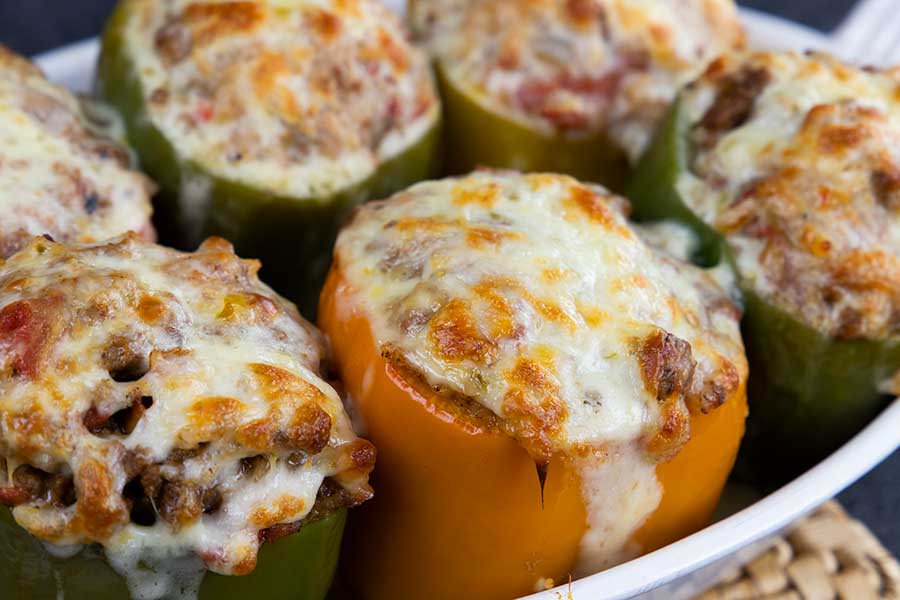 Why You Will Love This Recipe
Stuffed bell peppers are a dish common all over the world.
Hollowed or halved peppers filled with a myriad of mixtures, including meat and vegetables, rice, and cheese, can be found everywhere around the world.
Our recipe is very similar to the classic stuffed bell pepper recipe. Ours calls for cheese, but other than that, it's how they would have been doing this recipe eons ago. I guess if it's good, don't mess with it.
You can, of course, mix up the recipe to incorporate other types of peppers and variations on the mixture. It's all up to you.
We incorporated different colored peppers for a splash of color and a more mild flavor of the pepper itself (green peppers can sometimes be too much for some). We even used Pepper Jack cheese vs. the standard Monterey Jack.
This easy stuffed bell peppers recipe is a great healthy dinner recipe. It's easy to prepare, it delivers a big flavor, and it will leave your wallet in one piece.
For us, this is what makes a great recipe to have handy. It's good, it's easy, and it's inexpensive. Perfect!
Are you looking for some other budget friendly meals that use ground beef? Take a look at our One Pot Hamburger Helper (Homemade), Old Fashioned Goulash (American Goulash) or our Easy Meatloaf recipe. They're all fabulous!
Ingredients Needed
Get ready for a flavor explosion! Ground beef, rice, colorful veggies, and cheesy goodness are complemented by a medley of zesty flavors like tomato paste, oregano, salt, and pepper.
Ground beef and rice – Ground beef serves as the primary source of protein and adds a rich and savory flavor to the dish. The cooked rice adds texture, substance, and a mild nutty flavor to the stuffing.
Vegetables – Bell peppers provide a vibrant and fresh taste, while the onion and garlic add depth and aroma. The fire-roasted tomatoes contribute a smoky and slightly tangy element.
Cheese – Monterey Jack cheese (or Pepper Jack) adds creaminess and a hint of spiciness, enhancing the overall richness of the dish.
Spices and Seasonings – Olive oil and tomato paste work together to create a flavorful base, adding richness and a touch of sweetness. The oregano provides an earthy and herbaceous note, while the salt and freshly ground black pepper help to season and balance the flavors, enhancing the taste profile of the dish.
Each ingredient brings its own unique flair, making these stuffed bell peppers a delicious and satisfying treat.
How To Prepare Stuffed Bell Peppers
Put a pot on and prepare your rice, as instructed on the package.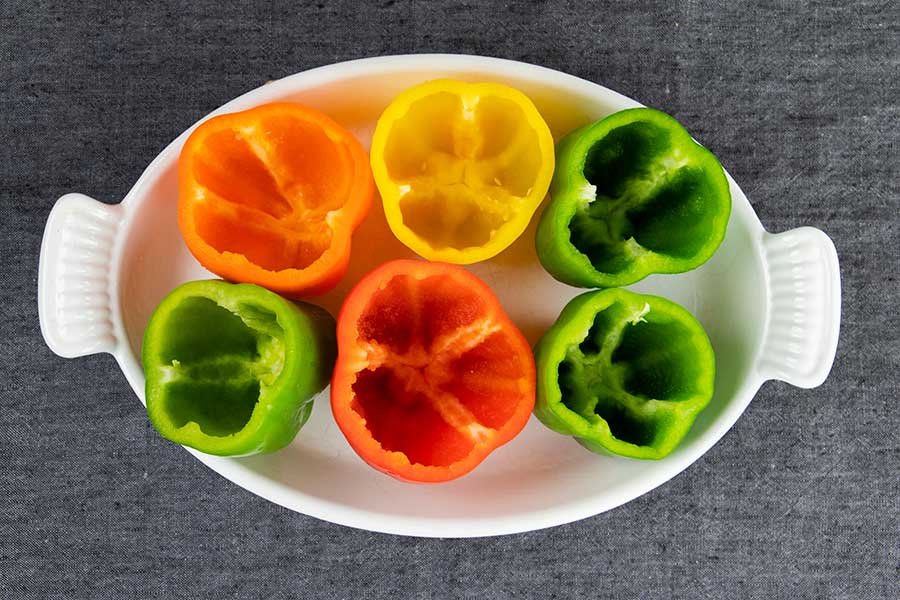 While the rice is cooking, remove the tops of your peppers and remove the cores. Place them in a 9″13″ baking dish and set them to the side.
Preheat your oven to 400 degrees F.
Take a large skillet and heat it to medium heat and add the oil. Add the chopped onions to the skillet and saute until tender, about 4 to 5 minutes.
Add the tomato paste and continue to cook for about one more minute until it begins to become fragrant.
Add the ground beef and cook, breaking up the meat until it is minced up.
Continue to cook until almost all the pink is gone. Drain the fat and return to the heat, adding the garlic.
Cook for an additional minute or so until no pink remains in the ground beef.
Add the fire-roasted tomatoes and cooked rice. Add your spices as well (salt, pepper, and oregano).
Reduce the heat to a simmer and cook. Allow the liquid to reduce a bit, about 5 minutes.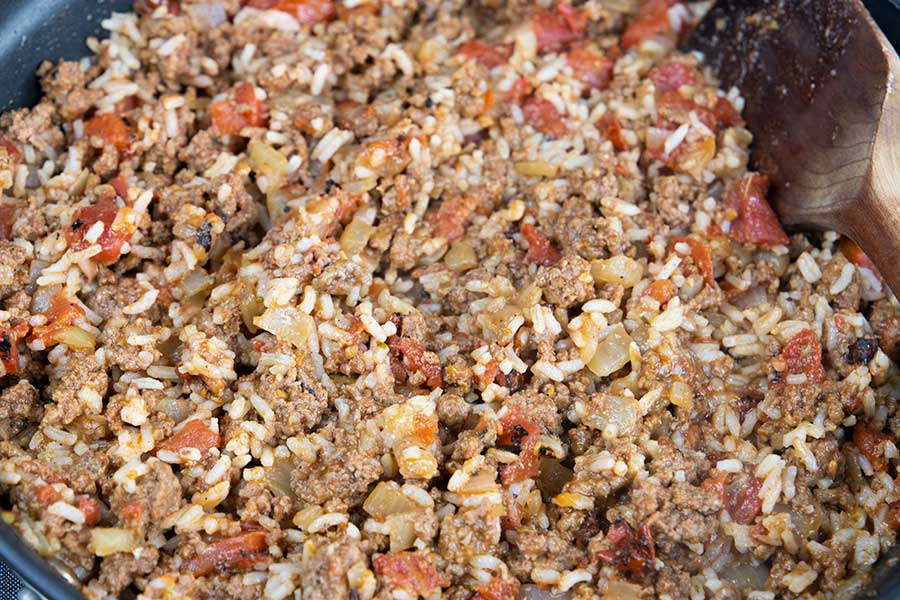 At this point, give it a taste. Add any additional salt and pepper to the rice and beef mixture to your individual tastes.
Remove from the heat and add 1/2 cup of the cheese and add it to the mixture. Mix it around until combined well.
Next, spoon your beef and rice mixture into each pepper. You will probably be like us and start to short-change some peppers.
Don't worry; you'll have plenty of the mixture to top all your peppers off nicely.
Tear off a sheet of aluminum foil to cover.
Before you cover, though, you might want to spray the foil with a non-stick spray to keep the foil from sticking to the peppers and the mixture.
Cover and put into the oven and cook for approximately 30 minutes until the peppers are tender.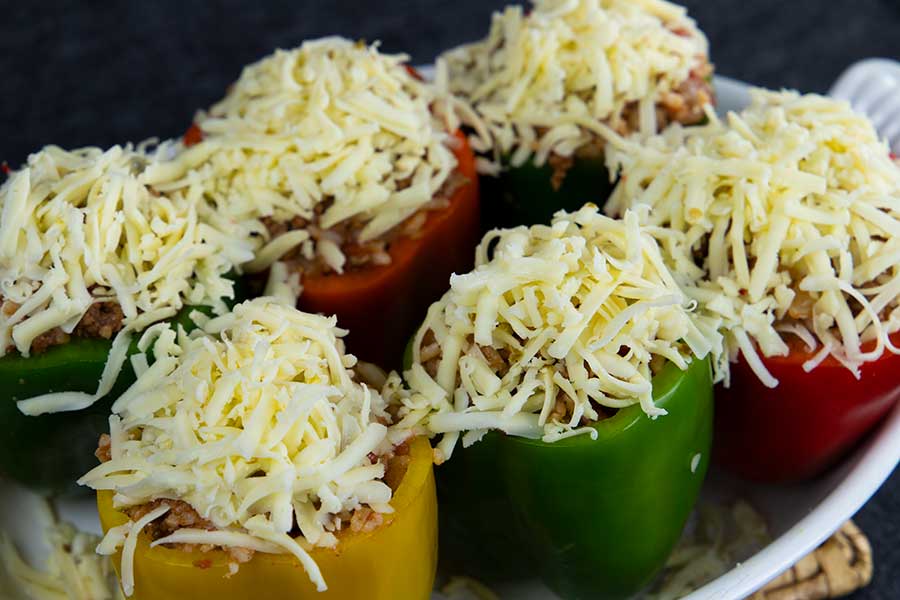 Pull out the peppers and remove the foil. Add the remaining cheese to the tops of the peppers and return to the oven.
Cook until the cheese is nice and bubbly, about ten more minutes.
Remove from the oven and allow to rest a few minutes.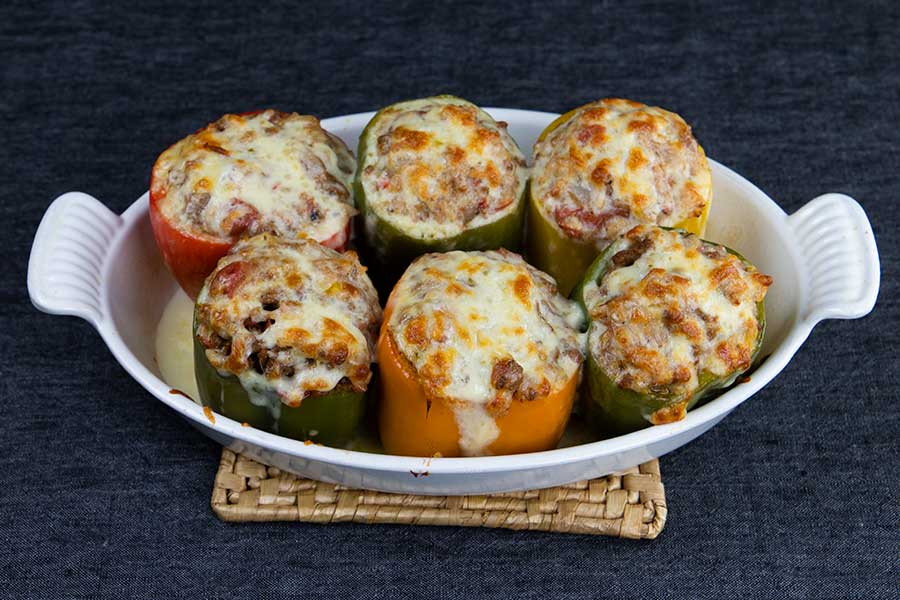 Garnish and serve!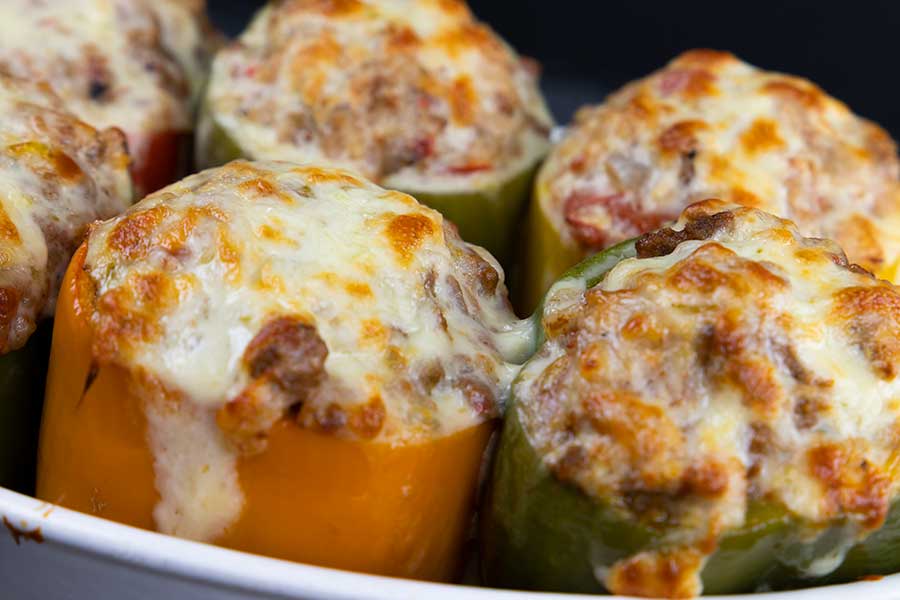 We have prepared this dish uncounted times over the years. We have mixed it up here and there, trying different combinations to see if there is a way to improve the dish.
The fact is, you can mix this up any way you like using whatever spices you like. It's good in so many ways.
While my wife is not a giant fan of bell peppers, she thoroughly enjoys this dish. She might not eat the entire pepper, but she's happy. I, on the other hand, eat it ALL!
The seasoned beef with the rice and fire-roasted tomatoes with a bite-sized portion of roasted pepper … yeah, I'm on board.
Give this recipe a try, and let us know what you think. Did you change things up and have great success? We'd love to hear from you!
Tips And Variations
Choose the right bell peppers. Look for bell peppers that are firm, vibrant in color, and have a flat bottom to stand upright. This will ensure they hold their shape during cooking.
Mix ingredients thoroughly. When combining the ground beef, cooked rice, sautéed onion and garlic, cheese, and spices, make sure to mix them thoroughly for even distribution of flavors.
Substitute white rice for brown rice for a more nutrient-dense dish.
Using ground chicken or lean ground turkey can give you a lighter calorie dish.
Add any mix of cheese you like, such as cheddar cheese or mozzarella cheese; You do want a melty cheese, though.
Italian sausage would be a great substitution for lean ground beef.
Tex-Mex flair: Swap the oregano for cumin and chili powder, and use Pepper Jack cheese instead of Monterey Jack for a spicy Tex-Mex twist on the dish. You could even add some black beans and some taco seasonings to really get it up there.
Mediterranean-inspired: Add chopped fresh herbs like parsley, basil, and mint to the stuffing mixture, and use feta cheese instead of Monterey Jack for a Mediterranean flavor profile.
FAQ's
Can I use a different type of meat or protein in stuffed bell peppers?
Absolutely! Stuffed bell peppers are versatile, and you can use ground turkey, chicken, pork, or even plant-based alternatives like crumbled tofu or cooked lentils as a substitute for ground beef. Adjust the cooking time accordingly based on the protein you choose.
Can I freeze stuffed bell peppers?
Yes, you can freeze stuffed bell peppers! After cooking and cooling them completely, place the individual peppers in an airtight container or freezer bag. Make sure to remove as much air as possible to prevent freezer burn. They can be frozen for up to 2-3 months. To reheat, thaw them in the refrigerator overnight and follow the reheating instructions provided in the recipe card.
Can I prepare stuffed bell peppers in advance?
Absolutely! You can prepare the stuffing mixture and store it in the refrigerator separately from the bell peppers for up to 1-2 days. When you're ready to cook, stuff the peppers with the pre-made mixture and proceed with the recipe. This is a great option to save time on the day you plan to serve them while still enjoying a freshly cooked meal.
Other Great Weekday Meals
Stuffed Bell Peppers Recipe
Delicious and colorful stuffed bell peppers recipe featuring ground beef, rice, veggies, and cheesy goodness. A flavorful and satisfying dish that's sure to impress!
Print
Pin
Rate
Ingredients
1

lb

Ground beef

1/2

cup

Rice

cooked

6

Bell peppers

various colors, tops and cores removed

1

cup

Monterey Jack cheese

or Pepper Jack for an additional kick

1

tbsp

Olive oil

1

tbsp

Onion

medium, choppped

1

tbsp

Tomato paste

3

cloves

Garlic

minced

14

oz

Tomatoes

fire roasted, 1 can, diced

1

tsp

Oregano

dried

1/2

tsp

Salt

kosher

1/4

tsp

Pepper

freshly ground
Instructions
Preheat oven to 400 degrees F.

In a pot, prepare rice according to the instructions.

Using a large skillet, heat to medium and add olive oil. Add onions and saute until soft, about 4-5 minutes.

1 tbsp Olive oil,

1 tbsp Onion

Add tomato paste and stir until fragrant, about 1 minute.

Add ground beef and cook, breaking up the meat. Cook until almost no pink remains, approx. 4 minutes.

Drain the fat and return to heat and add garlic.

Continue to cook until no pink remains, approx. 1 more minute.

Add rice and fire-roasted tomatoes. Add the salt, pepper, and oregano.

1/2 cup Rice,

14 oz Tomatoes,

1 tsp Oregano

Reduce heat and simmer until liquid has reduced marginally, about 5 minutes.

Season with additional salt and pepper to taste.

1/2 tsp Salt,

1/4 tsp Pepper

Remove from heat and add 1/2 cup of cheese and mix until combined.

1 cup Monterey Jack cheese

Place peppers cut side up in a 9"x13" baking dish.

Spoon mixture into each pepper.

Take a sheet of aluminum foil and spray with a non-stick spray and cover stuffed peppers.

Bake until peppers are tender, about 30 minutes. Top peppers with remaining cheese and return to oven, uncovered.

Bake until cheese is bubbly, about 10 minutes then remove from oven
Notes
To Store Leftover Stuffed Bell Peppers
Allow them to cool to room temperature before refrigerating. Place the leftovers in an airtight container or wrap them tightly with plastic wrap to maintain freshness.
Stuffed bell peppers can be stored in the refrigerator for up to 3-4 days, but it's best to consume them sooner to maintain their quality.
Reheating
When reheating, preheat your oven to 350°F (175°C), place the stuffed bell peppers in an oven-safe dish, cover with foil, and bake for about 20-25 minutes or until heated through. Alternatively, you can reheat them in the microwave on a microwave-safe plate for a quicker option.
Nutrition
Calories:
394
kcal
|
Carbohydrates:
24
g
|
Protein:
21
g
|
Fat:
24
g
|
Saturated Fat:
10
g
|
Cholesterol:
70
mg
|
Sodium:
376
mg
|
Potassium:
678
mg
|
Fiber:
4
g
|
Sugar:
7
g
|
Vitamin A:
4462
IU
|
Vitamin C:
162
mg
|
Calcium:
181
mg
|
Iron:
3
mg