Stuffed Bell Peppers Recipe
This stuffed bell pepper recipe is a classic dish that delivers a big flavor with affordable ingredients.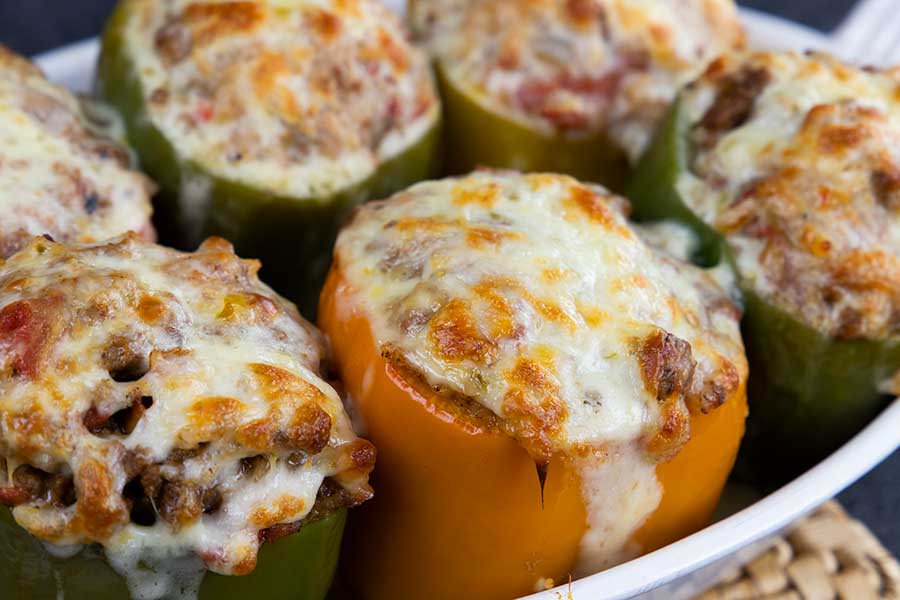 Stuffed bell peppers is a dish common all over the world. Hollowed or halved peppers filled with a myriad of mixtures, including meat and vegetables, rice and cheese can be found everywhere around the world.
It is a delicious classic dish that usually doesn't cost an arm and leg to prepare.
It delivers big flavor, it's easy to prepare and it will leave your wallet in one piece.
For us, this is what makes a great recipe to have handy. It's good, it's easy, and it's inexpensive. Perfect!
Our recipe is very similar to the classic stuffed bell pepper recipe. Ours calls for cheese but other than that, it's how they would have been doing this recipe eons ago. I guess if it's good, don't mess with it.
You can, of course, mix up the recipe to incorporate other types of peppers, variations on the mixture. It's all up to you. We incorporated different colored peppers for a splash of color and a more mild flavor of the pepper itself. We even used Pepper Jack cheese vs the standard Monterey Jack.
Try our Homemade Italian Sausage!
How To Prepare Stuffed Bell Peppers
Put a pot on and prepare your rice, as instructed on the package.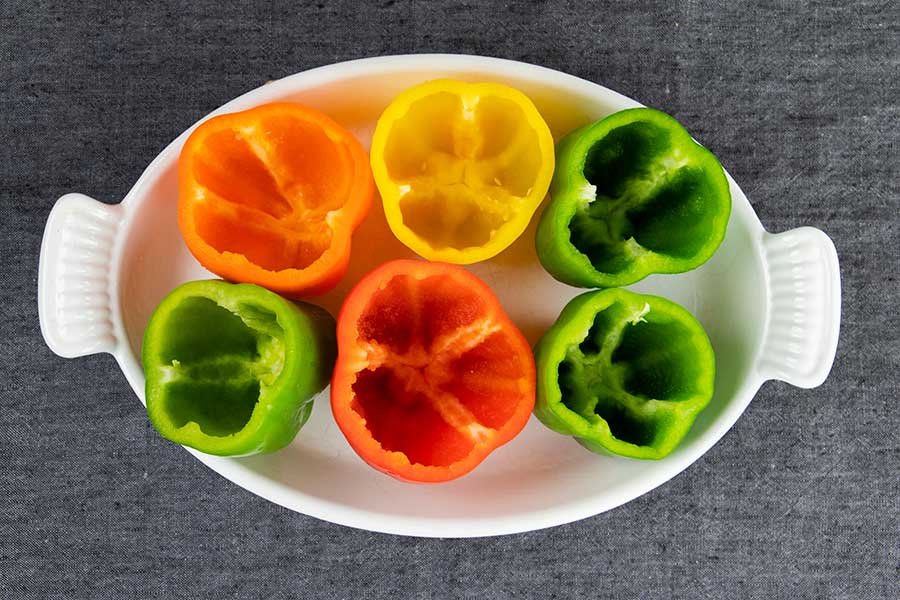 While the rice is cooking, remove the tops of your peppers and remove the cores. Place them in a 9″13″ baking dish and set to the side.
Preheat your oven to 400 degrees F.
Take a large skillet and heat it to medium heat and add the oil. Add the chopped onions to the skillet and saute until tender, about 4 to 5 minutes.
Add the tomato paste and continue to cook for about 1 more minute until it begins to become fragrant.
Add the ground beef and cook, breaking up the meat until it is minced up.
Continue to cook until almost all the pink is gone. Drain the fat and return to the heat, adding the garlic.
Cook for an additional minute or so, until no pink remains in the ground beef.
Add the fire-roasted tomatoes and cooked rice. Add your spices as well (the salt, pepper, and oregano).
Reduce the heat to a simmer and cook. Allow the liquid to reduce a bit, about 5 minutes
Check out our Sausage Balls recipe!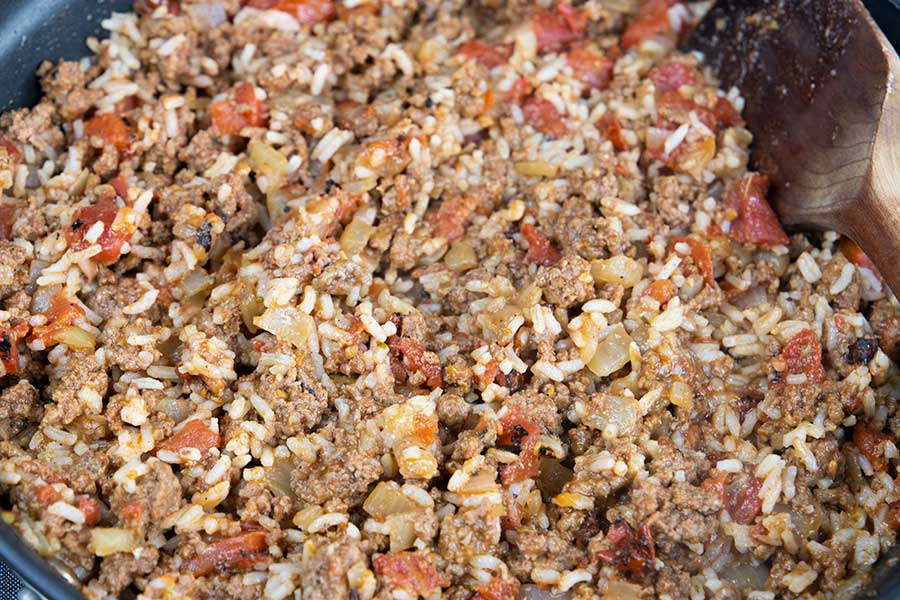 At this point, give it a taste. Add any additional salt and pepper to the rice and beef mixture to your individual tastes.
Remove from the heat and add 1/2 cup of the cheese and add it to the mixture. Mix it around until combined well.
Next, spoon your beef and rice mixture into each pepper. You will probably be like us and start to short-change some peppers. Don't worry, you'll have plenty of the mixture to top all your peppers off nicely.
Tear off a sheet of aluminum foil to cover. Before you cover though, you might want to spray the foil with a non-stick spray to keep the foil from sticking to the peppers and the mixture.
Cover and put into the oven and cook for approx. 30 minutes until the peppers are tender.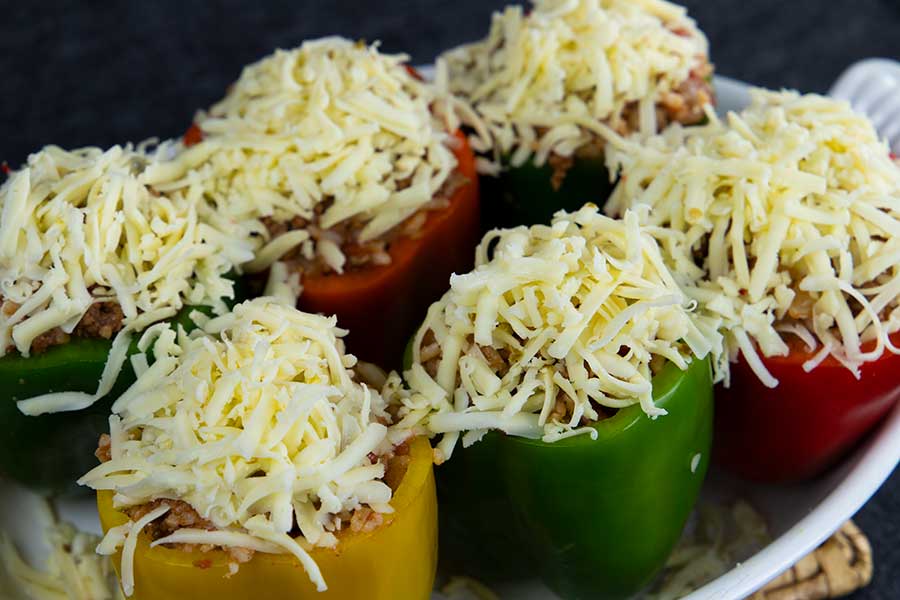 Pull out the peppers and remove the foil. Add the remaining cheese to the tops of the peppers and return to the oven.
Cook until the cheese is nice and bubbly, about 10 more minutes.
Remove from the oven and allow to rest a few minutes.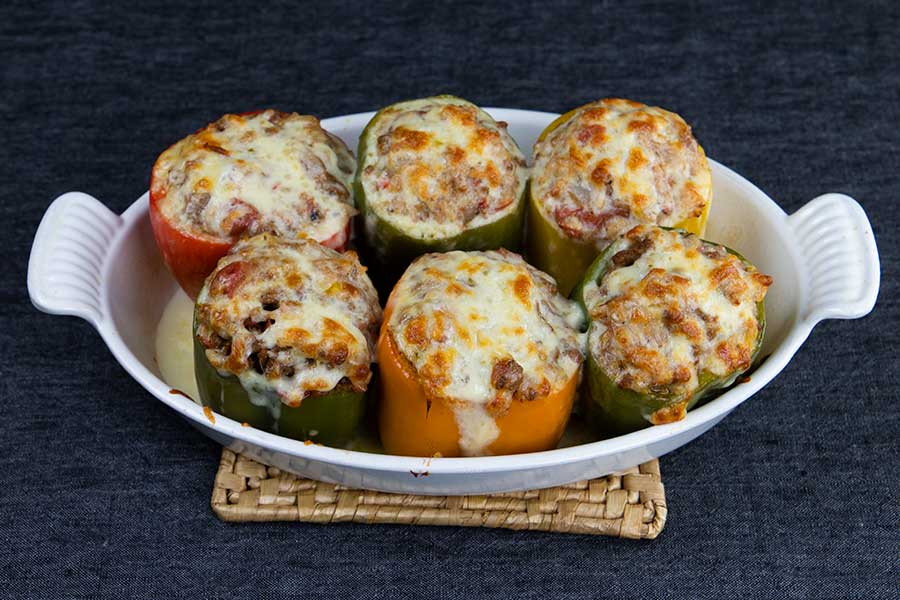 Garnish and serve!
It's A Perfect Dish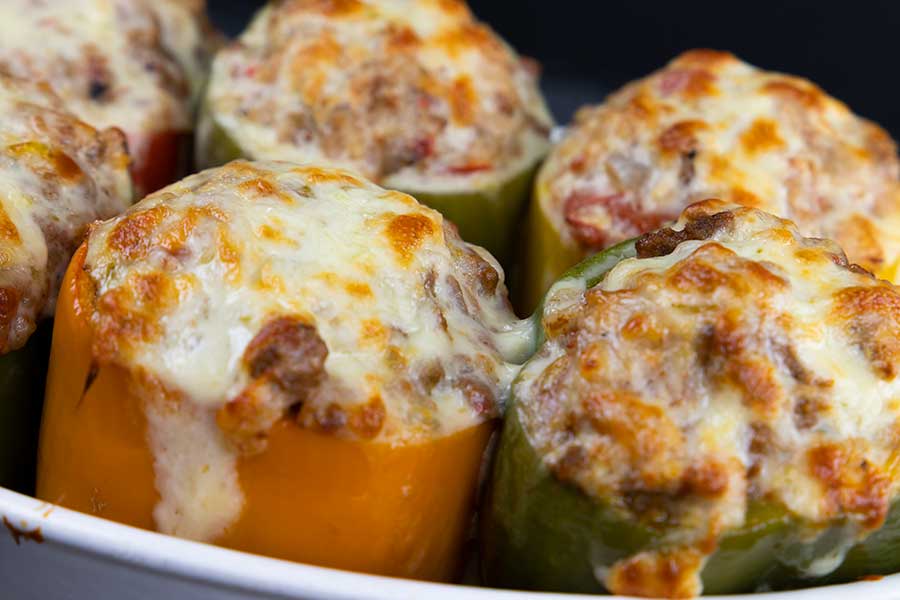 We have prepared this dish uncounted times over the years. We have mixed it up here and there, trying different combinations, to see if there is a way to improve the dish.
The fact is, you can mix this up any way you like using whatever spices you like. It's good in so many ways.
While my wife is not a giant fan of bell peppers she thoroughly enjoys this dish. She might not eat the entire pepper but she's happy. I, on the other hand, eat it ALL!
The seasoned beef with the rice and fire-roasted tomatoes with a bite-sized portion of roasted pepper … yeah, I'm on board.
Give this recipe a try and let us know what you think? Did you change things up and had great success? We'd love to hear from you!
Try our Smoked Chicken Wings!
Stuffed Bell Peppers Recipe
Stuffed Bell Peppers Recipe
A classic dish that delivers big flavor with affordable ingredients
Print
Pin
Rate
Ingredients
1

lb

Ground beef

1/2

cup

Rice

cooked

6

Bell peppers

various colors, tops and cores removed

1

cup

Monterey Jack cheese

or Pepper Jack for an additional kick

1

tbsp

Olive oil

1

tbsp

Onion

medium, choppped

1

tbsp

Tomato paste

3

cloves

Garlic

minced

14

oz

Tomatoes

fire roasted, 1 can, diced

1

tsp

Oregano

dried

1/2

tsp

Salt

kosher

1/4

tsp

Pepper

freshly ground
Instructions
Preheat oven to 400 degrees F.

In a pot, prepare rice according to the instructions.

Using a large skillet, heat to medium and add olive oil. Add onions and saute until soft, about 4-5 minutes.

Add tomato paste and stir until fragrant, about 1 minute.

Add ground beef and cook, breaking up the meat. Cook until almost no pink remains, approx. 4 minutes.

Drain the fat and return to heat and add garlic.

Continue to cook until no pink remains, approx. 1 more minute.

Add rice and fire-roasted tomatoes. Add the salt, pepper, and oregano.

Reduce heat and simmer until liquid has reduced marginally, about 5 minutes.

Season with additional salt and pepper to taste.

Remove from heat and add 1/2 cup of cheese and mix until combined.

Place peppers cut side up in a 9"x13" baking dish.

Spoon mixture into each pepper.

Take a sheet of aluminum foil and spray with a non-stick spray and cover stuffed peppers.

Bake until peppers are tender, about 30 minutes. Top peppers with remaining cheese and return to oven, uncovered.

Bake until cheese is bubbly, about 10 minutes then remove from oven
Nutrition
Calories:
394
kcal
|
Carbohydrates:
24
g
|
Protein:
21
g
|
Fat:
24
g
|
Saturated Fat:
10
g
|
Cholesterol:
70
mg
|
Sodium:
376
mg
|
Potassium:
678
mg
|
Fiber:
4
g
|
Sugar:
7
g
|
Vitamin A:
4462
IU
|
Vitamin C:
162
mg
|
Calcium:
181
mg
|
Iron:
3
mg