These honey sriracha chicken wings are a great way to switch up wing night at home.
This recipe is sticky, slightly sweet, a little spicy, and loaded with flavor.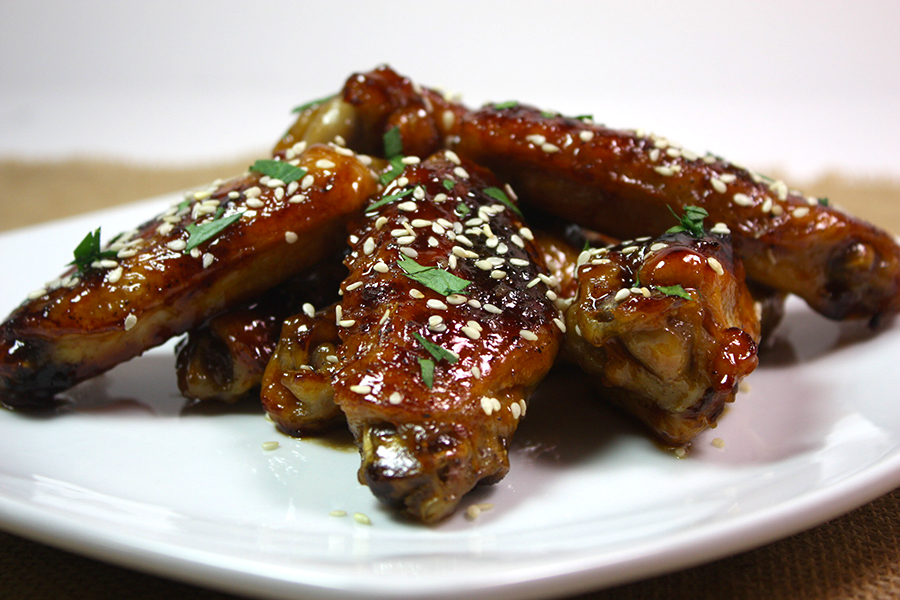 Never give up buffalo wings but when you crave something different give this recipe a try. It's an easy recipe and is ready in about an hour.
How to Cut Whole Chicken Wings
I swear by fresh wings these days. They aren't loaded with extra water that takes a lot of time to cook out and they crisp up much faster. Plus you save money cutting them yourself. A sharp knife is your friend in the kitchen!
Just spread the wings out and cut at the joints. I place the flapper parts in the freezer for making homemade stock.
How to Make Honey Sriracha Chicken Wings
Preheat the oven to 400 degrees. Season the wings with salt and pepper, if desired.
Prepare a baking sheet with parchment paper. You can also place them on a wire rack if desired.
Bake the wings for 45 minutes.
While the wings are baking prepare the honey sriracha sauce.
In a small saucepan, combine soy sauce, honey, garlic, ginger, sriracha, and sesame oil, and bring it to a boil over medium heat. Make a thin paste with the cornstarch and water and then add it to the sauce when it boils. Turn it down and stir till it thickens. Set aside.
At the 45-minute mark, remove the wings from the oven, and place them in a large bowl. Pour about 2/3 of the sauce over the wings and toss to coat evenly. Return to oven for another 15 minutes or until desired browning has occurred. (We broil ours for about 3 minutes)
Remove them from the oven and place the wings with the remaining sauce together in a bowl and toss. Garnish with sesame seeds.
Enjoy these sweet and spicy chicken wings with loads of napkins!
More Delicious Recipes
Recipe adapted from Family Fresh Meals