Healthy Whole Wheat Banana Muffins
We decided to give healthy whole wheat banana muffins in our continued efforts to drop some pounds.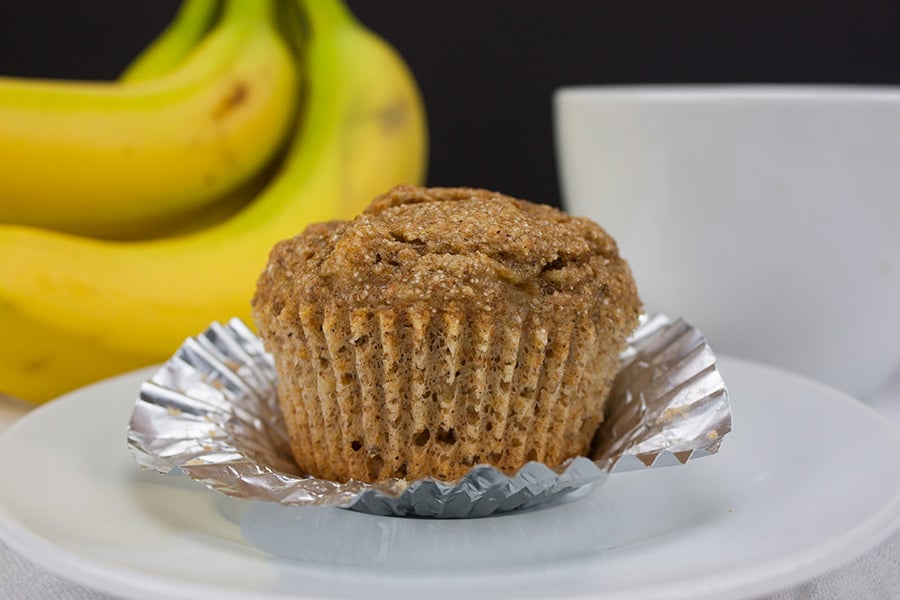 We enjoy our regular baked goods, apparently too much. You know the good kind with all-purpose flour, sugar, fat and all that good stuff.
I was hoping these would keep my husband from the drive-thru every morning. Much to our surprise, they are crazy delicious! Even my daughter loved them.
Try our popular bakery-style Pumpkin Muffins!
Healthy Whole Wheat Banana Muffins
You are swapping out the white flour for whole wheat, oil/butter for applesauce and Greek yogurt and granulated sugar for raw honey. We are not fans of Greek yogurt but we were willing to give it a try in a baked good.
Preheat oven to 375 degrees F. Prepare a muffin tin with paper liners or spray with baking spray.
In a large bowl, whisk together the whole wheat flour, baking powder, baking soda, cinnamon, and salt; set aside.
In a separate bowl, whisk the egg then add mashed bananas, applesauce, honey, vanilla, and yogurt. Slowly add dry ingredients to the wet ingredients, mixing until just combined.
Spoon batter into prepared muffin pan, filling each cup about 3/4 full.
Check out our Best Ever Banana Muffins!
Bake at 375° degrees for 22 minutes.
That's it, so easy! I promise you will be just as surprised how these whole wheat banana muffins taste.
So far, these are keeping him satisfied and away from the fast food. Fingers crossed!
Our moist Banana Bread is always a favorite!
Recipe was inspired by EatYourselfSkinny