Sheet Pan Roasted Chicken and Vegetables
Sheet pan roasted chicken and vegetables will become one of your favorite go-to meals. An easy healthy one-pan meal.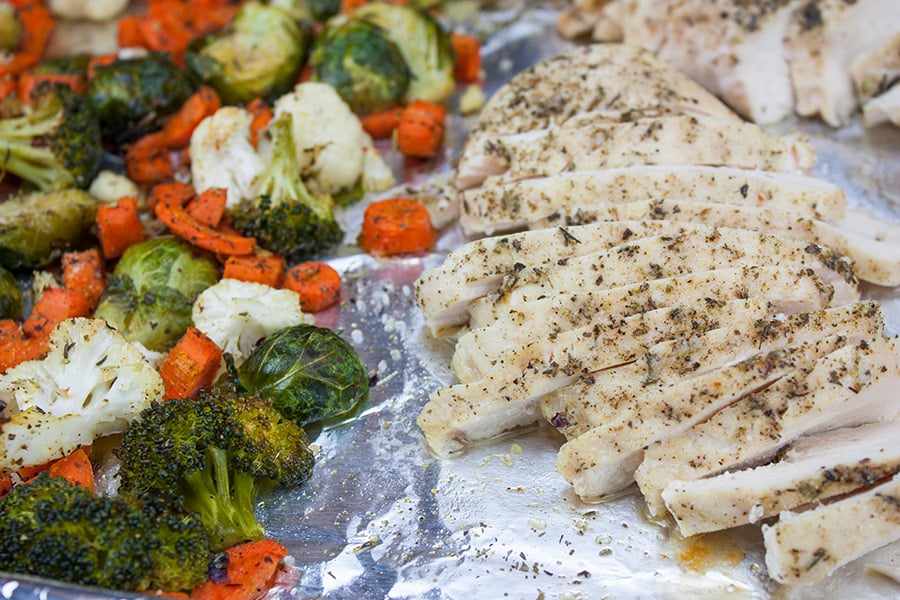 Easy cleanup, delicious flavor, and perfect for meal prep or dinner in a jiffy. We had this for dinner and prepped several lunches with the leftovers.
Try our Strawberry Shortcake!
Sheet Pan Roasted Chicken and Vegetables
It's about the method, mix it up. Try different vegetables or different spices. Just be sure all the ingredients will cook in the same amount of time.
Preheat oven to 425F. Line a baking sheet with aluminum foil and set aside.
Cut the vegetables into bite size pieces.
Place the chopped vegetables in the large bowl. Drizzle with the olive oil. Sprinkle all the spices and garlic over the vegetables and toss to coat.
Spread them evenly on each side of the sheet pan. (or all to one side, it really doesn't matter)
Place the chicken breast in the middle of the pan, drizzle with the olive oil, sprinkle the Italian seasoning, salt, pepper, and rub with your hands to coat.
Check out our Bread Pudding!
Bake for 20 minutes or until the vegetables are tender and chicken is cooked through (internal temperature 165F).
Slice the chicken then serve or divide up into storage containers for lunch. So easy, healthy and delicious. Not to mention the savings you will have from staying in for lunch!
Perfectly portioned lunch ready for reheating and enjoying. All microwaves are different so reheat according to your microwaves abilities. We heated at 90 power for 1 minute 30 seconds.
An easy sheet pan dinner for a quick healthy meal or meal prepping.
Sheet Pan Chicken and Veggies Recipe
Recipe inspired by GimmeDelicious