This grilled London Broil is easy and much more budget-friendly than individual steaks for the whole family. I purchase London broil anytime I find it on sale, wrap it in freezer paper then pop it in the freezer.
This was Sunday dinner with large baked potatoes and salad. Easy peasy!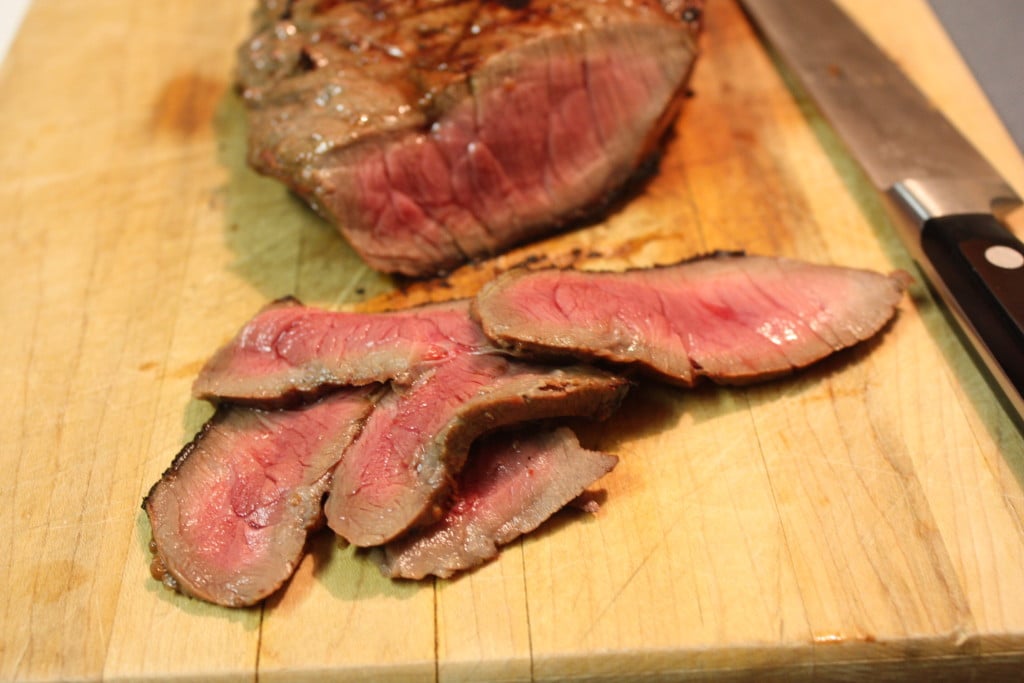 Ingredients for London Broil Marinade
Moore's marinade – Or Dale's marinade. I like the low sodium version of both of these products.
Italian salad dressing – Choose your favorite.
If you prefer to make your own marinade try our Best Ever Grilled Chicken Marinade it's great for beef and pork too!
Tips
Choose a good cut of meat that's at least 2 inches thick.
As with most beef, allow it to come to room temperature before grilling. Remove from the refrigerator for at least one hour before cooking.
Always insure the grill is heating extremely hot!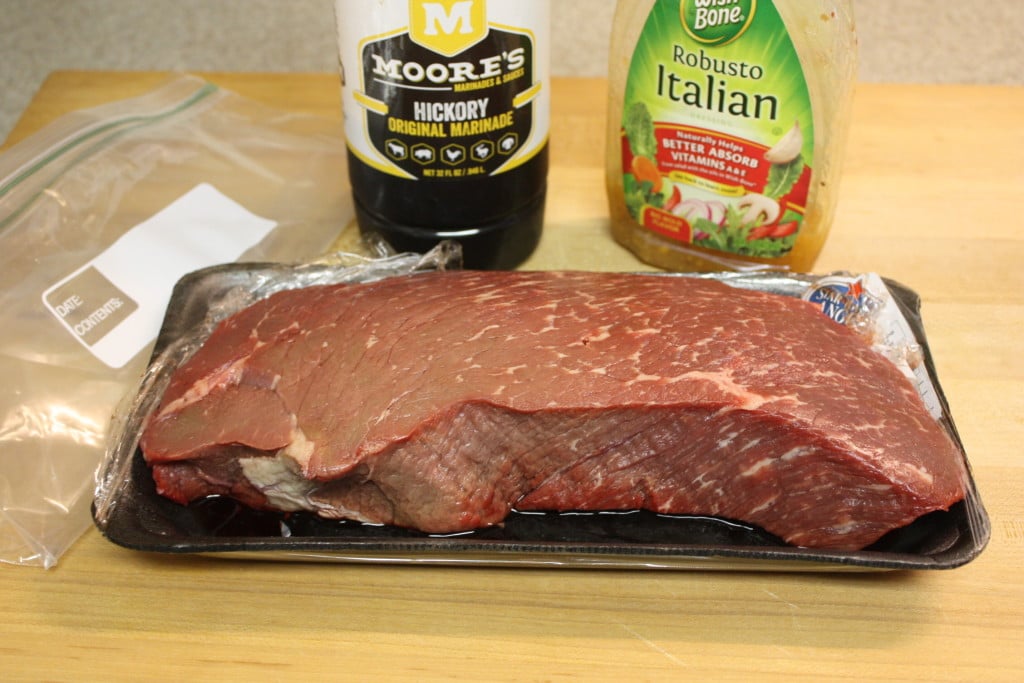 How to Grill London Broil
Marinate and grill.
Our London Broil marinade is so simple. Italian dressing and Moore's. Trust us, it's damn good. 🙂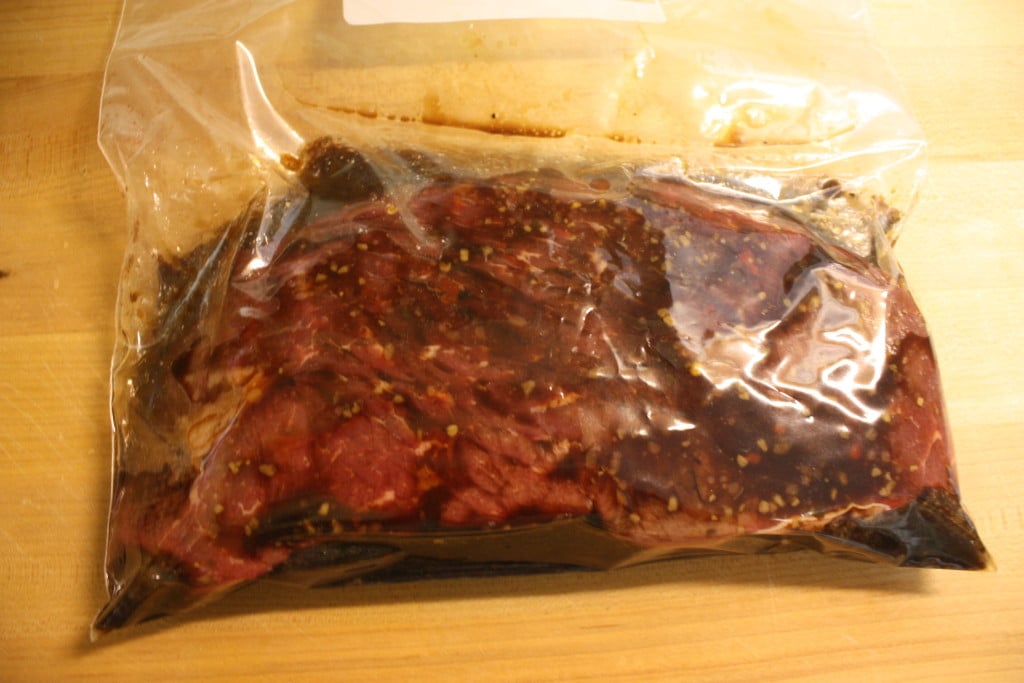 I marinate most everything in zip-top bags. Less clean-up is always better in my book. We marinated this for about 3 or 4 hours in the refrigerator.
Heated the grill to about 450 degrees, then grill for 7 minutes first side, and 5 minutes on the second side for medium-rare. Let the meat rest for at least 10 minutes after grilling before slicing.
If you cut it too soon, all those juices are going to run out and leave you with a dried-out experience.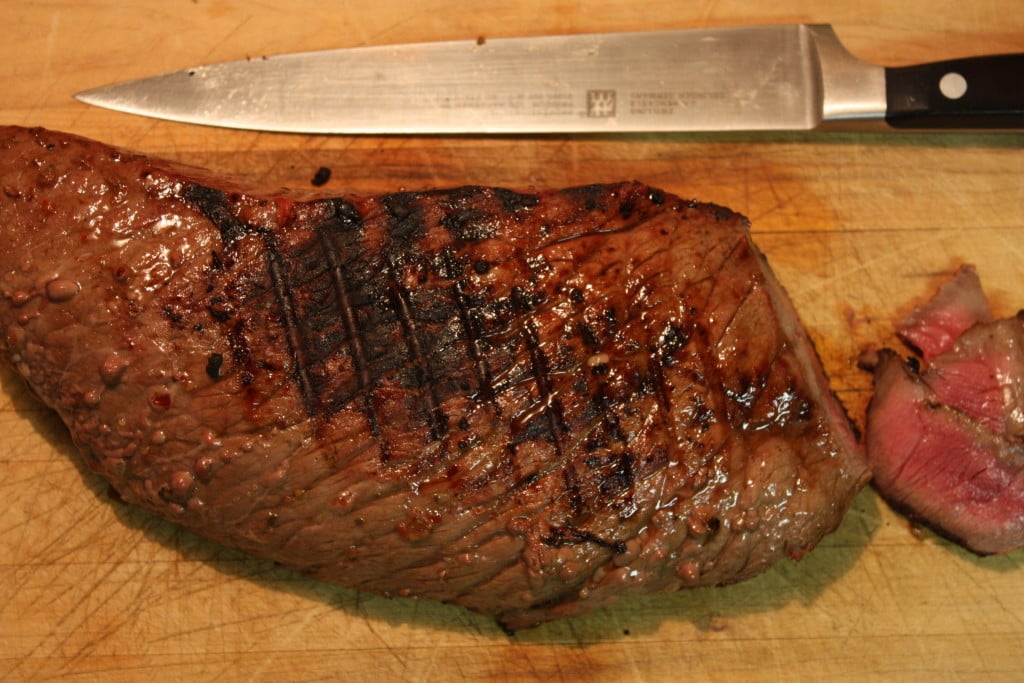 This London Broil was about 2″ thick. Use this guide to help determine the grilling time for your cut of meat.

Thickness
½"
¾"
1″
1¼"
1½"
1¾"
2″
Rare
120° – 130°
2/2
4/2
5/3
5/4
6/4
7/5
8/6
Medium Rare
130° – 140°
3/2
4/3
5/4
6/5
7/5
8/6
9/8
Medium
140° – 150°
4/2
5/3
6/4
7/5
7/6
8/7
10/8
Well Done
160° – 170°
5/3
7/5
8/6
9/7
10/8
11/9
13/11
( # / # – represents minutes first side, then minutes after turning)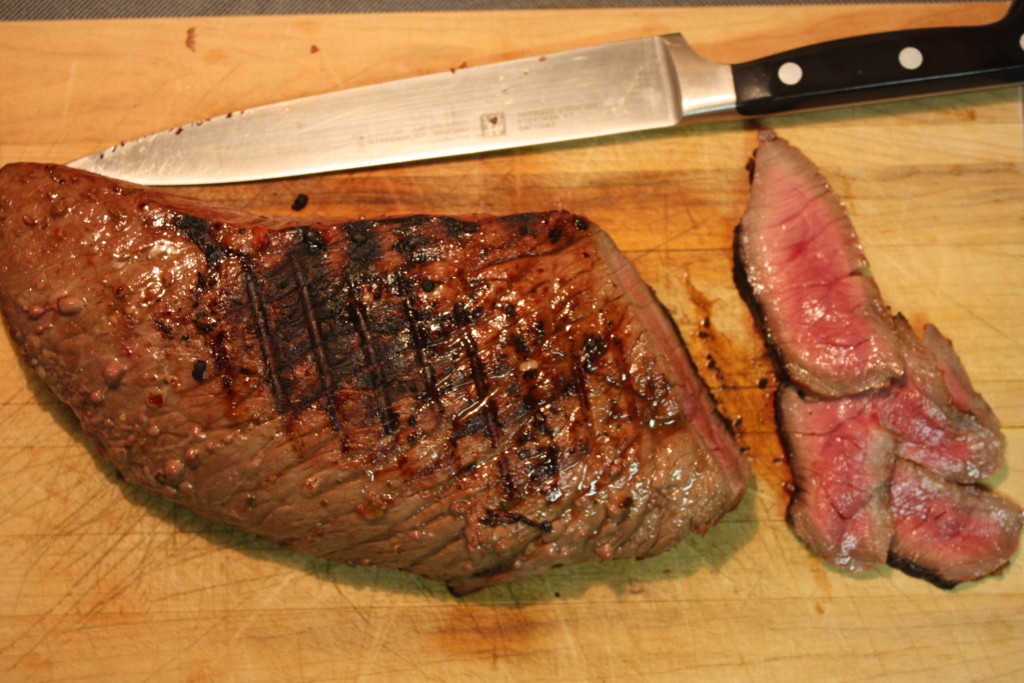 After resting cut thin slices.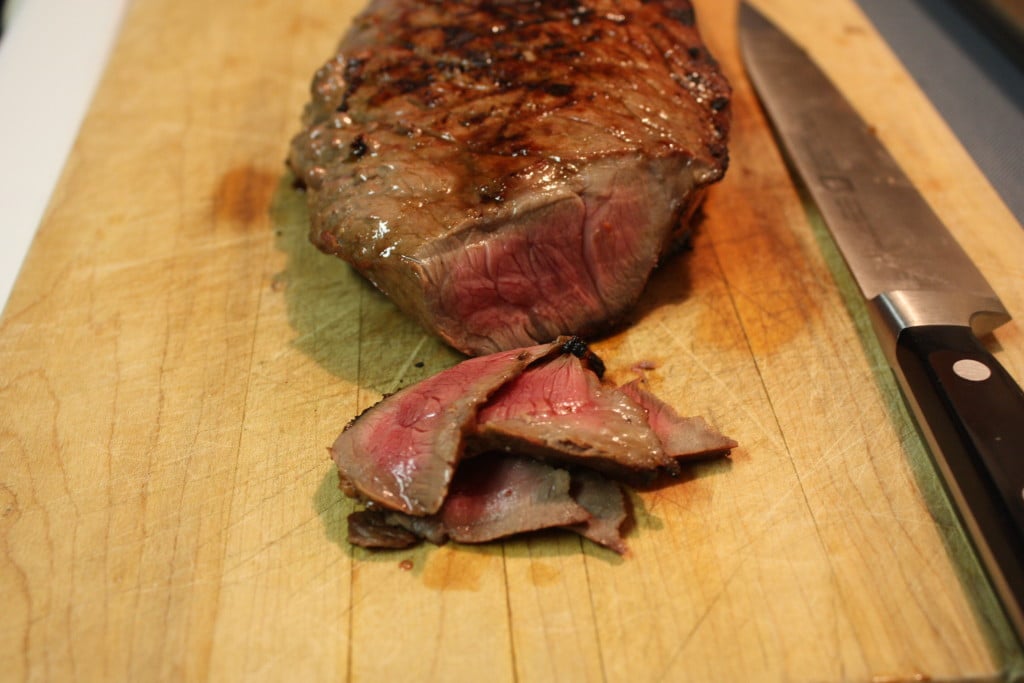 This is one of those "no real measuring" recipes. I don't measure I just pour it into the bag with the meat.
More Grilling Recipes
Grilled London Broil
This Grilled London Broil is a medium rare, juicy, and flavorful London Broil. A more budget-friendly way to feed a crowd!
Print
Pin
Rate
Ingredients
London Broil

1/4 to 1/3

cup

Italian dressing

1/2 to 3/4

cup

Moore's Marinade

or your favorite
Instructions
Place London broil in a zip top bag

Pour dressing and marinade into the bag

Massage the marinade around a little

Squeeze the air out of the bag, zip closed and place in the refrigerator for a few hours.

Heat the grill to about 450 degrees. Cook the london broil according to you doneness preference using the guide listed above with the lid OFF of the grill.

Remove from the grill and let rest 10 minutes.