Easy Homemade Biscuits (tender, soft & flaky)
Ok, folks, I have finally DONE it!! The best easy homemade biscuits I have ever made.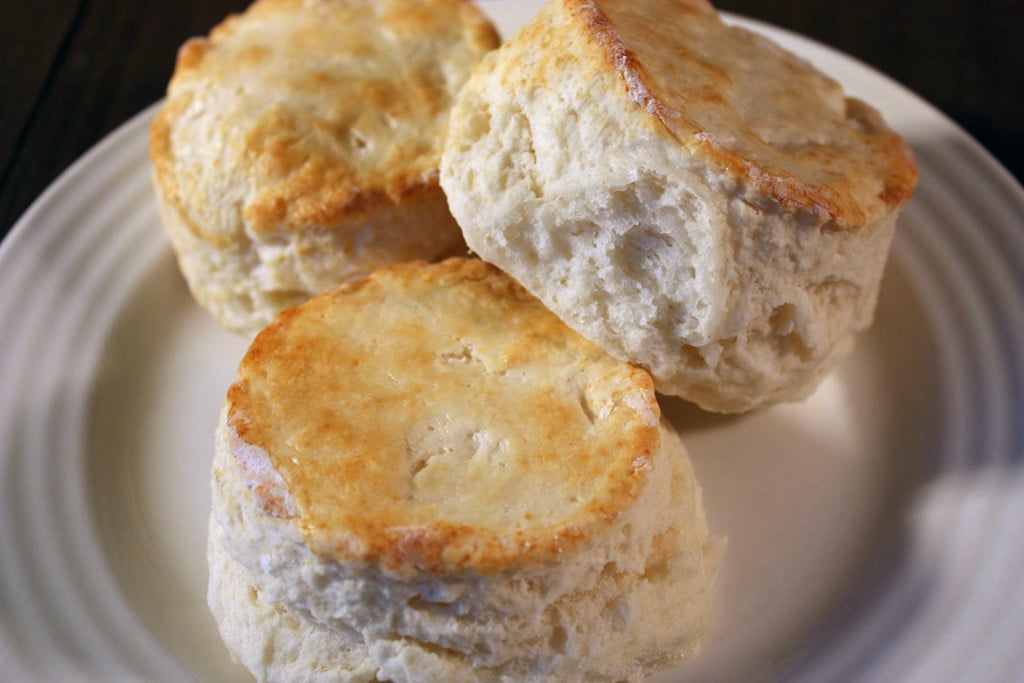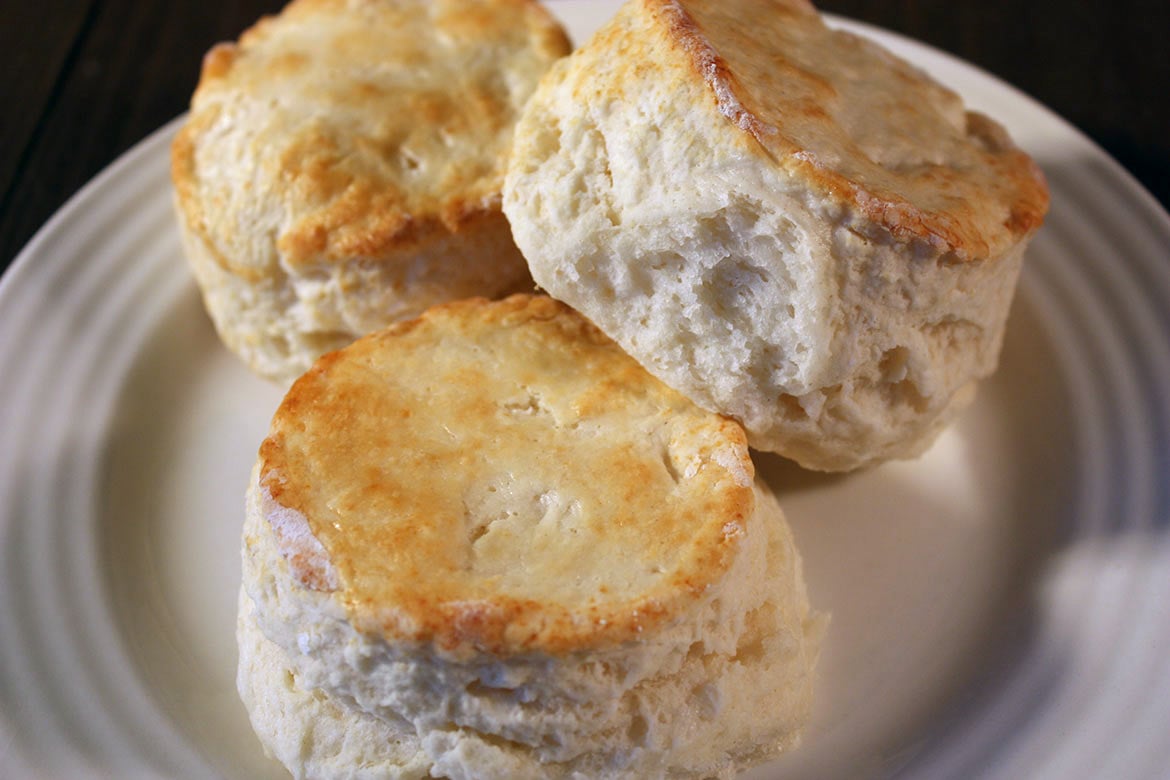 It took a lot of failures and hockey puck-like biscuits, but I can make a perfect buttermilk biscuit thanks to themerchantbaker.
I have made these several times and they come out perfect each time. They are so good my husband requests them almost every weekend.
I have never been able to produce a light, fluffy, and yet tasty biscuit. I do mean never.
If you have the same problem give this recipe a try. You may say that it's the best biscuit recipe you've tried. We think so!
How To Make Homemade Biscuits Video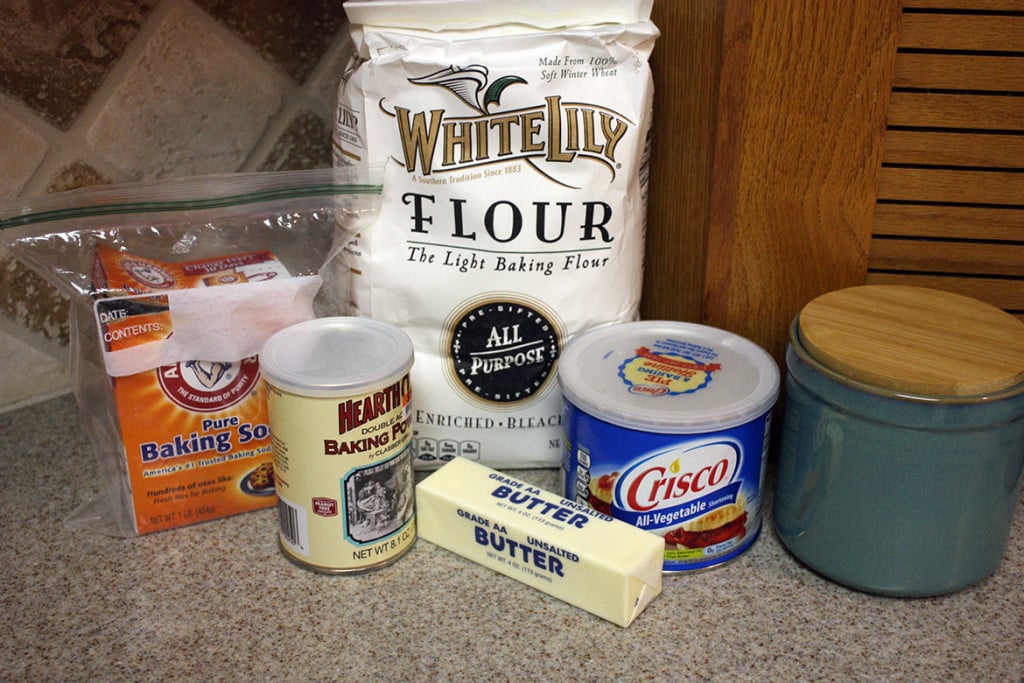 Recipe Ingredients
All-purpose flour – For biscuits, we swear by the White Lily brand.
Baking soda, baking powder, and salt – The baking powder reacts with the buttermilk giving a nice rise to the biscuits.
Unsalted butter – Cold. I recommend unsalted so you control the amount of salt in the recipe.
Shortening – Cold.
Buttermilk – Kept cold.
I forgot to put the buttermilk in the photo…sorry.
Tips
Keep the buttermilk, butter, and shortening cold. This is important for fluffy and soft biscuits.
DO NOT overwork the dough. Mix just until the dough comes together.
No need for a rolling pin. Use your hands to shape and flatten the dough.
You will be laminating the dough by folding and turning it. This creates layers in the biscuits.
Don't be afraid to add flour when turning the dough out onto the board. The dough will be a little sticky.
DO NOT twist the biscuit cutter. Cut straight down and pull up. Twisting the cutter will cause the edges to seal and prevent them from rising as much.
Place the cut biscuits almost touching each other on the baking sheet. This helps them rise high and not become lopsided.
We brush the tops with buttermilk but you could also use melted butter.
How To Make Easy Homemade Biscuits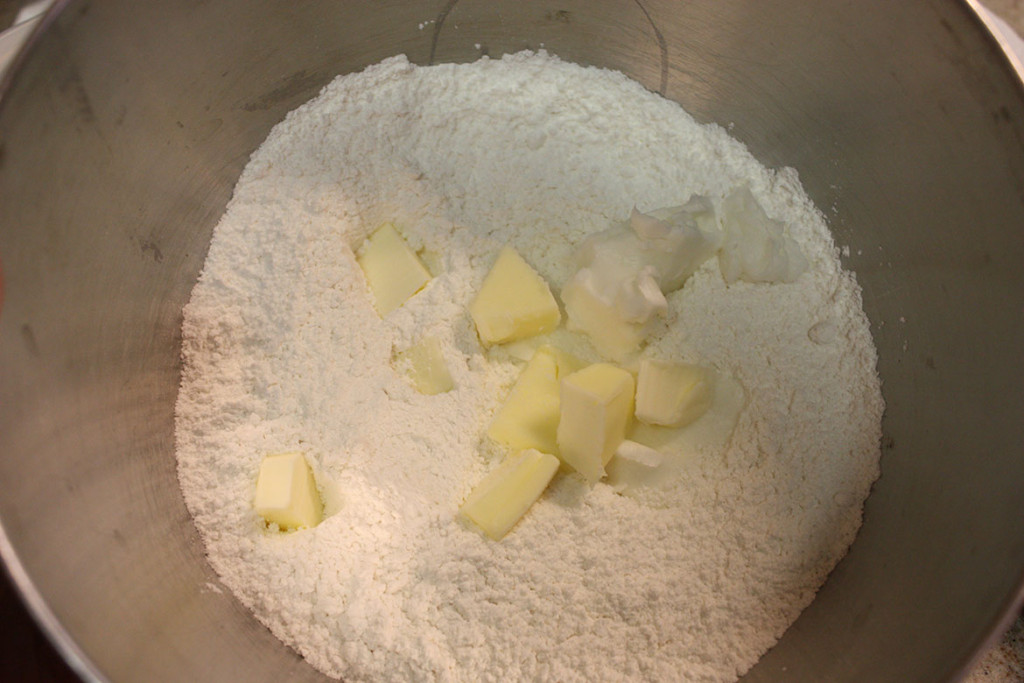 In a large mixing bowl, whisk together flour, baking powder, baking soda, and salt.
Cut in the cold butter and shortening. Make sure you use cold butter, don't use melted butter.
You can use a pastry blender or your fingertips. If using your fingers be careful and work quickly so you don't melt the fats. You want them to stay cold.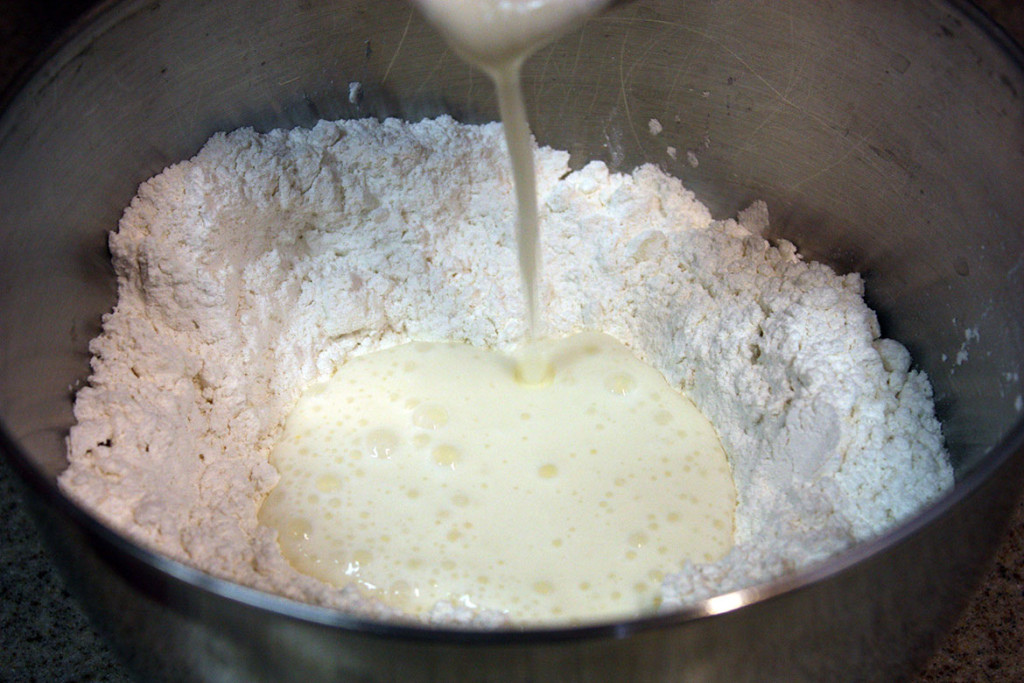 Make a well in the center of the dry ingredients and pour in the buttermilk. Working from the outside start bringing the flour into the buttermilk very gently just until it starts to come together.
Do not vigorously stir the mixture like a cake batter. The dough will be somewhat wet and sticky.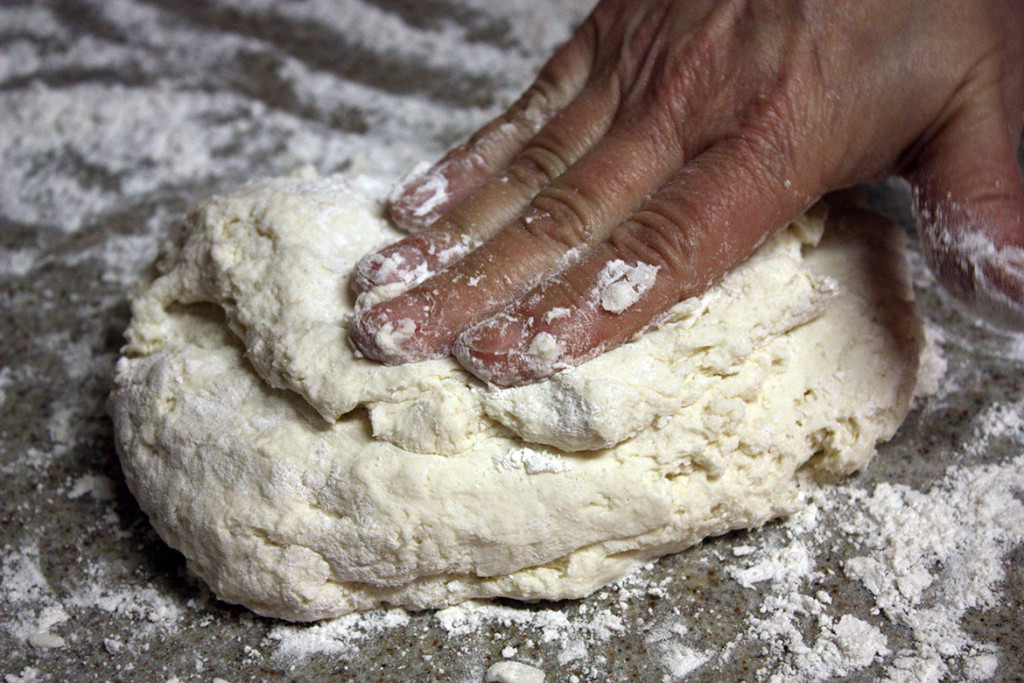 Turn the dough out onto a lightly floured surface. Keep extra flour nearby so you can add it as you knead the dough.
Flour your hands, bring the dough together and start lightly folding the dough in half.
Gently turn the dough, and fold. Do this about 6 to 10 times until the dough comes together and is beginning to feel smooth.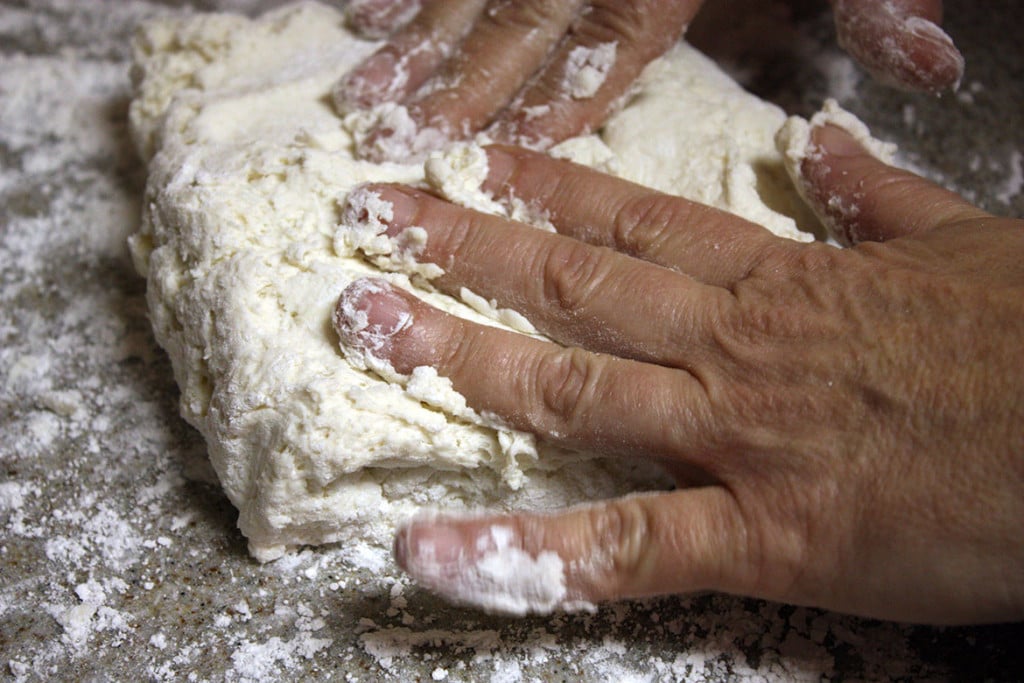 Please excuse my wrinkled hands. These photos sent me screaming to the store to purchase those lovely yellow rubber cleaning gloves. Yikes!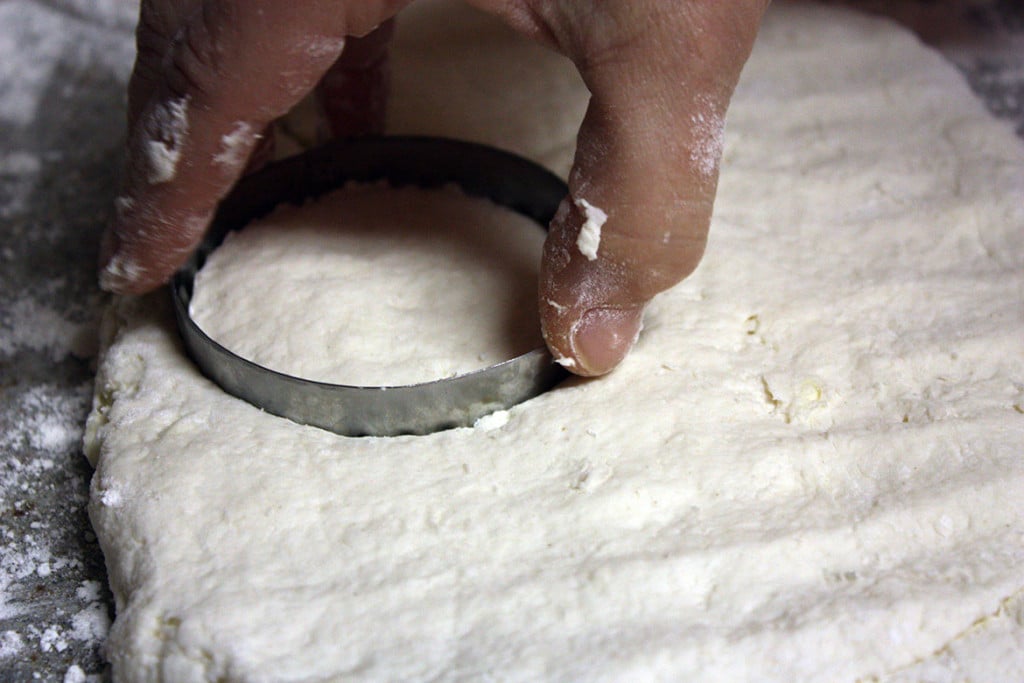 Pat the dough out to about 1″ thick. I don't bother with a rolling pin. Cut as many biscuits as you can on the first rollout.
To cut your biscuit dough, use a lightly floured biscuit cutter or pastry cutter, push straight down to cut the dough, and don't twist to release. Twisting the biscuit cutter will seal the sides and they won't rise as high.
Reform the dough very gently and cut more biscuits. The second cutting may not rise as much as the first.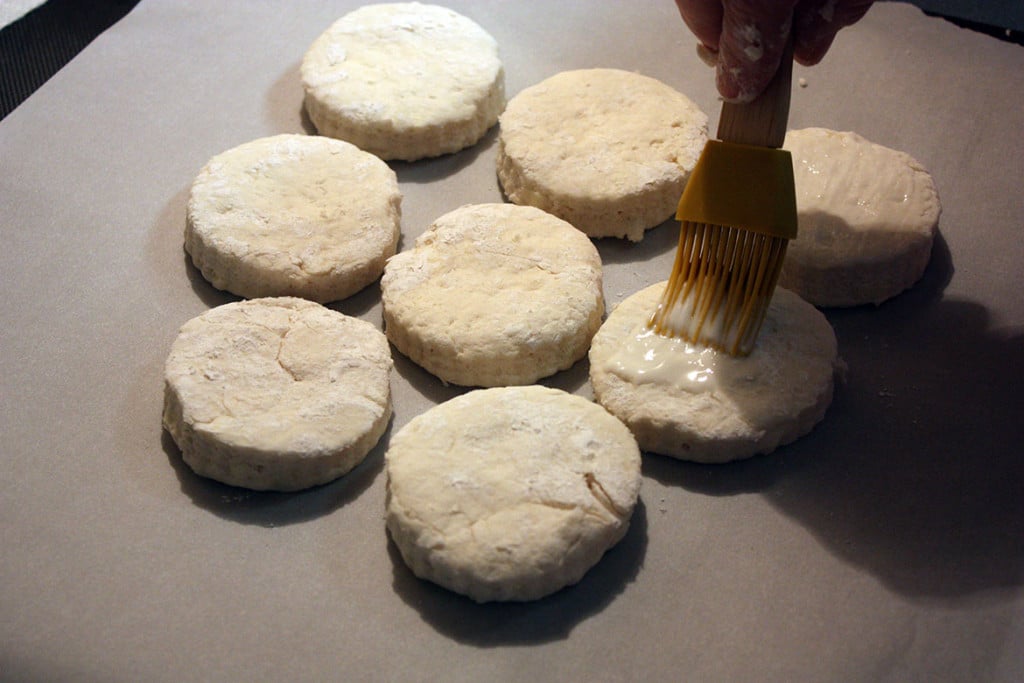 Turn the biscuits upside down and place them on a parchment paper-lined baking sheet almost touching. Brush the tops with buttermilk and bake for about 15 minutes.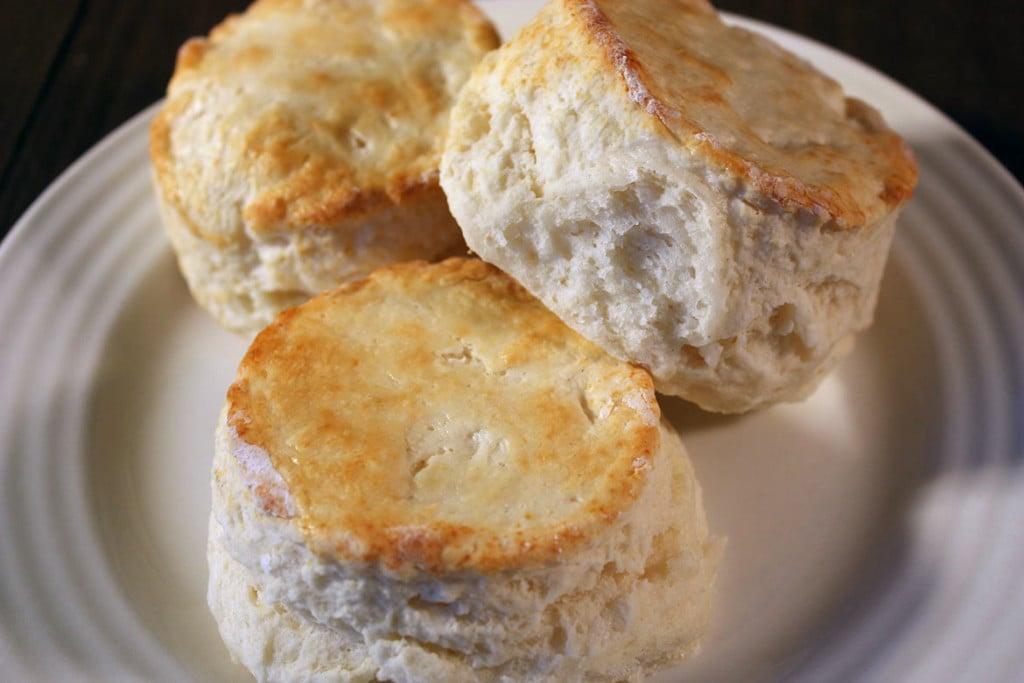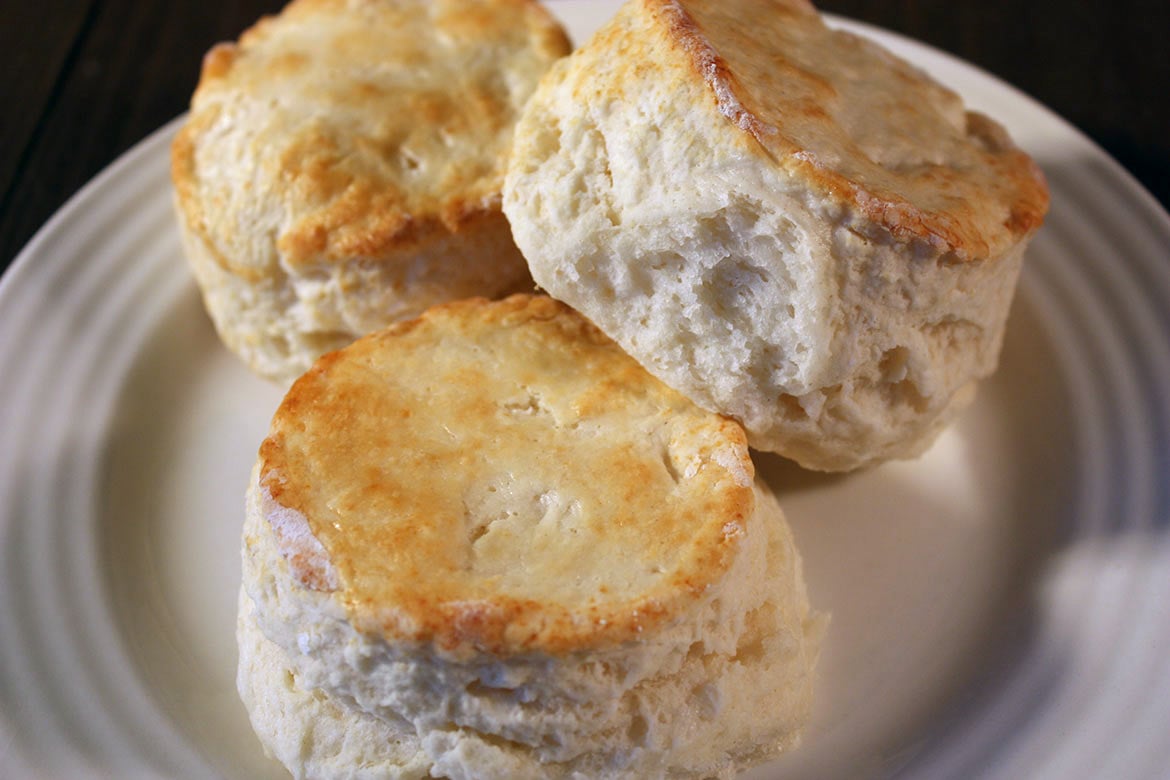 Oh, my gosh how perfect do these babies look??? Look at that light golden brown top. Yum!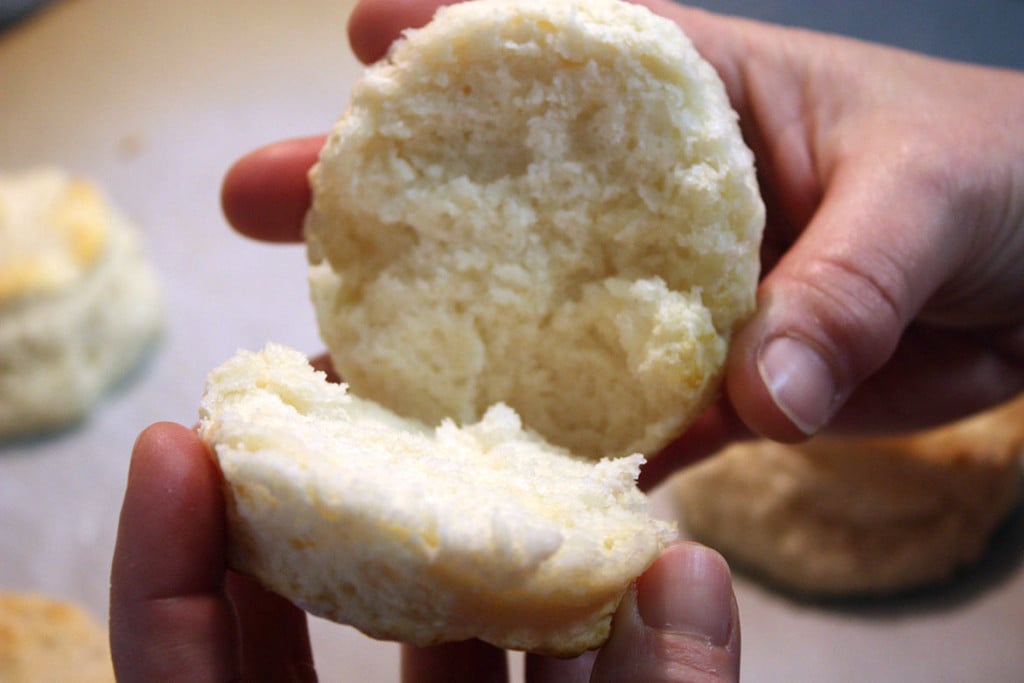 Give this recipe a try, you will not regret it! Slather it up and the melted butter on this warm, soft, flaky biscuit and you will swear that this is one of the best biscuit recipes you have tried.
An easy homemade biscuit that anybody can knock out and blow your friends and family away.
Yields 6-8 tall, large biscuits
Now, if you're thinking about your next breakfast plan, you need to check out our Fried Grit Cakes recipe! These biscuits, those grit cakes .. OMG!
FAQ
Can You Freeze Buttermilk Biscuits?
Yes! Make through the cutting step. Place the cut unbaked biscuits on a parchment-lined baking sheet and freeze until solid. Place them in a zip-top freezer bag, and freeze them for up to 3 months.
How To Bake from Frozen
Preheat the oven to 450 degrees F. Line a baking sheet with parchment paper, arrange the biscuits almost touching, and brush the tops with a little buttermilk. Bake as instructed in the recipe.
Are you on Pinterest? Click the button below to add this recipe to your boards.
More Delicious Breakfast Recipes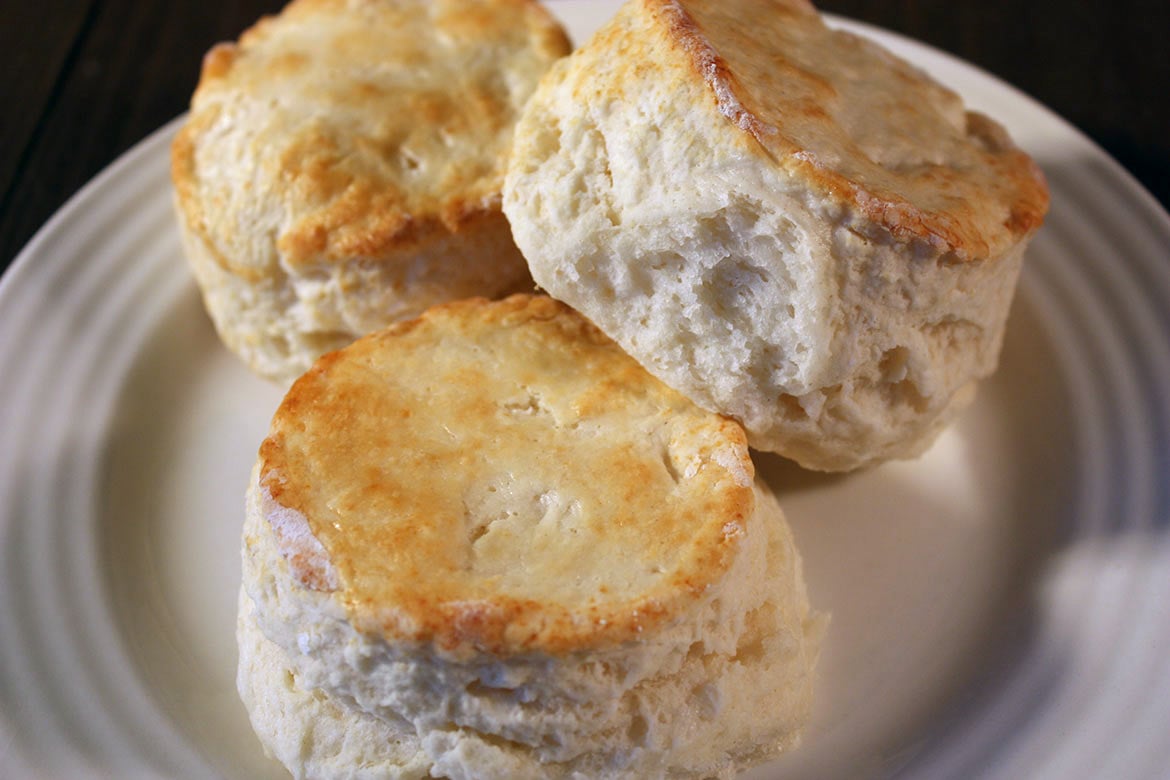 Easy Homemade Biscuit Recipe (tender, soft, & flaky)
Light, flaky, tender buttermilk biscuits ever time!
Print
Pin
Rate
Ingredients
2

cups

all-purpose flour

4

teaspoons

baking powder

1/4

teaspoon

baking soda

3/4

teaspoon

salt

2

Tablespoons

salted or unsalted butter

(cold and cut into cubes)

2

Tablespoons

shortening

I use non-hydrogenated

1

cup

cold buttermilk

extra buttermilk for brushing tops
Instructions
Preheat oven to 450 degrees F.

In a large mixing bowl, whisk together flour, baking powder, baking soda, and salt.

Using a pastry blender or your fingertips, quickly cut shortening and butter into flour mixture until combined until you have various sizes no larger than peas. This should also take less than a minute.

Make a well in the center of the flour and pour in the buttermilk.

Working from the outside in, bring the flour into the center with a large spoon, scooping and turning bowl until the buttermilk is incorporated into the flour. (Use a light hand here, we are simply gently tossing the flour together with the buttermilk until it's combined)

Turn the wet sticky dough out onto a well-floured surface. Keep a small pile of extra flour on hand to add to your surface or your hands as needed.

Flour your hands and bring the dough together, then lightly fold it in half in a gentle kneading motion.

Do this about 5-7 times until your dough comes together and is beginning to feel smooth.

Pat dough out to about an inch thick.

Using a floured cutter, cut the dough into desired sizes.

Turn biscuits upside down and place onto an ungreased baking sheet, close together but not touching.

Brush tops with a little buttermilk

Bake until they have risen nice and tall and are golden brown on top, about 15 minutes. Serve warm.
Notes
I have found that it's a MUST to use White Lily flour in this recipe. I have tried other flours and they have come out tough and less flavorful.
Nutrition
Calories:
188
kcal
|
Carbohydrates:
26
g
|
Protein:
4
g
|
Fat:
7
g
|
Saturated Fat:
3
g
|
Cholesterol:
11
mg
|
Sodium:
311
mg
|
Potassium:
276
mg
|
Fiber:
1
g
|
Sugar:
2
g
|
Vitamin A:
137
IU
|
Calcium:
126
mg
|
Iron:
2
mg