No Saturday breakfast is complete without GRITS!
There, I said it. Having been raised in California, I had never heard of 'a grit' until I settled in the South.
Even then, I was wary and untrusting of this breakfast staple that everybody swore was a required component of a decent breakfast.
After years of swearing them away, denouncing them as devilry, my long-suffering wife finally got me to try them. First, one bite, then another. By the third bite, I was born again Southern.
I lamented the years gone by and countless breakfasts have gone awry by my unwillingness to try something new.
We always have an extra serving or two of grits when we make ours now, or sometimes we don't make enough. Sometimes you just want a little; sometimes, you want a full bowl.
Everybody is different and the directions tell you how to make enough for one or an Army unless you incorporate some math skills, which are hard to come by on a bleary-eyed Saturday morning.
I knew there had to be a way to use the extra grits in some fun and fabulous ways. All Hail Google Search!
Try our Pumpkin Muffins!
The Fried Grit Cake!
Well well well … this had to be attempted and consumed hungrily and with relish!
The first try we did was with just some plain ole grits. It was good, satisfying. But I wanted to put a bit more flavor into it.
Adding ground sausage and cheese … well, that would certainly do it. And it did. And it was AMAZING!
A crispy outer shell with soft seasoned cheesy sausage grits inside … Manna from Heaven!! It was good. It was REAL good.
You can use your leftover grits to make a basic fried cake, or perhaps do it up right by adding whatever you want. It's super easy to do and the tastes and textures are just wonderful.
I urge you all to give it a whirl. You may find that fried grits cakes become a regular dish in your breakfast offerings.
How To Make Fried Grits (Grit Cakes)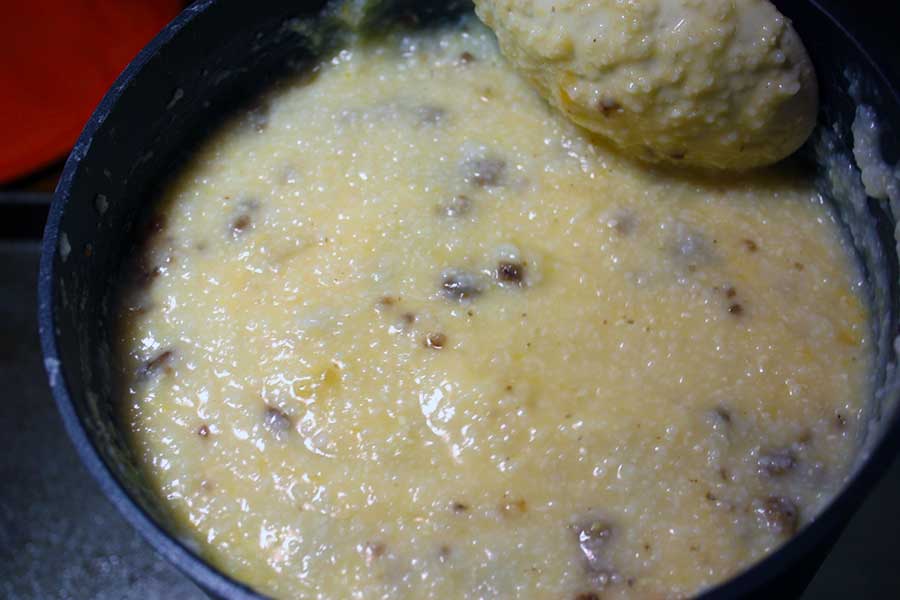 Brown up some sausage and grate some cheddar cheese, you may want to throw in a bit of onion with the sausage, as we did.
Grab some grits and put them on the boil. We did 4 servings, more than enough to feed a hungry family.
Once the grits are done, combine the sausage and cheese to the grits.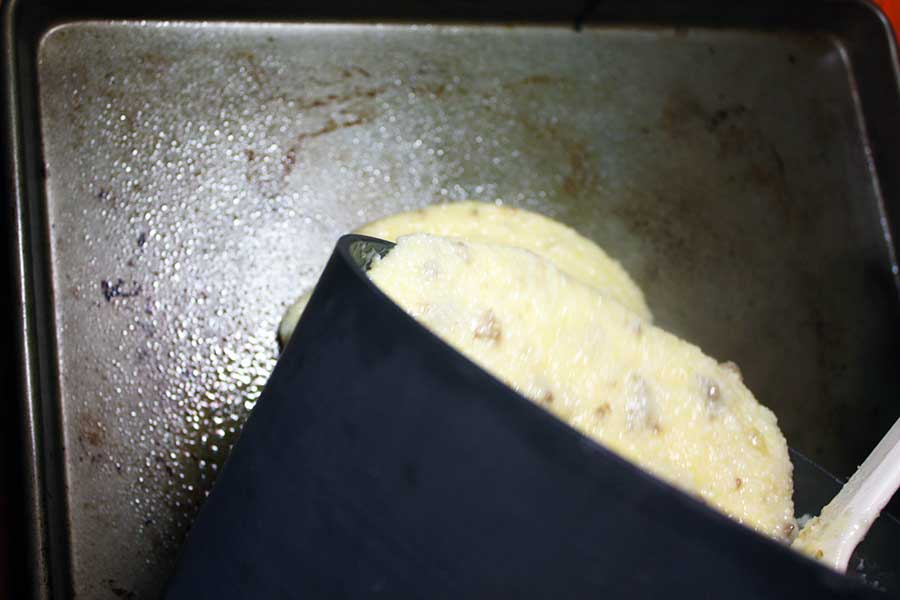 Grease a baking sheet and pour grits into the pan.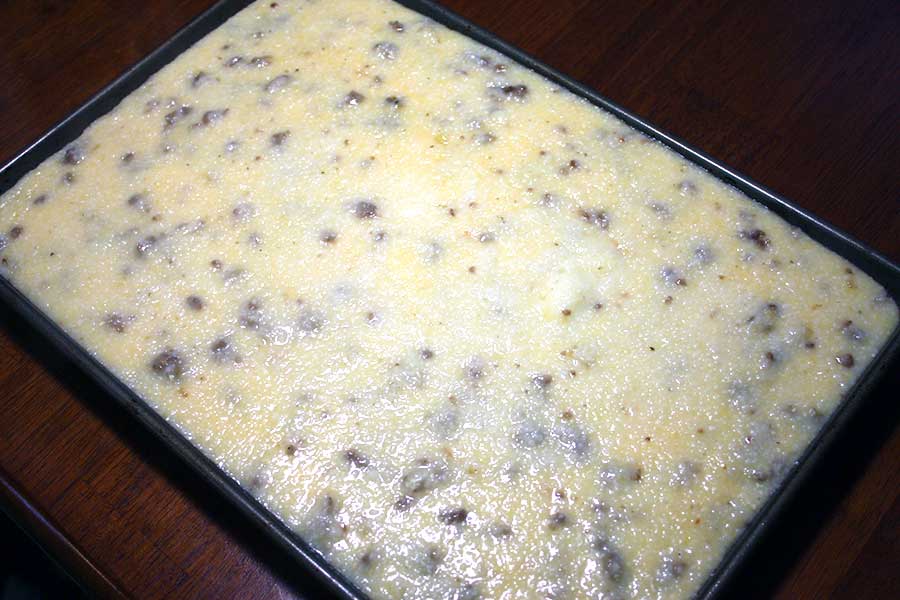 Now comes the hard part … put it in the refrigerator until tomorrow morning.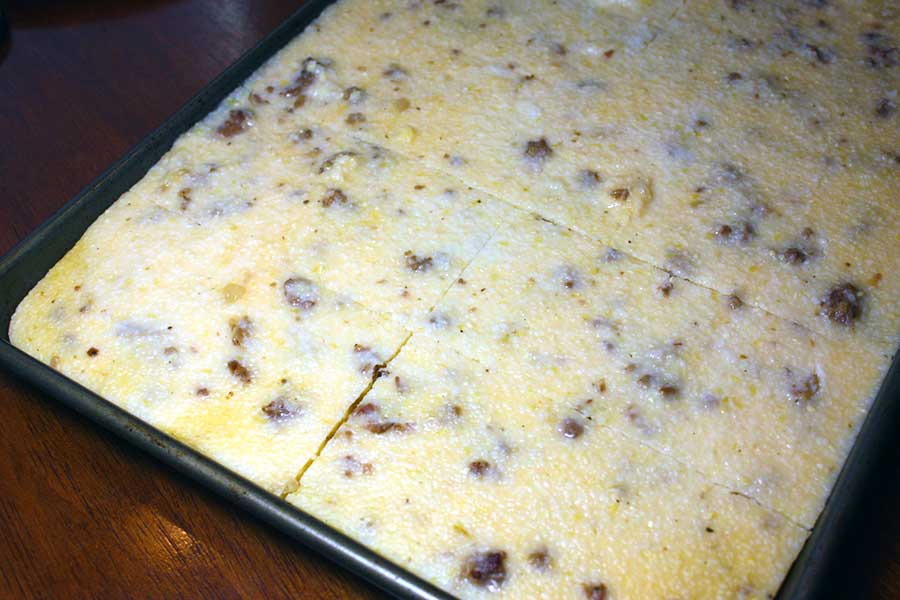 Now that the grits are set up, you can cut them with a knife into reasonable serving sizes.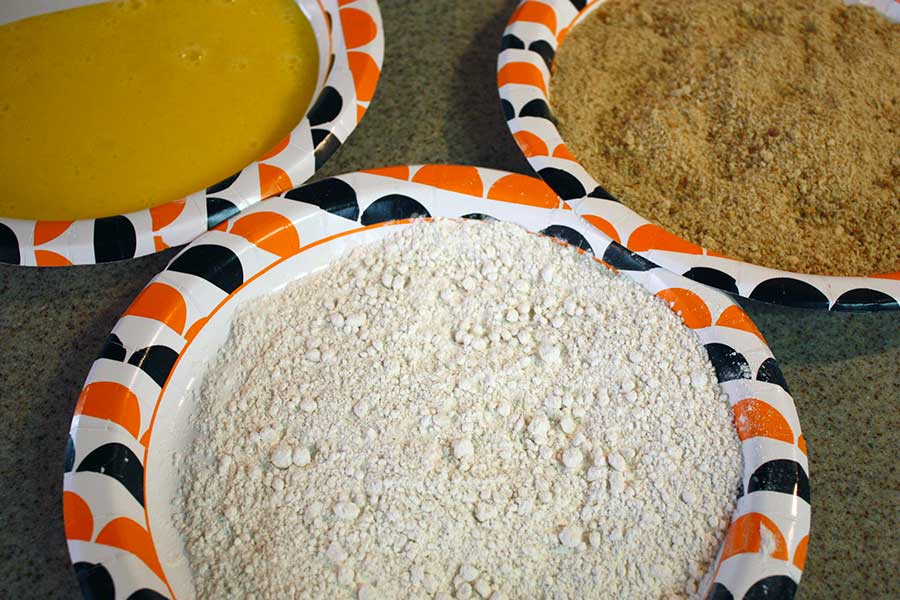 Next, dredge the grit cake in egg wash, dip them in seasoned (black pepper and salt) flour, dredge again in egg, and cover them with breadcrumbs.
Check out our Hashbrown Breakfast Casserole!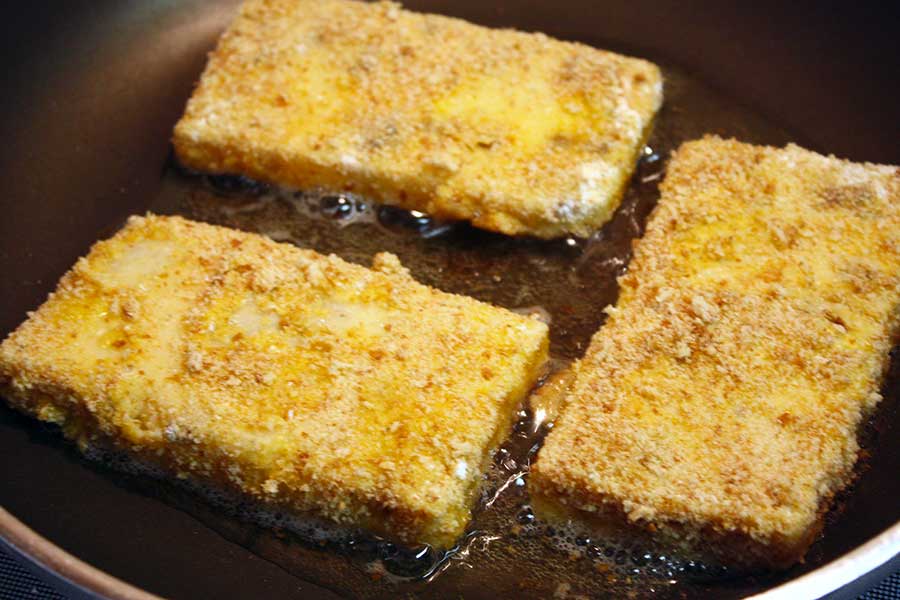 Place the battered grit cakes in a skillet over medium-high heat and fry them up. It takes about 4-5 minutes each side, until golden brown, yummy crispy!
Drain on paper towels. Garnish with some diced green onions if desired.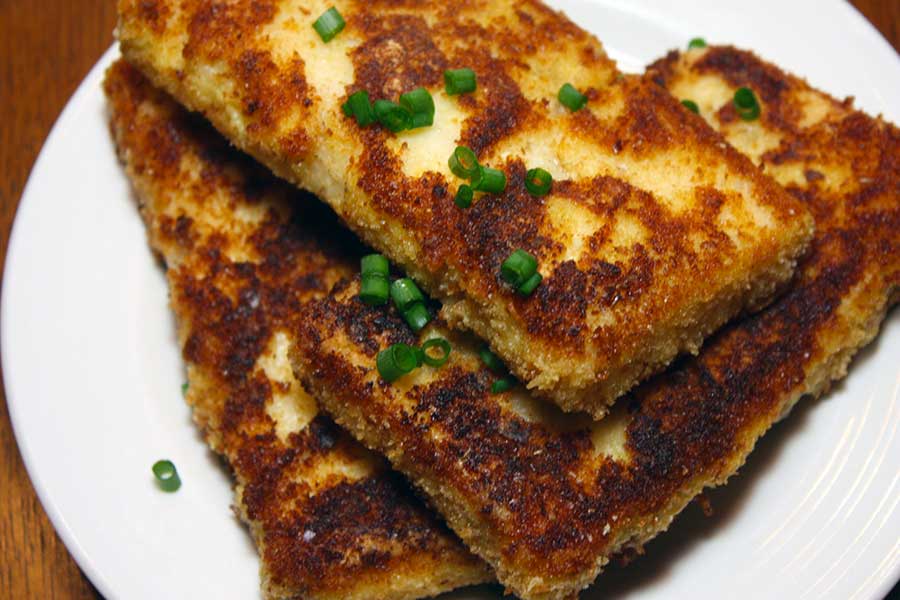 What you're left with is a golden crust of crispy goodness, with a creamy, cheesy interior. GIVE ME A FORK NOW!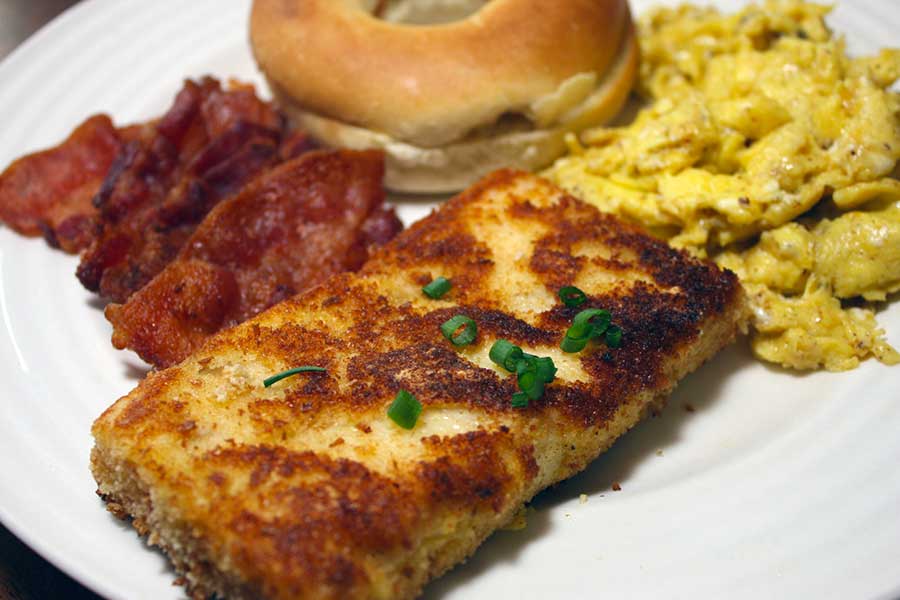 Serve the grit cakes with some eggs, bacon, and some sort of toasted bread ( the biscuits would have been off the hook here! ) and you are food coma-bound! You have to try this!
Fried Grit Cakes Recipe
Fried Grit Cakes
Fried Grit Cakes – A delicious alternative to how you enjoy your grits in the morning.
Print
Pin
Rate
Ingredients
4

Servings

Regular Grits

2

tsp

Salt

2

cups

Sharp Cheddar, shredded

1/2

lb

Breakfast Sausage

1/2

small

Onion

4

Tbs

Vegetable Oil
For dredge
2

Eggs

1

cup

Flour

2

tsp

Salt

1

tsp

Pepper

Freshly ground

1

cup

Breadcrumbs
Instructions
Cook grits, according to package

Brown sausage, add onion. Cook until translucent

Mix cheese, sausage, and onions with grits

Grease 10×15 cooking sheet, pour grits onto a sheet.

Let it cool to room temperature, then refrigerate overnight.

Next day, cut into serving size

Heat pan, medium-high heat, add oil

Dredge in egg, then the flour (with salt and pepper added), dredge again in the egg and cover in breadcrumbs

Fry each side app. 4-5 minutes, until golden brown.

Add green onion for garnish.
Nutrition
Calories:
341
kcal
|
Carbohydrates:
25
g
|
Protein:
14
g
|
Fat:
21
g
|
Saturated Fat:
12
g
|
Cholesterol:
73
mg
|
Sodium:
1308
mg
|
Potassium:
147
mg
|
Fiber:
1
g
|
Sugar:
1
g
|
Vitamin A:
315
IU
|
Vitamin C:
1
mg
|
Calcium:
193
mg
|
Iron:
2
mg