Creamy Herb Potatoes Gratin
Creamy herb potatoes gratin is the perfect side dish for any meal. But it's also great for holidays or dinner parties.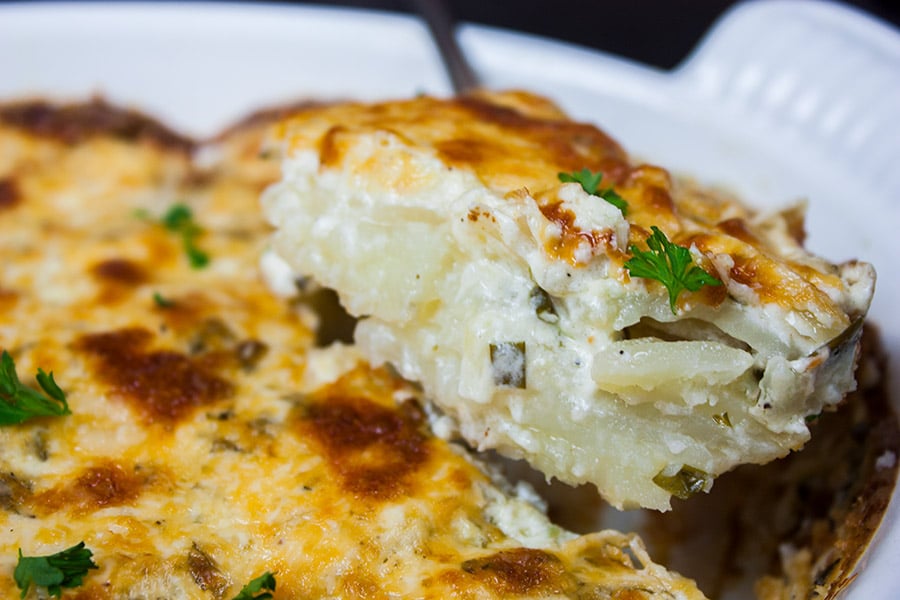 Elegant yet so simple. Rich, creamy, cheesy, and touched with a mix of herb flavors. Honestly, it's just plain delicious.
Slicing the potatoes is super easy when using a mandolin.
Check out our Southern Yellow Squash Casserole!
Creamy Herb Potatoes Gratin
What type of potato is best for a gratin or scalloped potatoes? Russet potatoes or Yukon Gold potatoes have the most starch which will make the sauce creamier.
Preheat oven to 350 degrees. Butter a 9×9 casserole dish.
Set the mandolin to 1/8″ and slice away. Seriously, the most fun you will have all day! You can also use a very sharp knife, but be careful!
Place a single layer of the potatoes in the bottom baking dish, repeat with the remaining potatoes salting lightly after each layer.
Try our Pumpkin Muffins.
In a medium saucepan over medium heat, melt the butter, add the diced onion and saute for about 3-4 minutes until translucent, add the minced garlic clove and cook another 30-40 seconds.
Add the cream cheese and stir until melted. Add the heavy cream, milk, herbs, salt, pepper, and nutmeg stir until combined.
Pour the cream sauce evenly over the potatoes in the baking pan. Sprinkle freshly grated parmesan or gruyere cheese over the top and bake for 45 minutes or until the potatoes are tender.
You can cover the dish with foil to bake but remove the foil after 30 minutes and continue to bake for another 15 to 20 minutes to get it beautifully browned.
Try Grilled Chicken Marinade recipe!
Allow cooling for about 10 minutes before serving. This helps the cream sauce set up.
This creamy herb potatoes gratin dish is so good I will be making it again on Easter. You may also want to take a look at our Potatoes Au Gratin With Gruyere.
Herb Potatoes Au Gratin Recipe
Recipe adapted from ThePioneerWoman