Broccoli Alfredo Lasagna Roll-Ups
Broccoli alfredo lasagna roll-ups make the perfect meatless meal. Easy to prepare and loaded with flavor.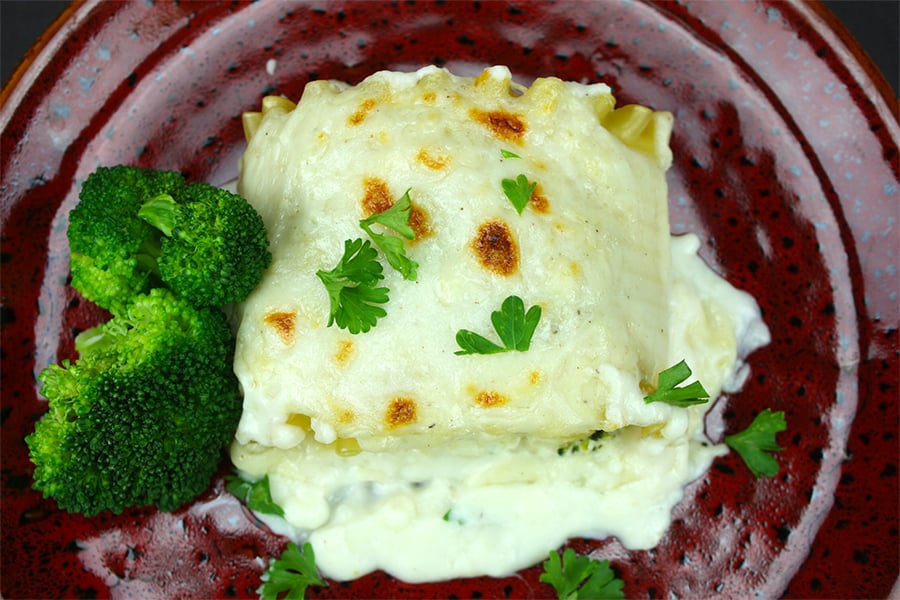 My family loves this meal. You can't go wrong, even the meat lovers in your home will love this dish.
Try our Strawberry Shortcake!
Broccoli Alfredo Lasagna Roll-Ups
Cook the lasagna noodles according to the package instructions, lay on paper towels to dry.
Preheat oven to 350 degrees F. Butter a 9×13 baking dish and set aside.
Prepare the alfredo sauce. Melt butter in a large skillet over medium heat. Add garlic and saute until garlic is fragrant about 30 seconds.
Whisk the flour into the butter and garlic and cook until for about 2 minutes.
Gradually pour in milk, whisking constantly. Bring mixture to a simmer then stir in 3/4 cup parmesan. Let simmer until the sauce thickens, about 2 to 3 minutes. Add nutmeg and season to taste with salt and pepper.
In a medium-size bowl combine the ricotta cheese, Italian seasoning, broccoli, salt, and pepper.
Lay noodles on a cutting board in a single layer. Spread 2 tablespoons of alfredo sauce on each noodle then spread another 2 tablespoons of the broccoli ricotta mixture on top of sauce.
Spread a thin layer of alfredo sauce over the bottom of the pan.
Gently roll up the lasagna noodles and place them in the pan seam side down.
Pour the remaining cheese sauce over the roll-ups, sprinkle with additional parmesan.
Check out our Cajun Chicken Pasta!
Bake for 20-30 minutes, until the sauce, is bubbling and it's beginning to turn golden brown. Allow to rest about 10 minutes, and serve warm.
Try our Italian Sausage Rigatoni with Spicy Tomato Cream Sauce!
Alfredo Lasagna Roll-Ups Recipe