This Cajun Chicken Pasta is an explosion of flavors that will satisfy your cravings. Tender chicken, al dente penne, and a creamy, zesty sauce come together in perfect harmony.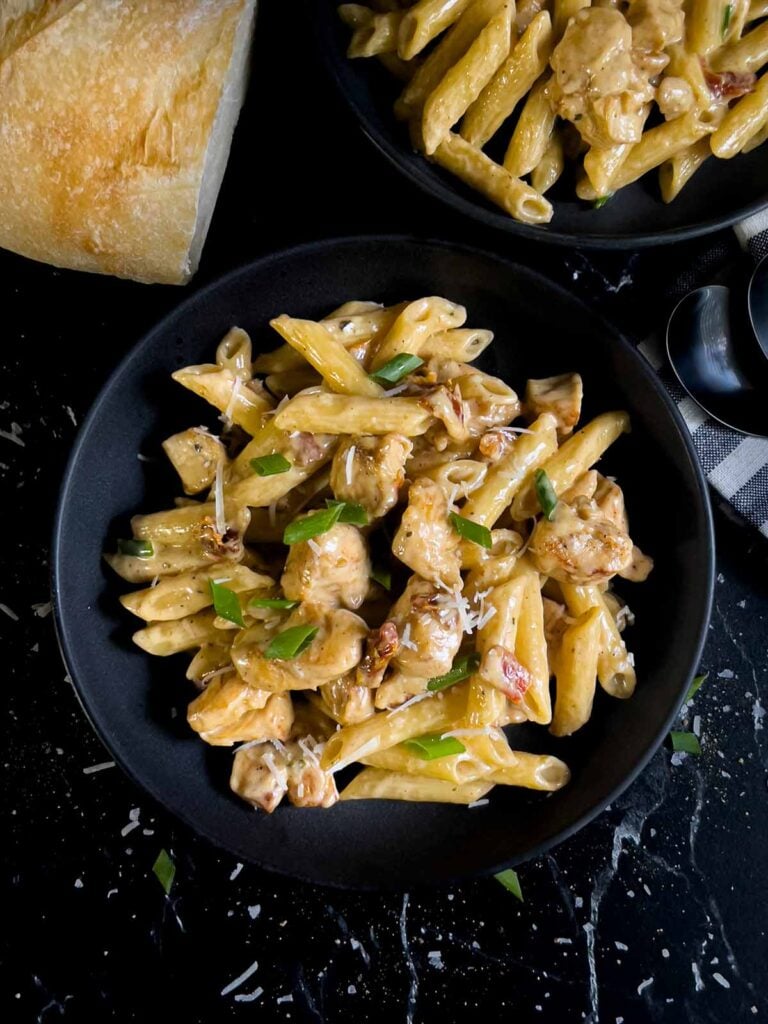 Why You Will Love This Recipe
Who doesn't love quick and easy recipes on weeknights? My hand is raised because I hate cooking and cleaning for hours after an 8-hour workday.
With just a handful of ingredients, this recipe keeps the prep work simple and straightforward.
You only need to chop the chicken into bite-sized pieces and mince the garlic.
The Cajun seasoning takes care of the flavoring, so you don't need to gather an extensive list of spices. Less time prepping means more time enjoying the delicious results!
Also, This recipe utilizes a single skillet or large pan for most of the cooking process.
After sautéing the chicken, you can add the cream, tomatoes, seasonings, and penne to the same pan.
This reduces the number of dishes to clean and allows the flavors to meld together beautifully.
Plus, the pasta absorbs some of the flavorful sauce, ensuring each strand is infused with deliciousness.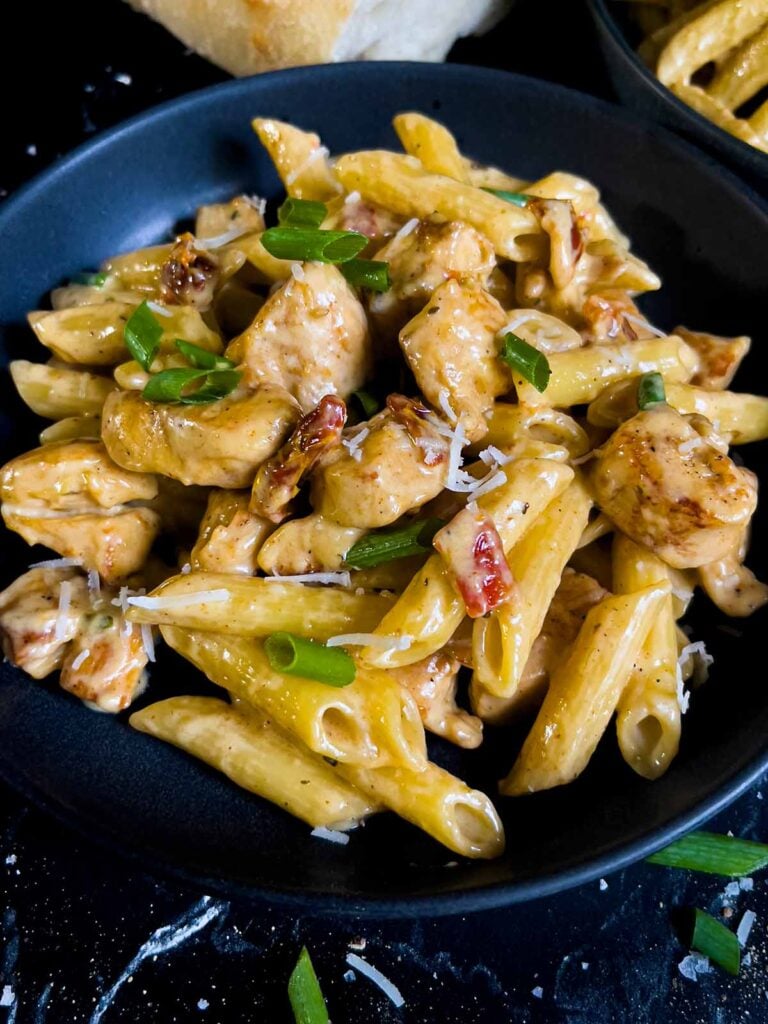 But the big win is how it tastes! Combining Cajun seasoning, garlic, sun-dried tomatoes, and spices creates an explosion of flavors.
The zesty Cajun seasoning infuses the chicken with a tantalizing heat, while the sun-dried tomatoes add a burst of sweet tanginess.
It's a flavor-packed adventure for your palate! An easy recipe with juicy chicken, a little heat, and tender pasta. A complete meal packed with flavor for those busy weeknights!
If you would like a side dish to accompany this fabulous pasta, our Arugula Fennel Salad would go great with it. Don't forget some freshly baked Italian bread to round out the meal.
Ingredients Needed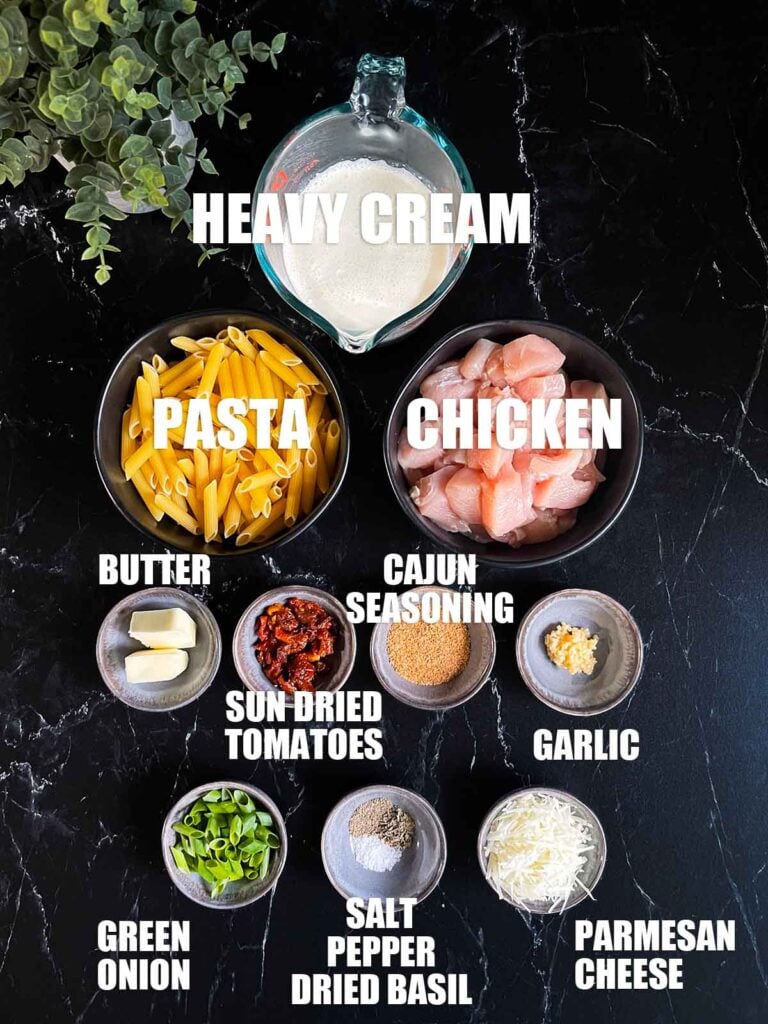 Penne Pasta: Penna is a type of pasta that pairs well with creamy sauces. It adds texture and serves as the dish's base, absorbing the sauce's flavors.
Boneless, skinless chicken breasts: The chicken serves as the main protein source and adds substance to the dish. It is seasoned with Cajun seasoning to impart a spicy and flavorful taste. Chicken thighs work as well.
Cajun seasoning: This blend of spices, including paprika, garlic powder, onion powder, cayenne pepper, and various herbs, adds a distinctive Cajun flavor profile to the chicken. It provides a spicy and smoky kick to the dish.
Butter: Butter is used for sautéing the seasoned chicken. It helps cook the chicken and adds richness to the overall flavor.
Heavy whipping cream: The cream creates a creamy and luscious sauce for the pasta. It adds richness and smoothness to the dish, balancing out the spiciness of the Cajun seasoning.
Sun-dried tomatoes: These tomatoes add a sweet and tangy flavor to the dish. They provide a hint of acidity and enhance the overall taste.
Salt, dried basil, and fresh ground black pepper: These seasonings add additional layers of flavor and enhance the taste of the dish. Salt provides overall seasoning, dried basil adds an herbal note, and black pepper contributes a subtle heat.
Garlic: The minced garlic adds a savory and aromatic flavor to the sauce. It complements the other ingredients and adds depth to the overall taste. Use fresh!
Green onions: Green onions, also known as scallions, are used as a garnish and add a fresh and mild onion flavor. They provide a pop of color and a subtle crunch to the dish.
Grated Parmesan cheese: Parmesan cheese is sprinkled over the pasta to add a salty and nutty flavor. It also adds a creamy texture to the dish when melted. Use the good stuff!
How To Make Cajun Chicken Pasta
Place a pot of water on to boil. Cook pasta al dente according to the package directions.
Cut the chicken breasts into 1-inch bite-size pieces.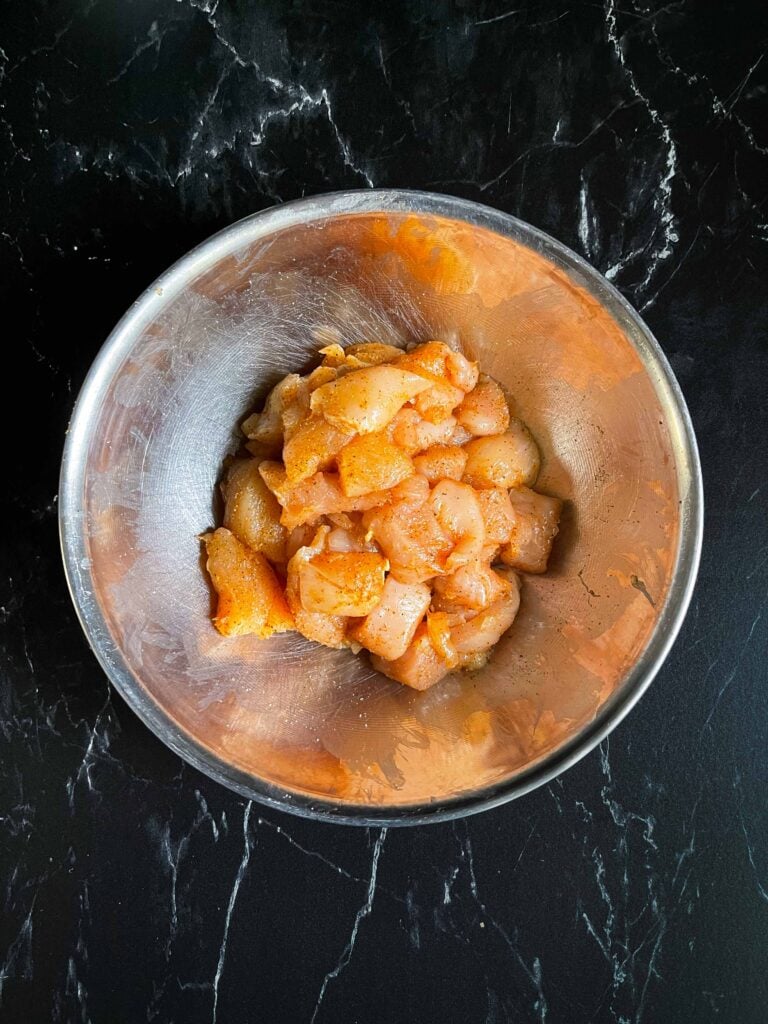 Place the chicken in a bowl, sprinkle the Cajun seasoning over it, and toss to coat.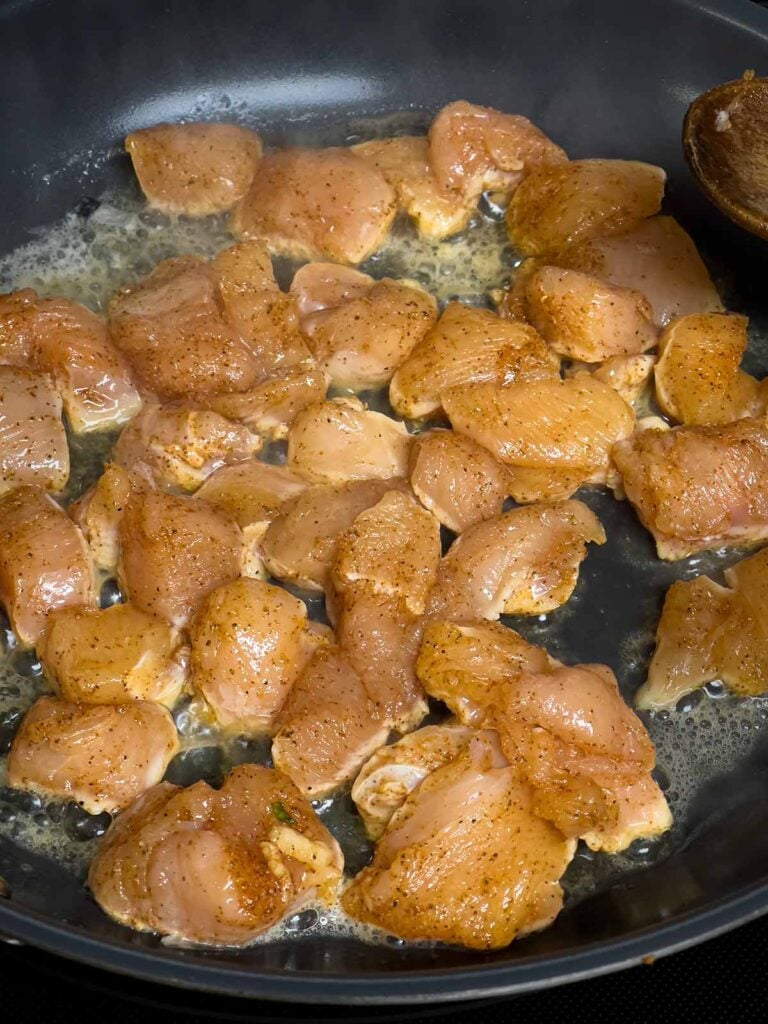 Heat a skillet over medium high heat. Add the butter and diced chicken breast.
Allow the chicken to cook on one side, developing a good sear.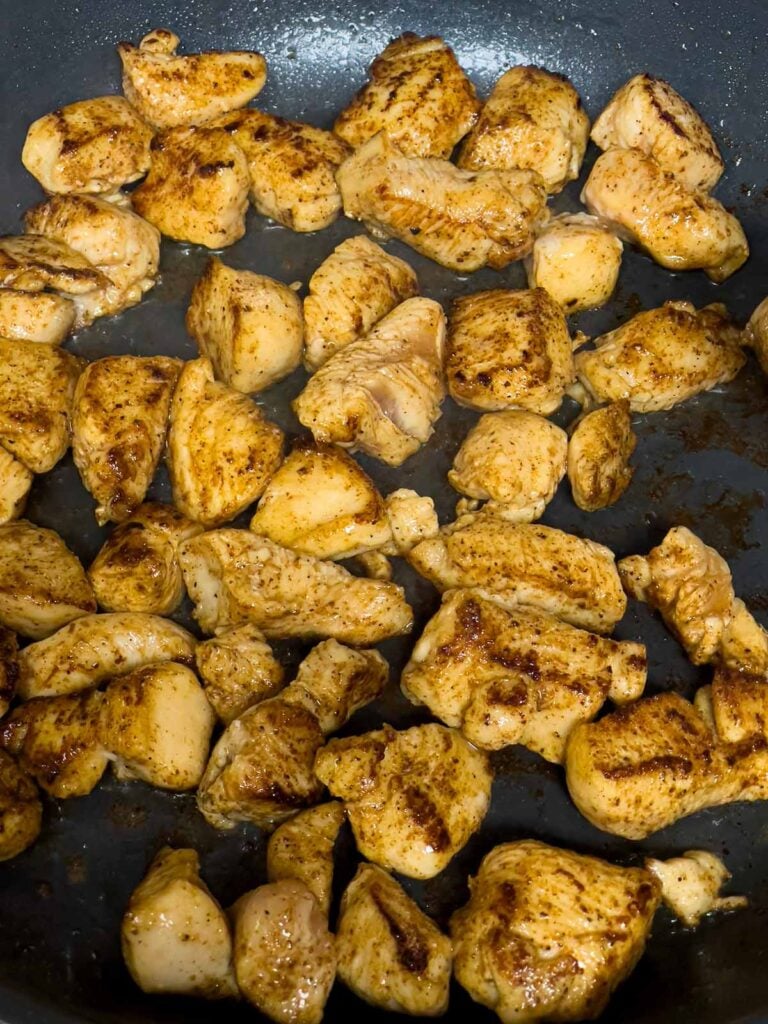 Continue to cook until the chicken is cooked through, about 5 to 7 minutes, 165 degrees F internal temperature.
To be sure that the chicken is done, you can use an instant-read thermometer.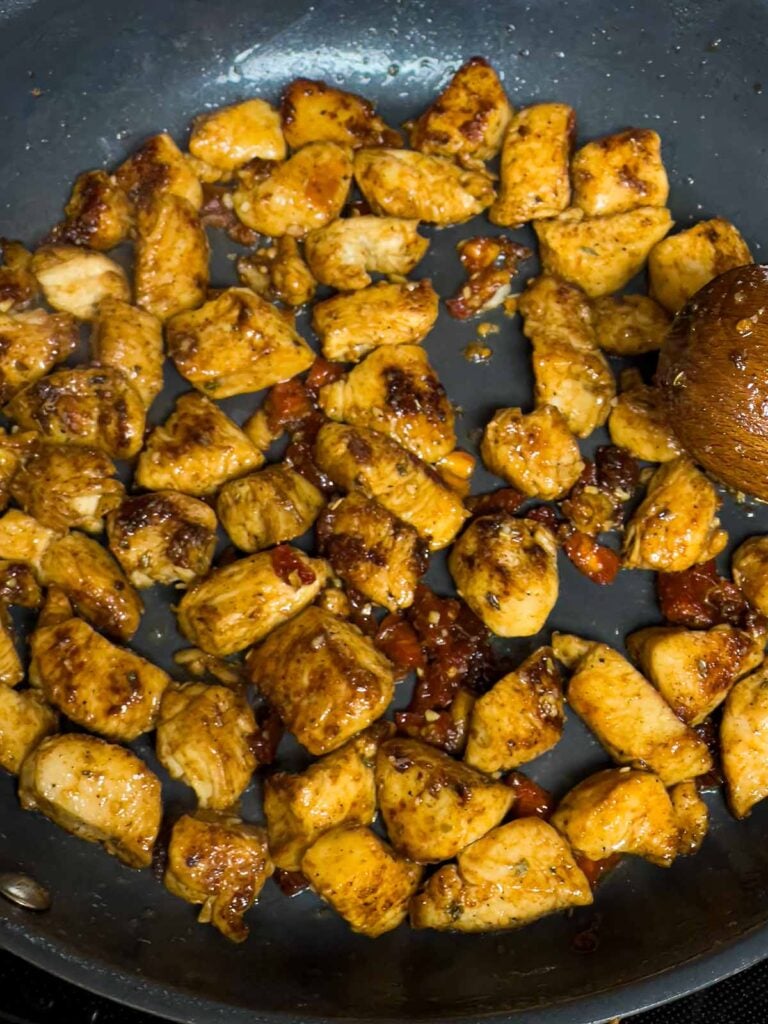 Reduce the heat to low and add sun-dried tomatoes, basil, salt, garlic, and black pepper. Cook for about 1 minute allowing the garlic and spices to bloom a bit.
Next, add the cream and stir to combine well.
Increase the heat back up to a simmer and cook long enough to heat through.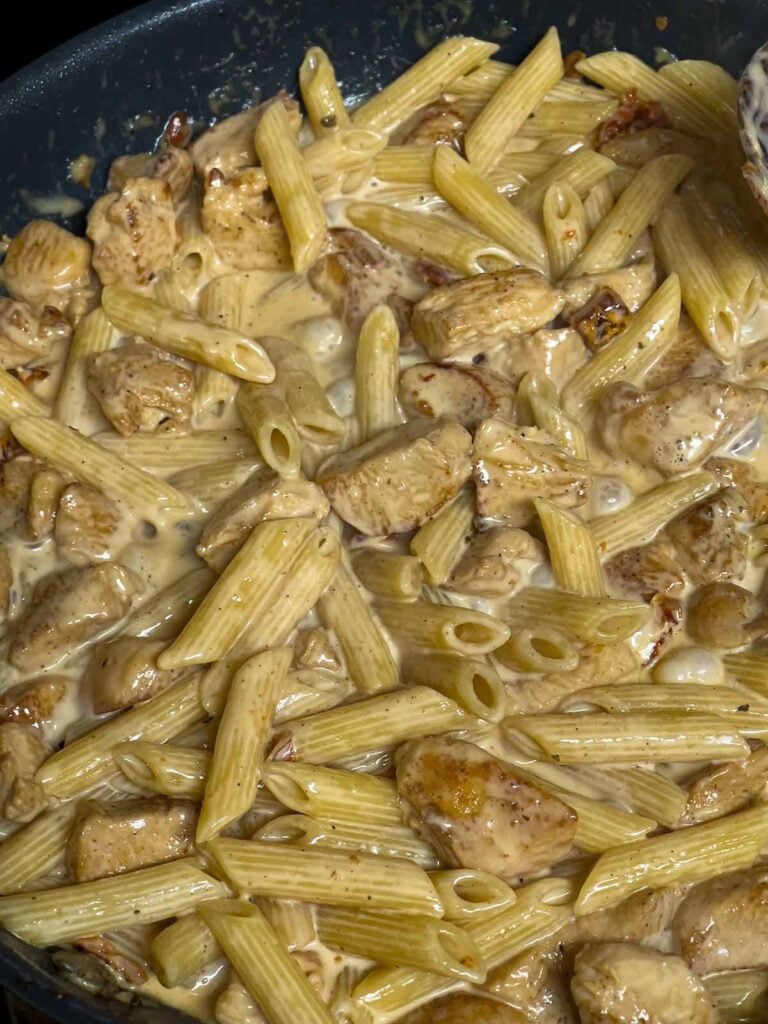 Add the pasta and stir to coat with the sauce. The sauce will thicken after a few minutes of tossing the pasta.
Next, add the parmesan cheese and green onions (reserve some for an optional garnish) and mix to combine.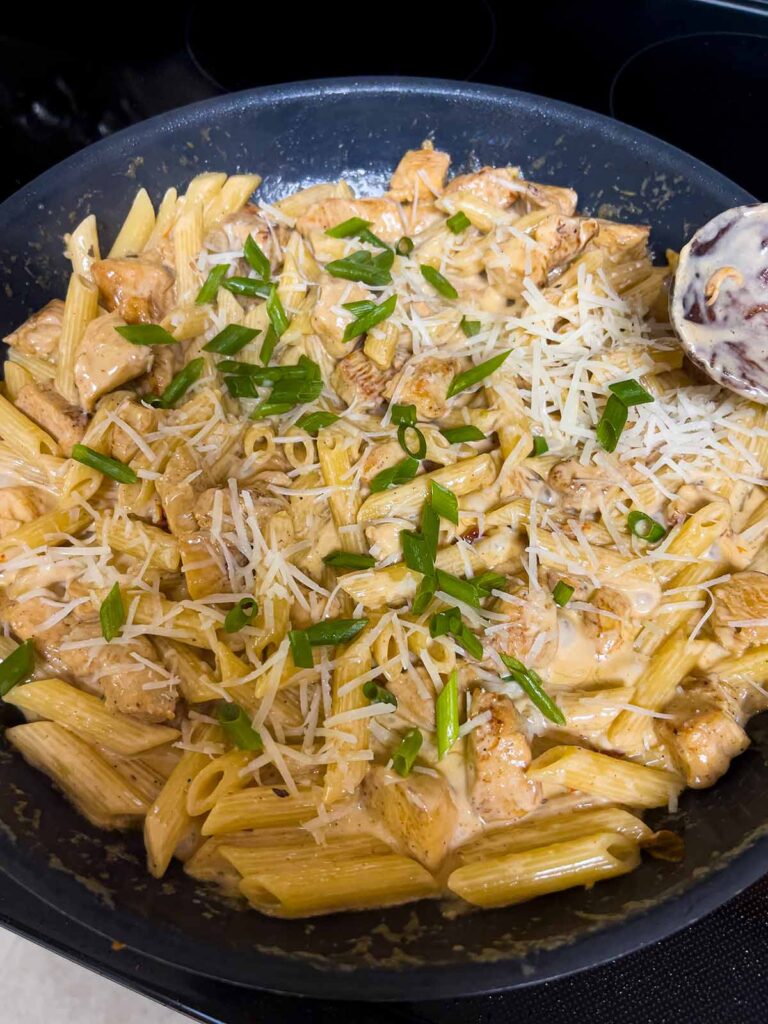 The sauce will thicken up at this point. Give it a taste, and add salt and pepper to your preferred tastes.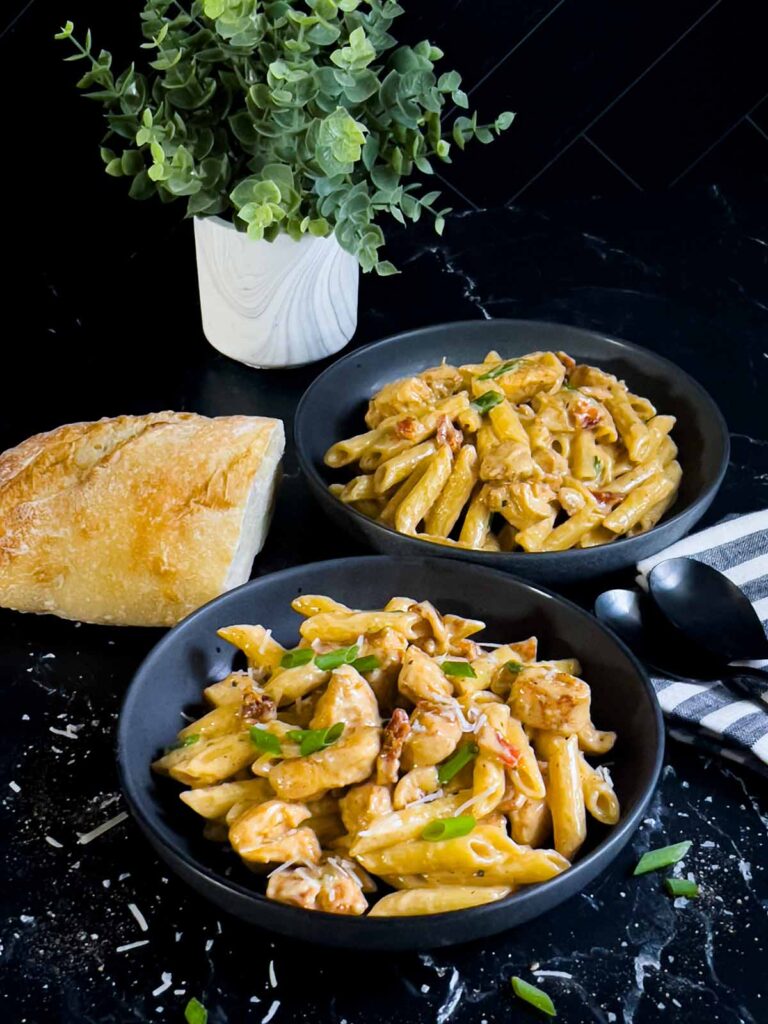 Garnish with the green onions. Bam, and done! Easy dinner.
An incredibly flavorful pasta dish that's a super quick meal ready in under 20 minutes! This creamy pasta dish is one of our favorite recipes!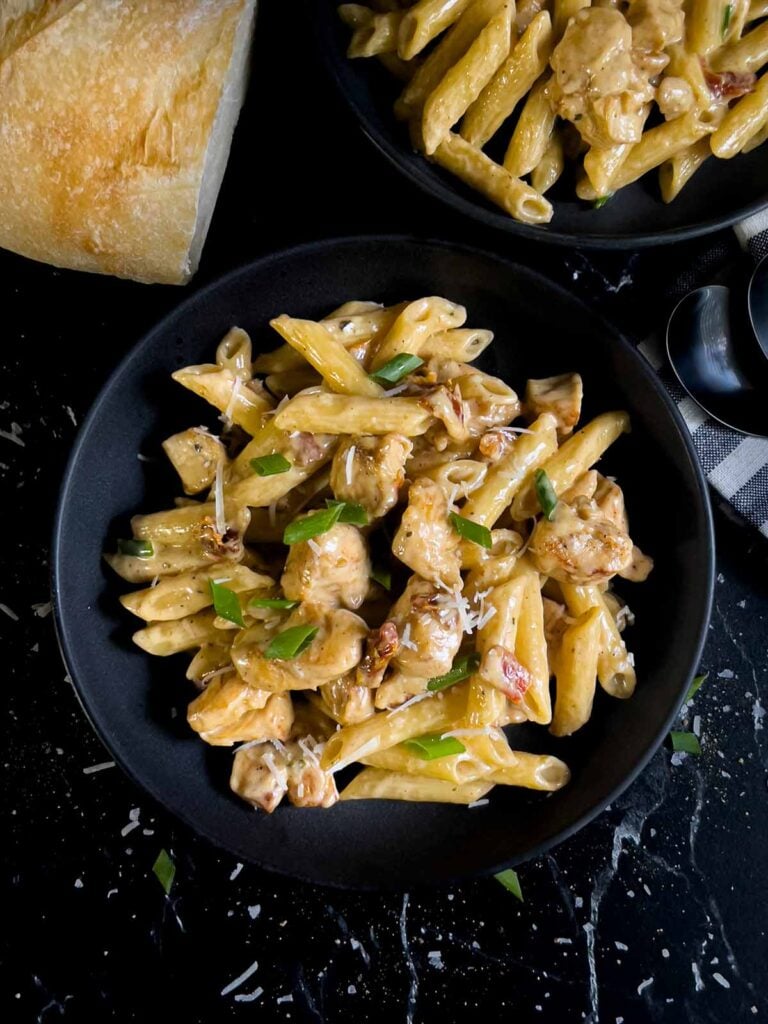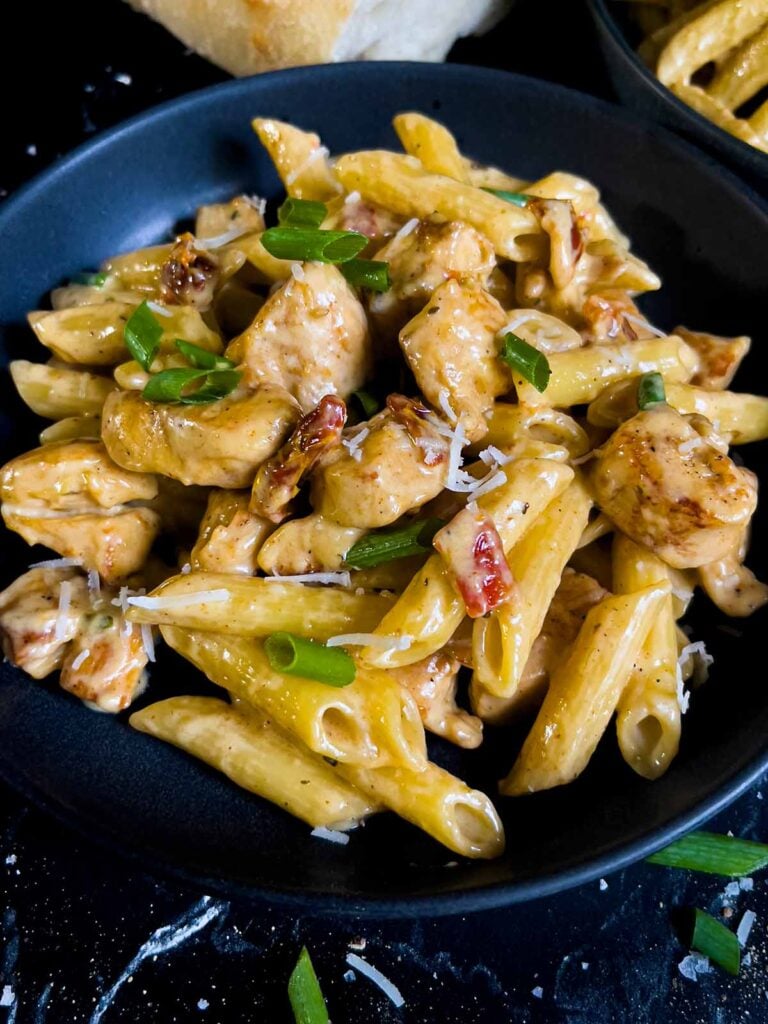 Tips And Variations
The Cajun seasoning adds a spicy kick to the dish, but everyone's spice tolerance differs. Start by following the recipe's recommended amount of Cajun spice, but feel free to adjust it according to your personal preference. If you prefer milder flavors, use a bit less, or if you love heat, you can add a bit more. Taste as you go and season to your liking.
This dish creates a thick sauce. If you want a looser sauce, just add an additional 1/2 cup of heavy cream than the recipe calls for.
When sautéing the chicken, it's important to avoid overcooking it, as it can result in dry and tough meat. Cook the chicken just until it's tender and cooked through, which usually takes around 5 to 7 minutes.
For a vegetarian twist, incorporate a colorful assortment of vegetables into the dish. Sauté an array of veggies like bell peppers, zucchini, mushrooms, and onions, along with the Cajun-seasoned chicken. The vibrant vegetables will add freshness, crunch, and a variety of flavors to the pasta, creating a wholesome and satisfying vegetarian version.
If you're a fan of seafood, consider adding shrimp and sausage to the dish. Sauté the shrimp and sliced sausage along with the chicken, using the Cajun seasoning to season them as well. This addition brings a delightful combination of flavors and textures to the pasta, with the succulent shrimp and savory sausage complementing the Cajun spices perfectly.
You can use half and half, but the sauce will be much thinner and not as rich.
FAQs
How to Store Leftovers
This dish is best fresh! Leftovers can be stored in an air-tight container for about three days. When ready to reheat, add a little more cream or chicken stock and reheat on the stovetop or microwave.
Can I use a different type of pasta instead of penne for Cajun Chicken Pasta?
Absolutely! While penne works well in this recipe, you can substitute it with other pasta shapes of your choice. Fettuccine, spaghetti, or rotini would all be great alternatives. Just adjust the cooking time according to the package instructions for the specific pasta shape you're using.
Can I use a lighter alternative to heavy whipping cream in Cajun Chicken Pasta?
Yes, you can use lighter options if you prefer. Instead of heavy whipping cream, you can try using half-and-half or light cream to reduce the richness of the sauce. Keep in mind that using lighter creams may result in a slightly thinner sauce consistency, so you might need to adjust the amount or thicken it with a little cornstarch slurry if desired.
Is it possible to make Cajun Chicken Pasta spicier or milder?
Absolutely! The spice level can be adjusted to your preference. If you prefer a spicier Cajun chicken pasta, you can increase the amount of Cajun seasoning or add a pinch of cayenne pepper for an extra kick. Conversely, if you prefer a milder version, you can reduce the amount of Cajun seasoning or use a mild version of the seasoning blend. Taste as you go and adjust the spice level accordingly to suit your taste buds.
More Delicious Recipes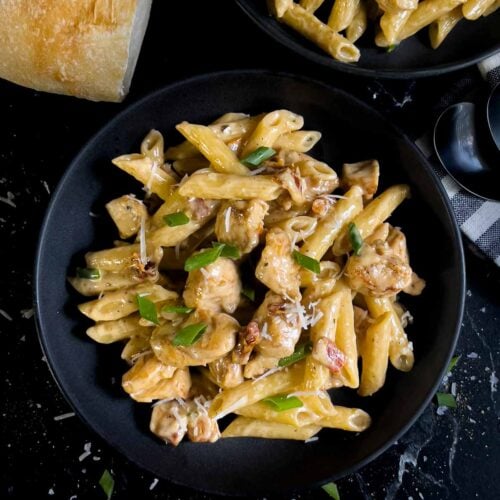 Cajun Chicken Pasta Recipe
Incredibly flavorful, super quick meal that's ready in under 20 minutes!
Print
Pin
Rate
Ingredients
2

boneless skinless chicken breasts

cut into 1″ pieces

8

oz

penne pasta

3

tsp

cajun seasoning

2

Tbsp

butter

1 1/2 – 2

cup

heavy whipping cream

2

Tbsp

sun-dried tomatoes

diced

1/4

tsp

kosher salt

1/4

tsp

dried basil

1/8

tsp

fresh ground black pepper

1

clove

garlic

minced

1/4

cup

green onions

1/4

cup

grated parmesan cheese
Instructions
Cook the pasta to al dente as instructed on the box.

Place chicken and Cajun seasoning in a bowl and toss to coat.

2 boneless skinless chicken breasts,

3 tsp cajun seasoning

In a large skillet over medium-high heat, sauté chicken in butter until chicken is tender, about 5 to 7 minutes.

Reduce heat and add tomatoes, basil, salt, garlic, black pepper, and heat throgh about 1 minute.

2 Tbsp sun-dried tomatoes,

1/4 tsp kosher salt,

1/4 tsp dried basil,

1 clove garlic,

1/8 tsp fresh ground black pepper

Add the heavy cream and increase the heat to a simmer. Allow to cook a couple of minutes to thicken.

1 1/2 – 2 cup heavy whipping cream

Pour over the cooked penne pasta and toss with parmesan cheese and green onions.

1/4 cup green onions,

1/4 cup grated parmesan cheese

Serve hot, garnish with additional green onions (optional).
Notes
How To Store Leftovers
Refrigeration: Allow to cool to room temp, then transfer the leftover pasta into an airtight container or sealable plastic bag. Place it in the refrigerator within two hours of cooking. Properly stored, it can be refrigerated for up to 3-4 days.
Reheating: You have a couple of options to reheat the Cajun chicken pasta. You can either microwave it in a microwave-safe dish, stirring occasionally, until heated through, or you can reheat it on the stovetop. If reheating on the stovetop, add a splash of water or cream to prevent the pasta from drying out and heat it over medium-low heat, stirring frequently until warmed.
Nutrition
Calories:
964
kcal
|
Carbohydrates:
27
g
|
Protein:
23
g
|
Fat:
87
g
|
Saturated Fat:
53
g
|
Cholesterol:
342
mg
|
Sodium:
445
mg
|
Potassium:
527
mg
|
Fiber:
2
g
|
Sugar:
2
g
|
Vitamin A:
4133
IU
|
Vitamin C:
4
mg
|
Calcium:
222
mg
|
Iron:
2
mg
Recipe adapted from plainchicken